FPL Focal previews the weekend's Fantasy Premier League (FPL) action, taking a look at who the bookies think are the best bets for goals and clean sheets as well as monitoring the latest transfer trends.
Make sure to also check out G-Whizz's weekly Hot Topic on fixture and clean sheet odds when it appears, which also looks back at how the bookmakers performed in the previous Gameweek.
---
GAMEWEEK 20: GOALSCORER ODDS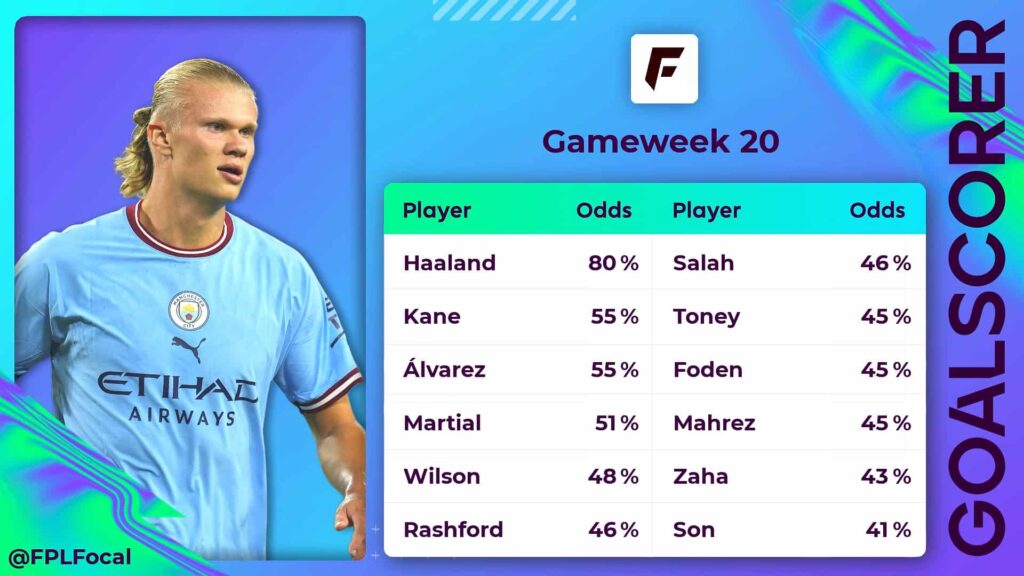 Starting with the anytime goalscorer probabilities, what I've done here is combine the Double Gameweek 20 fixtures so that the players listed above have a chance of scoring in either match.
The odds always assume that the player starts, so some individual judgement is required here. For example, with Julian Alvarez (£6.0m), it'd be a surprise if he starts both. Erling Haaland (£12.2m) is top, given an 80 per cent chance of scoring at any time. His effective ownership will probably be pushing 200 per cent, with lots of Triple Captain chips active.
Harry Kane (£11.6m) is second on the goalscorer odds with 55 per cent. If it wasn't for Haaland's ridiculous season, we'd probably all be talking about how incredible and essential Kane has been, with 15 goals and four assists. His Double Gameweek consists of Arsenal and Manchester City but it should be noted that he's on four yellow cards, which is risky considering how heated the North London derby can be.
Absent from Manchester United's cup squad in midweek, ten Hag said it was just a rest for Anthony Martial (£6.6m). He's been given a 51 per cent chance of netting in either match, whilst team-mate Marcus Rashford's (£7.0m) rich vein of form has seen him score in six consecutive matches. If you don't own him, getting him probably needs to be a priority.
The Man City midfielders continue to be a real headache. Riyad Mahrez (£7.5m) may be the best of the bunch, given his recent form in both the league and cups. Pep Guardiola is notoriously impossible to predict but, in a Double Gameweek, there is an increased likelihood that he'll get at least one start.
GAMEWEEK 20: CLEAN SHEET ODDS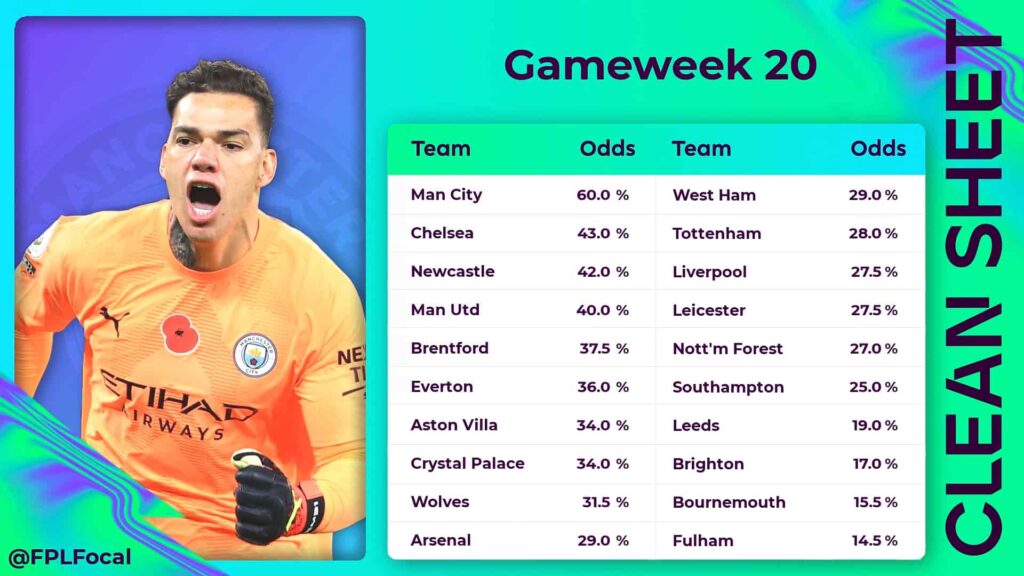 Like before, I've combined the Double Gameweek fixtures to provide odds for keeping at least one clean sheet. Man City are top with a 60 per cent chance, although defensive rotation makes it difficult. With Joao Cancelo's (£7.2m) recent benchings, perhaps the best pick is John Stones (£5.4m).
However, if you have a route to Ederson (£5.4m), he's the most nailed-on pick. A triple-up of their players is worth it, considering Double Gameweek 23 is also on the horizon.
Chelsea have been given a 43 per cent clean sheet chance, according to the bookies. It looks quite generous, considering their form, but a strong response at Stamford Bridge wouldn't be surprising.
There's a 40 per cent chance that Man United will keep one during their double, making Luke Shaw (£5.1m) a stand-out option. I'd swerve away from Diego Dalot (£4.7m), as he's only just back from injury and was withdrawn early on Tuesday night as a precaution.
Erik ten Hag's side could also have a Double Gameweek 22 if they and Leeds United avoid needing an FA Cup fourth-round replay.
No names leap out at Crystal Palace and their odds of 34 per cent. They're all low ceiling, with Joachim Andersen (£4.5m) the best defender and Vicente Guaita (£4.5m) in goal.
Tottenham's odds are very low, given only a 28 per cent chance of a clean sheet in their double. Matt Doherty has started every game since the restart and put up a 15-pointer last time. For only £4.6m, he could be an under-the-radar pick if there's a similar purple patch to last season, pre-injury.
He's not completely secure of future starts but Spurs fans will argue he's way better than Emerson Royal (£4.9m). Maybe he comes off around the hour mark and banks an early clean sheet.
Rock bottom this time is Fulham, given a 14.5 per cent chance of shutting out Newcastle, followed by Bournemouth's 15.5 per cent odds away to Brentford.
GAMEWEEK 20: MOST TRANSFERS IN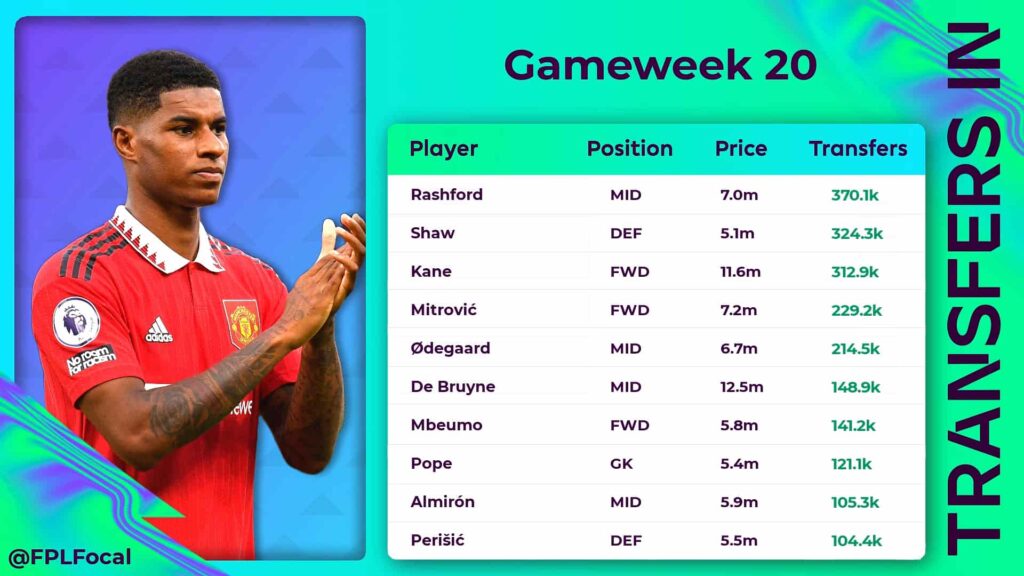 No surprise to see Rashford as the most-bought player, with 370k transfers. I've been weighing up whether to get Kane or not. It's not a great double and there is a yellow card risk.
However, thinking long-term, I just cannot keep going without owning such consistency. So I may as well make the jump now, in a Double Gameweek. He could easily follow that up by putting a couple past Fulham, who are the worst in the league for expected goals conceded (xGC).
Aleksandar Mitrovic (£7.2m) is the second most purchased forward, which is surprising when you see his tough game alongside the two of slightly cheaper Martial. If you're looking to free up funds for Kane, the move from Bukayo Saka (£8.1m) to Martin Odegaard (£6.7m) is a nice transfer that I'm considering.
De Bruyne has been transferred in by around 150,000 managers. Unless Liverpool get a Double Gameweek 21 announced before the deadline, he's a good hold for the next five Gameweeks.
GAMEWEEK 20: MOST TRANSFERS OUT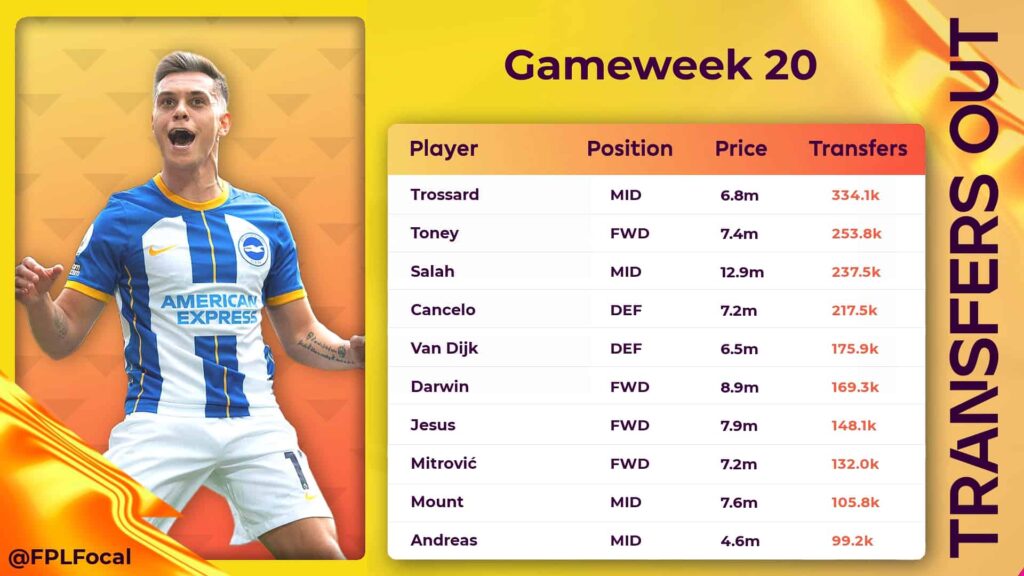 Looking at the most sold assets, Leandro Trossard (£6.8m) is top due to being out of favour with Roberto De Zerbi. Brighton and Hove Albion's top scorer is very talented and it's a surprise but £4.5m forward Evan Ferguson has come in and done well.
If it wasn't for these Double Gameweeks, we'd be talking about Ferguson a lot more as a potential cheap enabler that is both starting games and returning.
Mohamed Salah (£12.9m) and Cancelo are among the most sold, which is logical based on the transfers we've discussed, as is Darwin Nunez (£8.9m) making way for Kane. Mitrovic appears in this list too.
Centre-back Virgil van Dijk (£6.5m) is expected to be out for a few weeks and, further upfield, it'll be interesting to see if Liverpool can eventually get back to their best now that Cody Gakpo (£8.0m) has arrived.
VIDEO LATEST