Throughout the 2022/23 Fantasy Premier League (FPL) season, our team of Pro Pundits, Hall of Famers and guest contributors will be sharing their thoughts, tips and own transfer plans.
Only Premium Members are able to read every single one of these pieces, so sign up today to get full access not just to the editorial content but all of the other benefits, from hundreds of Opta stats to a transfer planner.
Here, Burning Questions co-host and four-time top 10k finisher Pras advises how to best navigate this run of Blank and Double Gameweeks.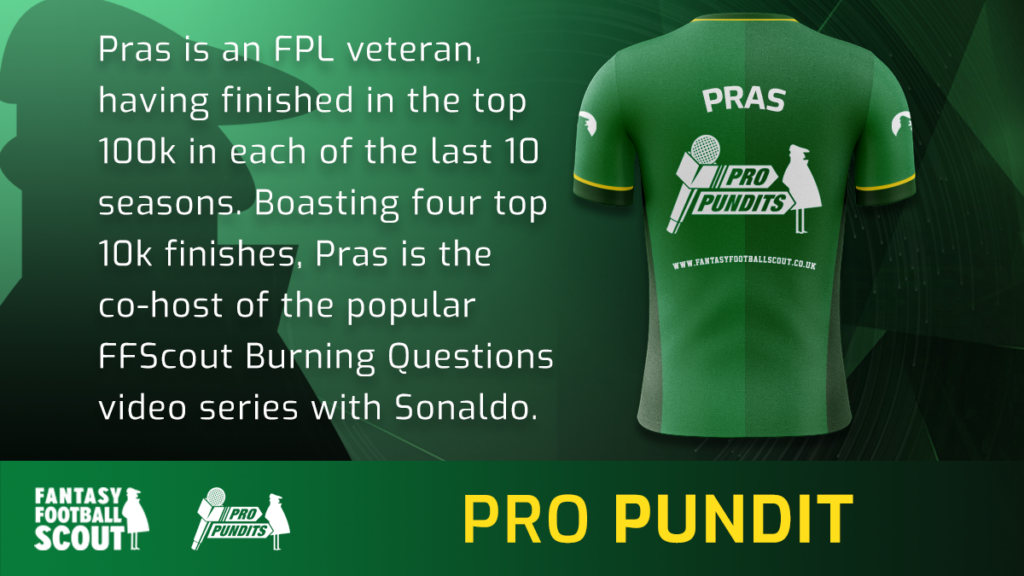 ---
For Transfer Deadline Day live updates, click here
---
We are entering what is unquestionably my favourite period of the FPL season. Last year's Blank and Double Gameweek bonanza saw divergent chip strategies on Wildcard 26 vs Triple Captain 26, Bench Boost 28 vs Bench Boost 36 etc.
As we conclude the EFL Cup semi-finals and ingest the FA Cup fifth-round draw, we now know the probabilities of teams blanking in Gameweeks 25 and 28. At the time of writing, I have made the assumption that Newcastle United and Manchester United will contest the EFL Cup final, so the planning has well and truly begun.
I have opted to go team-by-team and assess what we need to be thinking about, as we try to optimise this interesting schedule.
Manchester City – Buy, then gradually sell by Gameweek 28
| GW22 | GW23 | GW24 | GW25 | GW26 | GW27 | GW28 | GW29 | GW32 |
| --- | --- | --- | --- | --- | --- | --- | --- | --- |
| tot | AVL, ars | nfo | bou | NEW | cry | – | LIV, (WHU?) | – |
| | Double | | | | | Assuming they beat Bristol City in FA Cup R5 | Likely double | Assuming they reach FA Cup semi |
---
With Double Gameweek 20 recently concluded, most of us should already be decently stocked on Man City assets. Unless their name is Joao Cancelo (£7.1m) or John Stones (£5.4m), I see little reason to sell anyone ahead of their next double.
Thereafter, the champions have two very tasty away games but they sandwich the RB Leipzig away leg in the Champions League, so expect rotation. After Gameweek 25, their non-Erling Haaland (£12.2m) assets become more disposable as you'd expect them to beat Bristol City in the FA Cup fifth round and thus blank in Gameweek 28.
I can see the Kevin De Bruyne (£12.5m) to Mohamed Salah (£12.8m) move becoming popular, or perhaps moving a defender to a second Newcastle one.
Arsenal – Buy and hold long-term
| GW22 | GW23 | GW24 | GW25 | GW26 | GW27 | GW28 | GW29 | GW32 |
| --- | --- | --- | --- | --- | --- | --- | --- | --- |
| eve | BRE, MCI | avl | lei | BOU | ful | CRY | LEE, (EVE?) | SOU |
| | Double | | | | | | Likely double | Assuming Southampton don't reach FA Cup semi |
---
If you aren't tripled up on Arsenal assets, then please do so now and make sure you get the right ones. This is because Arsenal not only have a Double Gameweek on the horizon, they have a confirmed fixture in Blank Gameweek 28 and probably one during Blank 32.
For me, this justifies even a Ben White (£4.7m) or Gabriel Martinelli (£6.7m) upgrade if required. Get the right three and keep them there until a later Wildcard.
Manchester United – Buy now but start selling for Gameweek 25