Eurgh! So, I have a rather unpleasant job this week. Writing these updates is normally a joy but this week, my friendly nemesis and his bunch of Hamsters have done quite well.
Ask me whether I would rather do this or swap places with the Aberdeen public toilets cleaner, then I would gladly trade with Wee Jock Poo-Pong McPlop every time!
However, on with the show…
Jules League Results
Neymarless Ones 4-0 Silence of the Lahms
The big headline coming out of Jules League was that we have new leaders, the quiet, unassuming Neymar-less Ones roared to the pinnacle with a thumping victory.
Nima selflessly, or sensibly, benched himself leaving Andy Mac and Bobby Love to score, with safe hands FPL Fella keeping it clean for a change.
The Lahms were quiet but there was nothing anonymous about the Neymar-less Ones celebrations, even calling out Nick from FPL Juice (team captain for Cafu Good Men) on his own show.
Hand of Zoff 1-0 Qatar Heroes
There were punches in the air as the Hand of Zoff made it three wins in a row, Ninja FPL proved again to be the goalkeeping hero, that's eight save points for the season and his opposing number Follow the Trent did a fine job making this a tight affair.
It was a lone squad goal that made the difference, no doubt Ron Manager will rally his troops with another one of his excellent video team talks but fast forward over the Kepa nine-point haul which cost his Qatar heroes as one of the Zoffians (?) key differential picks.
King Otto's Grecians 0-2 Kahn You Feel the Löw Tonight
Narcos and his team Kahn You Feel The Löw Tonight were the lion kings this week and are showing a bit of pride with a good set results over recent weeks.
Majestic Chanka picked a great time to score his first of the season and the rest of the squad helped to double the advantage. Sympathy for Rune Johnsen, a Chess Grandmaster whose 101 for the Grecians was in vain. Checkmate to Narcos.
Maradona Kebab 4-1 Not that Easy Ferguso
The Kebabs had too much sauce for Not that Easy Ferguso as they put four past them in this basement battle, and FPL Dan will now be looking up as they begin to climb the table. FPL Timbers scored the striker score but it was good squad performance which saw the Kebab takeaway the victory.
Petr Cech Yourself 0-1 Ruud, Where's My Kahn?
Petr Cech Yourself's recent good form was stalled by FPL Panda and his Kahns. The league is so close that this win means that the two teams effectively swap places in the table, with the Ruud boys now in the Champions League qualification spot.
The game itself was decided on squad tally with just nine points separating them, some good scores from FPL Beery, FPL Len and ManOnPodcast_Dronuk helped them find their way.
Fontaine of Knowledge 2-1 Sheikh's Daylight Ribery
Fplbinary and his wise ones continue to make a splash as they move up the rankings. FPL Noise was the hero this week with a two-goal brace to see them to the win, although good squad performance from the Sheiks saw them steal a goal back with Trust John's 99 one of the highlights.
A. Wenger's Endgame 2-2 Sheikh, Blatter and Raul
Two teams in contention at the top of the table, A. Wengers must have believed victory was inevitable after FPL Gato's goal and a fine squad performance saw them to a two-goal lead. However the Auto Pick's analytical angels gave FPL Banger's team the rhythm and blues with strikes from their deadly frontmen FPL Robbed and FPL_Jan.
It's a Wonderful Cryuff 1-0 Murder on Zidane's Floor
A bit of surprise here as the homicidal discotheque dwellers have been dancing away quite happily at the top of the table but it was It's a Wonderful Cruyff who came away with the victory.
Rascalthebear performed some heroics in between the sticks to keep the Zidane strikers at bay before the squad score saw them to a one nil victory, with Andrew Nellist's 93 worth a mention.
Cafu Good Men 0-2 Neto that Hauland
Where has it all gone wrong for the Cafu Good Men? They were riding high until the last few weeks but rumours of skulduggery are emerging as Nima, leader of the Neymarless Ones put in a call to his old mate FPL Lens to make sure Neto that Hauland took care of business.
Whatever happened, Cafu Good Men couldn't handle the truth with Libero FPL keeping a fine clean sheet before the rest of the Haulanders scored two goals, well done to Akib48 with 94. All this and they could afford to bench Mark Sutherns who scored 97.
I Gerd Muller a Pint 1-0 Fabio Cannavariance
Five wins in a row now for I Gerd Muller a Pint and hopefully they had more than one drink to celebrate after a fine victory over a difficult opponent. The Fabio's will no doubt being blaming luck as the analytical outfit failed to score against the German beer swiggers.
Holly Shand's 95 was the top score and helped Fanteamlagdon and his group to triumph. Could they go all the way to the top?
No Koeman No Cry 0-2 Klose than Ever
Zeeshan benched Magnus Carlsen yet again, the erratic Chess Grandmaster appears to have lost the trust of his King. It proved the right move as Klose than Ever won the day, there was a goal from Sachin followed by a fine squad performance to leave No Koeman No Cry sobbing over another loss, the only way is up!
Sweet 2FA 2-1 Cameroon Diaz
The security conscious Sweets won out the day over the sassy Cameroons, FPL Adrianoooo got them off on the right authenticated foot, before the devilishly good-looking Lord (I know he'll be reading and want him to say something nice about me when he next takes the pen) pulled it level with a divine strike.
However, it was a good squad performance which saw the victory go to Sweet 2FA, FPL Shake n Bake was an oven ready delight.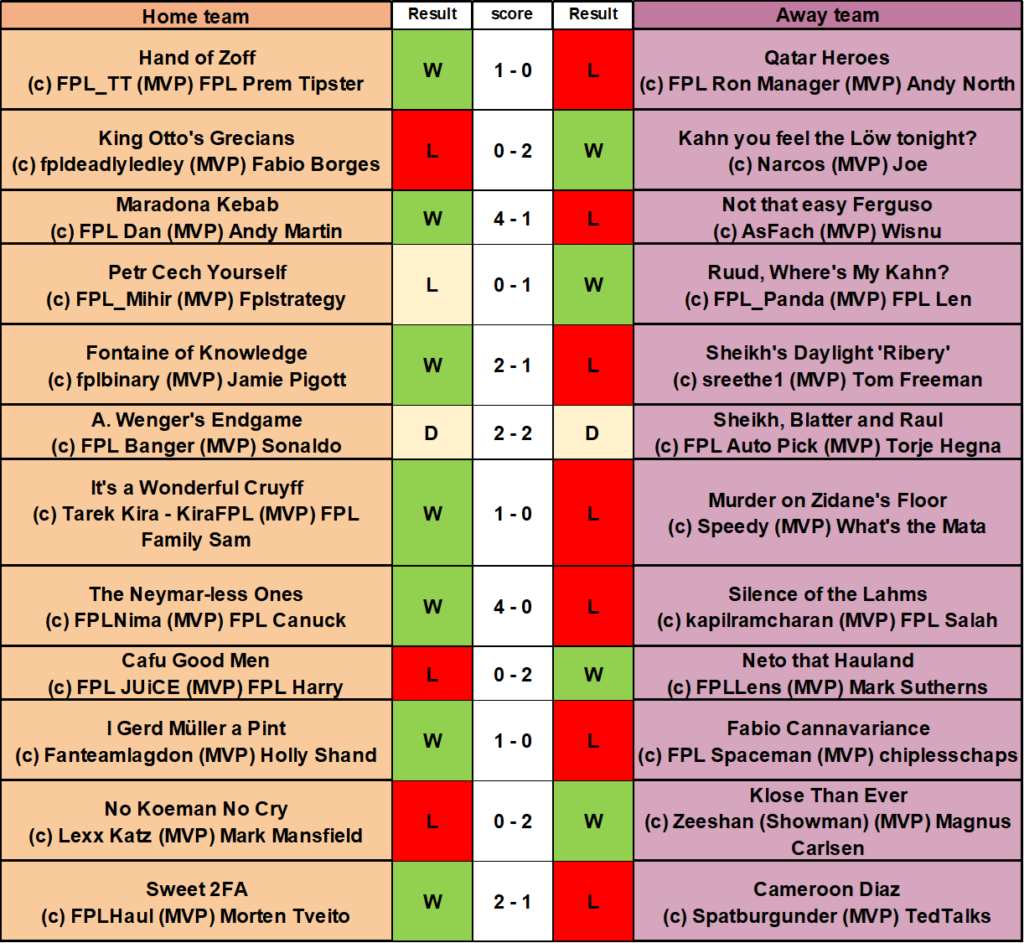 Jules League Standings
This is what it means to the table and The Neymar-less Ones can take a screen shot now for posterity, as they take the no.1 spot for the first time this season. However Neto that Hauland, I Gerd Muller a Pint and former leaders Cafu Good Men are not far behind, with only seven games to go it's getting spicy.
Elsewhere, there is a battle royale to make it into the Champions League qualification places, remember the top eight qualify, and there is work to be done for No Koeman No Cry if they are to avoid the wooden spoon.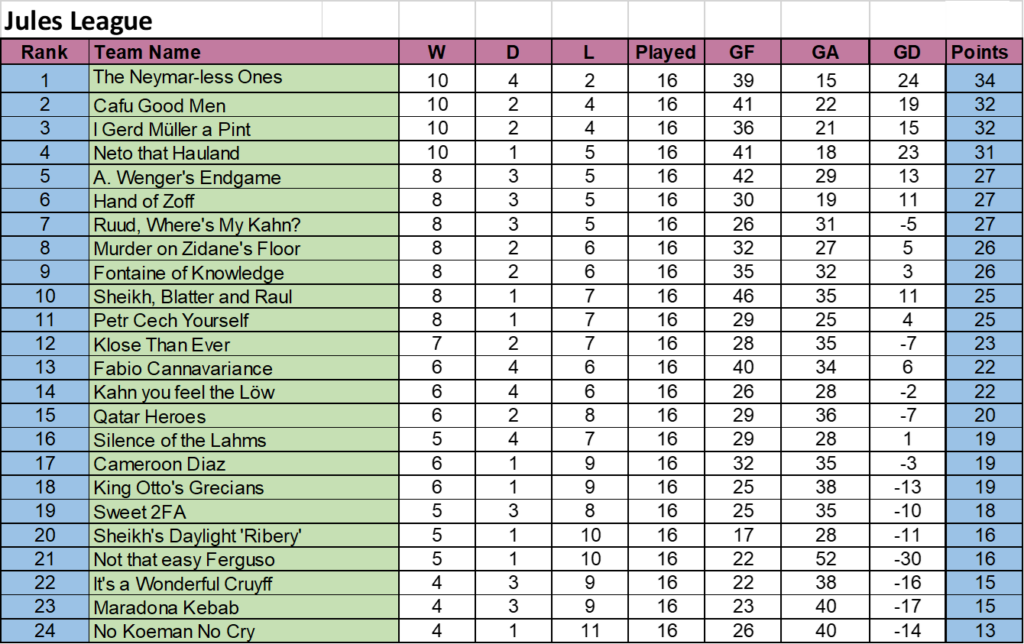 Rimet League Results
Son of Gun 1-3 Vuvu Zizou
Yes, I know I missed the umlaut on the Gun before the spelling pedants write in but I couldn't find it on my keyboard. Anyway, there was further bad news for the tournament hot shots as they misfired against the horn blowers, Mr C Maths and FPL Sergeant scored one a piece before the rest of the squad chipped in making it two wins in a row for Vuvu Zizou.
Frenchy_FPL at least scored one for Son of a Gun but it was not enough for FPL Richie and crew, I suspect the hair dryer treatment will be used over the next few days, probably wasted on Pep_Talk due to his follicly challenged moniker.
Fangs of Suarez 2-1 Pjanic at the Disco
The Fangs continue to take a large bite out of the competition with another three points, Understanding f8 has now martialled his snappy gang up to second place in the table. It was a team effort this week which saw them to a two-goal advantage with Pjanic at the Disco only able to score one floor filler through Rodney McCain.
Baggio Trousers 2-1 Nusantara Gauchos
Madness! One step beyond for the Trousers who emptied their pockets to find two goals from Sonny and TLF to give them a win over one of the top teams in the division. No doubt the Gauchos will come back stronger although I suspect Luthfi will regret leaving alifmojo's 82 points on the bench, they also had an excess of Craig Whites which on this occasion was not a good thing.
Lucio and the Viking Seaman 1-2 One Tchouameni
Oh dear! The Viking are firing blanks, even top striker in the competition Pingreen seems to have lost his mojo. The result sees them fall out of the Champions League places and replaced by their opponents here, with Mat Gilbert and Adam Hopcroft both hitting the back of the net to see Tchouameni being too much for FPL Viking and co.
Werner Bros 1-1 Shearer's Bunch of Flowers
Honours equal here in this mid table clash, Mreidfelt bloomed for the flowers with a goal before it was cancelled out by the Werner fraternity squad with Alissa.18 and Camzy's scores in the 80s the performances of note.
Gentleman's Grealish 2-0 Unbelievable Geoff
Unbelievably, Unbelievable Geoff find themselves lurking in the lower recesses of the division after this result, whilst Gentleman's Grealish are a team on the up. A strong performance here with good scores from FPL Focal, Noble Gent and FPL Hank (Cam) all helping them to a civilised but flavoursome outcome.
Weah Robben Banks 1-2 Seven! Seven! Seven! etc
This game went to the recent form book with a GauravGharge and gang achieving a repetitive series of good results in recent weeks, this time out FPL Showdown scored the solo goal before the rest of the squad secured the three points. Former captain of the Weah Robben Banks, Tets McGee, hit one in retaliation but not enough to steal the match.
Britney Qatar Pounder with Greaves 1-1 Netflix and Chilwell
We got a point! Yes, it's been a tough few weeks for the Pounders but is this a sign of that our season is turning a corner as we go supersize for the rest of the campaign? It was a captain's goal for FPL Toni of Netflix and Chilwell but not enough as we streamed forward to secure a draw.
Banyana-Bafana 2-2 Shelby Company Limited
A cracking game here, as expected, with Shelby Company Limited peaking over recent matches thanks to some blinding performances. Goals courtesy of FPL_Ezra and their squad performance but the third-place Banyana came back with a goal apiece from Stevie G and the monstrous Kraken.
Cash Bandicott 0-3 Hurrikane's Mean Sons Three Lions
A complete performance from the team with the most complex name in the competition. Cak Juris and FPL Captain Denis punted one each into the onion bag before their squad followed suit with an extra goal. The Cash Bandicoots will no doubt regroup and bite back next time round.
Garuda in Coupe de Monde 38 2-3 Ryan's Ronaldos
An exciting showcase of talent here with Pras's 90 points scoring him a goal before the rest of the team made it three, this was enough to overcome their opponents despite goals from their two strikers igoy_darma and Tom Stephenson. Can the Ronaldo's push on into the qualification spots?
Zlatan Ibra-hamster-vic 3-0 Mercedes Benzema
Ok, I've put it off long enough. The Hamsters won again! The Hitman and Az, which sounds like 80's show based in a nightclub – younger readers should google this – failed to score past a fine goalkeeping performance from the cryptically named Kse7en, but their squad did more than enough to see them to the win.
One of their squad even managed the highest score of the week, a magnificent 106, but I know he is too modest to want to be named.
Looks like I am wearing that Arsenal shirt after all!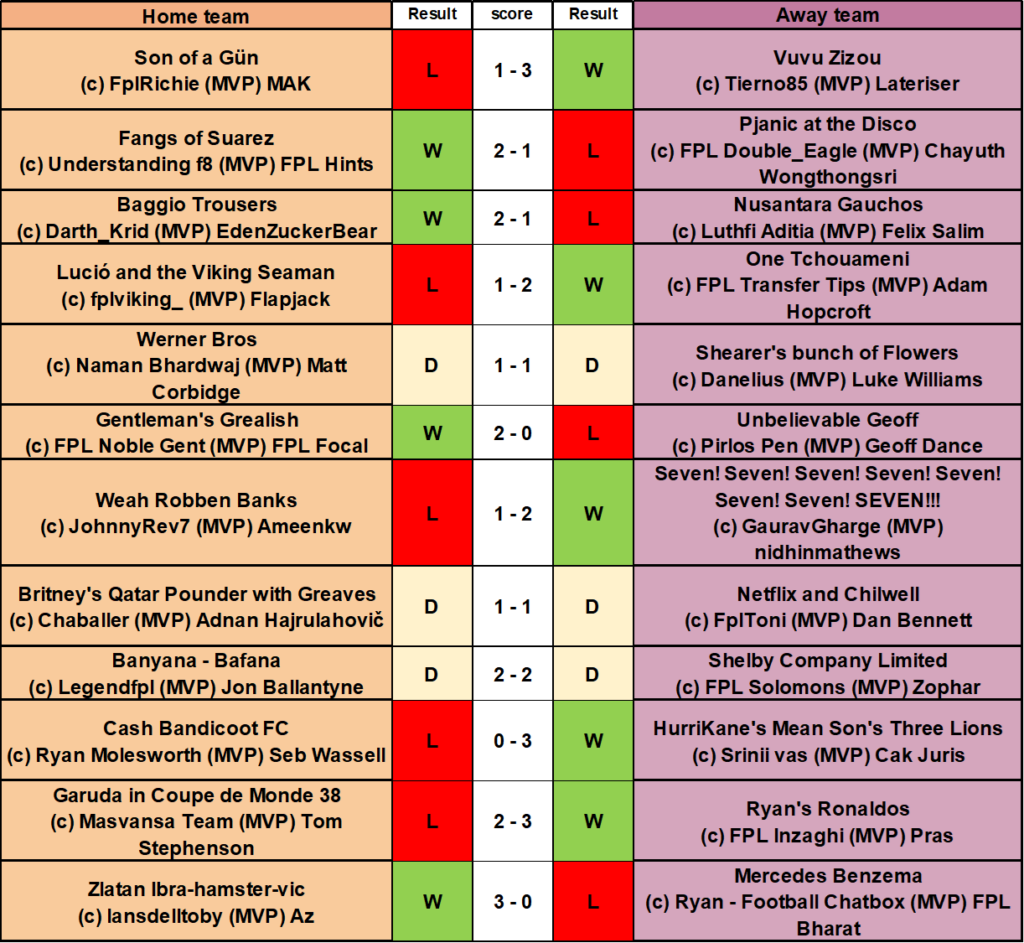 Rimet League Table
Look away if you have an aversion to furry rodents but the Hamsters are now clear by five points with the Fangs doing their best to nibble away at their lead.
It's very close for the top eight with only seven points separating 16 teams. Meanwhile, in the lower nether regions, let's see whether Vuvu Zizou can continue their mini revival.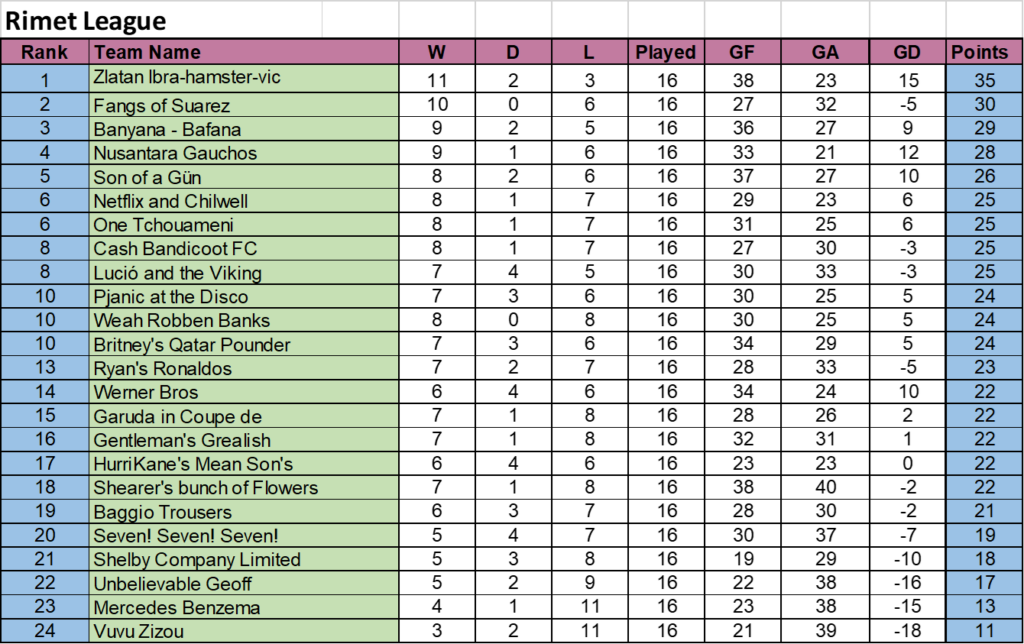 Top of the Pops
Pingreen may be suffering a goal-scoring drought but he remains the no.1 striker, although watch for FF Thinker who is fine form. It's a straight glove off between PG and Chayuth Wongthongsri for the keeping prize and yes, yes as it turns out Boris Bodega is now the overall MVP in the competition. I am delighted for him! No, really, I am.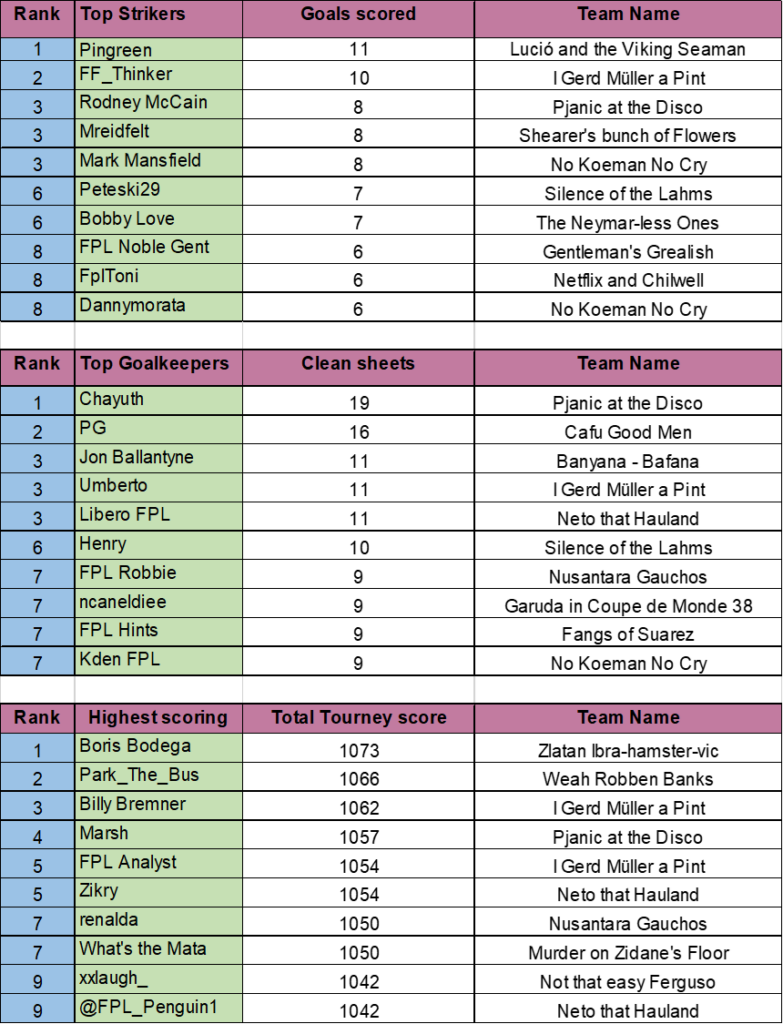 Coming up!
In the Jules League, The Neymar-less Ones who famously claim not to use a spreadsheet now face up to a team who are the excellence of excel Sheikh, Blatter and Raul, so it's a classic Grass FC vs Analytics FC.
Another one to watch is Murder on Zidane's Floor, who have lost only two of their last six, against the former league leaders Cafu Good Men, who have lost four in that same period. Can they dance to a win or will it be a bloodbath?
Over in the Rimet division, Vuvu Zizou's resurrection will be tested by the Fangs of Suarez, while the rest of the teams will be cheering on HurriKane's Mean Son's Three Lions as they battle the Hamsters.
Finally, some good news – the trophies have arrived and the budget awards ceremony will take place at the FPL Meets event in London on Gameweek 38 but stay tuned for more details.