With consecutive mini-Double Gameweeks coming up and Blank Gameweeks on the horizon we thought it'd be a good time to frisk the fixtures.
Published before Manchester United play their semi-final second leg against Nottingham Forest, we have assumed that the earlier 3-0 will ensure their place in the Wembley showdown. Sorry, Forest fans!
This article sees us assess the clubs and players with, in theory, the strongest and weakest runs of matches over the next seven Gameweeks, taking us up to Blank Gameweek 28 and the March international break.
Our colour-coded Season Ticker is the primary source for this piece; using this tool as a Premium Member, you can sort by difficulty, rank by attacking and defensive potential or find budget rotation pairings. You can even set your own difficulty ratings, should you disagree with our own.
You can see a tutorial on the Season Ticker here.
---
SEASON TICKER OVERVIEW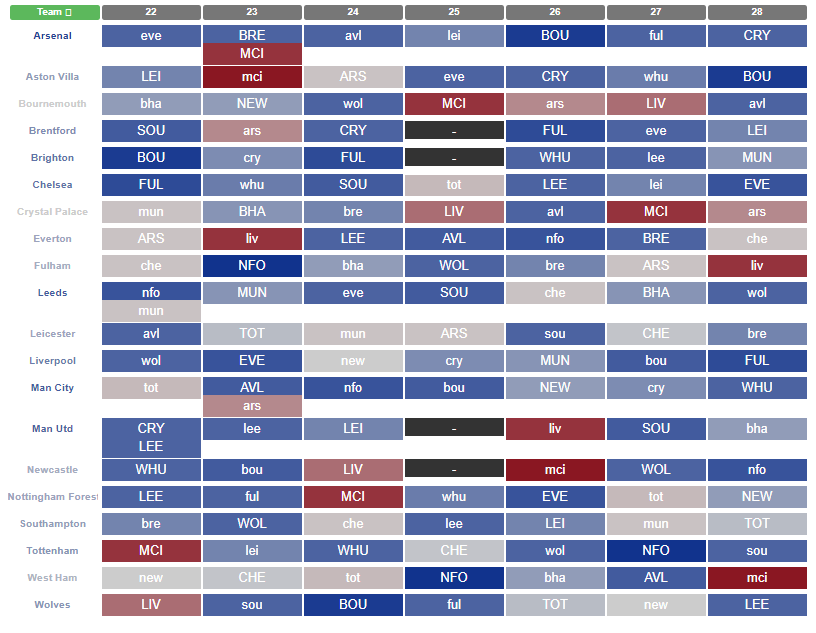 GW22-28: DOUBLE/BLANK GAMEWEEK BREAKDOWN
| | |
| --- | --- |
| A definite Double Gameweek and no blanks | Arsenal |
| A definite Double Gameweek and a possible GW28 blank | Leeds, Man City |
| A definite Double Gameweek, a GW25 blank and a possible GW28 blank | Man Utd |
| No definite Double Gameweek and no blanks | Aston Villa, Bournemouth, Chelsea, Crystal Palace, Everton, Nottm Forest |
| No definite Double Gameweek and a GW25 blank | Newcastle |
| No definite Double Gameweek and a possible GW28 blank | Fulham, Leicester, Liverpool, Southampton, Spurs, West Ham, Wolves |
| No definite Double Gameweek, a GW25 blank and a possible GW28 blank | Brentford, Brighton |
---
What you see in the first graphic of this section is how things stand now.
Those Gameweek 28 blanks will finally be determined ahead of the Gameweek 26 deadline, after the FA Cup fifth round has taken place. You can read more about that here.
It should be stressed that additional (small) Double Gameweeks could be created before we get to Gameweek 28: Brighton, for example, could end up having as many as five fixtures to reschedule, so the Premier League may opt to get started on those sooner rather than later.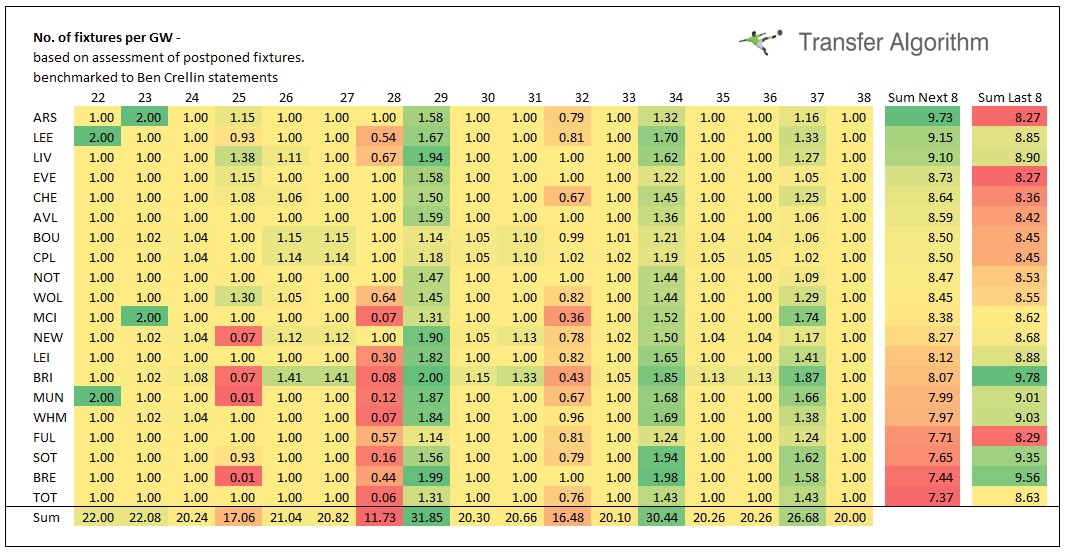 Above: Mikkel Tokvam's visualisation of when the Double Gameweeks could fall
BEST FIXTURES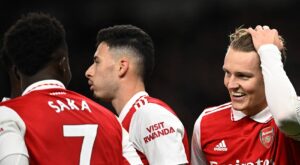 ARSENAL
Not only are Arsenal top of the league and providing numerous FPL assets of amazing value but they also have the best fixture run until Gameweek 28 – a round where they're one of only eight teams guaranteed to participate. There is also a previously postponed home clash with Everton to fit in at some point, although that may come later in the season.
It's just a question of which players to have, as the maximum of three suddenly seems too restrictive. Gabriel Martinelli (£6.7m) has amassed the bigger ownership throughout the season but his form has tailed off at a time when Leandro Trossard (£6.7m) has signed from Brighton and Hove Albion.
Martin Odegaard (£6.9m) is FPL's top-scoring midfielder for FPL points thanks to 14 goal involvements, although Bukayo Saka (£8.2m) beats that attacking returns tally with 15. Both are superb options, with forward Eddie Nketiah (£6.7m) having much better numbers for shots inside the box (18), big chances (7) and expected goals (4.61) since Gameweek 17.
Possessing a defensive name like Ben White (£4.7m), William Saliba (£5.3m), Gabriel (£5.2m) or Aaron Ramsdale (£4.9m) has been near-essential so far in 2022/23, as Arsenal have been trumped only by Newcastle United for clean sheets. But while this quartet continue to offer excellent value at the back, there will be a few FPL managers tempted to go for the attacking triple-up instead.
LEEDS UNITED

Hovering one point above the relegation zone with one of the league's worst defences, it's mostly about the attack with Leeds when it comes to attractive FPL picks.
They have Double Gameweek 22, a favourable Blank Gameweek 25 fixture (now confirmed as going ahead after Southampton's EFL Cup exit) and they will eventually squeeze in a home clash with Nottingham Forest between now and May.
Yet there are two problems.
Firstly, they could blank in Gameweek 28 depending on FA Cup success.
Secondly, they have plenty of attacking options to rotate with. As the only midfielder to reach ten goals, Rodrigo (£6.4m) ought to be fairly secure in Jesse Marsch's line-up but the return to fitness of Patrick Bamford (£7.2m) makes even the Spaniard a question mark.
The excitingly cheap talent of Wilfried Gnonto (£5.0m) appeals right now and he looks undroppable on current form, so he should see out Gameweek 22 with no problem. But there are the likes of Luis Sinisterra (£6.5m) and former FPL target Crysencio Summerville (£4.2m) waiting in the wings, so medium-term security would still have to be questioned should his current high levels dip at all.
MANCHESTER CITY

It's possible that Kevin De Bruyne (£12.5m) owners have the luxury of switching to and from Bruno Fernandes (£9.9m) to maximise the potential of Double Gameweeks 22 and 23. You'd certainly want the Belgian back for such a good fixture run up to Gameweek 28, where they're likely to blank on FA Cup weekend.
The only debate with Erling Haaland (£12.2m) is whether to Triple Captain him in Double Gameweek 23, whilst in-form Riyad Mahrez (£7.7m) has six goals and three assists from Manchester City's last eight matches.
Although the Champions League's return could worsen rotation fears (City play RB Leipzig in between Gameweeks 24 and 25, with the second leg falling between Gameweeks 27 and 28), Pep Guardiola is chasing down Arsenal's lead and no more slip-ups can be afforded.
The shock departure of Joao Cancelo (£7.1m), combined with John Stones' (£5.4m) hamstring injury, could make picking a defender slightly less stressful – someone like Nathan Ake (£5.0m), Manuel Akanji (£5.0m) or Rico Lewis (£3.9m) looks best placed to capitalise in the interim.
CHELSEA

Amidst all the big-money new names at Stamford Bridge, their best asset during this promising fixture run arguably remains goalkeeper Kepa Arrizabalaga (£4.6m). Three of his six post-World Cup matches have ended with clean sheets, grabbing at least two bonus points in each.
Being one of just seven teams who are currently guaranteed to play in Blank Gameweeks 25 and 28 certainly adds appeal to Chelsea attackers but no side has scored fewer goals since Gameweek 12 and a lot of wide forwards have arrived.
Mykhailo Mudryk (£7.0m) could be the best route into it, after a promising debut at Liverpool. That £88m fee, plus injuries to Raheem Sterling (£9.7m) and Christian Pulisic (£5.7m), should give him a run in the starting XI and he'd be a supreme differential for FPL managers looking to hunt down their mini-league leader.
LIVERPOOL

Is it too soon to mention Darwin Nunez (£8.8m) again? Thought so. Yet Liverpool have an appealing set of league games that includes Everton (H), Crystal Palace (a) and Bournemouth (a).
Their Gameweek 28 hosting of Fulham will only take place if either Sunderland or Leeds eliminates the Cottagers from the FA Cup, although there's a chance that Wolverhampton Wanderers (H) could be played instead.
FPL icon Mohamed Salah (£12.7m) is on four successive blanks and two recent price drops but, as we've seen before, he is always one good match away from being a popular option again. It's probably best to stay away from their defence, though: they have already allowed more 'big chances' than they did in the whole of 2021/22.
ALSO CONSIDER

The Season Ticker rankings of Man United and Brighton will be heavily affected by Blank Gameweek 25, while there'll also be a probable blank in Gameweek 28 – otherwise both would be extremely high. Newcastle United and Brentford will also be absent.
Marcus Rashford (£7.2m) and Luke Shaw (£5.3m) are popular right now but the blank adds debate for managers considering a third Red Devil, with hugely in-form Kaoru Mitoma (£5.1m) dazzling on the south coast at a bargain price. Three goals and 31 FPL points have arrived in his past four games.
Team-mate Evan Ferguson (£4.6m) has a slight knock but is a third forward that enables a five-man midfield to navigate the rough shores ahead. At left-back, Brighton also have the attacking tendencies of Pervis Estupinan (£4.5m).
Meanwhile, the ever-reliable Harry Kane (£11.7m) is single-handedly keeping Spurs in the Champions League hunt. Once the visit of Man City is out of the way, the schedule looks a lot more serene for the Lilywhites.
---
WORST FIXTURES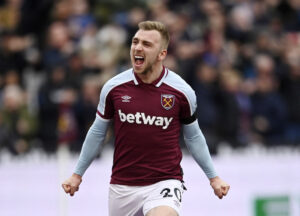 WEST HAM UNITED

The two goals of Jarrod Bowen (£8.0m) gave his side a massive Gameweek 21 win over Everton. After just one point from their previous seven attempts, with a nasty-looking run of opponents on the horizon, the Hammers simply had to win and they did.
With both themselves and Man City still in the FA Cup, Blank Gameweek 28 is very likely, extinguishing any faint reasons to buy into David Moyes' side.
It's interesting to see that only four teams have conceded fewer goals (25) all season but that record will be put to the test before the March international break, with the attacks of Newcastle, Chelsea, Spurs and Brighton to come.
BOURNEMOUTH

A late equaliser denied Bournemouth a win against Nottingham Forest, meaning they're on four points and eight defeats from their last ten league games. This plummet isn't exactly unexpected but emphasises why most FPL managers have kept away from the Cherries all season.
Dango Ouattara (£5.0m), Hamed Traore, Antoine Semenyo (£5.0m) and Illya Zabarnyi have all signed in January, with Ouattara, in particular, looking like a very good player.
If it wasn't for such a bad fixture run (five of the top 10 now follow in Gameweeks 22-27), Ouattara may be seen as a differential route out of Miguel Almiron (£5.8m), although we can at least say that Bournemouth will definitely play during Blank Gameweek 28.
CRYSTAL PALACE

Finally, Crystal Palace. They are currently in 12th place, ticking along nicely, mixing draws versus Man United and Newcastle with heavy home defeats to Fulham and Spurs.
Wilfried Zaha (£7.2m) is on seven successive blanks and has a hamstring problem, whilst their defence has regressed from 2021/22. Then, they ended with the fifth-best record for conceding attempts, shots on target and expected goals.
Palace are playing in Blank Gameweek 28 but it's away at leaders Arsenal, with all six of their opponents before that 11th placed or higher.
---