Our Live Hall of Fame has been given an update ahead of Double Gameweek 22.
Fantasy Football Scout Members can access the Fantasy Premier League (FPL) IDs of all the managers on the list and click through to their teams.
Here we take a quick look at the make-up of the top ten, plus give a brief overview of how these leading managers have their squads currently set up.
WHAT IS THE HALL OF FAME?
For the uninitiated, the Hall of Fame is a ranking system applied to everyone who takes part in either of our FPL mini-leagues.
Managers' past and present performances are then tracked to give a Hall of Fame (HoF) rating.
The Live version of our Hall of Fame can only be viewed by Premium Members but everyone can access the Career Hall of Fame by clicking here.
Further information on the Hall of Fame is included at the bottom of this article, but alternatively, you can view this movie to listen to Mark Sutherns and Rate My Team's Chris Atkinson discuss the feature.
2022/23 LIVE HALL OF FAME: THE STANDINGS

Since the Gameweek 13 update, Markku Ojala, Niall O'Connor and Tom Stephenson have all entered the top ten, as Adnan Hajrulahovic, Raphael Crettol and Sean Connors make way.
The current FPL squads of this top ten sit between 22k and 213k in the overall rankings, with Finn Sollie solidifying his lead over Fabio Borges.
Matt Corbidge and John Canning have swapped their third and fifth positions, whilst Jon Ballantyne's rise up to seventh has pushed Mark Mansfield down to eighth.
Seven of these were part of our Career Hall of Fame top ten at the end of last season.
2022/23 LIVE HALL OF FAME: THE TOP TEN'S FPL SQUADS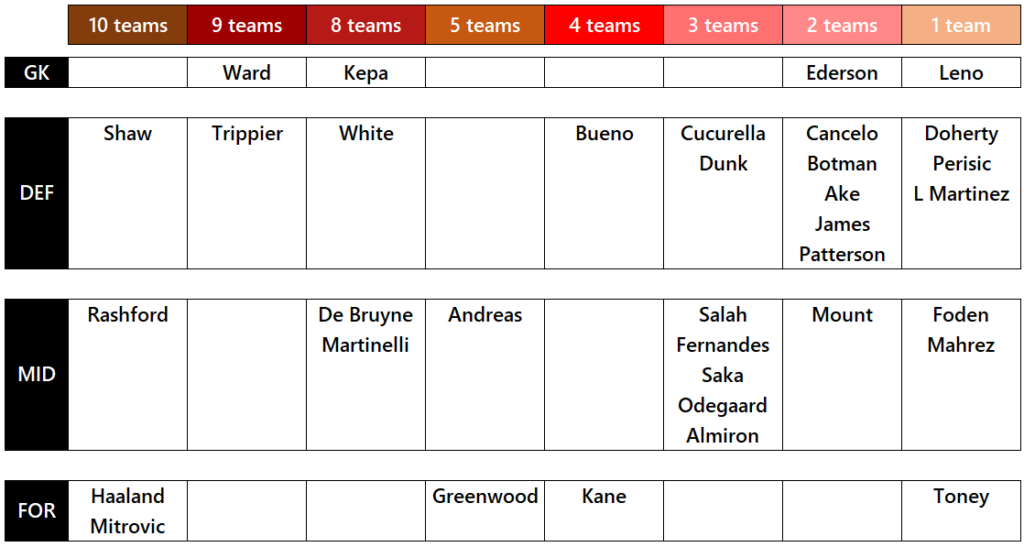 Looking at each of their Gameweek 21 squads, a template has emerged around ten names. The goalkeeping pair of Kepa Arrizabalaga (£4.6m) and Danny Ward (£4.0m), with a defence of Kieran Trippier (£6.1m), Luke Shaw (£5.3m) and Ben White (£4.7m).
Ahead of them, Marcus Rashford (£7.2m), Kevin De Bruyne (£12.5m) and Gabriel Martinelli (£6.7m), with Erling Haaland (£12.2m) and Aleksandar Mitrovic (£7.0m) up front.
It'll be interesting to see how many sell Mitrovic and buy Bruno Fernandes (£9.9m) for Double Gameweek 22, alongside three teams that contain the now-gone Joao Cancelo (£7.1m) and Matt Doherty (£4.6m).
Furthermore, half of the ten have cheap enabler Sam Greenwood (£4.1m) and a 3-5-2 formation.
---
HALL OF FAME FAQ
How is my rating calculated?
The "HoF Rating" is based on your points scores from previous FPL seasons, with the latest season weighted the heaviest and each preceding season weighted at roughly 80% of the one that followed. So, in other words, those who performed best in 2021/22 will receive a bigger HoF Rating boost from those who did best in 2007/08. The "HoF Ranking" even allows for those with missing years, adapting the formula accordingly to allow rookies to rank alongside the veterans of FPL.
How do I join the Hall of Fame
Simply sign up to our leagues next season, either the Fantasy Football Scout league or, if you're a Member, the Fantasy Football Scout Members' league – the code for the latter will be available on the dashboard of the Members' Area after launch.
How do I find myself in the Hall of Fame?
The search box at the top of the ranking tables allows you to search by surname or by FPL ID.
What if I don't want to be listed?
Either notify us via support@fantasyfootballscout.co.uk or simply leave the relevant Fantasy Football Scout FPL league and you'll be removed on the next update.
When does the Hall of Fame get updated?
The Career table is available to all and is updated at the end of each season to display the latest yearly rankings. The Live version, accessible only to Members, is updated sporadically throughout the season to reflect the scores of the current campaign.