After three-and-a-half seasons, five goals, 17 assists, 44 clean sheets and 457 Fantasy Premier League (FPL) points, we've said auf wiedersehen to Joao Cancelo (£7.1m).
A nailed starter until Gameweek 16 and then deemed dispensable by Gameweek 22, his fall from Manchester City regular and FPL royalty status was a sharp one.
He's been packed off on loan to Bayern Munich for the rest of 2022/23 but he looks unlikely to be wearing the sky blue of City again, with an 'option to buy' clause also tagged onto this deal.
We've already gone through some Cancelo replacements for your FPL team but now we turn our attention to how Pep Guardiola will shape up his City defence without the Portugal international.
And the key question: is anyone 'nailed' as a result of Cancelo's exit?
THE OPTIONS IN EACH POSITION
| | | | |
| --- | --- | --- | --- |
| Right-back | Right centre-back | Left centre-back | Left-back |
| Lewis, Walker, Stones, Akanji | Stones, Akanji, Dias, Walker | Akanji, Laporte, Ake | Ake, Laporte, Gomez |
---
Above is a very rough indication of who can play where in the City backline. Cancelo's departure and Rico Lewis's (£3.9m) rise to prominence probably make some tactical choices slightly less likely: ie John Stones (£5.4m) or Manuel Akanji (£5.0m) starting at right-back, given that there are no real trusted candidates to 'invert' on the left.
Just to prove that anything is possible in Pep's world, however, Stones did indeed end up at right-back (inverting into midfield) in the second half of Gameweek 21, with four recognised centre-halves stationed in the defence.
Of course, the positions listed are nominal ones. A full-back is often not really a full-back in Guardiola's teams, while even the centre-halves can shift about – as we're about to discuss in the section below.
HOW PEP HAS USED HIS FULL-BACKS (AND CENTRE-HALVES) IN 2022/23
THE 3-2-5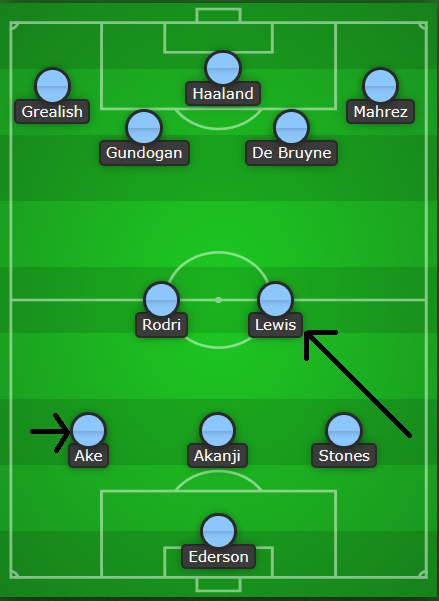 Since the World Cup, we've chiefly seen a 3-2-5 on-the-ball set-up from Man City.
The nominal right-back, in this case Lewis, pushes forward into central midfield alongside Rodri (£5.6m)
The left-back, Nathan Ake (£5.0m) here, shunts over to form a three-man backline with the two centre-halves.
The mirror image of this set-up (with the right-back staying at home and the left-back inverting) is, of course, possible, but Guardiola now has fewer options suited to this approach on the left since Cancelo departed.
With no width provided by the full-backs, it's generally up to the wingers to stay high and wide.
THE 2-3-5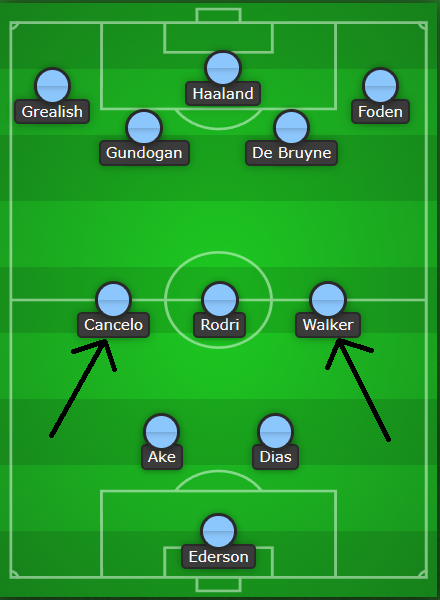 City began the season in the 2-3-5 system you see above, with the two full-backs – Cancelo and Kyle Walker (£4.8m) here – both 'inverting' and moving up alongside Rodri.
It was used to good effect against West Ham in Gameweek 1, nullifying breaks from the narrow Hammers attack.
2-4-4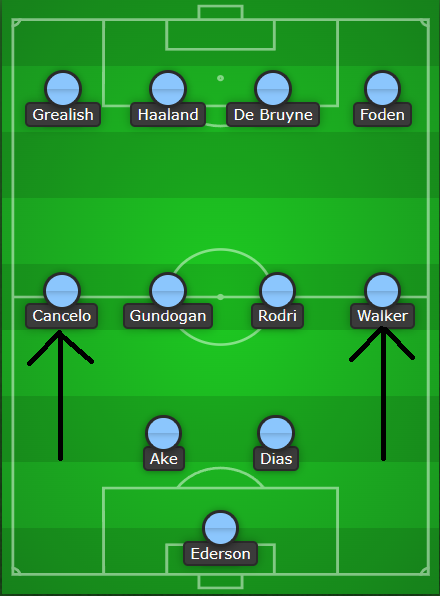 Not that Pep is averse to using more orthodox, attacking full-backs on occasion, or as close to orthodox as you get with the slippery City boss.
Walker and Cancelo were both pushed up the flank in the first Manchester derby of the season, for example, while an early tactical switch in the FA Cup game against Chelsea last month saw Walker and Sergio Gomez (£4.5m) adopt similar roles.
2-2-6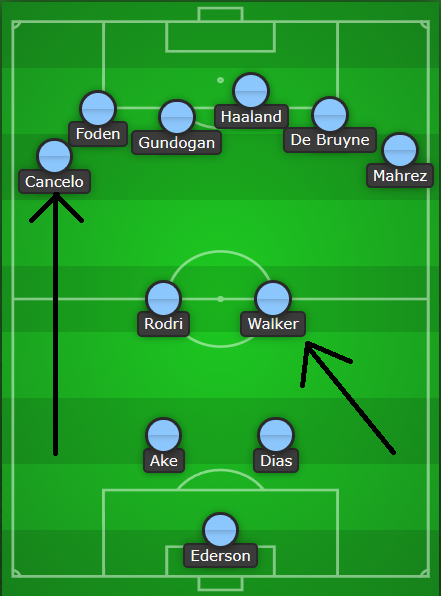 This is a gung-ho approach on paper but it's generally only used when City encounter a bus-parking exercise from a five-man defence, with one of the full-backs pushed up to effectively form a six-man attack.
The Bournemouth home game back in August featured this set-up, as an example.
HOW CITY HAVE PLAYED WITHOUT CANCELO SO FAR