With Gameweek 22 of Fantasy Premier League (FPL) almost upon us, we're once again getting tips and advice from our top team of Pro Pundits, Hall of Famers and guest contributors.
Our writers will be providing regular articles and team reveals throughout the new season, with only Premium Members able to access every single one.
Next up is FPL Milanista, who is ranked 16th in our Live Hall of Fame and has posted overall ranks of 473rd and 1,547th in the last two FPL seasons. He is also a nine-year veteran of the Fantasy Football Scout site.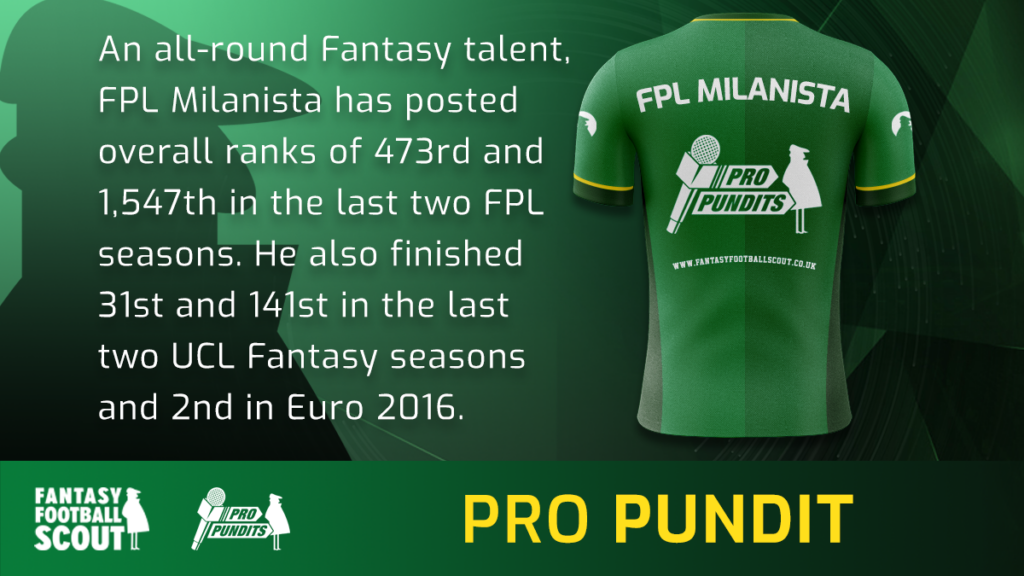 ---
It's been a while without FPL but it's now time to look ahead to Double Gameweek 22 and beyond, as we finally got the confirmation of Blank Gameweek 25. It is the time of year when we need to prepare well for the future schedule, as it presents an opportunity for major rank boosts.
Four teams miss out in Gameweek 25 – Manchester United, Newcastle United, Brentford and Brighton and Hove Albion – so we will need to navigate this with our free transfers, especially considering the significant FPL investment made into the first two sides.
It's worth noting that Brighton have a couple of games that may get rescheduled into that week but, as of now, we have no concrete information and need to assume that it won't happen.
ARSENAL AND MAN CITY
The real question now is which teams shall we focus our attention on? It's really difficult to look beyond Arsenal and Manchester City assets at the moment. They are the two best teams in the league, will both play twice in Gameweek 23 and neither will blank in 25 – does it seem too good to be true? Indeed.
However, deciding which assets to pick from these sides is tricky, especially when many FPL managers are already invested in Gabriel Martinelli (£6.7m), Ben White (£4.7m) and William Saliba (£5.3m), who may not be the ideal three to own.
Yet is it worth selling any of them to enable another Gunner? I don't think so, simply because free transfers are very valuable at this point. I will talk more about Arsenal later, as my team only has Martinelli right now and my current plan is to add two more before the double.
On the other hand, Man City's options are quite straightforward, with Erling Haaland (£12.2m) and Kevin De Bruyne (£12.5m) at the heart of many Fantasy teams. The third pick isn't as obvious but the trend is seemingly to go for Riyad Mahrez (£7.7m) after his three goals and four assists since the restart. He is top for non-penalty expected goal involvement (NPxGI) per 90 among all midfielders.
Tripling up on this attack is an enticing thought, to be honest, and it may be the best way to go now that no defender is totally nailed-on. Ederson (£5.4m) is probably the safe choice for clean sheets but his ceiling being too low won't interest many.
DOUBLE GAMEWEEK 22
Now, we cannot ignore the fact that we have a Double Gameweek 22 for Man United, at home to Crystal Palace and Leeds United – the sides ranked 15th and 19th for non-penalty expected goals conceded (NPxGC) per 90 since the restart.
Therefore, investing in their assets for this is vital, regardless of their imminent blank. Many managers will already have Marcus Rashford (£7.2m) and Luke Shaw (£5.3m), whereas I think Bruno Fernandes (£9.9m), David De Gea (£4.9m) and Casemiro (£4.9m) are also to be considered.
As for Leeds' double, it's just been announced that Rodrigo (£6.4m) will be injured for two months. So I'd only be looking at Wilfried Gnonto (£5.0m) to own, also being aware that free transfers may be better used for Man City and Arsenal next week.
TRIPLE CAPTAIN
Before revealing my current team, let's discuss the Triple Captain chip. I didn't activate mine on Haaland back in Gameweek 20 as I slightly favoured his Gameweek 23 fixtures, believing that the tougher fixture with Arsenal will see an extremely motivated City know that any non-victory could end their title hopes.
Yet I am facing a bigger dilemma, as Rashford – in the form of his life – is facing two leaky defences and we all know that he loves a home game! This decision will be made on Friday night but, if I'm honest, it's currently 60/40 in favour of Rashford at the time of writing.
Speaking of my team, it's currently at a 21k global ranking and I'm heading into Gameweek 22 with two free transfers and an already-owned Fernandes, so my focus is currently directed at future weeks (now that a Rodrigo punt can't happen).
MY TEAM FOR GAMEWEEK 22