Not only did Manchester City fail to take advantage of Arsenal's defeat at Everton by also slipping up at Tottenham Hotspur, but it was also announced on Monday that they've been charged by the Premier League for more than 100 breaches of its financial rules.
Accused of not cooperating when it comes to providing accurate information on the club's financial position, a severe punishment could be on its way, although not anytime soon.
It means that they – in the words of Kevin Keegan – are still fighting for this title. Five points adrift of the Gunners having played an extra match, Pep Guardiola's side still gets to face them twice.
If they can quickly get their act together, Fantasy Premier League (FPL) managers will be keen on owning more of their players. Let's investigate which are likeliest to avoid the infamous 'Pep Roulette'.
HOW MANY DO WE NEED?
The champions' last eight league games have included defeats at Spurs and Manchester United, whilst losing at home to Brentford and only drawing with Everton. In the Gameweek 20 clash with Spurs, a 2-0 deficit was eventually turned into a 4-2 win.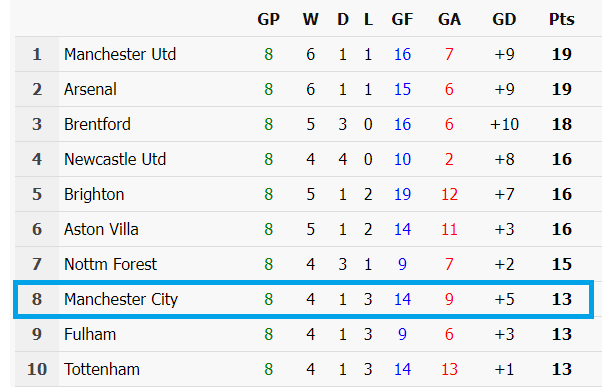 Above: Each team's last eight matches
Team form is average and, individually, it's bad. When ranked by form, Riyad Mahrez (£7.7m) is the only Man City man inside the top 30 midfielders, whilst none are in the top 50 for defenders.
There is simply much better value in the assets of Arsenal, Man Utd and Brighton and Hove Albion right now. Until recently, a triple-up on Man City assets looked essential but now – having to guess which out-of-form names will play, for a Double Gameweek that still looks tricky – perhaps it doesn't.
UPCOMING SCHEDULE
It's complicated further by a busy fixture run that should include a Blank Gameweek 28 and several Champions League outings that will likely take Pep's priority.

There's a week-long gap before hosting Aston Villa, followed by a match every three or four days. It's not like Villa are an easy opponent either – Unai Emery has rejuvenated them into five wins from eight, with two successive away clean sheets.
A top-of-the-table meeting with Arsenal, followed by a hectic schedule that will surely see rotation surround the trip to RB Leipzig, does not bode well for any purchased Man City assets.
MAIN FPL TARGETS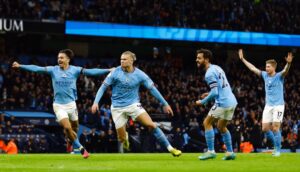 ERLING HAALAND (£12.2m)
Starting with the most obvious pick, all active managers have Haaland and usually choose him as the default captain. It'd just be too damaging not to, such is his 85.4 per cent overall ownership and 99.98 per cent within the top 100k.
By the Norwegian's extraordinarily high standards – 21 goals in his first 15 league games – he could almost be deemed 'out of form' after blanking in three of the last five. Yet one of the others brought a hat trick!