It's that time of the season again when Fantasy Premier League (FPL) managers start to ponder various chip strategies, including the best time to Wildcard.
The answer, of course, is partly team dependent.
In fact, over 11% of managers inside the top 10k had already used the chip before Gameweek 22.
However, for the rest of us, some Wildcard windows do appear more appealing than others, which we'll explore below.
GAMEWEEK 29
This should be a big Double Gameweek and one of the better opportunities to Wildcard or Free Hit.
It's also worth noting an international break precedes Gameweek 29, allowing additional time to tinker and react to any injuries, which is always welcome.
Mikkel Tokvam's excellent Transfer Algorithm had a go at predicting which teams could Double and Blank earlier this week (it was produced prior to Tuesday's Double Gameweek 25 announcement), which you can see below.
If a team has a score of 2.00, it's a guaranteed Double for that club, while a lower figure – like the one we see for Manchester City in Gameweek 28 – suggests there is a high chance of a Blank.
These are, of course, only predictions, but can prove very useful for planning purposes.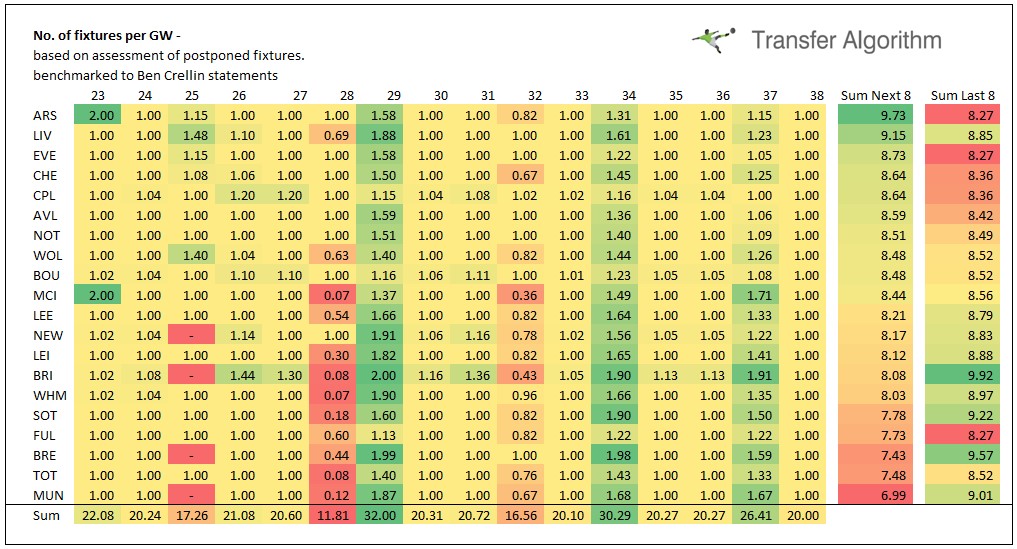 ---
As you can see, a lot of teams can potentially Double in Gameweek 29; the only two who can't are Arsenal and Everton.
However, things get complicated when we consider that some of those sides will also blank in Gameweek 28 due to clashes with the FA Cup quarter-finals.
At present, there are only four confirmed games scheduled to take place in Blank Gameweek 28, so dead-ending your team into this round of fixtures, then freshening up your squad the following week with a squad packed full of 'doublers' is appealing.
We'll only know the full extent of Blank Gameweek 28 after Gameweek 25, when the FA Cup fifth round has taken place, but here's a quick recap of where we currently stand.
| | | |
| --- | --- | --- |
| GW28 Premier League fixture | Status | A blank will happen if the following occurs: |
| Arsenal v Crystal Palace | On | |
| Aston Villa v Bournemouth | On | |
| Brentford v Leicester | Possible blank | If Leicester beat Blackburn in the FA Cup fifth round |
| Brighton v Man Utd | Possible blank | If Brighton beat Stoke in the FA Cup fifth round and/or if Man Utd beat West Ham in the FA Cup fifth round |
| Chelsea v Everton | On | |
| Liverpool v Fulham | Possible blank | If Fulham beat Leeds in the FA Cup fifth round |
| Man City v West Ham | Possible blank | If Man City beat Bristol City in the FA Cup fifth round and/or if West Ham beat Man Utd in the FA Cup fifth round |
| Nott'm Forest v Newcastle | On | |
| Southampton v Spurs | Possible blank | If Southampton beat Grimsby in the FA Cup fifth round and/or if Spurs beat Sheff Utd in the FA Cup fifth round |
| Wolves v Leeds | Possible blank | If Leeds beat Fulham/Sunderland in the FA Cup fifth round |
---
The main issue with this strategy is that you'll not be able to use another chip in Gameweek 29. Now, this isn't necessarily a problem, but if you still have your Bench Boost, you probably won't want to use it until Double Gameweeek 34 or 37. As a result, it's likely you'll have a bigger squad, with more money left on your bench each week.
If using your Wildcard ahead of Gameweek 29, Free Hitting in Blank Gameweek 32 – which coincides with the FA Cup semi-finals – could form a nice chip strategy.
GAMEWEEK 33

The rest of this article is completely free to read but requires a Fantasy Football Scout account for access – you can get yours at no cost here.