FPL Focal previews the weekend's Fantasy Premier League (FPL) action, taking a look at who the bookies think are the best bets for goals and clean sheets as well as monitoring the latest transfer trends.
Make sure to also check out G-Whizz's weekly Hot Topic on fixture and clean sheet odds when it appears, which also looks back at how the bookmakers performed in the previous Gameweek.
---
GAMEWEEK 23: GOALSCORER ODDS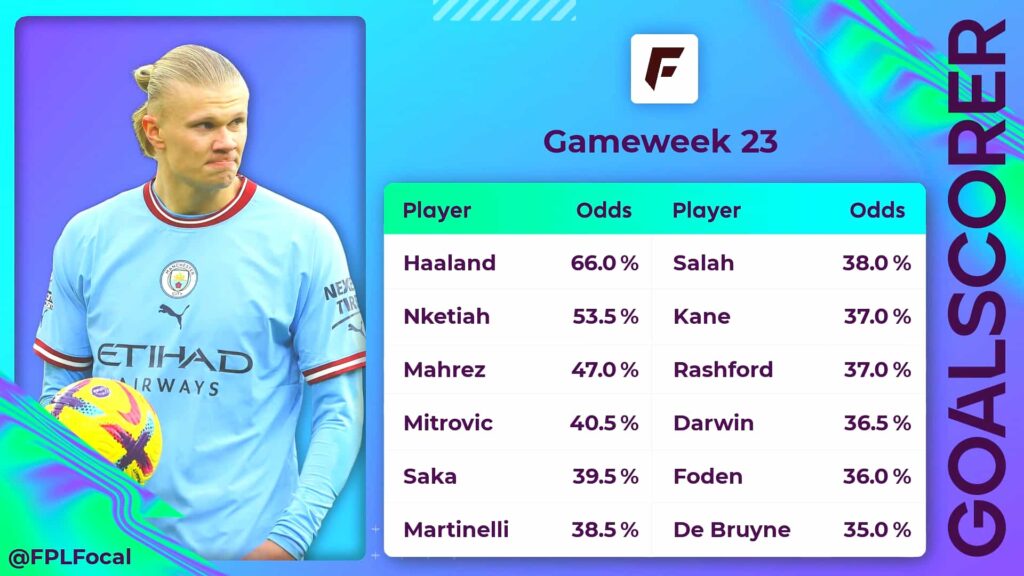 The anytime goalscorer odds are based on the assumption that the player starts, so Erling Haaland (£12.2m) is top with a 66 per cent chance of netting anytime over his two games. Aston Villa are up first for him, who have conceded 20 big chances since Gameweek 17 – they cannot afford to let any fall to Haaland.
Eddie Nketiah (£6.8m) has a 53.5 per cent chance and Bukayo Saka (£8.3m) is on 39.5 per cent. Only Haaland himself has registered a higher expected goals (xG) total than Nketiah since Gameweek 17, with 4.86 slightly behind 5.07.
Following the Premier League's announcement of Double Gameweek 25, managers need to be tripled up on Arsenal assets and it's a week where Manchester City participate, while Brighton and Hove Albion, Brentford, Manchester United and Newcastle United do not. So you can buy some extra short-term fixtures with smart transfers such as Ivan Toney (£7.7m) to Nketiah or Miguel Almiron (£5.7m) to Martin Odegaard (£7.0m).
Mohamed Salah (£12.7m) and Darwin Nunez (£8.7m) aren't to be bought this week, given the Double Gameweek prioritisation, but are among those confirmed to have a Double Gameweek 25, so we've got a couple of weeks to assess them. There could be an upturn in form once Roberto Firmino (£8.0m), Diogo Jota (£8.8m) and Virgil van Dijk (£6.5m) return, which times perfectly with the double.
The question is what to do with Gabriel Martinelli (£6.6m), who is given a 38.5 per cent chance of scoring but could be prone to more substitutions with Leandro Trossard (£6.7m) around, like at Everton last weekend. He didn't even reach 60 minutes.
For me, it's very justifiable to move Martinelli on to Odegaard or Saka, even for a four-point hit. Having two doubles over the next three means making sure you've got the right players.
The picture is clearer with Arsenal, whereas picking the best Man City trio is murkier. Riyad Mahrez (£7.7m) has a 47 per cent chance of scoring and perhaps he's the one, given his recent form, though he also was an early substitution victim last week.
Although Kevin De Bruyne (£12.4m) was benched at Spurs, I'd back him to start both matches and he's my favourite after Haaland. One problem is that, if you don't own him and pick him up now, you may only get two Gameweeks out of him before selling for Salah in Gameweek 25. Fine if the rest of your team is set up well but one to weigh up if you've got bench issues to work on beforehand.
GAMEWEEK 23: CLEAN SHEET ODDS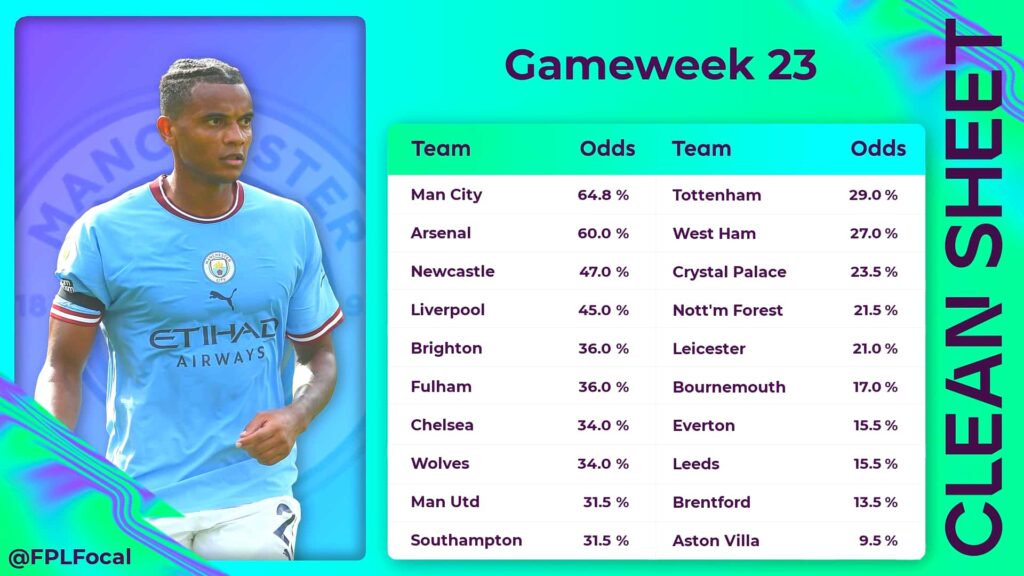 For the clean sheet odds, Man City and Arsenal are backed to keep at least one clean sheet, with 64.8 per cent and 60 per cent respectively. You'd back the champions to do it versus Aston Villa, as Arsenal host Brentford.
Ben White (£4.7m) is the eighth top-scoring defender. Although it could be a concern that he is sometimes withdrawn early, this can be a good thing for defenders if it locks in the clean sheet. Yet we've also seen a substitution before 60 minutes. Performance levels have dipped slightly in recent games, so Takehiro Tomiyasu (£4.2m) could get a start at some point. That said, if you're a White owner, you stick with him.
The best pick in my eyes is Gabriel (£5.2m), who is completely nailed and carries a goal threat. This season, he's top amongst all defenders for xG, scoring twice this season after the five of last time. There's not much between him and William Saliba (£5.3m) though, both are great.
Left-back Oleksandr Zinchenko (£5.1m) has been outstanding and is also worth some thought for £5.1m, though again perhaps there's a small chance of some Kieran Tierney (£4.6m) instead. They are very different types of defenders though, as Zinchenko cuts inside to overload central midfield, while Tierney is a more traditional attacking full-back that stays wider and gets down the wing.
Newcastle have a 47 per cent chance of a clean sheet at Bournemouth. It's their last good fixture for a while, depending on how you view Liverpool (H). Then it's Blank Gameweek 25, before visiting Man City. Despite that, there's quite rightly been no discussion on selling the incredible value of Kieran Trippier (£6.1m).
If you own the Kepa Arrizabalaga (£4.6m) and Danny Ward (£4.0m) pair, it's Kepa getting the nod this week, with a 34 per cent chance of success compared to Ward's 21 per cent.
GAMEWEEK 23: MOST TRANSFERS IN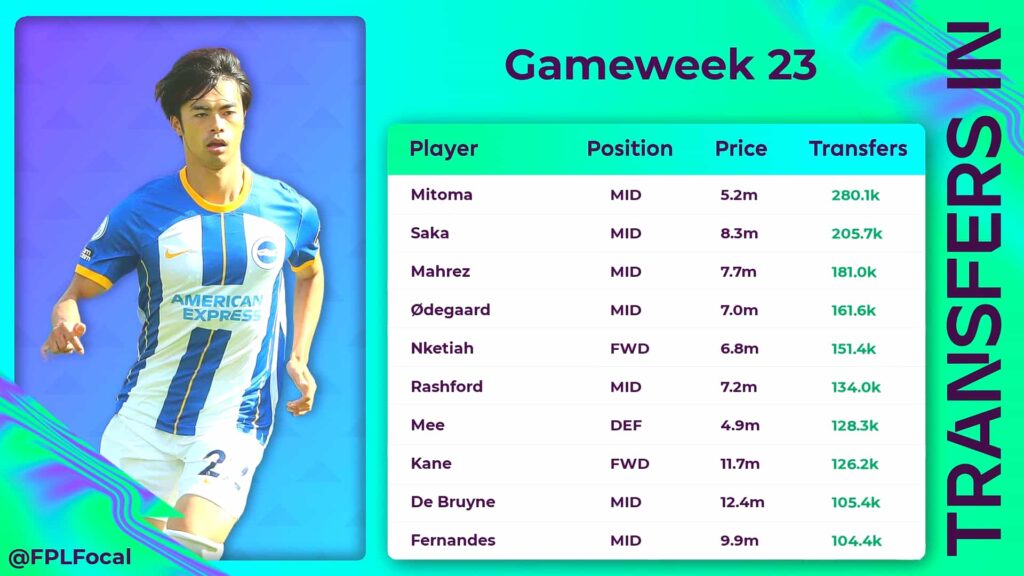 This week's top transfer is actually Kaoru Mitoma (£5.2m) after 280,000 transfers in. In isolation, he's a great pick after delivering four goals and an assist over his last five matches. However, without a Double Gameweek 23 before his blank in 25, it's not the week to buy him unless the rest of your team is perfect.
After Mitoma, a lot of reasonable transfers have taken place. Saka has been picked up by 205,000, with seven goals and eight assists alongside the appeal of being nailed on and having penalty duties. If you can only pick one of Odegaard and Saka, I'd lean towards Odegaard due to the price difference.
Post-restart, Saka leads 2-0 on big chances but Odegaard is 4-1 up for big chances created and has a better expected goal involvement (xGI, 2.91 v 2.79). Over the season, xGI is still very close – 9.4 for Saka but 9.7 for Odegaard.
It's also worth keeping Gameweek 25's captaincy in the back of your mind, with Salah or an Arsenal player being the obvious picks. Saka's been widely discussed for the armband but is only on one double-digit haul this season, compared to Odegaard's six. If you own both or can get to both for this week, you're in a very strong position.
We saw a lot of FPL managers sell De Bruyne for Bruno Fernandes (£9.9m) last week and now 105,000 have bought the Belgian. The addition of Double Gameweek 25 has altered the situation, as you could grab De Bruyne for two weeks and then sell for Salah is in good shape elsewhere, or you could skip Salah entirely.
If you're looking for a Man City defender, Manuel Akanji (£5.0m) could maybe be the best option if Pep Guardiola persists with the back-three formation but it is close between him and Nathan Ake (£5.1m).
He may deploy one of Ake or Aymeric Laporte (£5.7m) as the left-footed centre-back, with two right-footers like Akanji and Ruben Dias (£5.9m). The injury to John Stones (£5.4m) means one less player is competing for that position, though he could be back by Gameweek 25 and put Akanji slightly at risk.
The upside with Ake is that he carries more attacking threat.
GAMEWEEK 23: MOST TRANSFERS OUT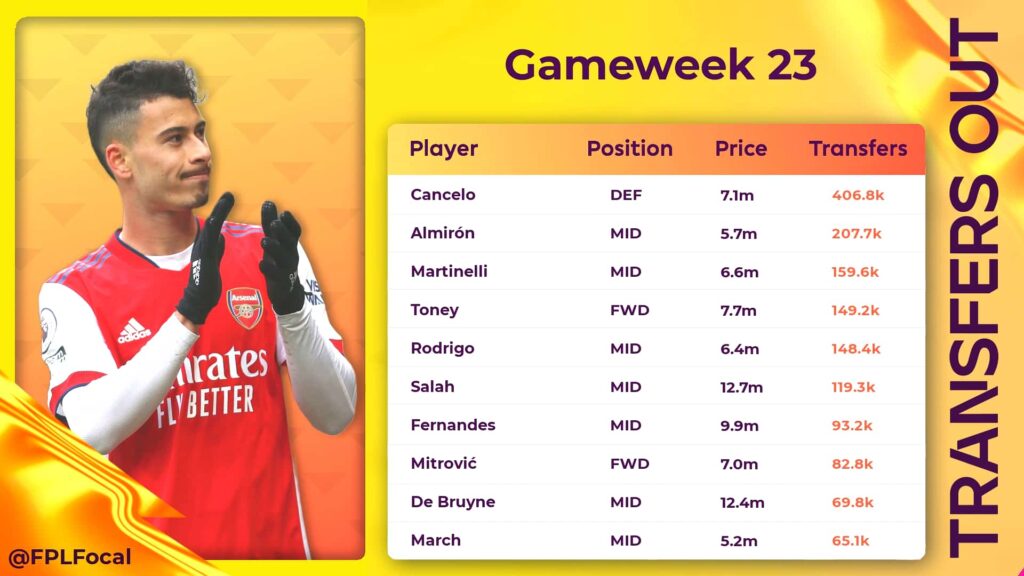 Ending with the most sold players, it's Joao Cancelo (£7.1m) on top again as expected. If you wish to move him to another Man City defender then Akanji and Ake are my picks, in that order, although we did see Rico Lewis (£3.9m) play the full 90 last match for the first time.
Almiron is the second most-sold after dropping off substantially since the World Cup. The seven matches before saw seven goals and two assists but the six after has just one goal, all the way back in Gameweek 17.
Martinelli has 159,000 sales, with growing concern over Trossard's presence. The next three Gameweeks need managers to have the exact right Arsenal assets.
The frustrating Salah has been sold by 119,000 but is probably worth holding now that Double Gameweek 25 has been announced. Finally, it's a surprise to see De Bruyne here, sold by 69,000 managers. I'd back him to start both games this week.