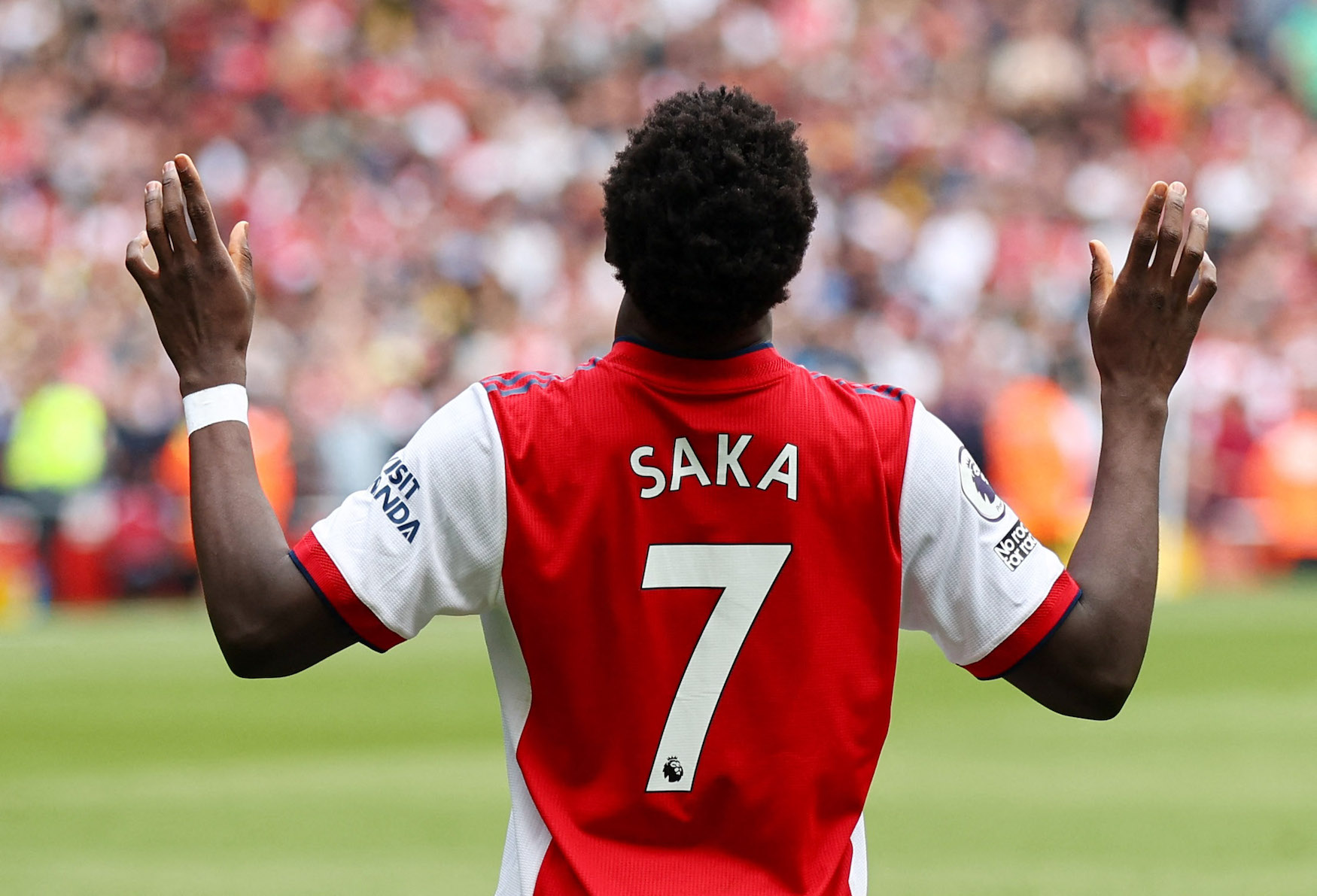 MIDFIELDERS
Buy of the Week
Bukayo Saka (£8.3m) – Arsenal – GW23 Projected Points: 9.7
Upcoming fixtures: BRE (H) + MCI (H), AVL (A), LEI (A) + EVE (H), BOU (H)
Last week, Saka disappointed by blanking against Sean Dyche's Everton, who didn't even let Arsenal muster up an expected goals (xG) tally of 1.00. Despite the blank, Saka still looked impressive and had a ball cleared off the line by Conor Coady.
Moving forward, I still think investing in Saka is a great idea because his minutes are secured and fixtures are great. With Martin Odegaard and Gabriel Martinelli being taken off early against Everton, this rarely happens with Saka, giving him more chances to gain FPL points.
Additionally, Arsenal has the easiest attacking schedule over the next six Gameweeks, including a Double Gameweek 23 and no blanks in either Gameweek 25 or 28. With a good expected goal involvement (xGI) per 90 minutes of 0.50 and the responsibility of taking penalties and set pieces, star boy Saka is the best midfielder to buy heading into Gameweek 23.
Buy 'Em
Riyad Mahrez (£7.7m) – Manchester City – GW23 Projected Points: 6.9
Upcoming fixtures: AVL (H) + ARS (A), NFO (A), BOU (A), NEW (H)
Preparations for Double Gameweek 23 will include the debate of which Man City midfielder to choose between Kevin De Bruyne and Riyad Mahrez. If money wasn't an issue, I think De Bruyne is the better long-term pick, as Mahrez's league minutes will probably decrease once the Champions League resumes.
However, money is always an issue in FPL, so going for the Algerian allows managers more flexibility in funding other Arsenal midfielders and potentially Harry Kane in the forward line. Mahrez is also a great short-term punt, as Man City have the nicest schedule for attackers over the next three Gameweeks.
Despite his blank last weekend, Mahrez hit the crossbar against Spurs. With an xGI of 0.61 per 90 minutes and costing £4.7m cheaper, going for him Mahrez over De Bruyne is a sensible move for Gameweek 23.
More Buys
Buy – Martin Ødegaard (£7.0m), Arsenal
Hold – Kevin De Bruyne (£12.4m), Man City
Sell of the Week
Miguel Almiron (£5.7m) – Newcastle United – GW23 Projected Points: 4.1
Upcoming fixtures: BOU (A), LIV (H), blank, MCI (A)
After five straight blanks, you'd expect Almiron to be massively sold among active players but this is not the case, as he's still owned by 51 per cent of managers in the top 10K and 50 per cent of the top 100k.
Almiron is a must-sell, despite a favourable immediate fixture, as he has looked extremely off the pace recently and his underlying stats are reflecting that – a low 0.29 xGI/ 90 compared to his pre-World Cup 0.42. He was unlucky to have an assist ruled out last weekend, which could encourage managers that he might be regaining his form.
However, with so many appealing midfielders right now, wasting a spot on an out-of-form player that blanks in Gameweek 25 is not advisable. Those who still have Almiron should look to get a midfielder from Arsenal or Man City.
Sell 'Em
Gabriel Martinelli (£6.6m) – Arsenal – GW23 Projected Points: 7.4
Upcoming fixtures: BRE (H) + MCI (H), AVL (A), LEI (A) + EVE (H), BOU (H)
There are four successive blanks for Martinelli and his minutes are being eaten into by new signing Leandro Trossard, making managers frustrated with Martinelli.
While underlying stats remain good since the Gameweek 17 restart – with a 0.52 xGI per 90 mins – there is a strong case to move on. Expected minutes are seriously down, as shown by him only getting 58 minutes at Everton.
Given that he has Double Gameweek 23 and 25, I wouldn't sell Martinelli for a hit, as he'll likely get at least 100 minutes in each. However, for free, I'd sell him for Saka or Odegaard.
More Sells
Sell – Rodrigo (£6.4m), Leeds United
Avoid – Bruno Fernandes (£9.9m), Man United
---
FORWARDS
Buy of the Week
Harry Kane (£11.7m) – Tottenham – GW23 Projected Points: 5.2
Upcoming fixtures: LEI (A), WHU (H), CHE (H), WOL (A)
Another return came in for Harry Kane, further cementing himself as the second-best premium of this season with 22 attacking returns. Many sold him ahead of Gameweek 22 to accommodate Bruno Fernandes and, for those managers, I'd try to reverse the move but towards Mahrez in order to fund Kane.
Spurs have the fifth-best schedule over the next six Gameweeks, making him a great investment even without a double. Regardless of captaincy, there are so many good budget enablers that getting Kane in is almost a must.
Buy 'Em
Eddie Nketiah (£6.8m) – Arsenal – GW23 Projected Points: 9.3
Upcoming fixtures: BRE (H) + MCI (H), AVL (A), LEI (A) + EVE (H), BOU (H)
It was a disappointing follow-up to his 13-point haul of Gameweek 21, as Nketiah blanked for his many new owners. Yet he should still be bought for Gameweek 23 given his great underlying stats and fixtures.
Filling in for Gabriel Jesus, he has 0.97 xGI per 90 minutes and four attacking returns. There is a slight worry about Jesus possibly coming back earlier than expected but, given how Nketiah has been performing, I expect Arsenal to ease the Brazilian back, making Nketiah a good option until we enter Wildcard territory.
More Buys
Buy – Dominic Calvert-Lewin (£7.9m), Everton
Hold – Aleksandar Mitrovic (£7.0m), Fulham
Sell of the Week
Ivan Toney (£7.7m) – Brentford – GW23 Projected Points: 3.5
Upcoming fixtures: ARS (A), CRY (H), blank, FUL (H)
With back-to-back blanks against Leeds and Southampton, Toney owners should feel aggrieved. With a tough fixture against Arsenal next up, before an upcoming blank in Gameweek 25, I'd look to move him on.
Toney could haul against any opponent but the upside of getting a Kane or Nketiah is worth the transfer. Brentford have the seventh-worst schedule for attackers over the next six Gameweeks, which lowers his potential.
Sell 'Em
Anthony Martial (£6.5m) – Manchester United – GW23 Projected Points: 3.6
Upcoming Fixtures: LEE (A), LEI (H), blank, LIV (A)
Many managers were held Martial for Double Gameweek 22, given his brief appearance and goal in the EFL Cup. Unfortunately for them, in typical Martial fashion, he is nursing another injury that kept him out of the whole Gameweek.
With no upcoming doubles, a Gameweek 25 blank and, more importantly, poor fitness, Martial is a must-sell. There is the quick switch option to Nketiah, the consistent Kane or a risky differential punt on Calvert-Lewin.
More Sells
Sell – Kai Havertz (£7.8m), Chelsea
Avoid – Ollie Watkins (£7.1m), Aston Villa