Throughout the 2022/23 Fantasy Premier League (FPL) season, our team of Pro Pundits, Hall of Famers and guest contributors will be sharing their thoughts, tips and own transfer plans.
Here, FPL Family's Sam looks at what she's learned from a climb to 77k from a Gameweek 15 rank of 1.5m.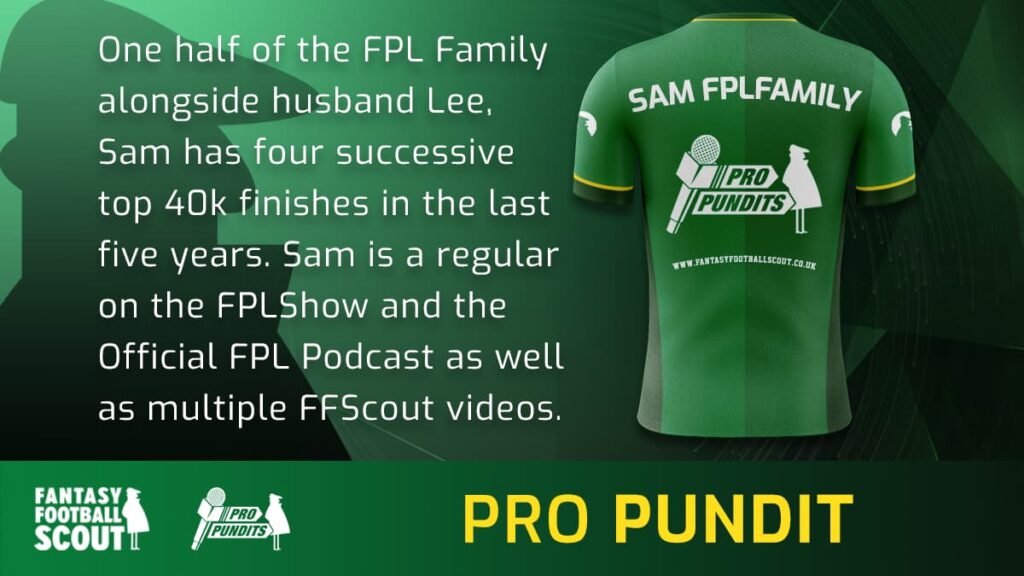 ---
Fantasy Premier League (FPL) is a game that can bring powerful highs, as well as crushing lows.
The difference between a red and a green arrow isn't just about a change in overall rank or mini-league position. It can also impact the mood of an FPL manager for the days and weeks that follow.
In this article, I discuss the important lessons I've learned from a season that started badly but got much better after the World Cup.
THE SEASON SO FAR: A TOUGH START
The start of 2022/23 was difficult for me.
Every week I would look at my team and think there was so much promise for a great points haul. However, week after week, the mountain to climb seemed to grow taller and taller. Even when I did have a consistent run of green arrows between Gameweeks 7 and 10, they were still small rank rises.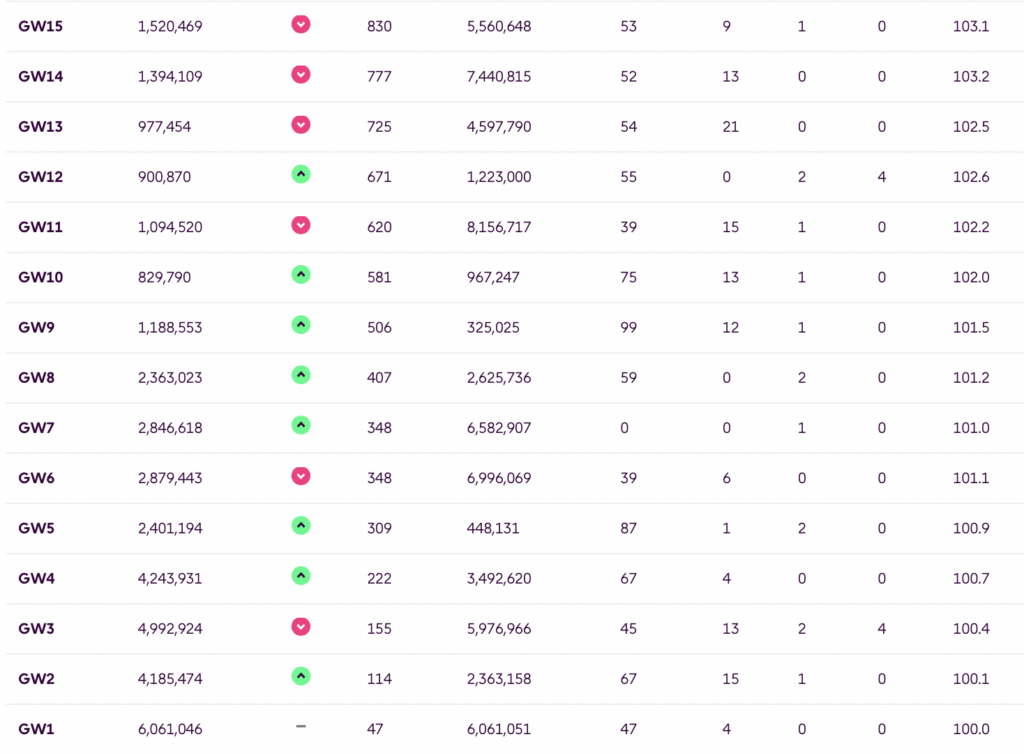 Every time I would get a couple of green arrows in succession, the red that followed would wipe out all of the progress that I had made.
For someone who has played FPL for years and is passionate about the game, this was difficult.
I seemed to have many of the right players but would then fall victim to an unexpected benching, or one of the heavily owned players I didn't have would bang. Each week I would look at my team and compare it to that of my husband or my nine-year-old (who is playing his first season this year!) and wonder what had gone so wrong.
When you are struggling in FPL, it is all too easy to chase the points. Investing in players once a lot of the run has already happened seems commonplace. For me, it also meant I stopped looking at the differentials who could help my rank and started to look at protection and investing in the heavily owned assets that I didn't have in order that they couldn't punish me. However, doing that made my team more template – which isn't a great thing when you are trying to fight your way up mini-league tables.
THE SEASON SO FAR: POST-WORLD CUP RECOVERY
The World Cup and the 'unlimited transfers' window maybe came at the right time for me. That moment changed my season.
Taking my position in the FFScout Mods and Cons league, we can see the difference that made:
| | |
| --- | --- |
| Month | Monthy rank |
| August 2022 | 31 |
| September 2022 | 17 |
| October 2022 | 19 |
| November 2022 | 13 |
| December 2022 | 7 |
| January 2023 | 2 |
| February 2023 | 1 |
---
Wildcarding (or using unlimited transfers) is such a good opportunity to make sweeping changes. Points hits can be great but when you are struggling in your mini-league or in the overall ranks, it isn't always appealing to take the hit. Starting the Gameweek on a red arrow feels like you are giving your opponents a head start. In reality, of course, the points hits could give you the edge if played correctly.
At the time, many of my changes were educated gambles on teams with good fixtures. Not all of them went well with the likes of Reece James (£5.8m) going off injured after 52 minutes in Gameweek 17 and then not playing again until Gameweek 22.
However, some ended up being golden. Marcus Rashford (£7.3m), for example, had one return in eight matches in the Premier League prior to the Gameweek 17 deadline. However, he had a promising World Cup for England. Likewise Luke Shaw (£5.3m).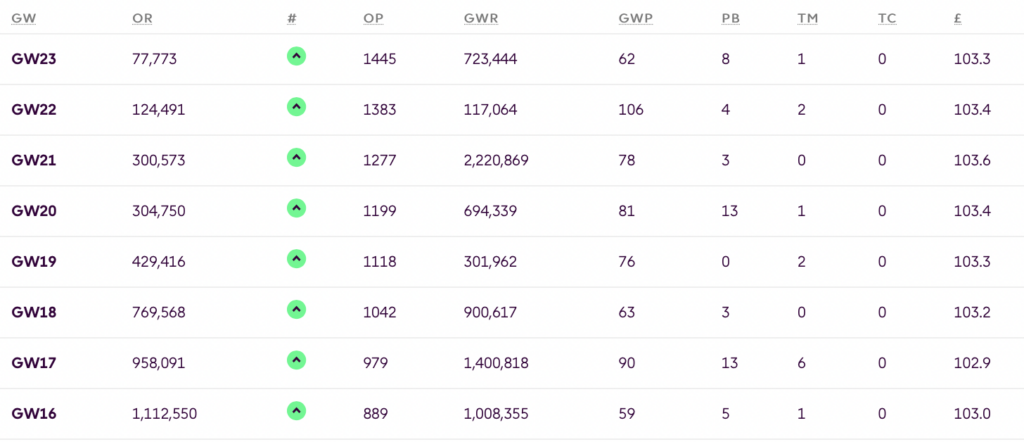 After locking in my team following the unlimited window, I then decided to take some educated gambles. Handing the armband to Rashford instead of Erling Haaland (£12.2m) for Double Gameweek 20 and not playing the Triple Captain chip when many managers did. Handing the Triple Captain chip to Rashford in Gameweek 22 when many were suggesting waiting for Haaland in Gameweek 23.
Whilst those big decisions have gone well, it's been the smaller ones that have really helped. I had the money for both Kevin De Bruyne (£12.4m) or Riyad Mahrez (£7.8m) heading into Man City's Double Gameweek 20. Normally I would have gone for the 'reassuringly expensive' option. However, I dug around the underlying numbers in the Premium Members Area and watched the City performance carefully in Gameweek 19 before deciding to take a risk on differential Mahrez. That swing was huge with Mahrez collecting 19 points, in comparison to De Bruyne's five.
LESSONS LEARNED
Now the important bit, in terms of takeaways from a rollercoaster 2022/23 so far. This season has taught me a number of things – and we are only just over halfway through.
SMALL TARGETS, SLOW AND STEADY GAINS
Firstly FPL is a marathon, not a sprint. Many people say you can't win FPL in Gameweek 1 but you can lose it. I disagree. Nothing is won or lost until Gameweek 38. If I believed I had lost the ability to finish where I was aiming for in the early parts of the season, that would have made for a very deflating campaign. Instead, every Saturday when I looked at LiveFPL, I would check how far outside the top 10k I was. That was my motivation.
Every week since Gameweek 16, my points difference to the top 10k has reduced. At stages this season there have been a few hundred points between me and the top 10k. Now there are just 42. This is highly motivating. When you are ranked somewhere that you don't want to be, in my case in Gameweek 15 at 1.5m, it seems unsurmountable. However, by looking at the points and working on slowly closing that gap a little each time, the overall rank and mini-league places come with reducing this number.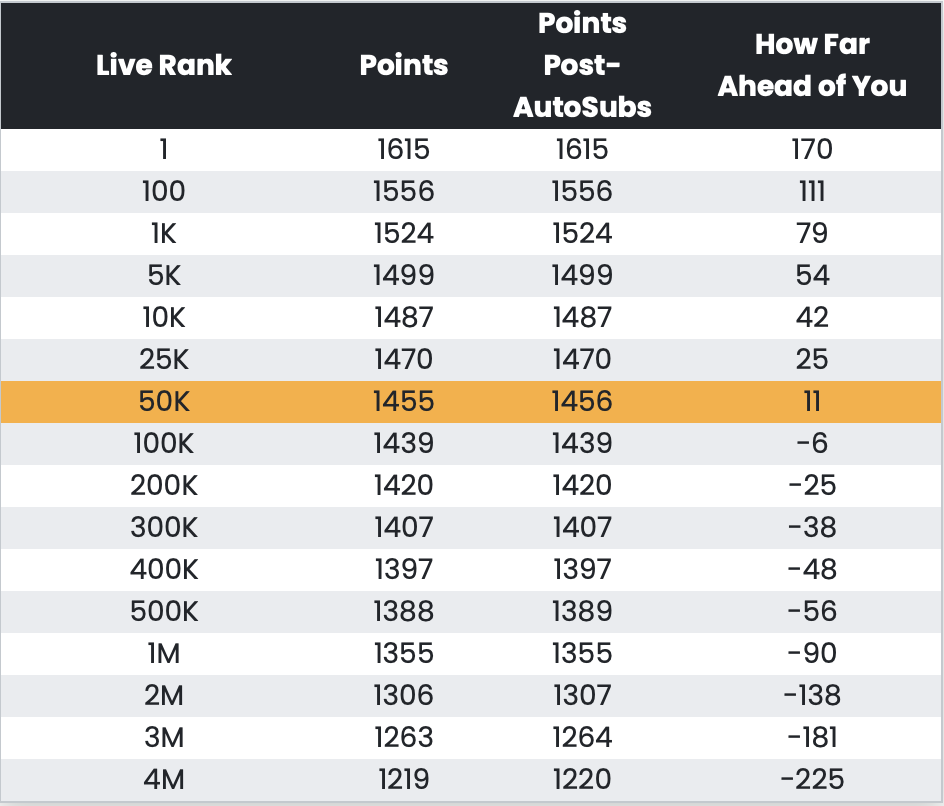 DON'T PANIC + DO YOUR CAREFUL RESEARCH
I have also learned not to panic. It is easy when you see others around you doing well to think, "I need to early Wildcard or take -24 hits". Often little tweaks can make all the difference.
I have always been the FFScout Members Area's biggest fan. I spend my life in the Team Profile section of the website. When I am making my transfers, I will often pick out a team that I want to invest in. Then by comparing players from within that team, I will often find I end up with the 'right' player. Mahrez and Rashford are prime examples of that.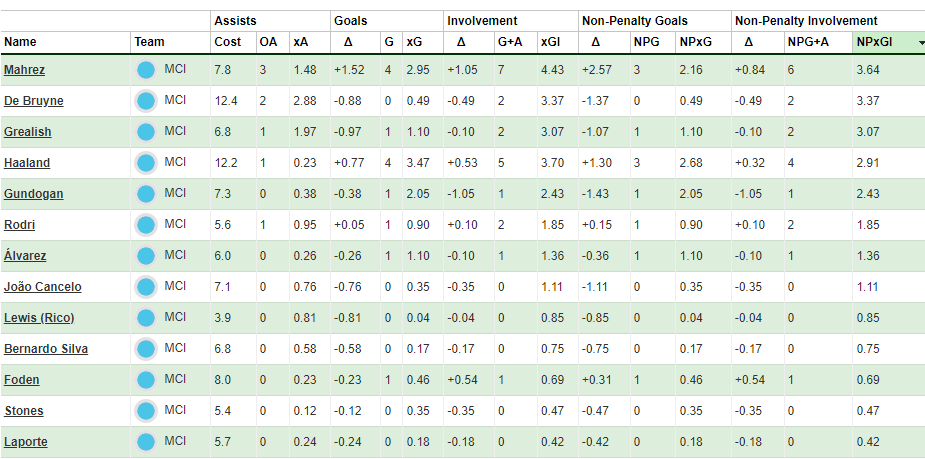 Above: Man City players sorted by NPxGI in their last six matches, via the Manchester City Team Profile page
BE ADAPTABLE
This period of chaos and Blank/Double Gameweeks means that managers have to be adaptable. I have been trying to sell Darwin Nunez (£8.7m) for weeks. However, there was always a player who was a bigger priority. Bringing in Bukayo Saka (£8.3m) for example, meant Darwin got a stay of execution.
This happened three times… then the Liverpool Double Gameweek was announced, Darwin picked up an assist in Gameweek 23 and suddenly he will be a target for many FPL managers! It is weird from him always being on the potential 'out' list to now being a key 'hold'. Be adaptable and don't feel you have to religiously stick to plans when the circumstances around those decisions change.
MAINTAIN A LOVE OF THE GAME
Finally, remember FPL is a game. It's meant to be fun. Throughout the lows and the red arrows at the beginning of the season, I never lost my love for the game. I always tried to see the reds as an opportunity. I still see the green arrows in the same way. It is an opportunity to push myself further. Enjoy the game, forget the noise and what everyone else is doing, and manage your team for you. In the end, they will – hopefully! – come good.