Throughout the 2022/23 Fantasy Premier League (FPL) season, our team of Pro Pundits, Hall of Famers and guest contributors will be sharing their thoughts, tips and own transfer plans.
Only Premium Members are able to read every single one of these pieces, so sign up today to get full access not just to the editorial content but all of the other benefits, from hundreds of Opta stats to a transfer planner.
Here, Burning Questions co-host and four-time top 10k finisher Pras looks at five different FPL chip strategies for those with the Free Hit, Wildcard and Bench Boost left.
Pras and Andy (aka Sonaldo) discuss these approaches in even more detail on this week's Burning Questions video/podcast.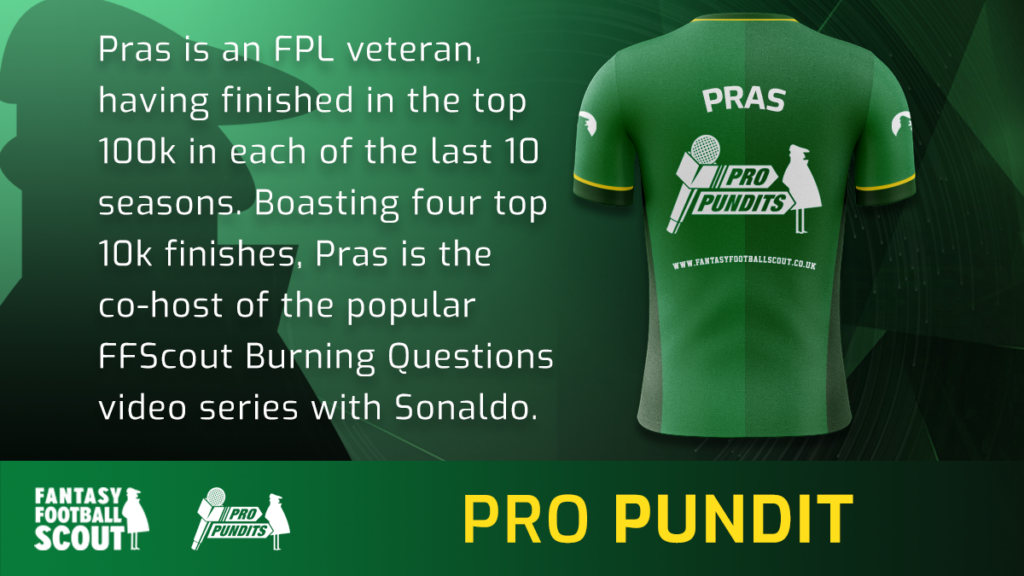 ---
Before we start, make sure you check out the guide to the Blank/Double Gameweeks. This linked article, for example, explains what needs to happen for certain fixtures to become blanks in Gameweeks 28/32 – something that is alluded to below.
STRATEGY 1
Wildcard – Gameweek 27
Free Hit – Gameweek 28
Bench Boost – Gameweek 34
Strategy
Pros
Cons
What could change?
Load up on Brighton and Brentford – exit out for Blank Gameweek 28, and have them again for Double Gameweek 29

Applicable for teams that have little-to-no Brighton or Brentford cover

Also applicable for teams without Harry Kane or sub-optimal Arsenal assets

Maximises the doubles in Gameweek 27 but can also be well set for Gameweeks 28 and 29

Can attack the Gameweek 25 double as well with two to three Liverpool assets – but you'd need to commit to this plan before Gameweek 25

Gameweek 32 will be tough to navigate when Man City, Newcastle, Man Utd, Brighton and Spurs could blank. Even Arsenal could be without a fixture

Other teams (eg Newcastle, Man Utd, Spurs, Arsenal, Man City, Liverpool) also have great fixtures in Gameweek 27, so there could well be a benching dilemma

An ideal Gameweek 29 team may not require three to four Brighton and Brentford players eg. Brentford could play Brighton and Man Utd in 29

Gameweek 28 looks to be a low-upside week to Free Hit

We may not know the full picture beyond Gameweek 29 before the Gameweek 27 deadline

If there's a big upset in the FA Cup (eg. if Man Utd lose to West Ham), then Man Utd and Chelsea don't blank in Gameweek 32.

The Liverpool v Fulham fixture going ahead in Gameweek 28

Big injuries leading into Gameweek 25/26 to key players like Kieran Trippier, Erling Haaland etc
---
STRATEGY 2
Bench Boost – Gameweek 27
Wildcard – Gameweek 29
Free Hit – Gameweek 32
Strategy
Pros
Cons
What could change?
Applicable for teams already well stocked on Brighton and Ivan Toney/David Raya

Supplement with teams that play in Gameweeks 27 and 28, like Chelsea

Replace all Gameweek 28 blankers (eg Marcus Rashford, Erling Haaland and Harry Kane) with players that play in Gameweek 28

Gets the Bench Boost out of the way to revert to a "lean" squad after Wildcarding in Gameweek 29

The Wildcard will maximise the better teams that double (eg. Man Utd, Newcastle, Man City and Chelsea)

Not enough time to set up and also under-prepared to navigate Blank Gameweek 28

Big loss of team value

Arsenal dilemma: they won't double in Gameweek 29 but they do play Leeds at home

Injury leading up to Gameweek 27 on a player not blanking in Gameweek 28
---
STRATEGY 3
Wildcard – Gameweek 29
Free Hit – Gameweek 32
Bench Boost – Gameweek 34

The rest of this article is completely free to read but requires a Fantasy Football Scout account for access – you can get yours at no cost here.