Our top team of Pro Pundits and Hall of Famers write about all things Fantasy Premier League (FPL) throughout the season.
Only Premium Members are able to read every single one of these pieces, so sign up today to get full access not just to the editorial content but all of the other benefits, from hundreds of Opta stats to a transfer planner.
Here, two-time Indian FPL champion Lateriser talks about potential chip strategies and the teams to target.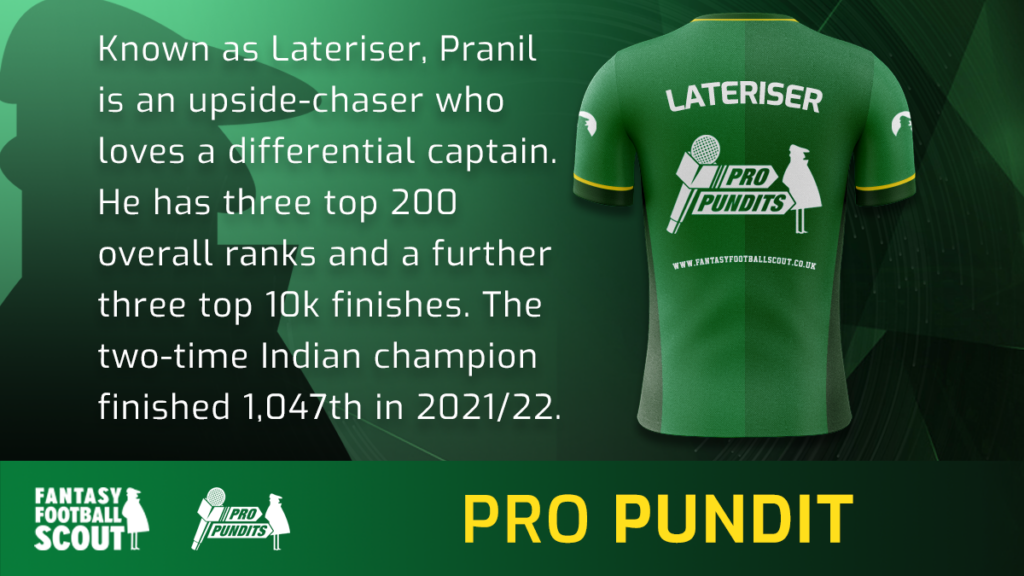 ---
So the Double Gameweek 29 news has arrived and that has led to our heads spinning in motion as we think about how we manoeuver our way through all these blanks and doubles. When viewed all together, so much information can be pretty overwhelming and it is important to keep calm, keep staring at the fixture ticker and then decide which chip strategy to use.
At this point, I think it is worth suggesting a couple of things that help me break things down in my process of assimilating information so that you aren't overwhelmed and confused.
DON'T SETTLE ON CHIP STRATEGY – YET
First things first, anyone that is coming in with a proclamation of 'best chip strategy' so early isn't someone you should pay attention to immediately. At least not before you've formed your own conclusions anyway. Don't be lazy during this time, apply your mind because from what I've seen so far, chip strategy this season does not look like one size fits all. It is very much going to be tailored to your own route and even then, the most popular chip strategy isn't always the best one.
One of my best seasons when I finished in the top 100 was when my chip strategy was not in concurrence with the established norm and it led to huge gains. Also, I think even if a popular chip strategy does emerge, it will be between Gameweeks 25 and 26 once the results of the FA Cup are known. Only then will we get a greater idea of Blank Gameweeks 28 and 32.
CHECK THE FIXTURES
So what do I suggest you do? I always start by looking at the fixture ticker and taking stock of things team by team. For example, when I look at Arsenal, I just mentally make a note that they have good fixtures right through until Gameweek 32, they don't double in Gameweek 29 but have a strong fixture and they are likely playing in Blank Gameweek 32 as well. I see them as a long-term hold anyway and it helps that they don't have blanks at the moment. I also make a mental note that when they face Leeds United at home in Gameweek 29, which is the big double, it could be a good week for a Bench Boost, no Bench Boost or if you're someone who fancies rolling the dice, you could potentially Bench Boost out of Arsenal players in that way and pray to the variance gods.
Take stock of the fixtures for each team one by one and you will start arriving at conclusions yourself, that very much suit your own team. It is important to stay on top of this and be aware even before the FA Cup results between Gameweeks 25 and 26 because if you're open to an early Wildcard, having mentally noted the different teams etc will help. You need to stay switched on, consider every possibility and generally have an open mind.
I did a stream with my fellow Pro Pundit Pras off the cuff where we simply just discussed each team and their implications one by one without really drawing any chip strategy conclusion. You can view it below.
CLUBS IN FOCUS
Now, moving further into this article, I'm going to cite some important factors that have caught my eye:
Lowly-owned Leicester City have a very attractive looking double in Gameweek 29 (cpl + AVL) followed by a great home fixture against Bournemouth in Gameweek 30. That is a potential opportunity to differentiate, Free Hit or Wildcard.
Liverpool are a semi-bluff roll of the dice if you invest in them in Gameweek 25. Despite their poor form, they have an extra game in Gameweek 25 and you are hoping to catch the river on the flush with a semi-bluff investment. Now, if Leeds United beat Fulham in the FA Cup, that means you suddenly have Liverpool players in your team who won't blank in Gameweek 28, potentially saving you a chip.
Arsenal, as mentioned above, are a long-term hold and I wouldn't even mind fielding them in a home fixture against Leeds in Double Gameweek 29. It helps that they don't have any blanks until Gameweek 32, and that might not come to fruition anyway.
If someone is looking at an early Wildcard post Gameweek 25, Brighton and Hove Albion is the opportunity. They have very strong doubles in Gameweeks 27 and 29 but unfortunately are very likely to blank in Gameweek 28. That said, they are easy to carry on the bench because of how much they cost, and in my head, I think if I'm attacking Brighton in 29, I want to have the same three in place in 27. It is worth noting though that teams like Liverpool, Manchester United, Newcastle United, Chelsea, Arsenal and Manchester City all have decent fixtures that week so there are going to be benching headaches (a Bench Boost opportunity?). Brighton's fixtures after Gameweek 29 don't look that great though but because of their price, they are easy to carry and we shouldn't have problems fielding their attackers in tough fixtures anyway.
Brentford are like Brighton but their double in Gameweek 29 doesn't look that strong. It's worth noting though that Ivan Toney (£7.6m) has generally done very well in games against tougher opposition.
Chelsea are a team that have confirmed fixtures in Gameweeks 25 and 28 and have a very strong double in Gameweek 29. I will target them soon enough and they are a team worth considering for purchase or if you're Wildcarding in Gameweeks 26 or 27. Despite their result against Southampton, I thought they played well in the final 30 minutes when Kai Havertz (£7.6m) and Raheem Sterling (£9.7m) came on and I think it is a matter of time before they click. It is too good a team not to in my opinion.
Everton have confirmed games in Gameweeks 25 and 28 but no double in Gameweek 29. If you're looking at Bench Boosting in Gameweek 29, you will want to get rid of your Everton assets.
Man City have good fixtures in the mid-term but have no double in Gameweek 29 and are likely to blank in Gameweek 28. This makes me think that we can consider selling their assets soon enough with the exception of Erling Haaland (£12.2m). Haaland has a good game in Gameweek 29 against Liverpool at home and even if I was Free Hitting in Gameweek 29, I probably wouldn't bet against a single Gameweek Haaland. Fixtures after 29 for Man City are really good which makes a small case of Free Hitting in 29 so you can hold your Man City assets mid-term.
Man United have a likely blank in Gameweek 28 but a very strong Double in Gameweek 29 (new + BRE), followed by two attractive games against Everton (h) and Nottingham Forest (a)
Nottingham Forest have no blank fixtures and a strong double in Gameweek 29 (WOL + lee), which means they are a team we should pay attention to.
Harry Kane (£11.8m) owners are in a dilemma since Tottenham Hotspur don't have a double in Gameweek 29, are likely to blank in Gameweek 28 but in the middle of this, they have some really strong fixtures (wol/NFO/eve/BHA/BOU).
These are simply my initial thoughts looking at the different teams and it is an evolving process but I simply urge you to stay switched on, keep staring at that fixture ticker and make your own mental notes of things to remember. Once the FA Cup results are out, that is when you'll start coming closer to your own chip strategy.