It's been a while since we dedicated an article to LiveFPL but with a Friday deadline and no Saturday lunchtime kick-off, there's time to dive into Ragabolly's excellent site.
Using LiveFPL's vast array of tools, we here look at the squad make-ups and chip usage of the world's leading Fantasy Premier League (FPL) managers.
It's chiefly those in the top 10k in the current overall rankings but the 1,000 names in LiveFPL's 'Legendary Managers' list – the historic cream of the crop, much like our own Hall of Fame – are also acknowledged.
Between the two groups, these are the managers who can offer us a better gauge of FPL ownership and chip strategy, as opposed to the overall figures that are skewed by the vast numbers of untouched 'ghost teams'.
There is heaps of useful information beyond overall and top 10k figures on the LiveFPL site, of course, such as ownership stats for different rank tiers.
TOP 10K: CAPTAINCY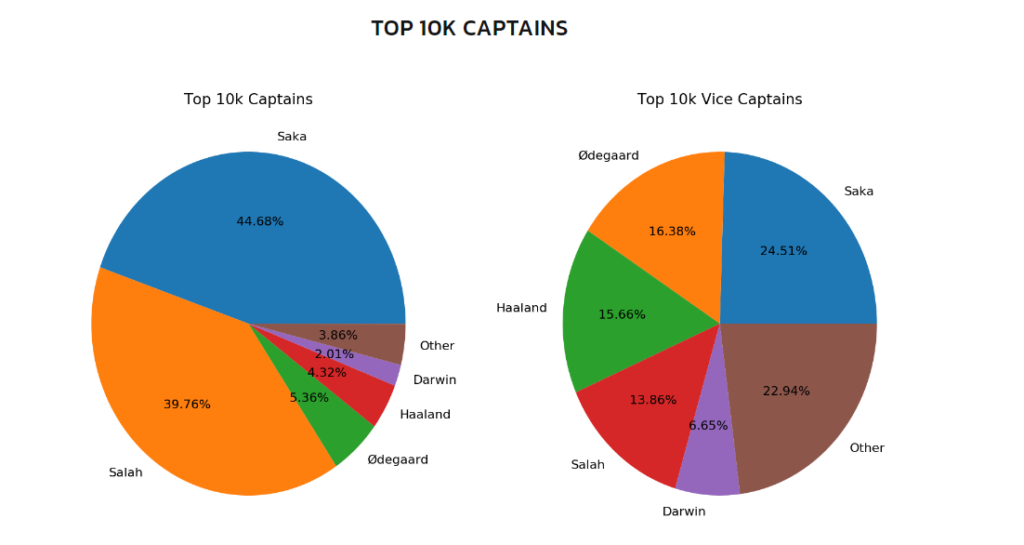 Much like our own on-site captain poll, it was a close-run thing between Bukayo Saka (£8.5m) and Mohamed Salah (£12.7m) for the Gameweek 25 captaincy among the top 10,000 FPL managers.
Saka edged it by around five percentage points but, looking at the 1,000 hall of famers (see the graphic below), Liverpool's Egyptian was vastly favoured: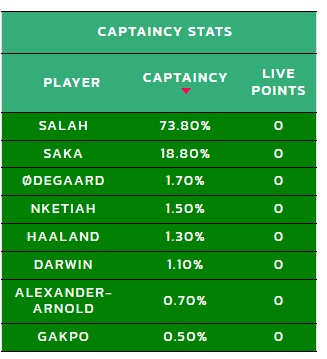 TOP 10K: CHIP USAGE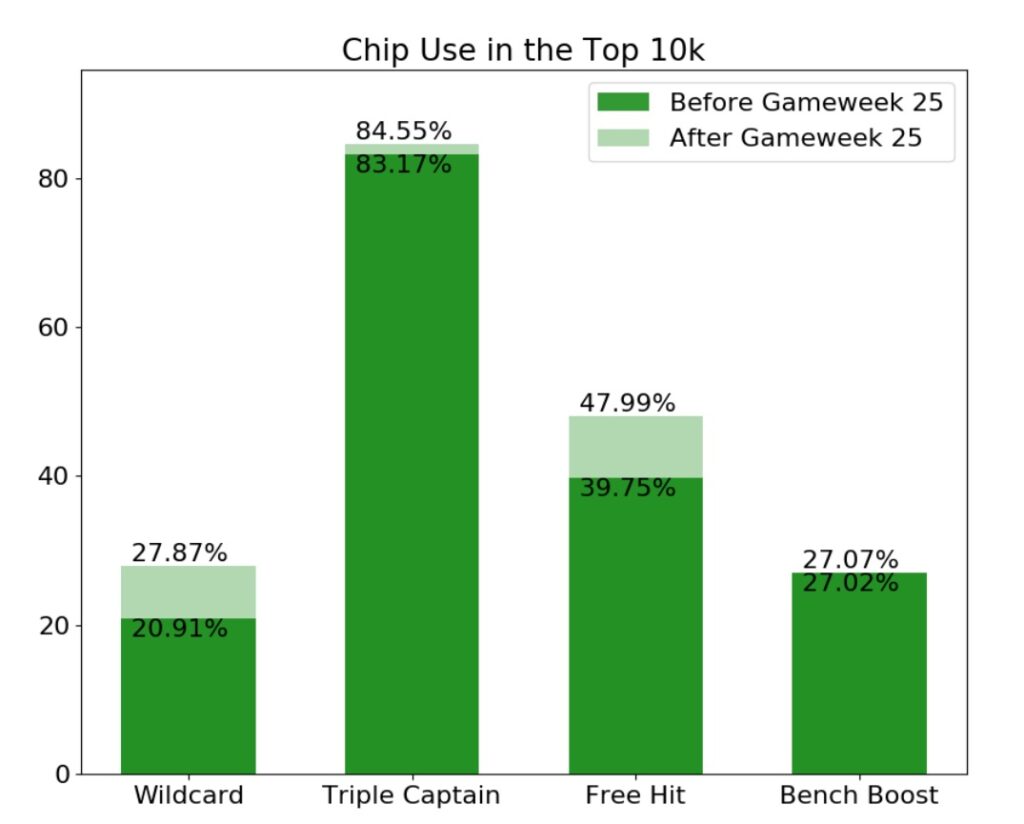 There was a smattering of chips being deployed in Double Gameweek 25, with 6.96% and 8.24% of the top 10,000 managers using the Wildcard and Free Hit respectively.
Almost half of the top 10k have now cashed in their Free Hit, while over one in four has used the Bench Boost. Wildcard usage is also past 25% but the most-activated chip so far in 2022/23 is the Triple Captain, with approximately six out of seven Fantasy bosses having already spent it.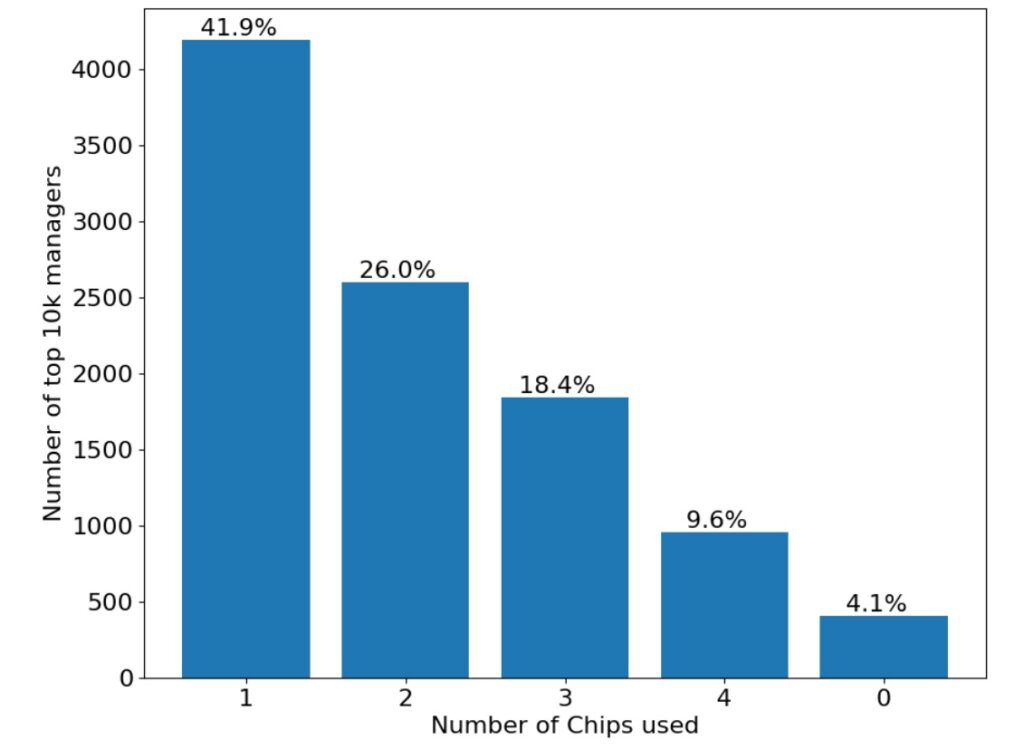 A mere 4.1% of the top 10k have yet to use a single chip (apart from the first Wildcard), with almost 10% having already maxed out their allocation.
The blanks and doubles ahead might be tricky to navigate for the 54.0% who have used at least two chips
TOP 10K: TEMPLATE SQUADS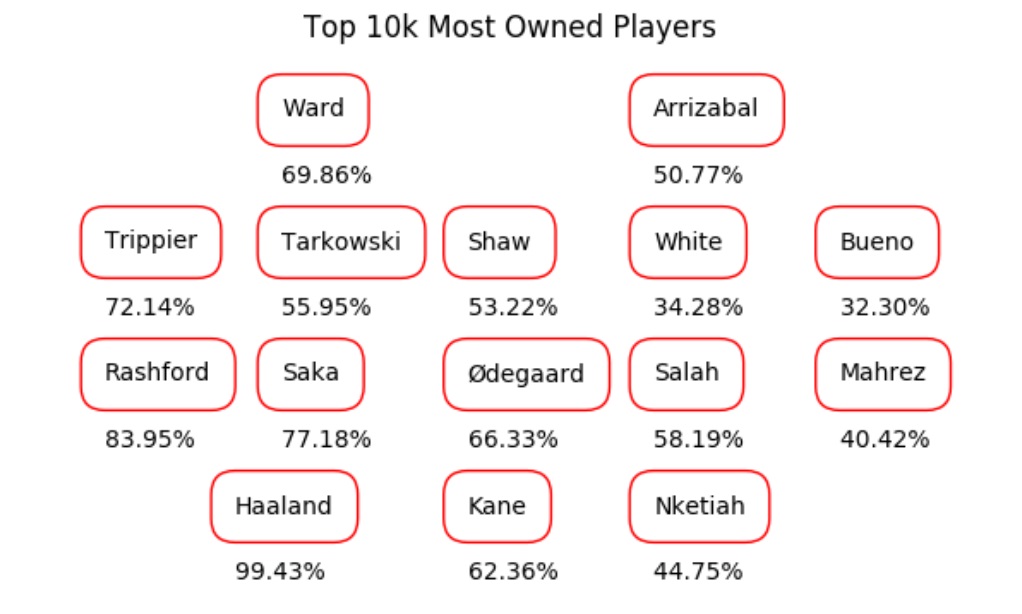 The ownerships of Marcus Rashford (£7.2m), Luke Shaw (£5.3m) and Kieran Trippier (£6.0m) have taken a bit of a hit, presumably due to their non-involvement in Gameweek 25, but Erling Haaland (£12.2m) remains pretty much unsellable despite his lack of an upcoming double and a very likely Blank Gameweek 28.
James Tarkowski (£4.4m) has wormed his way into over half of these squads, making him the second-most-popular defender in the top 10k.
Salah is, interestingly, still in fewer squads than Harry Kane (£11.7m), despite Liverpool 'doubling' in Gameweek 25.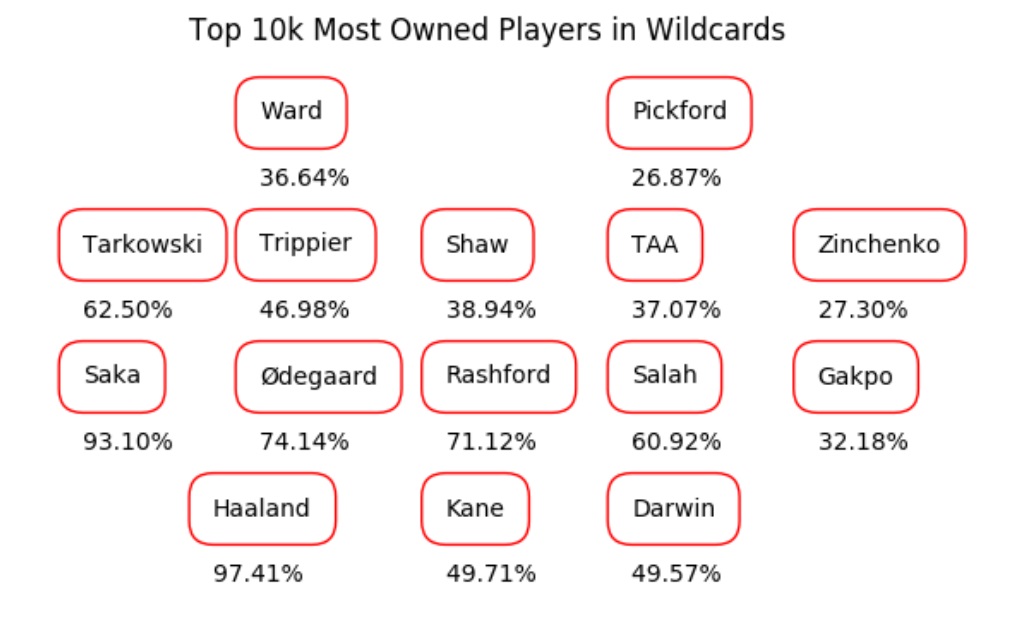 Salah is barely in any more Wildcard squads, only just making it past the 60% mark and trailing in the wake of Messrs Saka, Odegaard and Rashford.
Tarkowski is the most-owned defender among Wildcarders, with Shaw and Trippier's ownerships falling below 50%.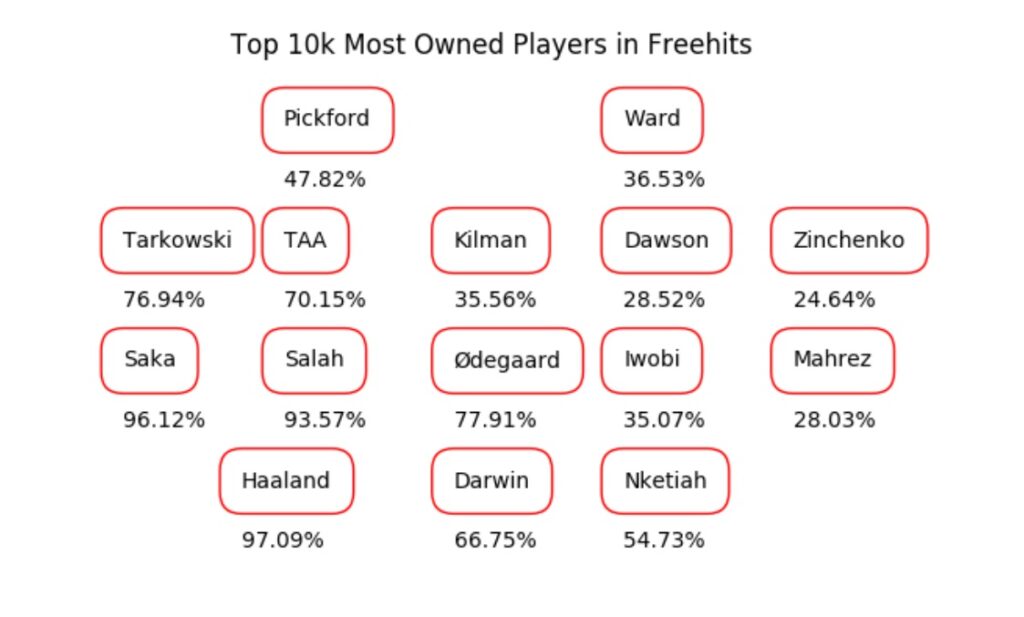 Free Hitters have predictably favoured Salah and his Liverpool teammates, with Trent Alexander-Arnold (£7.3m) and Darwin Nunez (£8.8m) also owned by more than two in three managers using this chip.
TOP 10K: AVERAGE NUMBER OF PLAYERS OWNED PER TEAM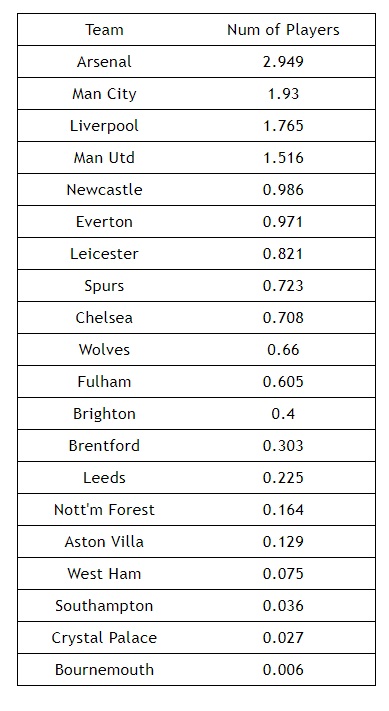 Almost every top 10k manager has an Arsenal triple-up but no other club can boast an average higher than 2.0 players in the table above.
The average top 10k boss only owns 0.7 Brighton and Brentford assets ahead of their Double Gameweek 27.