It seems like every week that there's a rethinking of Fantasy Premier League (FPL) chip strategy or an article devoted to it.
And Gameweek 26 is much the same!
The difference this time is that there are fewer unknowns in the FPL landscape with Blank Gameweek 28 all but completed and the doubles in Gameweek 29 announced.
Wednesday night's FA Cup results and draw will also give us a good indication of who will blank in Gameweek 32, and we'll update this article after they've played out.
One strategy that is gaining traction is a Gameweek 26 Wildcard. Other than the 'still undecided', it's currently the second-most-popular option in our on-site poll: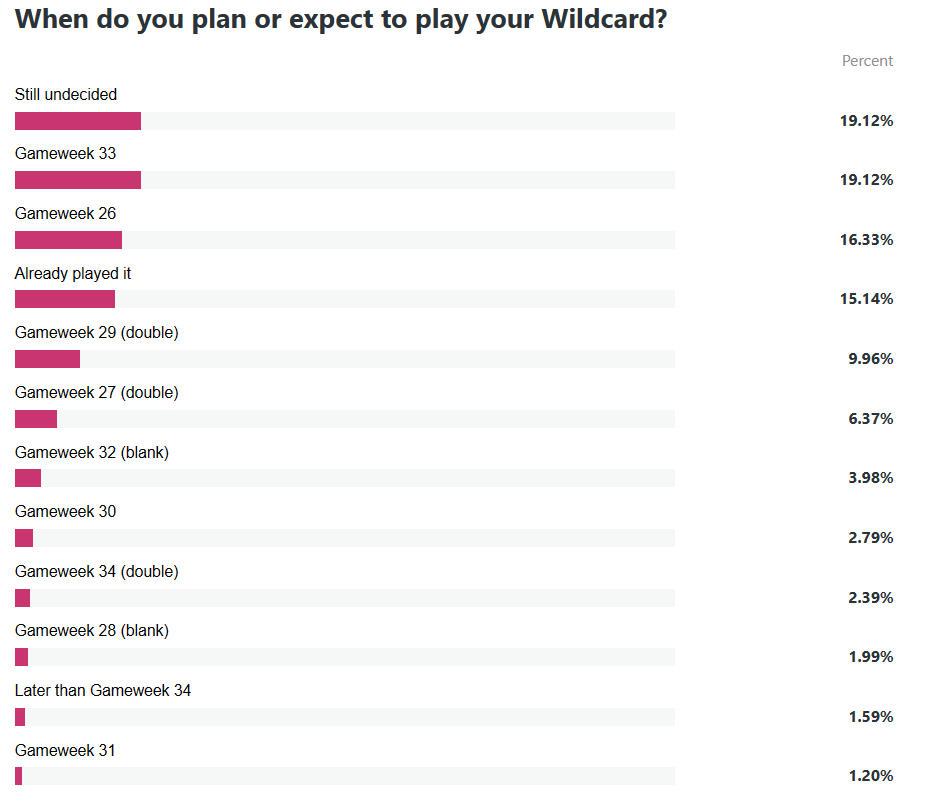 Here we outline the pros and cons of using the chip before Saturday's deadline.
GAMEWEEK 26 WILDCARD: THE REASONING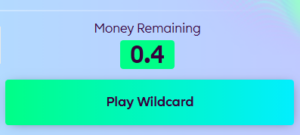 Wildcarding now allows FPL managers to negotiate Double Gameweek 27, Blank Gameweek 28 and Double Gameweek 29 in one fell swoop, without missing out on too much.
The chip might be used in conjunction with a Bench Boost – if available – in Gameweek 29 or perhaps Gameweek 34 (when more 'doubles' will slot into place), leaving any remaining Free Hit to be deployed in Blank Gameweek 32, Double Gameweek 34 or Double Gameweek 37.
GAMEWEEK 26 WILDCARD: THE PROS
GETTING ON BRIGHTON AND BRENTFORD PLAYERS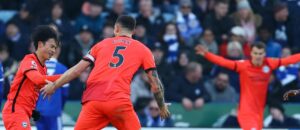 With a tough-to-navigate Blank/Double Gameweek 25 behind us, not many Fantasy managers will be well-stocked with players from Brighton and Hove Albion and Brentford.
Those two sides, plus the less-fancied Crystal Palace and Southampton, 'double' in Gameweek 27.
In fact, the average manager in the top 10k has just 0.7 Brighton/Brentford players in their squad after Gameweek 25: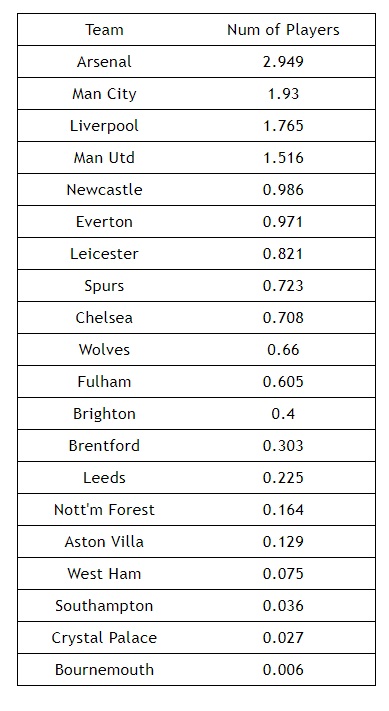 The Seagulls and the Bees also have decent fixtures in Gameweek 26, against West Ham United and Fulham respectively (both at home).
Brentford players could then be played in Gameweek 28 against Leicester City, with Brighton assets benched for their blank. Both clubs double again in Gameweek 29, while the Seagulls could have as many as three further Double Gameweeks still to come (as well as a possible Blank Gameweek 32).

DUMPING/REDUCING LIVERPOOL
Any FPL manager who doubled/tripled up on Liverpool for Double Gameweek 25 faces the prospect of their players now taking on Manchester United in Gameweek 26, blanking in Gameweek 28, doubling away at Manchester City and Chelsea in Gameweek 29, and finally facing league leaders Arsenal in Gameweek 30.

Budget-sapping picks like Trent Alexander-Arnold (£7.3m), Darwin Nunez (£8.8m) and Mohamed Salah (£12.7m) can be offloaded, then, in one fell swoop with a Gameweek 26 Wildcard.
FREE HIT-LESS GAMEWEEK 28