Another day, another update to bring you concerning the Blank and Double Gameweeks ahead in Fantasy Premier League (FPL).
Blank Gameweek 28 is now complete after Wednesday's FA Cup fifth-round ties – and a couple of shocks means that we've got more fixtures going ahead than we bargained for.
We'll also take a look at the Blank Gameweek 32 latest in this article and what the midweek action means for future Double Gameweeks.
FPL BLANK GAMEWEEK 28: THE FULL FIXTURE LIST
Seven scheduled Premier League fixtures will definitely go ahead in Blank Gameweek 28, with Southampton v Tottenham Hotspur added to the mix after surprise defeats for both clubs in their respective FA Cup ties.
Three matches – Brighton and Hove Albion v Manchester United, Liverpool v Fulham and Manchester City v West Ham United – will be postponed.
GW28 Premier League fixture
Arsenal v Crystal Palace
Aston Villa v Bournemouth
Brentford v Leicester
Brighton v Man Utd
Chelsea v Everton
Liverpool v Fulham
Man City v West Ham
Nott'm Forest v Newcastle
Southampton v Spurs
Wolves v Leeds
---
BLANK GAMEWEEK 32 LATEST
It wasn't just the results of the FA Cup fifth round that influenced the Blank Gameweek 32 picture but also the draw for the quarter-finals.
There'll only be a maximum of two blanks now in Gameweek 32 – something that was bordering on inconceivable at the start of this week.
One (and only one) of Fulham v Leeds United or Manchester United v Chelsea will definitely go ahead, due to the Cottagers and the Red Devils being paired in the quarter-final draw.
Brighton v Manchester City looks very likely to be a blank.
| | | |
| --- | --- | --- |
| GW32 Premier League fixture | Status | A blank will happen in the following situation: |
| Arsenal v Southampton | On | |
| Bournemouth v West Ham | On | |
| Brentford v Aston Villa | On | |
| Brighton v Man City | Possible blank | If either Brighton beat Grimsby Town in the FA Cup quarter-finals and/or Man City beat Burnley in the FA Cup quarter-finals |
| Crystal Palace v Everton | On | |
| Fulham v Leeds | Possible blank | If Fulham beat Manchester United in the FA Cup quarter-finals |
| Leicester v Wolves | On | |
| Liverpool v Nottm Forest | On | |
| Man Utd v Chelsea | Possible blank | If Manchester United beat Fulham in the FA Cup quarter-finals |
| Newcastle v Spurs | On | |
---
FUTURE DOUBLE GAMEWEEKS
After all that drama tonight, there'll be fewer fixtures in the as-yet-unannounced Double Gameweeks than we might have anticipated.
Double Gameweeks 34/37 will be smaller than predicted as a result (eg three additional matches in one, two in the other), while there'll likely also have to be another mini-Double Gameweek involving Brighton and Newcastle United.
OUTSTANDING FIXTURES THAT NEED REARRANGING
Newcastle United v Brighton and Hove Albion (originally in Gameweek 25)
Brighton and Hove Albion v Manchester United (originally in Gameweek 28)
Liverpool v Fulham (originally in Gameweek 28)
Manchester City v West Ham United (originally in Gameweek 28)
FIXTURES THAT MAY/WILL NEED REARRANGING
Brighton and Hove Albion v Manchester City (originally in Gameweek 32)
Fulham v Leeds United *OR* Manchester United v Chelsea (originally in Gameweek 32)
FPL REACTION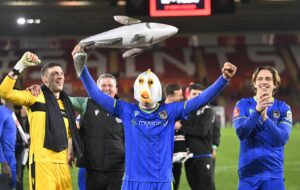 Not many of us saw this coming at the start of the evening and the initial thought after the full-time whistles blew is that the FPL run-in should now be a lot easier to negotiate.
Whether that's a good or bad thing depends on your perspective, as plenty of chaos usually brings with it opportunities to go against the herd and make mini-league or overall rank gains.
An earlier Wildcard (ie in Gameweeks 26 or 27) will look more attractive to many FPL managers now, with a squad much easier to set up to not only tackle and make the most of the blanks and doubles in Gameweeks 27-29 but even cope with Blank Gameweek 32 as well.
Harry Kane (£11.7m) suddenly comes back into the short-term thinking with a Blank Gameweek 28 fixture we didn't think he'd have but tonight's results do mean that Spurs, along with north London rivals Arsenal, won't double again this season.
The Bench Boost in Gameweek 29 may gain in appeal, too, with no big doubles later in the campaign to rival it.
Two likely future doubles for Manchester City means that anyone with a Triple Captain still intact at least has an opportunity to belatedly back Erling Haaland (£12.2m) with the chip.
We'll have more reaction to tonight's developments in the coming days.
---
Note: we've reset the results of our Wildcard poll (found on the sidebar) after tonight's games, as the changing Blank/Double Gameweek landscape may have altered some managers' minds.
Here's how the results looked before the reset, after some 450 votes: