Where have all the clean sheets gone?
That's what Ederson's (£5.4m) owners will have been asking themselves recently, with only two arriving in the last 13 league matches.
Having averaged 19.5 shut-outs over the previous four seasons, Pep Guardiola's side currently has just eight of those in 2022/23 – and there are only 13 games left of the campaign.
So are there reasons for this, or is it just bad luck?
Let's delve deeper into this issue.
THE DATA
Using Premium Members Area statistics, we can compare this season to the last few, as well as break 2022/23 down into pre- and post-World Cup.

In several areas, only the 2019/20 campaign stands out as being worse. Yet despite their internal standards slipping, Man City still rank as the league's best (per game) in all of the above categories.
Studying data since the winter restart, their per-match numbers have deteriorated only slightly from 0.81 to 0.91 for expected goals conceded (xGC) and from 7.29 to 8.27 for shots conceded.
But interestingly, their recent rate of conceding shots on target (1.82) is better than ever before.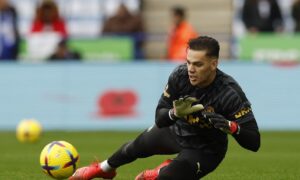 ISSUES WITH EDERSON