Our top team of Pro Pundits and Hall of Famers write about all things Fantasy Premier League (FPL) throughout the season.
Only Premium Members are able to read every single one of these pieces, so sign up today to get full access not just to the editorial content but all of the other benefits, from hundreds of Opta stats to a transfer planner.
Here, seven-time top 10k finisher Zophar provides a team-by-team guide to Wildcarding and reveals his own current Wildcard draft.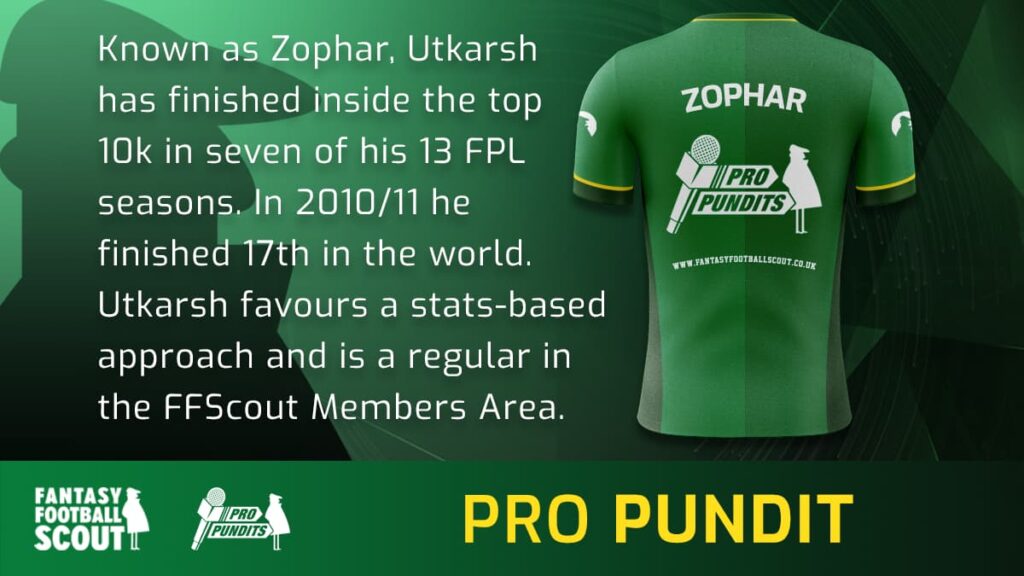 ---
In this piece, I am sharing my thoughts on the FPL-relevant teams for a Gameweek 26 Wildcard. I am skipping Bournemouth, Crystal Palace, Everton, Leeds United, Nottingham Forest, Southampton and Wolverhampton Wanderers as I don't believe them to be Fantasy-pertinent at the moment.
Arsenal
The league leaders have no doubles or blanks till the end of the season but do have great fixtures in the short term, against Bournemouth, Fulham and Palace. They also have Southampton at home in Blank Gameweek 32.
I think holding Gabriel and Bukayo Saka through the doubles is a viable strategy that may allow you to avoid the Free Hit in Gameweek 32. Gabriel Martinelli v Martin Odegaard in the short-term is a toss-up; I think Leandro Trossard playing as a striker is definitely better for the Brazilian than Eddie Nketiah but just in case I want to keep Odegaard and ditch Saka in 29, I prefer the Norwegian.
Aston Villa
Villa have no blanks to the end of the season and one double in Gameweek 29, which isn't that great on paper but not that bad either. What is worth noting is that their fixture run is incredible: Palace, West Ham and Bournemouth before the double and Forest right after it. Ollie Watkins is the only investible pick from there, in my opinion, with the defence conceding a huge number of big chances.
Brighton and Hove Albion
Brighton are going to be a big factor for the remainder of the season. They have two doubles that definitely need to be rescheduled, v Newcastle United (a) and Manchester United (H), and likely another one, v Manchester City (H), if they progress further in the FA Cup. The Newcastle game is likely to drop in outside of Gameweeks 34/37, especially if they progress in the FA Cup.
The obvious strategy would be to triple up on Brighton but with blanks in Gameweeks 28 and 32, it's going to be difficult to hold three outfield players through that run. Robert Sanchez can be considered, therefore, as he is easier to hide in those blank weeks than an outfielder.
I think Pervis Estupinan needs to be in our teams, fitness pemitting. He has been playing a very attacking role of late and the upside is absolutely massive for the Ecuadorian. The midfield slots are trickier – I think Solly March would be my first pick and it's a toss-up between Kaoru Mitoma and Alexis Mac Allister. The numbers for the Argentinian over the last two games where he has played as a no 10 are insane but he could be dropped deeper at any time by Roberto De Zerbi. I am currently leaning towards Mac Allister as it stands, as he is on penalties as well.
Brentford
Brentford will likely form the core of our Wildcard squads with two doubles over the next four Gameweeks and no blanks till the end of the season. It is worth noting though that their double in Gameweek 29 isn't great at all, away to Brighton and away to Manchester United, especially for their defenders. Moving one defender on for the likes of Luke Shaw in Gameweek 29 could be a viable option. Stats-wise, there is not much to separate Ben Mee and Ethan Pinnock: both have had similar shots since the restart and you might as well save the £0.6m with Pinnock. Rico Henry is an option but his attacking threat largely depends on Brentford playing a back five, which I think they are unlikely to do against the calibre of opposition over the short term.
Ivan Toney is currently on eight yellow cards, and two more would see him pick up a two-game ban – so that's one we need to monitor.
Chelsea
Chelsea are a tricky one. The fixtures are excellent on paper, especially in Gameweeks 26 and 28 and the double in Gameweek 29 looks promising as well. They will, however, likely blank in Gameweek 32, depending on Manchester United's progression in the FA Cup. I think Kepa Arrizabalaga is still a good pick – he racks up saves and bonus points – but I am less convinced on Reece James. He does not have the license to get forward as much as he did under Thomas Tuchel and if Chelsea do progress in the Champions League, minutes are always going to be a risk for the right-back.
Joao Felix has looked promising but Chelsea do not inspire any confidence right now at all. If I see some glimpses over the next couple of weeks, I might consider Erling Haaland to Felix in Gameweek 28 with a view to getting the Norwegian back in Gameweek 30. The very thought of that feels scary, though, with Haaland facing a leaky Liverpool at the Etihad in Gameweek 29.
It's also worth mentioning that Chelsea's double in either Gameweek 34 or 37 won't be a great one as the Manchester United (a) fixture will be tagged on to either a trip to Arsenal or Manchester City.
Fulham
Fulham blank in Gameweek 28 and will blank in Gameweek 32 if they beat Man Utd in the FA Cup. The latter would seem unlikely at present, which would make their double in either Gameweek 34 or 37 not that great with Liverpool away. If they do progress, though, then Aleksandar Mitrovic is someone we will need to buy in 33/34.
Leicester City
Leicester have a great double in Gameweek 29 but no blanks or doubles after. They have an excellent fixture run from Gameweeks 30-38, as well, with only Manchester City (a) in Gameweek 31 and Newcastle United (a) in Gameweek 37 the off-putting fixtures.
I still don't trust Brendan Rodgers with Kelechi Iheanacho's game-time yet so I won't be investing in the short term but he is very much a target I have in mind for Gameweek 29, given that the Foxes play Bournemouth right after. James Maddison versus an Arsenal midfielder for Gameweek 26 is a consideration but I just trust Arsenal a bit more at the moment and he will likely come in for me in Gamweek 28 for a Brighton midfielder if he can prove his fitness over the next two weeks.
Liverpool
The Reds have a confirmed blank in Gameweek 28 but it is worth mentioning they have an excellent fixture in Blank Gameweek 32, at home to Forest. They are a team I likely will load up on if I do decide to Free Hit in Gameweek 32.
They will also have an attractive double later on in the season, with Fulham (H) to be added on to either Tottenham Hotspur (H) in Gameweek 34 or Villa (H) in Gameweek 37. I don't think we are done with Liverpool yet.
Manchester City
The reigning Champions blank in Gameweek 28 and will blank in Gameweek 32 if they beat Burnley in the FA Cup. They don't have a double in Gameweek 29 but it wouldn't surprise me to see Haaland outscoring all the Double Gameweekers when facing Liverpool at the Etihad.
There is a case to make a move in Gameweek 28 for someone who has three fixtures vs just one for Haaland but it's a scary thought, as you will definitely want to buy the Norwegian back in Gameweek 30 for Southampton and you will lose one transfer and some team value as well. I still haven't found someone that gives me that confidence yet.
Manchester United
We discussed Wildcard picks and chip strategies in detail on this week's episode of the FPL Wire, it's the longest and most comprehensive one we have done this season so I would highly recommend it.
It's timestamped with the relevant sections so you can go straight to the team of your choice. Check it out here.
Thanks for reading and see you next week.