We continue to assess the key Fantasy Premier League (FPL) talking points from Gameweek 26 in our Scout Notes series.
Here, we focus on Manchester City v Newcastle United and Southampton v Leicester City.
The numbers you see in this article are taken from our Premium Members Area, where you can access Opta player and team data from every single Premier League fixture.
ENCOURAGEMENT FOR NEWCASTLE
Recent defeats to Liverpool and the two Manchester clubs in league and cup have pretty much confirmed what we already knew, that Newcastle are still some distance from being a real elite force.
But they're now definite B-listers and it's hard to think of a game this season in which they've meekly surrendered, something that used to be a regular occurrence under previous regimes.
And against Manchester City on Saturday, the Magpies saw plenty of the ball, handled Erling Haaland (£12.2m) fairly well and fluffed a handful of opportunities to draw level; Joelinton (£5.9m) and Callum Wilson (£6.9m) both miskicked in excellent positions.

The fixtures ease considerably now, with even a switch rematch with Manchester United compensated for by it being part of a Double Gameweek.
Goals aren't flowing at the right end of the pitch (that's now just three scored in eight league games) so it's mostly the Newcastle defence that we're interested in. Encouragingly, five of the six lowest-scoring teams in the division (Wolves, Forest, West Ham, Everton and Southampton) are to come in the next eight Gameweeks.
WHY SCHAR MISSED OUT
FPL managers looking to double up on Newcastle's backline will have given Fabian Schar (£5.1m) plenty of consideration, sitting as he does top of the defenders' table for goal attempts in 2022/23.
The Swiss stopper missed his first Premier League match since Gameweek 5 on Saturday, with the head injury sustained in the League Cup final to blame.
We're used to seeing concussed players observing the mandatory six-day protocol but Schar's history of head trauma has seen him handled more carefully. We await further news from Eddie Howe in the pre-Gameweek 27 presser next Friday.
"Fabian took a nasty knock to his eye. He had a nasty cut and bruise around that area. He did some tests with the doctor during the week, so quite early in the week, he wasn't going to be available to play.

"I don't think Fabian's history is part of my thinking, but the doctor who has been with us a long period of time knows Fabian's history. That's all taken into account with the concussion protocol, that we will follow to the letter." – Eddie Howe
DIAS + FODEN IMPRESS
Manchester City are a bit of a footnote in this article as their players aren't big FPL targets until we get to late-April/early-May, with no doubles and (very likely) two blanks set to come in the next six Gameweeks.
So naturally it's time for Phil Foden (£8.0m) to start impressing at a time when many of us aren't in the market for his services.
The England international secured back-to-back double-digit hauls with his deflected opener at the Etihad on Saturday, and his return to some semblance of what we hacks call 'form' on the right flank has sounded the FPL death knell for Riyad Mahrez (£7.7m).
"Part of it was a struggle with his ankle, but accept it, don't blame anyone, the opponents, the manager or the club or team-mates or whatever. Accept that you can do better. Come back to your principles. And step by step he will be back.

"Now he's back, scoring goals like Riyad. Riyad for the last two months has been one of the most important players. He won the game against Spurs. Every action of his created actions for his team-mates,

"Erling Kevin and Gundo and everyone. What happened with Phil is completely normal. Just accept it. The bad moments, these too shall pass. Always like this in the 90 minutes. Always will come the good moments and we will come back to the game and be ready to do it." – Pep Guardiola on Phil Foden's post-World Cup struggles
We'll see who is impressing when the reigning champions really come back onto the radar in Gameweek 34 (City will very likely have two 'doubles' in the final five Gameweeks) but Ruben Dias (£5.8m) is back to his imperious best right now, excelling at centre-half in this his seventh successive start in league and cup.
Guardiola has typically had one defensive mainstay in his sides and rotated around it, so a fit-again Dias could belatedly be that figure in 2022/23 – but then again, the City boss has never been so well stocked with centre-backs and we've now got John Stones (£5.4m) and Aymeric Laporte (£5.7m) back fit.
WASTEFUL IHEANACHO
Kelechi Iheanacho (£6.2m) is a differential FPL forward that has been attracting a modest bit of FPL interest of late but he had a real stinker at Southampton on Saturday, missing three golden opportunities as Leicester fell to a poor 1-0 defeat.
James Maddison (£8.1m) supplied one of the crosses that Iheanacho spurned badly from close range, also teeing up a glorious chance for Harry Souttar (£4.5m). While this was far from vintage Maddison, a blank was just pure bad luck.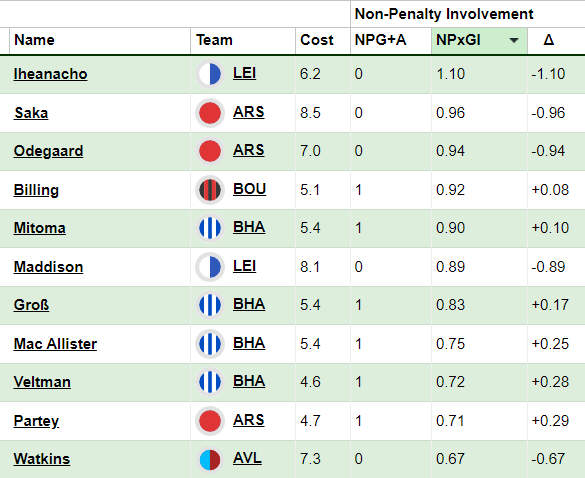 Above: Iheanacho has the best non-penalty expected goal involvement (xGI) figure of Gameweek 26 so far, with Maddison not far behind him.
"I thought he was outstanding in the game. It was great to get him through 90 minutes. He was a player of real quality on the pitch and he always looked a threat." – Brendan Rodgers on James Maddison
While there's little-to-no prospect of Maddison losing his place, Iheanacho has historically been an impact sub under Rodgers and the threat of rotation looms larger when things aren't going well. Encouragingly, however, the Leicester boss had only good words to say about the Nigeria international after full-time.
"He's been brilliant for us of late. He's been the one who looks like the threat. He kept fighting and kept working. He had two really good headers but couldn't make the finish. The opportunity on the edge of the box, we've seen him score those recently, where he guides it into the corner. At least he was there to miss it."- Brendan Rodgers on Kelechi Iheanacho
Barnes injury update
Elsewhere, Tete's (£5.5m) superb full debut in Gameweek 22 now looks like a bit of an outlier after another underwhelming display, while Harvey Barnes (£6.7m) was hooked at half-time at St Mary's; an ankle injury was to blame for that.
"We'll have to wait and see [about Barnes]. He got booked for the challenge on James Ward-Prowse and I think he's twisted his ankle, so we'll just have to wait and see on that." – Brendan Rodgers
Both defences on the south coast looked ropey, no surprise perhaps given that they had just one post-restart clean sheet between them ahead of kick-off.
Southampton's constant concessions of clear openings around the penalty spot or closer will have been of interest to owners of Marcus Rashford (£7.3m), Ivan Toney (£7.7m) and Harry Kane (£11.7m) ahead of the next two Gameweeks, while Leicester's high line looked ripe for the taking and was indeed breached for Carlos Alcaraz's (£5.0m) match-winning goal.
The Foxes are another team that Brentford face before the March international break.
Saints could even afford a penalty miss from James Ward-Prowse (£6.3m), with Danny Ward's (£4.0m) save from 12 yards handing him a double-digit haul.