Whatever happens in Brentford v Fulham on Monday evening, the Gameweek 26 Wildcard is destined to go down in Fantasy Premier League (FPL) folklore.
With much-sold assets like Mohamed Salah (£12.7m) hauling and shiny new toys Ollie Watkins (£7.3m), Solly March (£5.1m) and Harry Kane (£11.7m) blanking, most of those who played the chip – however valid the reasons – were punished mercilessly.
Yet here we are again, 24 hours after Liverpool's 7-0 win over Manchester United, bringing you another Wildcard article.
Among FPL managers who still have their Wildcard intact, Gameweek 27 is currently the most popular option in our on-site poll: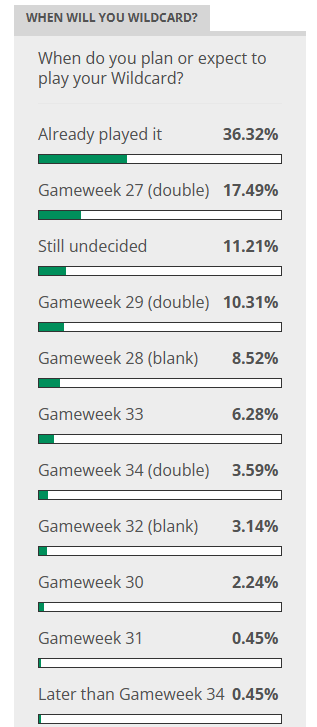 In this piece, we look at the ways in which the Gameweek 27 Wildcard might deviate from its now-infamous predecessor.
GAMEWEEK 27 WILDCARD: THE PROS AND CONS
First things first, a quick look at the pros and cons of deploying the chip this week.
We did a comprehensive piece on this last week so we'll recap what we said then as the advantages and disadvantages are very similar.
Pros
Cons
Getting on Brighton + Brentford players

These two sides 'double' in Gameweek 27.

Brentford players can be played in Gameweek 28 against Leicester City, with Brighton assets benched for their blank.

Both clubs double again in Gameweek 29, while the Seagulls could have as many as three further Double Gameweeks still to come (as well as a likely Blank Gameweek 32).

Gameweek 27 fixtures are great

Wildcarding in Gameweek 27 (as it did in Gameweek 26) runs the risk of a short-term backfire.

The Gameweek 27 fixtures are excellent for a number of teams who we may be dumping to stock up on Brighton and Brentford assets, namely Tottenham Hotspur, Manchester United, Liverpool and Manchester City.

Free Hit-less Gameweek 28

Wildcarders will find it easy to get 11 players out in Gameweek 28 without disrupting plans too much on either side: seven sides all have fixtures in Gameweek 28 and then 'double' in Gameweek 29.

Underwhelming Gameweek 29 doublers

With Arsenal, Manchester City, Tottenham Hotspur, Manchester United and Liverpool blanking in Gameweek 28 and/or not doubling in Gameweek 29, there's a risk of overlooking the teams we usually back in FPL in favour of some middling clubs with better-on-paper fixtures either side of the international break.

That might pay off initially but do we want to be stuck with a team housing Aston Villa and Leicester assets for the long term? Even Brentford's Gameweek 29 double, against Brighton and Manchester United, isn't great.

Getting your Arsenal assets in order

An Arsenal double-up/triple-up may also be a feature of a Gameweek 27 Wildcard. Although there's no 'double' in Gameweek 29, the Gunners have some excellent fixtures around it.

While many of us already carry an Arsenal triple-up, we might not be too enamoured with our current picks.

Eddie Nketiah (£6.7m) surely has to be ditched, for example, if you still have him.

March international break

The Premier League takes a two-week hiatus following Blank Gameweek 28, with the only remaining internationals of 2022/23 taking centre stage.

So if you're planning a Bench Boost in Gameweek 29, for example, you'll likely have to ride your luck for one of your chosen XV not to pick up a knock or muscle strain while away representing their nations.

Preparing for the Gameweek 29 Bench Boost

Shock results in the FA Cup fifth round mean that we'll only have a maximum of six postponed Premier League fixtures to slot into Double Gameweeks 34/37, with one of those matches (Newcastle v Brighton) probably likely to form its own mini-Double Gameweek somewhere else.

Gameweek 29 will be by far the biggest Double Gameweek of 2022/23, then, for managers thinking about the Bench Boost in particular.

The unknowns beyond Gameweek 31

While we've got a much better grasp of the future Blank/Double Gameweeks after the FA Cup fifth round, we're not going to know the full, confirmed picture of Blank Gameweek 32, Double Gameweek 34 and Double Gameweek 37 before the Gameweek 27 deadline.

So while an immediate Wildcard may be well-placed to tackle the next five Gameweeks or so, there is a bit more work to be done beyond it.

Man City have at least one, likely two, more Double Gameweeks to come, for example, and Gameweek 27 Wildcards aren't likely to be overflowing with picks from Pep Guardiola's side.

More information on Ivan Toney…

The Brentford striker is two yellow cards away from a two-match ban – so there's a chance that he misses a couple of games in this crucial period.

If he's booked tonight against Fulham, for instance, there's a question to be asked about whether he's worth the risk.

…but not enough information on Ivan Toney

A lengthy ban may now await the Brentford striker after he reportedly admitted breaching betting rules.

When that suspension is dished out remains unknown (Sky are suggesting an April hearing) but there are definite fears that he'll miss a big chunk of the run-in.
---
GAMEWEEK 26 WILDCARD: THE TOP 10K TEMPLATE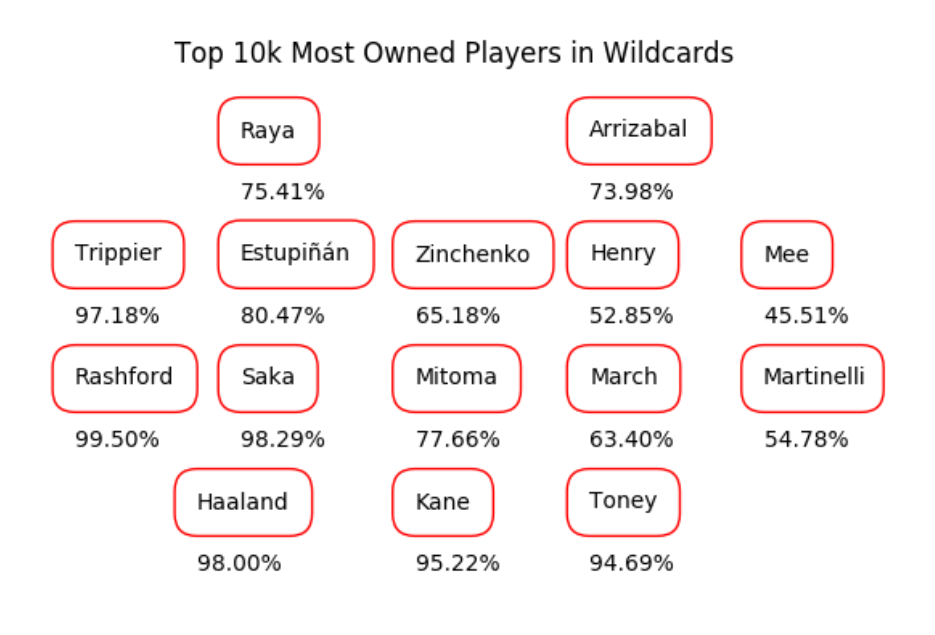 Above: Via LiveFPL
GAMEWEEK 27 V GAMEWEEK 26 WILDCARD: THE KEY DIFFERENCES?