Our top team of Pro Pundits and Hall of Famers write about all things Fantasy Premier League (FPL) throughout the season.
Only Premium Members are able to read every single one of these pieces, so sign up today to get full access not just to the editorial content but all of the other benefits, from hundreds of Opta stats to a transfer planner.
Here, seven-time top 10k finisher Zophar answers some of the week's most-asked FPL questions.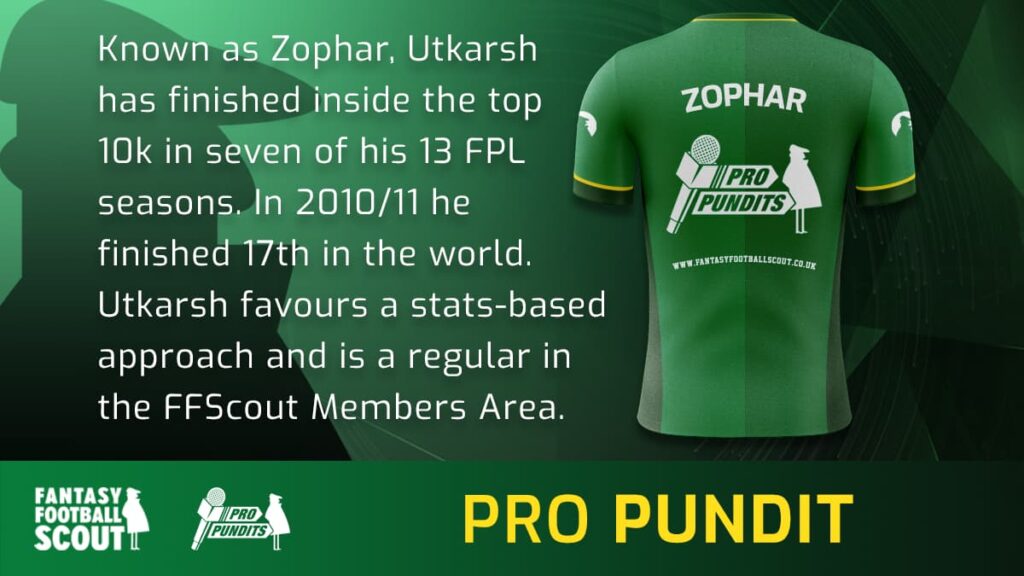 ---
Q: Erling Haaland or Harry Kane for Darwin Nunez? I don't want to take hits anymore and my concern is Haaland blanks in Gameweek 32.
(via @FPLDanielR)
A: If you are not Free Hitting in Gameweek 32, I would possibly take the risk and go without Haaland for the next two as his minutes could be managed. The player I would go for instead would be Gabriel Jesus (£8.0m), as virtually no-one owns him and he has a fantastic fixture in Gameweek 32. As we saw in midweek, West Ham United are in a bad place, which makes the Gameweek 31 fixture away to Hammers very enticing as well.
---
Q: If he's injured, who should we consider as a Luke Shaw replacement?
(via @yala_leopard)
A: While there is no injury news on Luke Shaw (£5.2m) yet, it is fair to assume he will miss out this weekend and possibly a longer period. I think there are two places to look for investment in cheap defenders – Aston Villa and Palace.
Neither team has a Double Gameweek remaining this season but Alex Moreno (£4.4m) in particular has been posting great attacking numbers, with two assists over the last six Gameweeks and 10 chances created.
Palace are ranked second on the Scout Ticker till the end of the season and there are plenty of cheap options there to invest in. Hodgson teams can always be relied upon for defensive returns.
---
Q: Sell Mohamed Salah or Harry Kane to get Erling Haaland back?
(@FPLAladdin)
A: This is a bit tricky. Harry Kane (£11.7m) has two home games over the next two matches while Mohamed Salah (£12.8m) was just benched in a crucial match. That being said, I think Salah is a better hhold longer term, especially if you are not Free Hitting in Gameweek 32 when Liverpool play Forest at ome. They also have a great double in Gameweek 34.
Kane to Haaland can be done in one move whereas selling Salah will require two, so it should be Kane who makes way, in my opinion.
---
Q: Is Julian Alvarez a viable option in the hope that Erling Haaland gets more rest between now and Gameweek 38? And who is the best captaincy option should Haaland be benched in Gameweeek 30?
(@paulswe35778016)
A: Julian Alvarez (£6.0m) would probably be starting for 19 of the other teams in the league and while I do expect him to get more minutes in the run-in, especially if City progress in the Champions League, I don't think he is a realistic FPL option while the Norwegian is fit. Yes they can play together but with so many other forward options firing, it's not a risk worth taking in my opinion
Captaincy for Gameweek 30 is interesting. I don't think we are going to get any clues from Pep Guardiola on Haaland's minutes; at best we might get some indication of him being in the squad but him starting or not is going to come down to individual judgment/guesswork. It is worth remembering that Haaland's last competitive match was against Burnley on the 18th of March, so it would have been three weeks since he got on the pitch. Pep has spoken about match rhythm before so if fit, I think it is possible he throws Haaland straight in and subs him off early. He could also sub him on for 30-40 minutes but I think he gets minutes regardless having been pictured in team training this week.
That's certainly enough for him to score big points and I think he is very much a good captaincy option. The other standouts for me are Marcus Rashford (£7.3m) and Ollie Watkins (£7.5m), with the latter in particular very tempting. No forward has been afforded more big chances (10) or landed more shots on target (15) over the last six Gameweeks. Forest are bottom for goals conceded (15) over the same period and only Liverpool (19) have conceded more big chances than their 18.
Rashford has scored 12 goals at home this season, more than any other midfielder and averages 8+ points per game at Old Trafford. The Red Devils do look to have lost some of their attacking verve though and Everton could be hard to break down. I would place Watkins slightly higher because of the match-up.
Kane is also a an option of course but I think Brighton are a better side and have elite defensive numbers. They are raked fourth for shots conceded (52) and second for big chances conceded (seven) over the last six Gameweeks.
---
Q: Jack Grealish for a punt?
(@FPLMattW)
A: I really like the Jack Grealish (£6.9m) move: he is third for non-penalty expected goal involvement (NPxGI) amongst Man City players since the restart (6.55) and is fourth for minutes played (1061) behind only Haaland, Rodri (£5.6m) and Ederson (£5.4m). There's a very high upside as well with the next two fixtures, as long as you can manage Blank Gameweek 32.
---
My team
Lateriser and I will be joined by Pras in this week's episode of The FPL Wire. You can check it out here.
See you next week!