The manager has spoken and the red flag has been added: Marcus Rashford (£7.2m) looks set to miss Gameweek 31 of Fantasy Premier League (FPL) at the very least, having been ruled out of Manchester United's next "few games".
We've already covered the injury update itself in a stand-alone article but here we look at potential replacements for Rashford in FPL.
We'll be focusing on candidates roughly in Rashford's price bracket or cheaper, i.e. £7.5m and below, in this piece.
It goes without saying, of course, that an upgrade to Mohamed Salah (£12.8m) would probably be the most desirable option if £5.6m+ in funds can be sourced, with no blanks, an upcoming double and some appealing fixtures still to come for Liverpool. Salah is, unsurprisingly, streets ahead of any other FPL midfielder for projected points in the run-in.
RASHFORD: KEEP OR SELL?
Before we consider the possible replacements, let's look at the pros and cons of keeping or selling the England winger.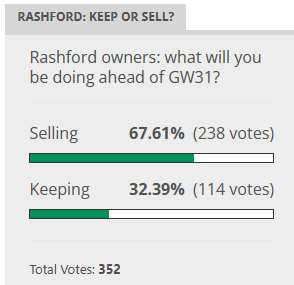 REASONS TO KEEP
Around one-third of early voters in our on-site poll will be retaining Rashford, and there is merit in this approach.
For those on a Gameweek 32 Free Hit, for example, you only need to get through benching Rashford in Gameweek 31 and you can give yourself another week-and-a-half of thinking time before deciding whether to keep him for Gameweek 33 and beyond.
Many recent Bench Boosters will already have a decent array of substitutes waiting in the wings – perhaps a second Brighton midfielder or a Brentford asset – and will be able to cover Rashford's unavailability in Gameweek 31 quite easily.
Keeping Rashford also protects any value tied up in him, although that will very likely dwindle significantly as he hemorrhages owners.
A "few games" is a bit of a vague timeframe but given that there are five matches before we get to Double Gameweek 34, the optimists amongst us will be hoping that a "few" means "fewer than six"!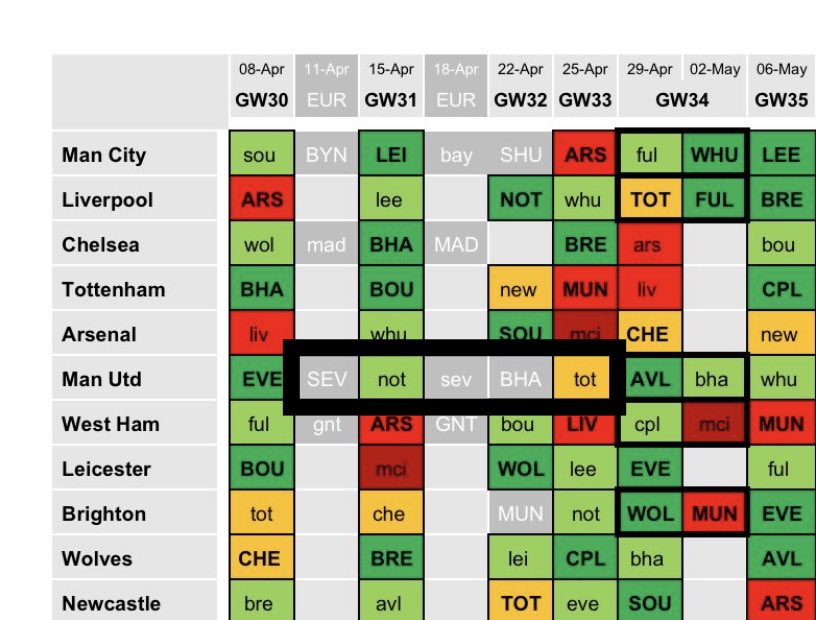 Above image from Legomane
REASONS TO SELL
Two things we've already mentioned are also possible cons when it comes to keeping: Rashford's falling cost and the uncertainty of the recovery timeframe.
Rashford's price has already dropped by £0.1m since Gameweek 30 and it'll keep tumbling so long as he's out, especially if the sales keep happening at the current rate: there have been a whopping 540,000+ transfers out at the time of writing. Meanwhile, potential medium-term replacements like Gabriel Martinelli (£6.7m) and Jack Grealish (£7.0m) are already rising. Delaying the decision to offload Rashford for one of these alternatives till Gameweek 33/34 could easily end up costing £0.5m or more in team value.
And holding off for a fortnight may end up proving to be merely delaying the inevitable. Is he likely to have completed his rehab, returned to full training and be ready to play twice in Double Gameweek 34 – the first match of which is in 18 days' time? We simply don't know at this point but some usually reliable sources have their doubts.
One other thing worth mentioning is that Manchester United play on the Thursday of Gameweek 33, so there's a strong chance we may not hear the latest injury news from Erik ten Hag before the Tuesday FPL deadline (a Wednesday presser is a likelihood). We may not get much ahead of Gameweek 34, either, with it being a Thursday-Sunday turnaround: ten Hag could very well hold his Gameweek 34 press conference in the aftermath of that Thursday night Gameweek 33 fixture, with embargoed quotes dribbling out in the days to come.
And finally, for those managers not using the Free Hit in Blank Gameweek 32, the incentive to sell may be greater given that Rashford definitely won't be able to play in the next two Gameweeks.
RASHFORD: THE BEST FPL REPLACEMENTS
JACK GREALISH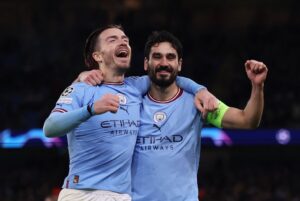 Team: Manchester City
Price: £7.0m
Points per match (season): 4.6
Points per match (last six games): 6.3
Good for: Gameweek 32 Free Hitters, FPL managers looking ahead to City's Double Gameweek 34/37
Fixtures:
There's only one place to start with the replacements, and that is with the most-bought FPL player of Gameweek 31.
Until recently, Jack Grealish (£7.0m) had been a Fantasy footnote since swapping the Midlands for Manchester.
But 11 attacking returns since the World Cup (more than he'd managed in his first 15 months with City) and 11 successive league starts have raised his profile in FPL.
"I love it – I love playing, training. When it's going well there's nothing better, I feel back to my normal self, feel fit and back to confidence. Scoring and getting the assist, I'm buzzing." – Jack Grealish after the Gameweek 29 win over Liverpool
So Grealish is brimming with confidence and passing the eye test at present (he was particularly brilliant in that Liverpool game above) but how are those performances translating into underlying numbers?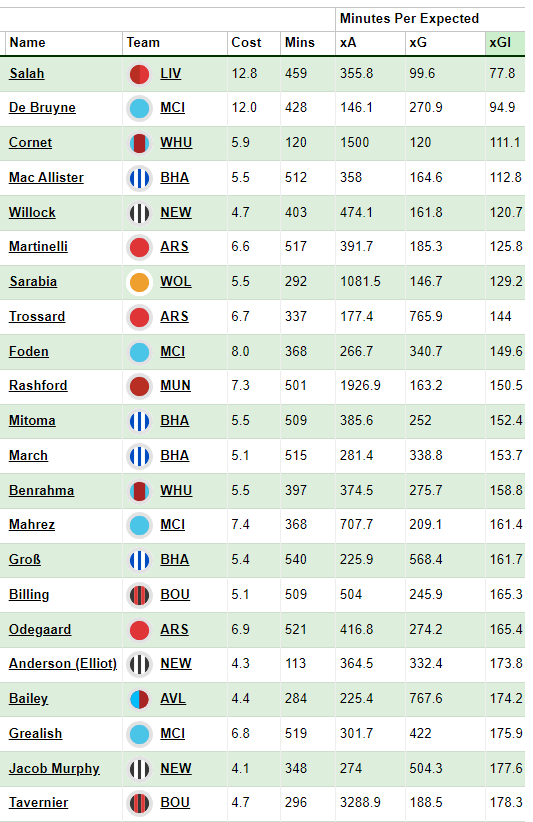 Above: FPL midfielders sorted by minutes per expected goal involvement (xGI) in the last six matches. Grealish's figure (175.9) is very similar to his season-long average (176.8).
They're not especially good, it has to be said. Less-heralded options like Philip Billing (£5.1m) and Leon Bailey (£4.4m) are bettering Grealish's xGI figure in their last six matches, for instance.
What he has improved on since the World Cup is his ability to get into decent goalscoring positions. It's the "taking a risk" element that Pep Guardiola recently highlighted, writ large in the shotmaps below: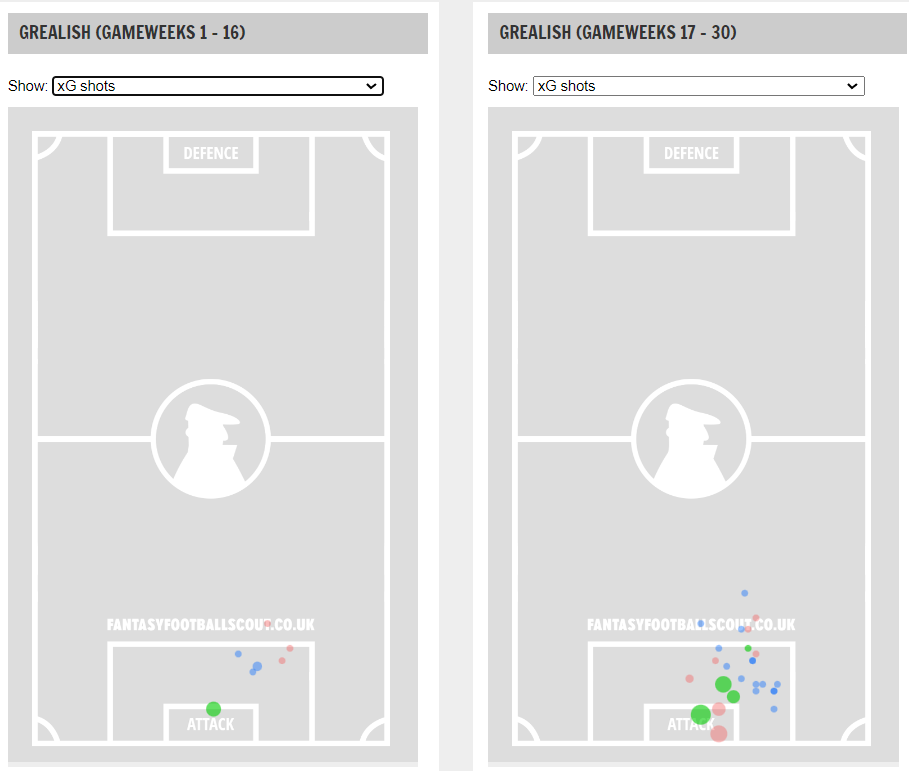 Above: Jack Grealish's shotmaps in Gameweeks 1-16 (above left) v Gameweeks 17-30 (above right). While he has played more minutes since the World Cup, the number of close-range efforts has disproportionately increased.
Grealish has been helped, of course, by positional rival Phil Foden's (£8.0m) post-Qatar fitness issues, with appendix surgery currently sidelining the attacking midfielder. Foden ought to be recovered by the time that Gameweek 34 double comes around, but it was Riyad Mahrez (£7.3m) who made way in Gameweeks 24-27 when Foden and Grealish were both available and fighting fit.
It'd be naive to think that Grealish is going to start all nine remaining league fixtures (there's even perhaps a risk this weekend, after his 90-minute run-out against Bayern), particularly with City still involved in the Champions League and FA Cup. But even factoring in a couple of possible benchings in his seven remaining active Gameweeks (we're ignoring Gameweek 32, for those Free Hitting then), he could still be starting the same number of matches as any of the Arsenal options.
---
GABRIEL MARTINELLI