A popular strategy this week will be to use the Free Hit chip, if you still have it remaining.
That's because Gameweek 34 of Fantasy Premier League (FPL) will be a double for six teams: Brighton and Hove Albion, Fulham, Liverpool, Manchester City, Manchester United and West Ham United.
Indeed, over 17% of responders in our on-site poll are activating their Free Hit this week.
Here, we look at the potential benefits of thrusting the chip into action, whilst also presenting some drafts to consider.
---
GAMEWEEK 34: FIXTURES SORTED BY DIFFICULTY ('EASIEST' FIRST)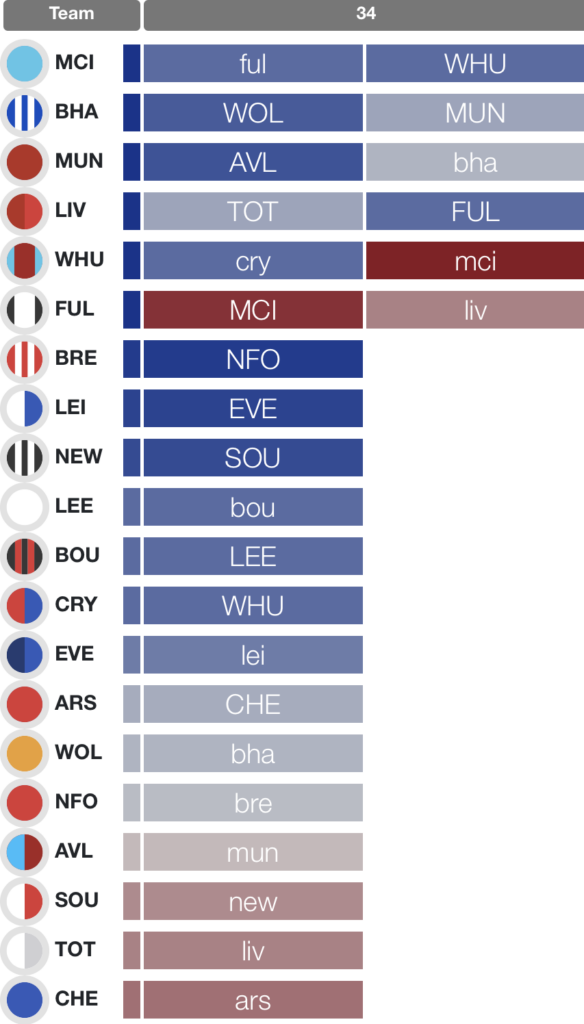 GAMEWEEK 34 FREE HIT: PROS + CONS
The main advantage of using it here is that you can potentially field 11 players who play twice, allowing you to collect a higher quantity of fixtures. However, whether Gameweek 34 is the 'right' moment to Free Hit will depend much on the make-up of your squad.
There's an obvious appeal to using it if you have barely any of the following players, all of whom are highly owned in the top 100k and theoretically playing twice.
| | | | |
| --- | --- | --- | --- |
| Position | Player | Team | Top 100k ownership |
| FW | Erling Haaland | Man City | 97.49% |
| MF | Kaoru Mitoma | Brighton | 85.38% |
| MF | Marcus Rashford | Man Utd | 63.43% |
| DF | Pervis Estupinan | Brighton | 58.91% |
| MF | Solly March | Brighton | 54.62% |
| MF | Jack Grealish | Man City | 49.71% |
| MF | Mohamed Salah | Liverpool | 48.32% |
| DF | Luke Shaw | Man Utd | 44.91% |
| DF | Trent Alexander-Arnold | Liverpool | 27.31% |
---
So, if most of these players are unobtainable without multiple points hits, your reason for playing the Free Hit becomes even more justifiable.
Sprinkle in a few differentials that most other managers probably won't have, and you could see a big rank rise. Taking a punt on Kevin De Bruyne (£12.1m) – providing he recovers from his 'niggle', Riyad Mahrez (£7.3m), Diogo Jota (£8.8m), Cody Gakpo (£7.7m) or Andrew Robertson (£6.8m) are good examples in Gameweek 34.
On the flip side, if you already own five or six of the above players, including Erling Haaland (£12.3m) of course, there might not be enough 'upside' to Free Hit in Gameweek 34, given that most engaged managers will have similar squads.
If you do choose to hold onto the chip, you might want to consider Gameweek 37 as an alternative, the final double of the season with four teams (Brighton, Chelsea, Man City and Man Utd) playing twice, or even Gameweek 38, a round which has traditionally thrown up lots of goals in the past.
The line-ups could be more volatile by that point (for example, if City have the league title sewn up and have one eye on future cup final(s) or if United have secured a top-four spot), allowing for more punts on fringe players who are deemed likely to start.
As always, it depends entirely on each manager's unique squad, so have a look at your set-up and see what works for you.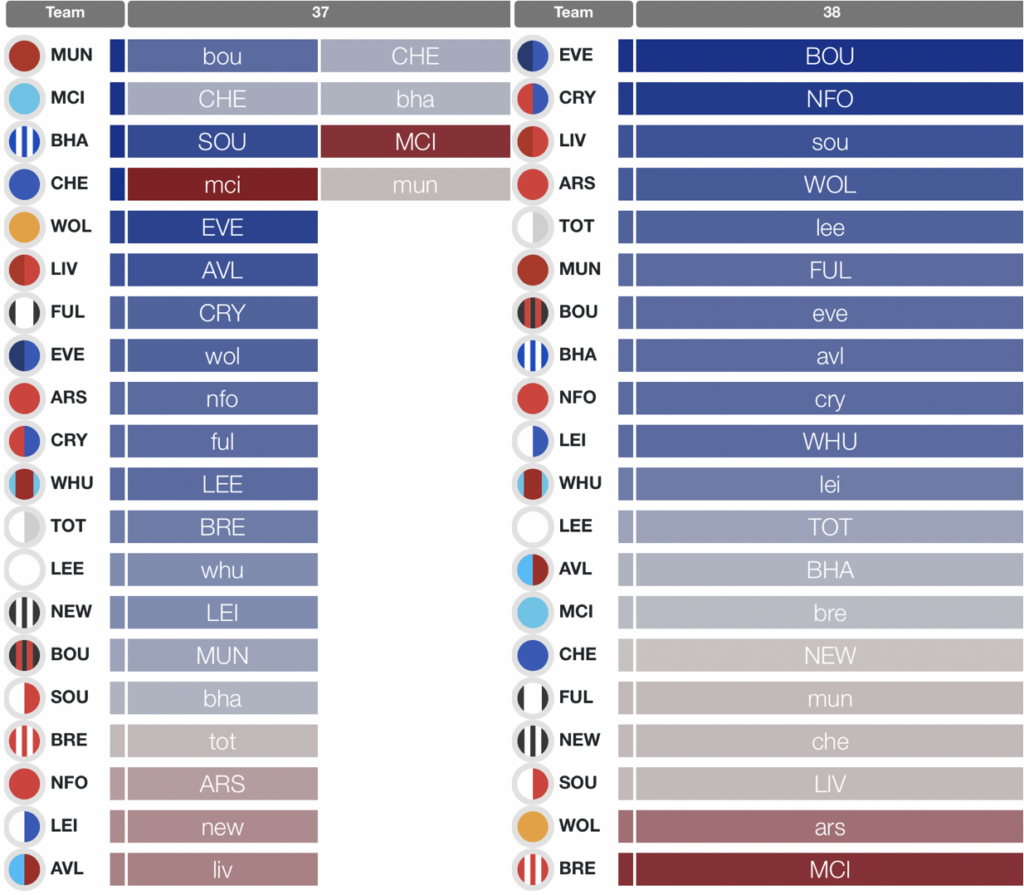 Above: The Free Hit chip could alternatively be deployed in Gameweek 37 (left) or Gameweek 38 (right)
GAMEWEEK 34: POTENTIAL FREE HITS SQUADS
TEMPLATE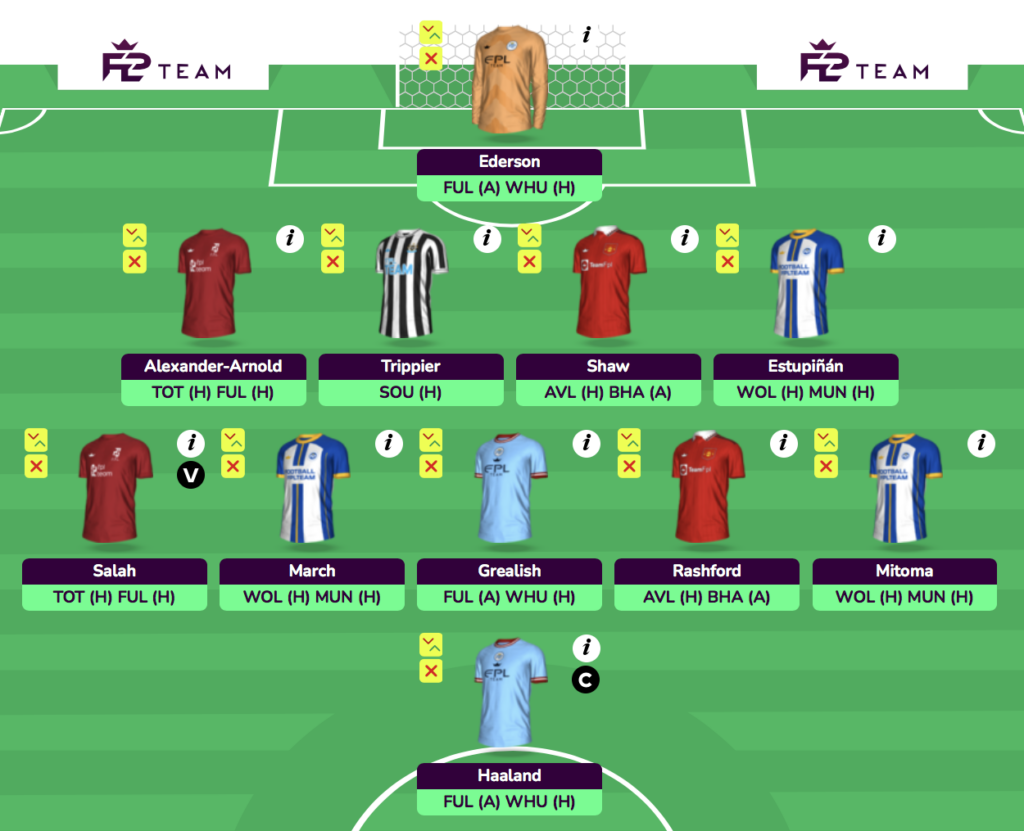 If you're playing your Free Hit and want to use it to protect rank, or maybe even hold onto a mini-league lead, you'll want to cover the highly owned players.
This draft, therefore, is a good starting point. It includes all nine players who play twice with over 25% ownership in the top 100k, along with Ederson (£5.4m) and Kieran Trippier (£6.2m). The latter is owned by a whopping 96.67%, so his inclusion guards against a haul.
Elsewhere, it's very much as expected, with Brighton, Man City and Man Utd triple-ups, plus two from Liverpool. In fact, our Scout Picks 'bus team' features seven of these names, which you can read more about here.
CHASERS
This strategy clearly comes with a huge amount of risk attached, choosing to go without a lot of consistent players capable of big scores. That said, if you are playing your Free Hit to aggressively try and make up ground on your rivals, you might be more willing to gamble.
This draft is made up entirely of low-owned players in the top 100k, bar Haaland and Kaoru Mitoma (£5.6m). Lateriser put forward the arguments for Antony (£7.3m) and Diogo Dalot (£4.7m), plus De Bruyne, in his latest column, which you can read here.
Elsewhere, you've got Robertson, Gakpo and Jota over Trent Alexander-Arnold (£7.5m) and Mohamed Salah (£13.0m) at Liverpool, plus West Ham duo Lukasz Fabianski (£4.9m) – he should at least rack up the saves – and Jarrod Bowen (£8.0m), who has returned in four of his last five matches.
COMMUNITY DRAFTS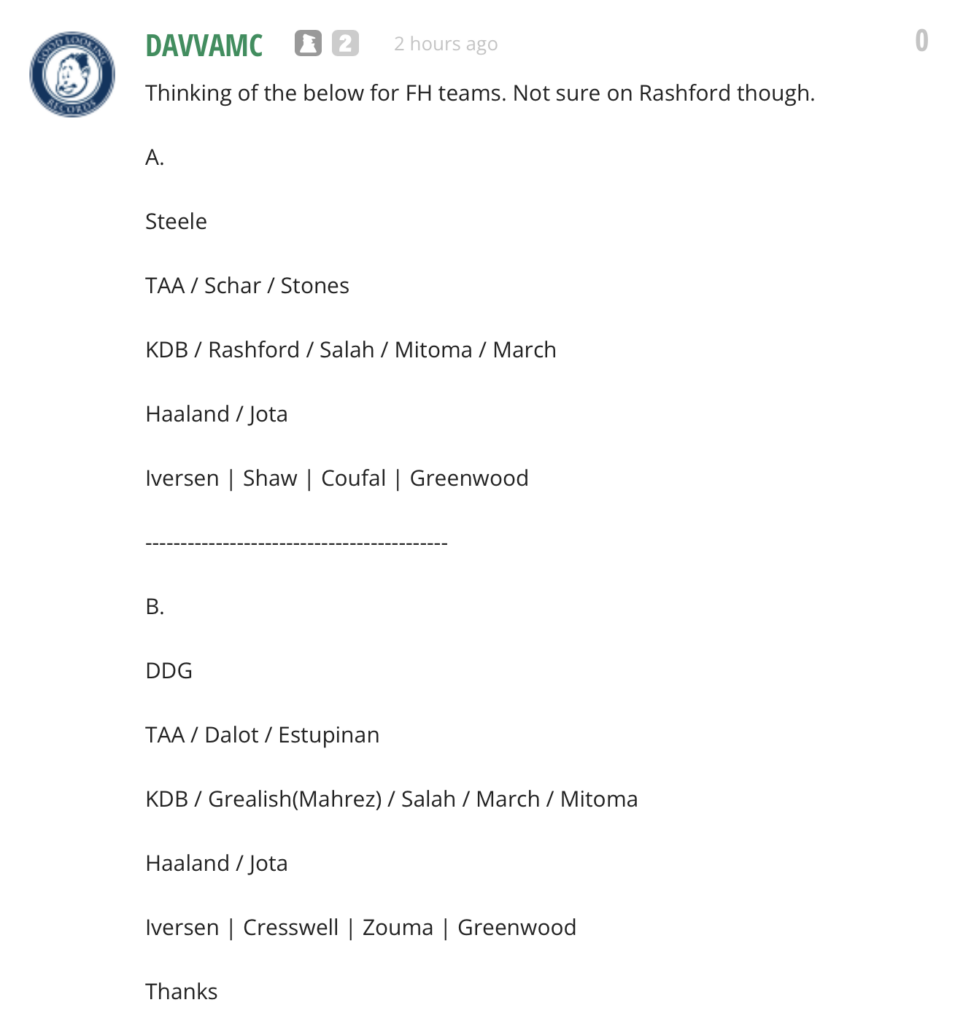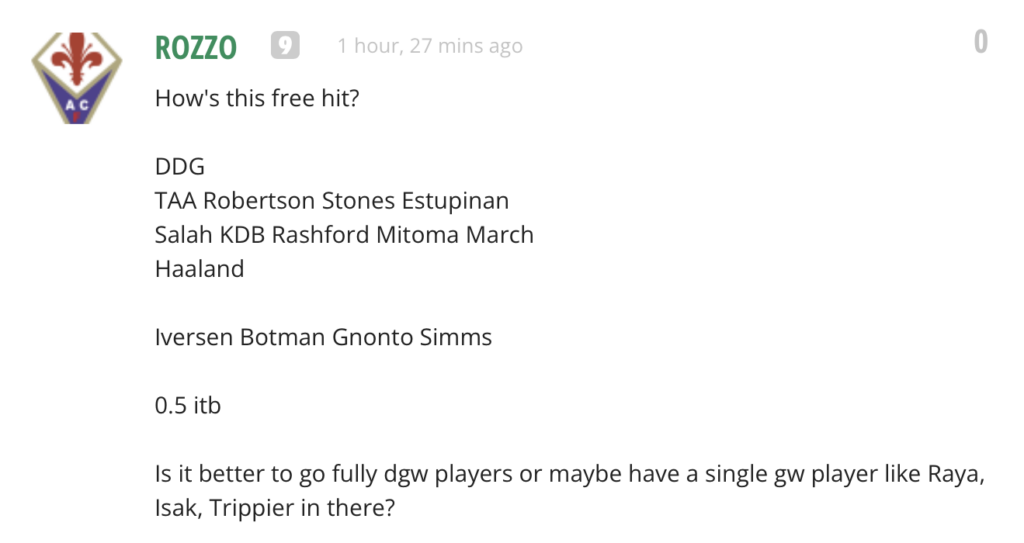 FPL HARRY'S FREE HIT DRAFT