Our top team of Pro Pundits and Hall of Famers write about all things Fantasy Premier League (FPL) throughout the season.
Only Premium Members are able to read every single one of these pieces, so sign up today to get full access not just to the editorial content but all of the other benefits, from hundreds of Opta stats to a transfer planner.
In his own spin-off of 'Spot the Differential', two-time Indian FPL champion Lateriser looks at three players to consider for those managers 'chasing' in the run-in.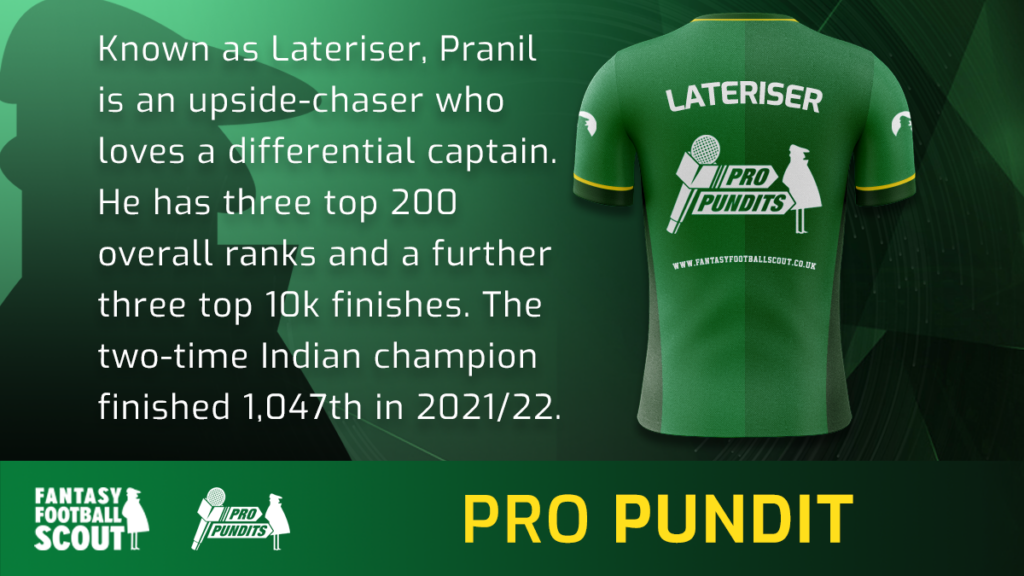 ---
It is the business end of the season and a lot of Fantasy Premier League (FPL) managers are playing the chasing game.
It is for those managers that I will cite a couple of differentials that I think are decent 'rolls of the dices' until the end of the season.
Antony Dos Santos (£7.3M)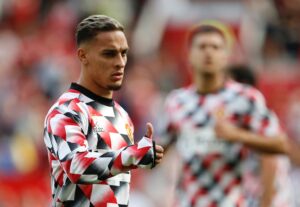 Manchester United have Double Gameweeks in 34/37, with some great fixtures around those doubles. As a result, they are one of the teams to target for the run-in. It wasn't too long ago that Antony had a few injury issues but he's put them far behind him and has started the last six league games, the FA Cup semi-final against Brighton & Hove Albion and both legs of the Europa League quarter-final against Sevilla.
He is very much the first choice on that right wing for Manchester United but of course, there is a slight chance that Manchester United start with Marcus Rashford (£7.1m), Jadon Sancho (£7.1m) and Anthony Martial (£6.3m) as a front three. It is also worth noting that Alejandro Garnacho (£4.1m) is back training again but those are the chances we take with a differential with eight games remaining, without any European distraction and still a lot to play for in the league. On a personal level, I think Antony's decision-making has improved significantly this month and, as we all know, he loves a Robben-esque shot on his left foot the moment something opens up, however low the chances of scoring may be.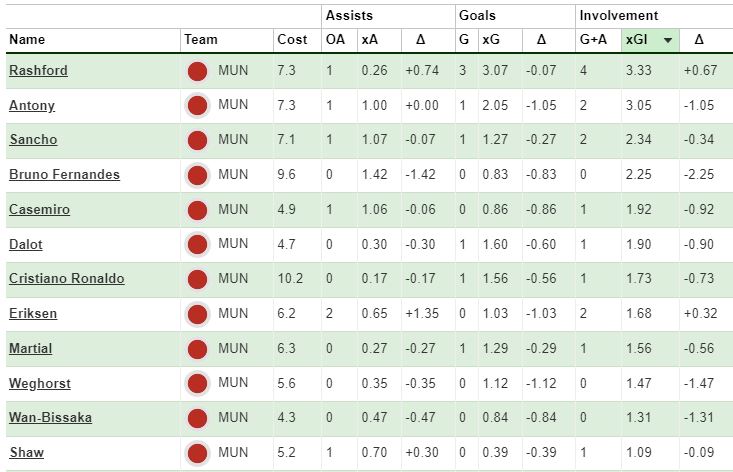 In fact, in the last six matches in the league (see above), Antony is behind only Marcus Rashford for expected goal involvement (xGI), expected goals (xG) and shots in the box. His penchant for an effort from distance is indicated by the fact that he's Manchester United's leading shot-taker in the last six matches. Before and after his goal and assist against Nottingham Forest (where he had an xG of 1.12 and an expected assists (xA) tally of 0.39), Ten Hag's comments have been encouraging.
"Of course, we expect from frontline players that they are not only a threat but also they have effect in the final thing and he has to work on that, of course. But he is a young player. When you see his record – you mention he is not scoring Premier League- but he did against Betis a really important goal after half time. He did score against Barcelona, the winner, you can't say they are not big games. He also scored in cup games. If you can do it in such games you can also do it in Premier League games, so I don't have a concern about that. But like many more players, you have to step up and he has to step up as well. We have to win games together. That is my experience with him. He is a fighter and he likes challenges and with him in the team the team is winning. That is why is in the Selecao (Brazil national team) and also why he is often selected in the starting XI." – Erik ten Hag on Antony
"I defended him. He knows, I know as well, that when you're a striker, you need an end product. But already he had quite a lot of end product, he scored in all competitions now. Eight goals in his first year United is not bad and there are still games to go. But he has to do it. I can't say in every game, but in many games, if you want to be a top-class player and especially in all the competitions. He has to step up. Today was an example where, with both goals, he made the right decision." – Erik ten Hag on Antony
Kevin De Bruyne (£12.1M)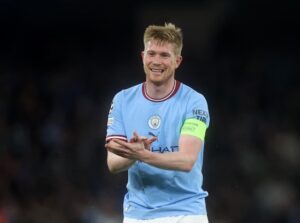 This feels like deja vu. Anyone that is chasing, just like last season, has Kevin De Bruyne – fitness permitting – as a differential to target. As I write this, I'm watching in the 55th minute of the Manchester City v Arsenal game and De Bruyne has already amassed two beautiful goals and one assist. In the last four games for Manchester City in the league, big-game Kev has chipped in with three goals and five assists. He just seems to do incredibly well in this stage of the season but as is the case with a Manchester City attacker in this schedule, his minutes aren't fully secure, especially with them having a Sunday-Wednesday-Saturday turnaround before the Champions League semi-final against Real Madrid. That is the beauty of De Bruyne as a differential, as not many will go there because there is likely going to be a choice between him and Mohamed Salah (£13.0m) for most of us.
De Bruyne has 1.54% effective ownership (EO) in the top 10k and 3.32% EO in the 100-200k range, so don't be fooled by his 26.1% ownership as it isn't very high amongst active managers.
There seemed to be a dip in his form immediately after the World Cup but in the last few weeks, he looks well and truly back to his best and is as good a differential to bet on as they get, despite the minutes insecurity. He's second only to Erling Haaland (£12.3m) for xGI amongst Manchester City assets whether you look at the season or the last six matches and at the moment, he just looks like he's playing his best football.
DIOGO DALOT (£4.7m)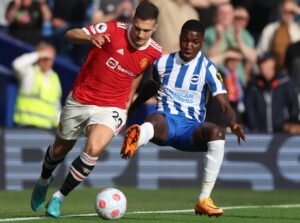 If you're looking at defence, a punt I fancy is Diogo Dalot, who has looked incredibly attacking of late, having amassed seven shots and as many chances created in the last six matches.
Erik ten Hag has used him as a left-back and a right-back and it is this versatility of his that makes me like his chances to start on either side. While the fixtures in Double Gameweek 34 don't look great for clean sheets, the fixtures around that are appealing, which is why I don't mind this punt.
---
That's it from me this week. In case you're chasing, good luck. In case you're not, well, good luck to you too!