Throughout every Fantasy Premier League (FPL) season, our team of Pro Pundits, Hall of Famers and guest contributors share their thoughts, tips and own transfer plans.
Only Premium Members are able to read every single one of these pieces, so sign up today to get full access not just to the editorial content but all of the other benefits, from hundreds of Opta stats to a transfer planner.
Here, Burning Questions co-host and four-time top 10k finisher Pras highlights the upside of saving a free transfer for Gameweek 38.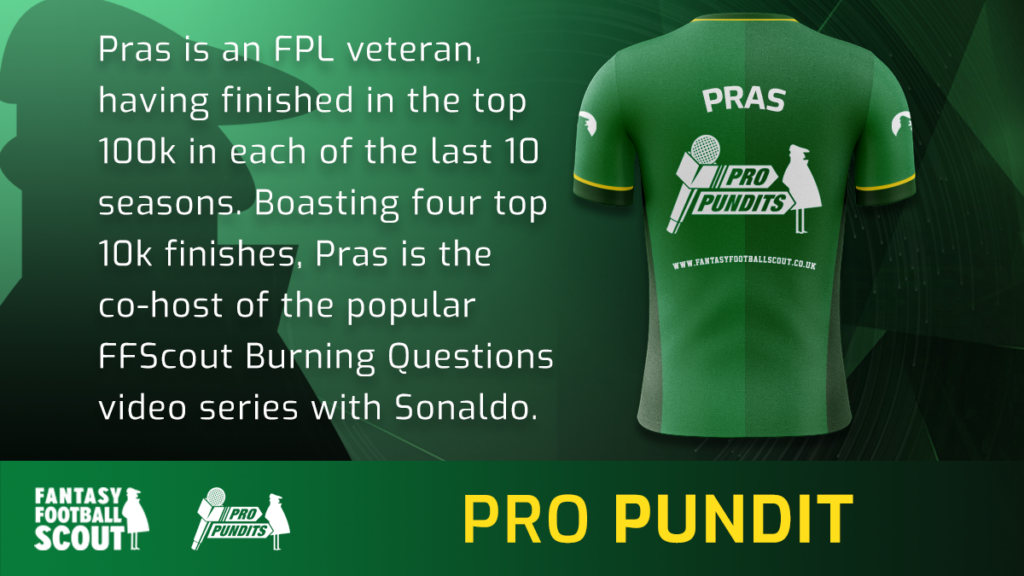 ---
What a boring topic for my last piece this season for Fantasy Football Scout. Haven't we always said we need to attack Double Gameweeks, and that two games are better than one? I guess this is still true but I think we are at a stage where, given how the fixtures have landed and how the template is, I am going to try and make the case that having two free transfers in Gameweek 38 can have a higher potential gain than using one in Gameweek 37. Of course, the usual team-dependent caveats apply…
Gameweek 37 fixtures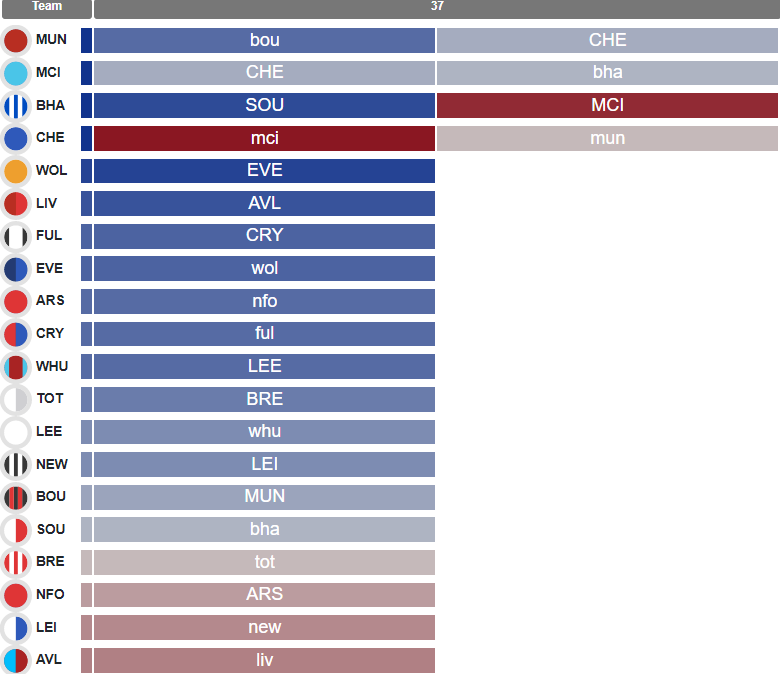 Double Gameweek 37 is peculiar in the sense that there are four doubling teams but of them, most managers already own three Brighton players (and if you don't, it's perhaps too late anyway) and want none from a Chelsea side who are uninspiring under Frank Lampard and play the two Manchester clubs away. Of course, a punt could work out but not one where I'd particularly look for upside.
This brings us to Manchester City and Manchester United.
Manchester City
By the time Man City walk out on Sunday at the Etihad to play Chelsea, the title could already be theirs – that will happen if Arsenal fail to win away to Nottingham Forest on Saturday. The Citizens will seal the title regardless should they, as expected, beat Chelsea. They will be very keen to lift the trophy in their final game at the Etihad anyway, so I'd back them to do so.
This then puts into question their line-up not only for the midweek game versus Brighton but also the Gameweek 38 clash versus Brentford. They do, after all, have two more cup finals subsequently.
Let's look into their players a bit more:
Top 100k ownership of select Man City players (source: LiveFPL)
Haaland: 99.6%
Grealish: 39%
Ederson: 20%
Stones: 17%
Mahrez: 12%
Alvarez: 6.8%
De Bruyne: 5%
Gundogan: 0.2%
On the face of it, a City midfielder or Julien Alvarez (£6.0m) does carry a huge upside. However, when you factor in the stupendous but physically intense UEFA Champions League victory over Real Madrid, and possible league title victory on Sunday, working out who starts both the Brighton and Brentford games seems to be a lottery, even more so than usual.
Moreover, it's the 'single' Gameweek 37 options that are in our current teams that are hard to overlook. Can one justify selling a Newcastle striker playing Leicester at home for Alvarez? And then there's a Liverpool team needing to win every game to have hope of qualifying for the Champions League, who are at home to Villa – would I sell Mohamed Salah (£13.1m) to fund Kevin De Bruyne (£12.2m)? I don't see a big upside there. Another reason for holding Salah is that in the event Haaland isn't starting in Gameweek 38, Salah probably becomes the standout captaincy option.
At the back, all City defenders are low-owned – but we are talking low upside. There is no Cancelo-type high-upside defender anymore. Using a transfer to switch out Kieran Trippier (£6.1m), despite Newcastle's defensive struggles, doesn't seem worth it to me.
Manchester United

The rest of this article is completely free to read but requires a Fantasy Football Scout user account for access – you can get yours at no cost here.

That's all from me. Thanks for all the support in the articles and for Burning Questions in 2022/23. It is an absolute privilege being able to write and talk about FPL weekly. Good luck!