The Premier League title race may be over but there will still be plenty to play for on the final day of the 2022/23 season.
At least five Gameweek 38 fixtures will have something riding on them, be it European qualification or the bid to beat the drop.
Previously, contributor Jason McKenna looked at whether having "something to play for" was a relevant consideration for FPL managers in the run-in.
We've also seen if there's any truth behind the thought that Gameweek 38 is traditionally a goal-fest, as many of us believe.
Here, we look at the storylines to look out for this coming Sunday.
THE RELEGATION RACE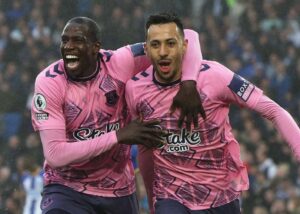 Teams involved: Everton, Leeds United, Leicester City
Fixtures affected: Everton v Bournemouth, Leeds United v Tottenham Hotspur, Leicester City v West Ham United
If Leicester City fail to beat Newcastle United in Monday's Gameweek 37 encounter (the bookies only give them an 11% chance of getting all three points), then Everton know that a win against Bournemouth on the final day will ensure another year in the top flight.
The Toffees might not even have to defeat Gary O'Neil's side: draws or losses for Leicester and Leeds United in their remaining games mean that Everton could even afford to lose at Goodison Park and still stay up.
If Leicester do manage to upset the form book and win at St James' Park tonight, then Everton will go into the last weekend in 18th place and needing to better the Foxes' Gameweek 38 result due to an inferior goal difference.
Barring an upset on Tyneside on Monday, it's win or bust for Leeds and Leicester – and even then, they're down if Everton also taste victory.
With Leeds and Leicester (assuming they don't beat Newcastle) having to go for victory at some point in their respective Gameweek 38 matches, it does raise the prospect of opponents West Ham United and Tottenham Hotspur getting some joy on the break. They are ranked joint-sixth and joint-third respectively for shots from counter-attacks this season.
Looking at individual players, Harry Kane (£11.4m) and Son Heung-min (£11.5m) rank highly in the below table for 2022/23 – although Spurs are more front-foot under Ryan Mason than they were under Antonio Conte.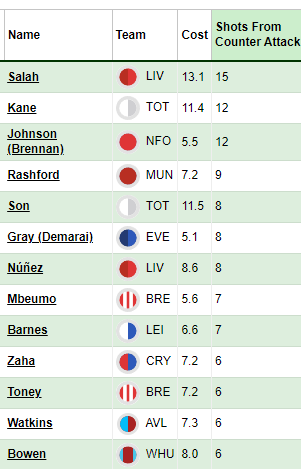 We can perhaps expect a cagier affair at Goodison Park, however, especially considering that Sean Dyche's side could only need a draw to survive.
THE EUROPEAN QUALIFICATION SPOTS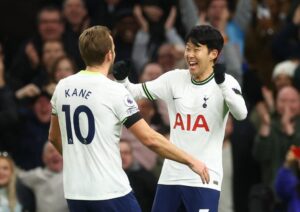 Teams involved: Aston Villa, Tottenham Hotspur, Brentford
Fixtures affected: Aston Villa v Brighton and Hove Albion, Leeds United v Tottenham Hotspur, Brentford v Manchester City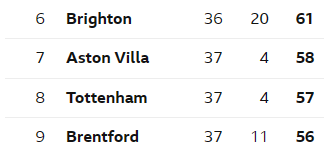 Brighton and Hove Albion would have to do a Bon Accord in order for them to lose sixth place now, meaning that there is a three-way tussle for the sour quince log of European football: a UEFA Europa Conference League qualifying spot.
It's a simple equation for Aston Villa, who know that a win over the Seagulls on Sunday will see them into Europe for the first time since 2010/11.
Spurs will have to better Villa's result to leapfrog Unai Emery's side but Brentford could still overtake both clubs: the Bees would need the Villans and Spurs not to win, while they themselves would have to beat league champions Manchester City. It's happened before this season…
We've not focused too much on the race for a Champions League spot here as the Uniteds of Newcastle and Manchester need only a point on Monday and Thursday respectively to secure their places in next season's competition.
If either club tastes defeat against Leicester City and Chelsea respectively, however, then Liverpool would still have an outside chance of making the top four with victory over Southampton in Gameweek 38. Again, though, Man Utd and Newcastle would have to lose once more on the final day.
UPCOMING CUP FINALS: RHYTHM OR REST?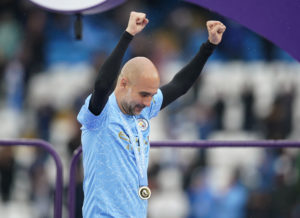 Teams involved: Manchester City, Manchester United, West Ham United
Fixtures affected: Brentford v Manchester City, Manchester United v Fulham, Leicester City v West Ham United
The two Manchester clubs and West Ham United will be playing competitively beyond Gameweek 38, with the finals of the FA Cup, UEFA Champions League and UEFA Europa Conference League to come:
Sunday 28 May: Gameweek 38
Saturday 3 June: FA Cup final (Manchester City v Manchester United)
Wednesday 7 June: UEFA Europa Conference League final (West Ham United v Fiorentina)
Saturday 10 June: UEFA Champions League final (Manchester City v Internazionale)
While they have nothing meaningful to play for in their domestic league, these three teams will be using their Gameweek 38 fixtures for either rest or rhythm going into their respective cup finals.
Last week we looked into Pep Guardiola's proclivity to rotate once the league title is in the bag (as happened on Sunday) but he has often gone strong in Gameweek 38, especially as he has himself previously said that he values a bit of rhythm going into big games; in this case, those big games are their two upcoming finals in June.
These fresh quotes from Guardiola after the Chelsea game are worth reading – further rests against Brighton would appear to be in the offing but if he also spared bodies against Brentford in Gameweek 38, that would mean some of his key stars going into the FA Cup final without a start in 17 days.
"I have been so demanding in this period. We lift the trophy so to think of going to Brighton is so exhausting. We know how difficult they are. The players have to celebrate otherwise it makes no sense. We will arrive with time to rest mentally for the two finals against United and Inter.

"We have to play two more games. I said enjoy it but be careful because we will destruct what we have done in these competitions.

"Now I have the feeling that all of us are a little bit tired because it's been a long season. Now it's the tendency to think it's done. Still we have a tough game at Brighton and Brentford, hopefully it can pass quick and then we have seven days to prepare United and Inter." – Pep Guardiola
Having rotated heavily in Gameweek 36 in between Europa Conference League semi-finals, David Moyes named a much stronger team for the Gameweek 37 win over Leeds United.
The Hammers will have seven and 10 days respectively of rest on either side of their Gameweek 38 clash with Leicester, so again, would Moyes send his troops into a Conference League final without any competitive game-time in 17 days?
The Gameweek 38 problem child could be Manchester United. They are likely to go strong against Chelsea on Thursday night in their second Double Gameweek 37 fixture, a point assuring a UEFA Champions League qualification spot for next season.
"It's a final on Thursday and I hope all the fans are ready for it because we want to get that done on Thursday. We therefore need another good performance and that will not be easy. You have to be ready, you have to be on the front foot, you have to be at the highest energy levels. You need to focus. And then it's possible. We know that we are strong, especially at Old Trafford." – Erik ten Hag
If Erik ten Hag gets the point or three he desires against Chelsea, does he field his big guns again less than 67 hours later in a dead rubber against Fulham? Only nine days separate Thursday's clash with the Blues and the FA Cup final, so the Red Devils wouldn't be that rusty for Wembley if ten Hag did decide to blood the youngsters and fringe players in Gameweek 38.
It's all speculation at this stage, of course, but something worth bearing in mind ahead of Sunday's deadline.