We can reveal our Fantasy Premier League (FPL) Team of the Season following a week of voting from the Fantasy Football Scout userbase.
Over 16,000 votes were cast in total which, even allowing for the multiple votes permitted per person, was still an excellent response.
Seven players (one goalkeeper, three defenders, two midfielders and one forward; the bare minimum for each position in FPL) made it into the XI from the initial position-by-position polls, with the run-off vote the decider for the other four spots.
TEAM OF THE SEASON – GOALKEEPER VOTE

David Raya (£4.8m) was the comfortable victor in our goalkeepers' poll, canvassing over half of the vote.
A total of 12 clean sheets was bettered by four other shot-stoppers but, just to prove that shut-outs aren't everything, he still finished top for FPL points among players in his position.
Saves were key: he made more stops (154) and accumulated more save points (39) than any other player.
Twenty bonus points was also a tally unbeaten by any other goalkeeper.
The Spaniard did it all from a starting price of just £4.5m, too, and despite a modest rise to a season-ending £4.8m, he still finished as the best-value FPL asset in 2022/23 (based on points per million).
TEAM OF THE SEASON – DEFENDER VOTE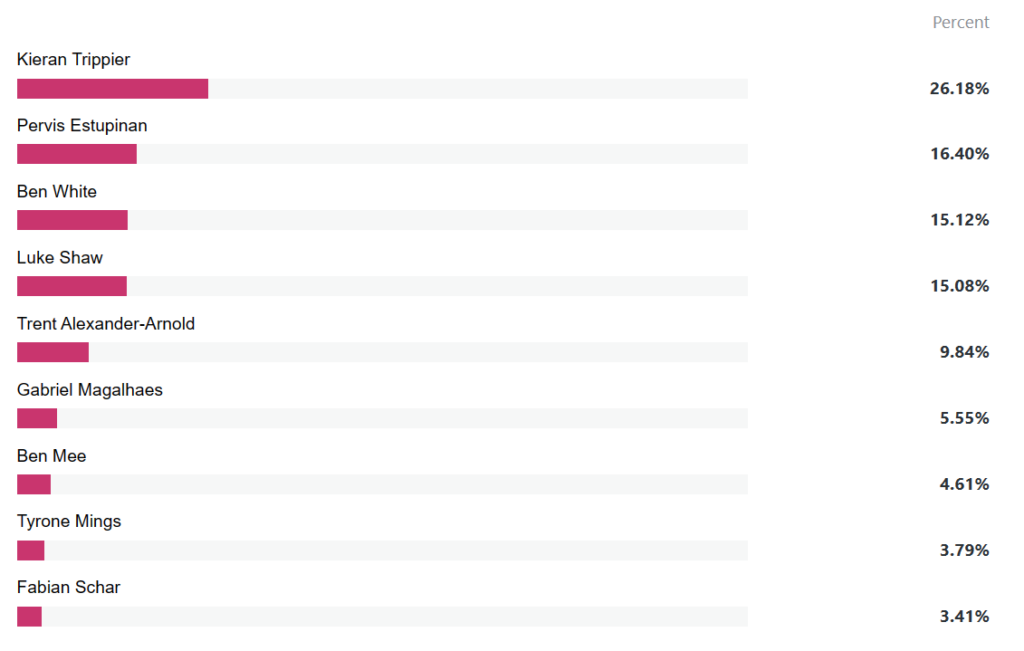 Kieran Trippier (£6.0m) only needed two appearance points in Gameweek 38 to hit a double-century for FPL points… and promptly registered a duck-egg at Stamford Bridge.
But he still finished a whopping 42 points ahead of any other FPL defender, despite an end-of-season run in which he blanked in 14 of his final 18 appearances.
Finishing top among his peers for clean sheets (16) and overall returns (26), the creative Trippier also banked almost twice as many bonus points (39) as any other Fantasy defender.
Did the Emirates haul influence the backing of Pervis Estupinan (£5.0m)? Perhaps, as no-one in the defender poll averaged fewer points per match (3.7) this season.
But like Raya above, his output has to be placed in the context of his low, low starting price of £4.5m.
Only three defenders recorded more attacking returns than the left-back's eight.
Ben White (£5.0m) narrowly pipped Luke Shaw (£5.3m) into third, in what was the closest gap between two candidates in this end-of-year awards poll.
White is the third FPL asset to make our Team of the Season who started the campaign at £4.5m.
Not one for a huge haul (he didn't once score more than eight points in a match), he steadily chipped away with consistent returns and blanked in fewer of his starts than even Trippier.
TEAM OF THE SEASON – MIDFIELDER VOTE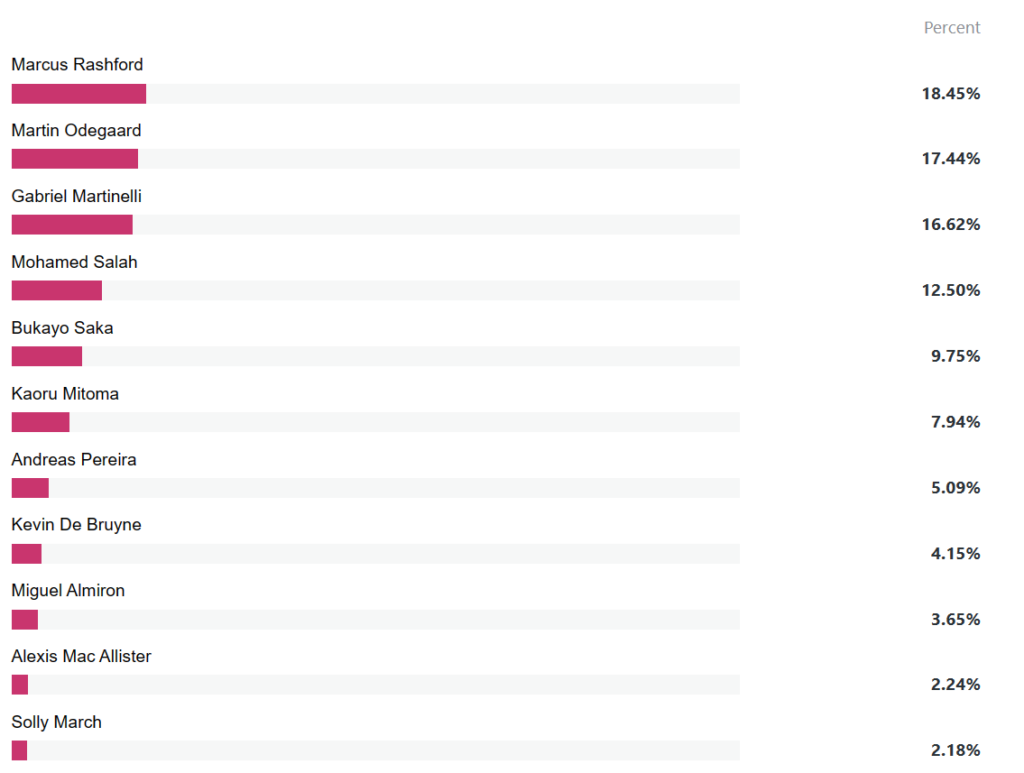 Only two midfielders automatically made it through to the Team of the Season.
The qualifiers were two high-performing picks who started the campaign at a now-unthinkable £6.5m: Marcus Rashford (£7.2m) and Martin Odegaard (£6.9m).
Both of them easily topped 200 points, a combined 47 attacking returns arriving from the pair.
No-one in the midfielder poll bar the two £12.0m+ options averaged more points per start (Rashford 6.0, Odegaard 5.7).
The pair were also third and second among midfield options for double-digit hauls (eight and nine respectively).
TEAM OF THE SEASON – FORWARD VOTE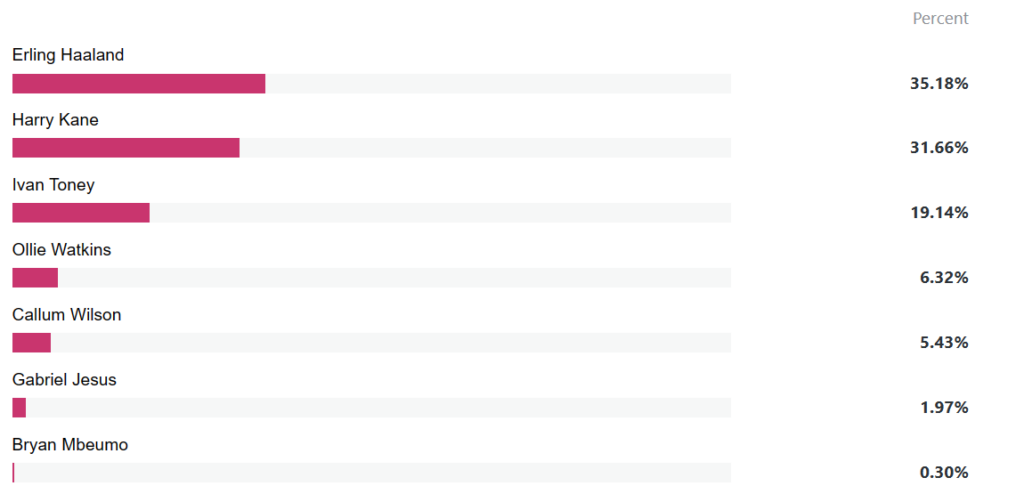 Erling Haaland (£12.4m) cruised into our Team of the Season, with nearly every responder in our forwards' poll nominating the Manchester City striker.
FPL's leading points scorer of 2022/23, Haaland delivered more attacking returns (45) and points per start (8.1) than any other Fantasy asset regardless of position.
A total of 11 double-digit hauls was also a division high.
TEAM OF THE SEASON – RUN-OFF VOTE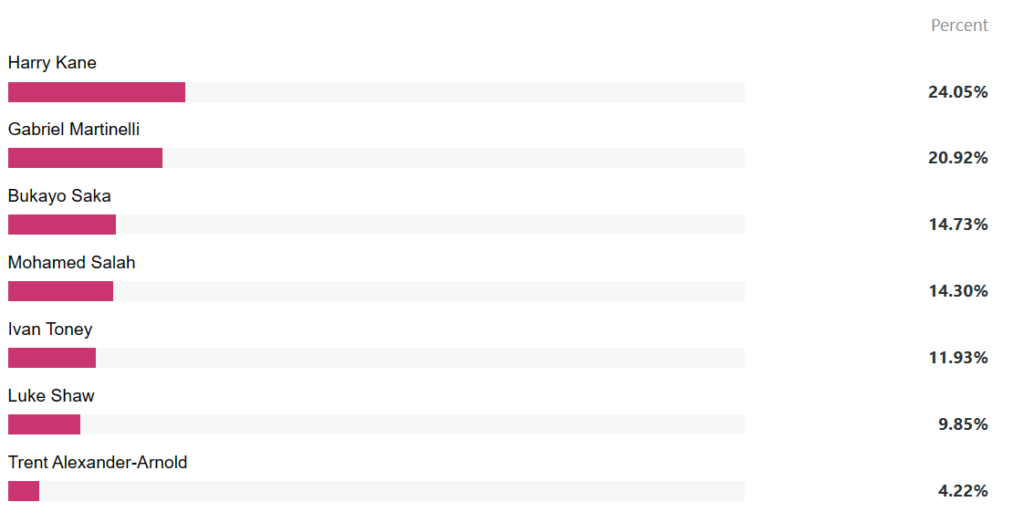 As mentioned earlier, our run-off poll effectively gave managers the chance to decide on our formation by voting for the final four players.
It was fitting that, with this being the highest-scoring 38-game season in Premier League history, we ended up with a 3-5-2 as Shaw and Trent Alexander-Arnold (£7.8m) were given the cold shoulder.
Harry Kane (£11.5m) was the clear favourite of many, backed by the vast majority of responders.
Finishing just nine points behind Haaland, Kane actually outscored the Norway international from Gameweek 2 onwards.
A total of 263 points represented his best-ever FPL season, while he also hit 30 league goals for the first time in his career.
In 30 of his 38 outings did Kane return at least one goal/assist.
He's also the first name from our 2021/22 Team of the Season who returns from last year
Gabriel Martinell (£6.5m) was another Premier League player to make a mockery of their FPL starting price, this time £6.0m.
Two-dozen attacking returns arrived for the Brazilian, as many as Rashford managed and more than Odegaard posted.
A minutes-per-point average of 14.1 was the best of any Arsenal player who started at least one match, that game-time being eaten into in the second half of 2022/23 after the arrival of Leandro Trossard.
Bukayo Saka (£8.0m) and Mohamed Salah (£13.1m) follow Kane in keeping their places from last season.
Saka delivered more attacking returns (26) than any sub-£11.5m option in the game, despite blanks being registered in 10 of his final 13 run-outs.
Salah was actually the top-scoring midfielder for points (239), attacking returns (32) and double-digit hauls (10) but such is the stratospheric levels he's set himself since his move to Anfield in 2017, he only just scraped into our user-voted Team of the Season.
The Egyptian had only scored on six occasions before the mid-season break for Qatar 2022 but ended up outscoring every other FPL midfielder – and Haaland – for points after the World Cup, blanking in only one of his final 11 starts.
TEAM OF THE SEASON – THE LINE-UP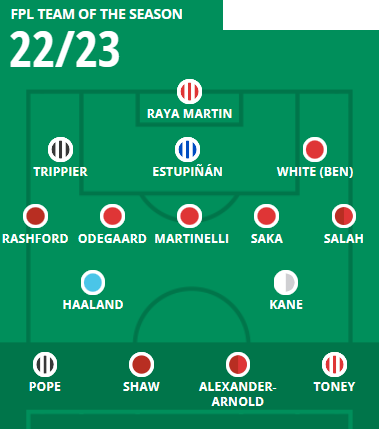 ---
We'll follow this article up with a look at the best possible 'ghost' team for 2022/23, i.e. the highest-scoring squad you could have feasibly set up in Gameweek 1 and not touched for the rest of the campaign.
Our user-voted team above is not an example of this, of course, with four Arsenal assets included and Estupinan not arriving until Gameweek 3.