With Fantasy Premier League (FPL) underway for 2023/24, we're welcoming back our team of Hall of Famers and guest writers for the campaign. Here, former champion Simon March looks at the pros and cons of a Gameweek 5 Wildcard.
Our writers will be providing regular articles and team reveals throughout the new season, with only Premium Members able to access every single one.
You can sign up here for the new campaign – once you're aboard, you've locked in the price of your Premium Membership for good, so long as you don't cancel!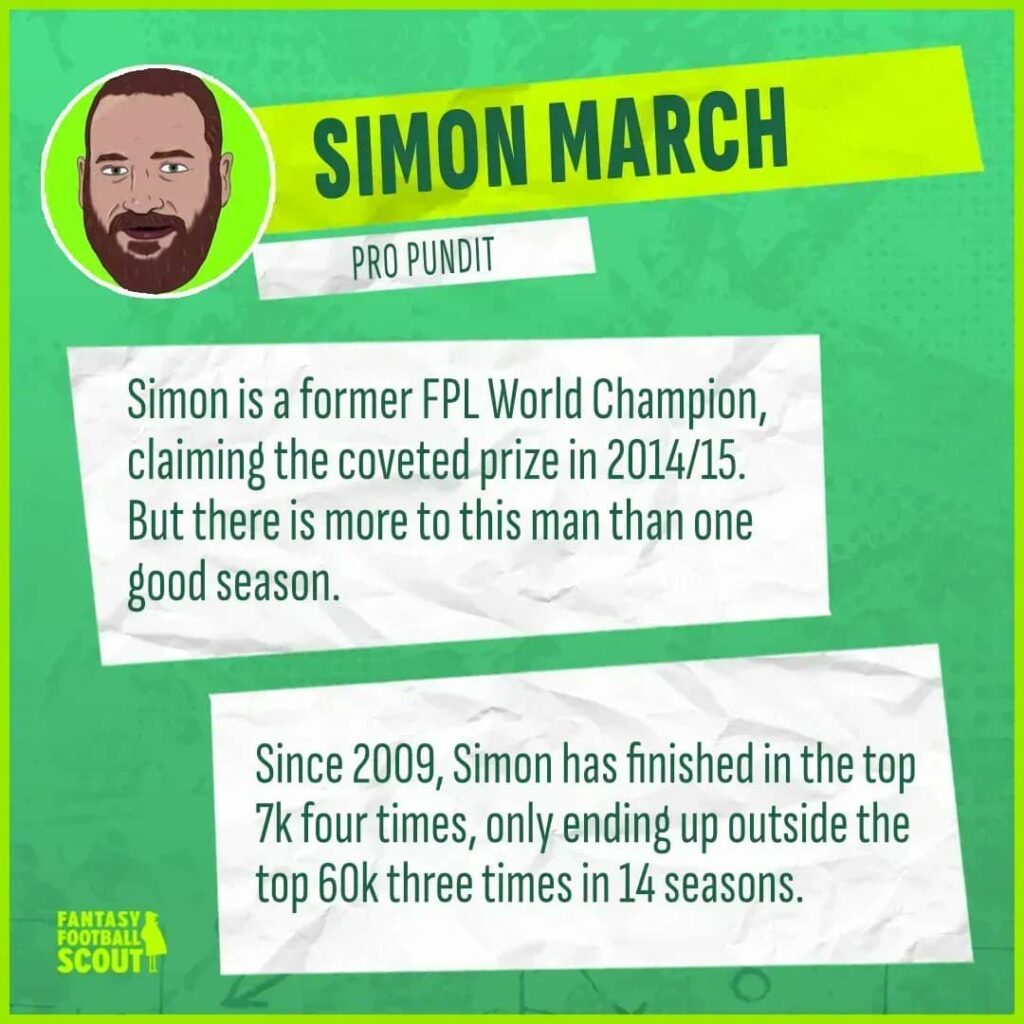 ---
The first international break is, traditionally, where we see the first large-scale pressing of the Wildcard button but many more of us will have at least considered by now.
The urge grows greater as FPL abruptly stops (just as we were getting into it) and we're left twiddling our thumbs for two weeks, tracking private jet departures and hoping our players aren't really injured.
But is Wildcarding during the first international break a smart move, or a strategic error that might handicap our season before it has really begun?
This will be the focus of this week's article.
The Case for an Early Wildcard
Most FPL managers who have played the game for a while can point to an early Wildcard that has paid off, possibly even as part of some convoluted pre-existing masterplan to attack the opening few fixtures then wave the Wildcard wand just as those fixtures change for the worse. In such circumstances, an early Wildcard can be a really smart move, allowing an FPL manager to build momentum early on in the season and gain a step on their rivals.
While a handful of Gameweeks will not, of itself, offer any sort of reliable sample size, it may at least be indicative of who the key assets to own will be going forward. While the term 'early-season form' exists because it does not always translate into 'season-long form', it is not always misleading and it can, in fact, be particularly useful when it confirms past performance. It's always good to know that last season's breakout stars were not 'one-season-wonders' after all or that the best performers haven't lost a step.
There's also the money element and, while the old trick of acquiring players early on in the international break before they rise twice thus allowing you to flip them and bank the profit doesn't seem to work quite as well as it used to, there's a clear benefit to your bottom line in getting rid of the players who are declining in value and getting in the ones whose value is on the rise. An early overhaul of this sort can help maximise budget early on and really pay off further down the line, especially when it comes to playing the second Wildcard or the Free Hit chip.
Finally, there is, of course, the possibility that your team is just bad or, will be bad given the upcoming fixtures. People often say that the 'right time' to Wildcard is 'when you need to do it' and you can't really fault that logic.
The Case Against an Early Wildcard
The flipside to the previous point, and probably the clearest argument against an early Wildcard, is that you might not actually need to play it, even though it might look like you do. For every manager who can claim a successful Wildcard, there are at least as many who have seen it backfire.
It's practically a rite of passage in FPL for your pre-Wildcard team to outscore your Wildcard team, particularly in that first Gameweek after playing it and, while many will reasonably point out that a Wildcard should be judged over a longer period than just one Gameweek, it is also the case that, had those FPL managers waited another week, they would have been better off, in terms of points scored at least.
There's reason to believe that the phenomena of a pre-Wildcard team outscoring the post-Wildcard team is more than just anecdotal. The players that tend to populate an early Wildcard team are those who have tended to perform exceptionally well in the opening Gameweeks, possibly at an unsustainable rate. Because over-performance tends to regress over time, you can expect their output to decline at some point.
It might seem excessively unfortunate that this decline seems to always start as soon as you bring the player in, but this is a common consequence of the small data set that we're looking at with early-season Wildcard. In short, we tend to be over-impressed by early-season player performances and we forget to really consider how sustainable those performances are. Therefore, the longer you can hold your Wildcard, the more reliable the data that you base it on is likely to be.
Another key benefit of holding on to your Wildcard is that it allows you the freedom to play the game more aggressively or experimentally. FPL managers with a Wildcard in their back pocket can afford to think much more short term with their transfers than those who have already used it. They can take one-week punts or load up on teams with good immediate fixtures but poor ones on the horizon or, indeed, do any of the short-term things that we usually tend to avoid. They can do this because, whatever corner they might paint themselves into, they have a Wildcard to get them out of it any time they want. We put a lot of emphasis on how to differentiate our teams and this mode of play is one of the less-discussed methods of doing this.
Finally, even if you can make a good case for using your Wildcard now, it doesn't mean that there won't be an even better time to use it in the future. The longer you can hold on to your Wildcard, the more unique the opportunity will likely be when you do come to use it.
Conclusion
There is nothing inherently wrong with an early Wildcard, particularly if it's part of a wider existing plan, a strategy to maximise squad value or if it is simply necessary due to misfortune or mistakes. There's no benefit in letting either of the latter two compound so, in such circumstances, Wildcarding can be the best possible action.
Most of the problems with an early Wildcard tend to arise from the fact that, early on in the season, it is often very difficult to tell if your team really needs an overhaul. Boredom, envy and a tendency toward us being overly influenced by high but probably unsustainable player performances early on, often cause us to push the button prematurely.
The longer you can wait until you play your Wildcard, the more confidence you can have in the information that you are basing it on. There is, of course, also a potential opportunity cost the longer you leave it; you may miss out on some points or price rises, but the overall quality of your Wildcard is likely to be better for it.
Equally, having a Wildcard available allows you to play the game of FPL with far more freedom than you can if you don't. If you're looking for a way to break out of the pack, make up ground or even solidify a high rank, the aggressive playing style you can more freely employ with the Wildcard safety net could be among the best early-season differentials of all.