Shortly before the chaos of last Friday's transfer deadline day came Crystal Palace's capture of Dean Henderson (£4.5m) from Manchester United.
With add-ons, the 26-year-old should cost the Eagles around £20m. It's a hefty fee for Palace to spend on a back-up goalkeeper, so he'll likely become their number-one shot-stopper – eventually.
So what does this move mean for Sam Johnstone's (£4.5m), a fairly popular pre-season option in FPL circles?
We'll take a look during this Moving Target piece, where we have included data and images from our Premium Members Area.
IN QUOTES
"I like to be a leader on the pitch. I like to communicate really well and hold high support positions to help my back four out. I like to think I've got a big save in me. That's what I like to model my game on: that modern goalkeeping style." – Dean Henderson to the Crystal Palace website
"The competition between them is going to be very important and, of course, it's good for us because whichever goalkeeper gets the number one shirt we know we've got a top, top-class goalkeeper.

"Dean's only just arrived at the club and needs to get to know the club and get to know his team-mates before he can really provide the competition we're expecting him to do.

"There is a situation where, like several other teams, we are looking at two goalkeepers, either of whom can play in the first team and both of whom will be accepting of the fact that they do both want to play and they'll have to accept the competition that provides." – Roy Hodgson speaking before Gameweek 4
"Dean was just outstanding. He was very lively in training, in terms of giving you stick. He'd be giving the forwards flak whenever they were doing finishing drills. He is a very vocal guy. He just tries to drive people's standards up.

"His all-round game is excellent. His natural attributes are his spring and his timing, which combined make him an exceptional shot-stopper. That spring also allows him to come for crosses. He can deal with the football, with his feet and with his hands. Dean has the ability to play long, he has developed his game at (Manchester) United and can play short." – Darren Ward, his goalkeeping coach at Sheffield United
DEAN HENDERSON'S FPL HISTORY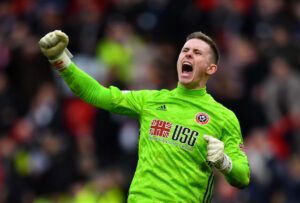 EARLY YEARS
In 2011, Henderson left Carlisle United to join Man United's academy. His first significant loan spell occurred in the 2017/18 season at Shrewsbury Town.
14 clean sheets helped them finish third in League One but it ultimately ended with play-off heartbreak at Wembley, just weeks after losing the EFL Trophy final there.
Henderson was destined for bigger things and was soon sent to Championship side Sheffield United. Named the club's Young Player of the Year upon promotion, a whopping 21 shut-outs saw him win the division's Golden Glove award.
| | | | | | | |
| --- | --- | --- | --- | --- | --- | --- |
| Season | Club | Division | Starts | Clean sheets | Saves per 90 | FPL pts |
| 2022/23 | Nottingham Forest (loan) | Premier League | 18 | 6 | 3.06 | 82 |
| 2021/22 | Manchester United | Premier League | 0 | 0 | 0 | 0 |
| 2020/21 | Manchester United | Premier League | 12 (1) | 4 | 3.20 | 44 |
| 2019/20 | Sheffield United (loan) | Premier League | 36 | 13 | 2.72 | 160 |
| 2018/19 | Sheffield United (loan) | Championship | 46 | 21 | 2.41 | – |
| 2017/18 | Shrewsbury Town (loan) | League One | 38 | 14 | 3.34 | – |
INTRODUCTION TO THE PREMIER LEAGUE
Known as 'The John Lundstram season', 2019/20 thrust Henderson into the FPL universe – he actually finished on more points than Lundstram but let's whisper that quietly.
His total of 160 was second-best of all those in his position, with 13 clean assists and an assist for Oliver McBurnie (£5.4m) helping the newly-promoted Blades end in ninth place.
The long-term intention of parent club Man United was for Henderson to compete with and possibly overtake David De Gea. He made a couple of early 2020/21 appearances when the Spaniard collided his knee with the post and paternity leave gave him a more meaningful run during the final months.
However, before he was able to start the following campaign as first-choice, Covid struck. De Gea got his place back, found some form and kept Henderson out of all league games.
After saying publically that it was "criminal" to "waste 12 months" like that, he was loaned to Nottingham Forest last season. Two early penalty saves and six clean sheets ensured he was FPL's second-best goalkeeper by Gameweek 20 until a thigh injury abruptly ended his year.
WHERE DEAN HENDERSON FITS IN AT CRYSTAL PALACE
That's the big question because – going off the earlier Hodgson quotes – Henderson may have to show some patience.
Johnstone may have the second-worst expected goals (xG) prevented score of -1.60 and one of the lowest save percentages of those with multiple starts but, alternatively, he's part of a strong Crystal Palace defence that has only allowed nine shots on target – the joint-second best.

In fact, he's been called up to Gareth Southgate's latest England squad to reflect recent form.
Experienced goalkeeper Vicente Guaita departed after refusing to play in pre-season, according to Hodgson.
The desire to buy a back-up goalkeeper, or even a new challenger, may have been hastened by Johnstone suffering thigh, back and calf injuries throughout 2022/23.
With these in mind, Henderson could soon replicate his initial step-in for De Gea and lock in a permanent starting spot.
DEAN HENDERSON'S FPL PROSPECTS
From now until Gameweek 15, Palace have the second-best fixtures according to our Season Ticker.

If circumstances (ie a Johnstone injury) put Dean Henderson in goal sometime during this run, he could become a bargain at £4.5m.
Otherwise, it's a non-starter and the shirt appears to be Johnstone's to lose. This is the second time that Hodgson has pledged to reward Johnstone's patience and performances – he did the exact same thing in the spring when hitherto number one Guaita returned from injury.
And remember that Hodgson was Palace boss when the Eagles snapped up another England international in Jack Butland in 2020/21. Then, Butland spent virtually the whole of the campaign warming the bench as Guaita failed to sufficiently dip in form or fitness.
At least there's no hint of a 50/50 jobshare a la Brighton: Roberto De Zerbi has spoken about actively rotating Jason Steele (£4.4m) and Bart Verbruggen (£4.4m), which immediately ruled them both out of FPL contention.
VIDEO LATEST