Newcastle United, Brighton and Hove Albion and Aston Villa will all be involved in European club competition this season.
It's the Seagulls' first-ever continental campaign, with the other two featuring for the first time since 2013 and 2010 respectively. Additionally, there will be Europa League football for Conference League winners West Ham United.
Following our look at potential Champions League rotation for the Magpies, we can look to the past when estimating the Fantasy Premier League (FPL) impact this extra midweek distraction will have on all four.
Whereas some teams manage to maintain some strong league form, others tend to struggle.
CASE STUDIES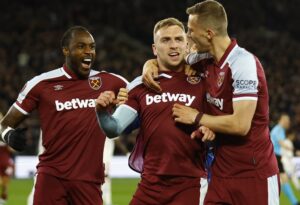 Since the 2016/17 season, there have been 10 instances of teams outside of the supposed 'big six' competing on the continent. Once the August play-off failures of Burnley (2018/19) and West Ham (2016/17) have been ruled out, here are the other eight:
2022/23, West Ham in the Europa Conference League
2021/22, West Ham in the Europa League
2021/22, Leicester City in the Europa League and Europa Conference League
2020/21, Leicester City in the Europa League
2019/20, Wolverhampton Wanderers in the Europa League
2017/18, Everton in the Europa League
2016/17, Southampton in the Europa League
2016/17, Leicester City in the Champions League
EUROPEAN IMPACT ON LEAGUE FORM
Looking at each club's Premier League results during their period of group-stage matches, we see a variety of outcomes.
SEASON
TEAM
COMPETITIONS
HOW FAR?
POINTS PER PL GAME
PREV. PL POSITION
FINAL PL POSITION
22/23
West Ham
Conference Lge
Winners
1.08 (groups)
1.21 (knockout)
7th
14th
21/22
West Ham
Europa Lge
Semi-final
1.62 (groups)
1.11 (knockout)
6th
7th
21/22
Leicester
Europa Lge +
Conference Lge
Groups + semi-final
1.23 (groups)
1.23 (knockout)
5th
8th
20/21
Leicester
Europa Lge
Round of 32
1.88 (groups)
2.00 (knockout)
5th
5th
19/20
Wolves
Europa Lge
Quarter-final
1.41 (groups)
2.33 (knockout)
7th
7th
17/18
Everton
Europa Lge
Groups
1.19
7th
8th
16/17
Southampton
Europa Lge
Groups
1.50
6th
8th
16/17
Leicester
Champions Lge
Quarter-final
1.00 (groups)
2.29 (knockout)
1st
12th
---
None of this eight finished higher than the previous season but Leicester and Wolves were able to repeat fifth and seventh-placed spots.
Respectable multi-tasking was also achieved by Southampton (2016/17) and Everton (2017/18), once the latter had sacked Ronald Koeman in October. The Toffees were 18th in the table after Gameweek 10 but league form improved after group stage elimination was confirmed with two matches left.
Meanwhile, West Ham coped well with 2021/22's deep Europa League run but were in a relegation battle for most of 2022/23. The first year saw David Moyes rest a lot of big guns during the group stage but he opted for strong line-ups in the second year's first four outings.
As a result, the Hammers were in 18th place as late as Gameweek 23, before some good April form pulled them to safety.
QUOTE
When speaking about the impact of European football on Burnley, then-manager Sean Dyche felt it was problematic.
"We were told it would be trouble playing in the Europa League and it has transpired that way because it's been a massive challenge. Probably more than we thought regarding the dynamic of the group and the way it's panned out with the crossover to the Premier League.

"Before, I was very positive about it, why wouldn't you be, it was the first time in 51 years Burnley had been in Europe. But having gone through it, it's a massive challenge. Every manager I have spoken to who has been through it has said the same. It's hard to explain, it changes all the realities of what you are trying to achieve as a group.

"During that period (of playing in Europe) you've drawn or lost games and not quite operating at the level you want. You miss some of your pre-season and then you have to get some slots to get the work in." – Sean Dyche
And that's just for a side that had been eliminated by late August.
POSSIBLE FPL IMPACT

With this in mind, the worry for Newcastle is that – by being placed in such a difficult Group F – they're susceptible to repeating Leicester's 2016/17, the main drop-off from recent years.
By Gameweek 25, the reigning Premier League champions were 17th in the table and, sadly, had to sack Claudio Ranieri.
None of Newcastle's six matches can be eased up on, therefore potentially making their FPL fixture swing irrelevant.
Forwards Alexander Isak (£7.7m) and Callum Wilson (£7.8m) will share starts. Likewise, the demanding schedule means their first-choice defence is unlikely to replicate beginning 31 of 38 league matches together.
Eddie Howe has added depth at full-back and central midfield but we simply don't know how he or the squad will cope. Is their collection of back-up and tired players capable of winning league games?
At least both themselves and Aston Villa have ambition, with Europe being the next step rather than a peak. Unai Emery has won a stunning four Europa Leagues, reached another final and took Villarreal to the Champions League semi-finals two seasons ago.
Navigating these continental nights is easy for him, so Ollie Watkins (£8.0m) should still be safe for starts. Perhaps the same can't quite be said for either Matty Cash (£4.7m) or Moussa Diaby (£6.6m).
As seen earlier, West Ham have had contrasting fortunes but their strong start to this league campaign has impressed many. Jarrod Bowen (£7.1m) has quickly reached three goals and new signing James Ward-Prowse (£6.1m) is yet to blank.
Whether cheap FPL enabler Alphonse Areola (£4.1m) continues in goal remains to be seen, with Lukasz Fabianski (£4.4m) also around.
And then there's European debutants Brighton. Of course, owners of Joao Pedro (£5.5m) and Evan Ferguson (£6.0m) are already aware of Roberto De Zerbi's rotation. With such strong squad depth, this could escalate even further once their tricky Europa League group gets underway.

They had a mixed record when it came to handling last season's congestions. Particularly later on, when they had three Double Gameweeks throughout the final five rounds.
Results were erratic, with a 3-0 win at Arsenal and 6-0 demolition of Wolves sat beside big defeats to Everton, Newcastle and Nottingham Forest.