In the latest article from our team of Hall of Famers and guest contributors, FPL General explains why he's hovering over the Wildcard button – and talks us through his hypothetical Gameweek 5 draft.
Our writers will be providing regular articles and team reveals throughout the new season, with only Premium Members able to access every single one.
You can sign up here for the new campaign – once you're aboard, you've locked in the price of your Premium Membership for good, so long as you don't cancel!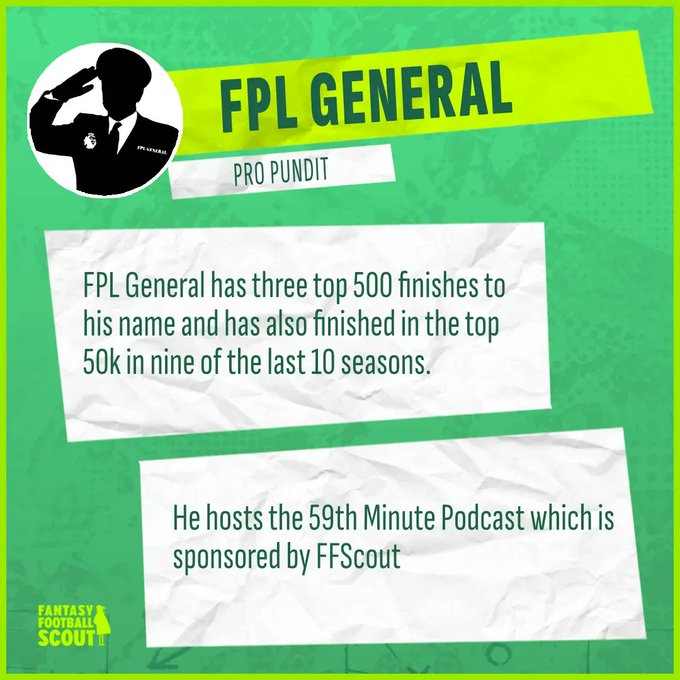 ---
GAMEWEEK 4 REVIEW
Gameweek 4 feels like a distant memory at this stage, thankfully! Aside from captain Erling Haaland (£14.1m), the only other players that delivered points were Marcus Rashford (£8.9m), Bukayo Saka (£8.7m) and new signing James Maddison (£7.8m), who came in for Gabriel Martinelli (£7.9m). A total of 69 points resulted in a rank drop from 650k to 1.1m overall. According to livefpl.net, the gap from 1.1m to the top 100k is only 25 points, so there's no need to panic yet. No rage transfers were made during the break!
I'm still set up in a 3-4-3 formation but would prefer to have a 3-5-2 structure. Ollie Watkins (£8.0m) is on the chopping block this week having failed to score in Aston Villa's first four league games. Losing him for budget enabler Cameron Archer (£4.5m) and using the cash saved to replace Marvelous Nakamba (£4.4m) with either Bryan Mbeumo (£6.8m) or Phil Foden (£7.6m) would give me the team structure I desire. It would be a -4 for the restructure, which wouldn't bother me as it would allow me to (hopefully) keep the Wildcard a little longer.
The defence could become a problem area soon with Chelsea's Reece James (£5.3m) nearing a return to action. Malo Gusto's (£4.2m) time as a regular starter could come to an end very soon. Rather than making transfers in attack this week, another option is to sell Gabriel Magalhaes (£4.8m), who has somehow survived in the squad this long! Tottenham Hotspur left-back Destiny Udogie (£4.7m) is my preferred replacement but the fixtures against Arsenal (away) and Liverpool (home) in Gameweeks 6 and 7 will likely see me avoid him for now. With Arsenal having a great fixture against Everton this weekend, I'll probably just keep Gabriel, start him and hope for the best!
I've been playing FPL for a very long time but I don't think I've ever been in a situation where both of my goalkeepers could lose their number one jerseys around the same time. Dean Henderson (£4.5m) and Odysseas Vlachodimos (£4.5m) are big threats to Sam Johnstone (£4.5m) and Matt Turner (£4.0m) respectively. The combination should be alright for another week or two at least. I'm hoping at least one of them survives until the first Wildcard is played. Being forced into a goalkeeper switch would be painful!
Wildcard Temptation
Even though I haven't hit the Wildcard button during the break, I'm not ruling out doing so on Thursday or Friday. At the moment, I'm leaning towards not using it but if one or two issues arise from the press conferences, it could very easily be activated. I feel like the -4 mentioned above would get me pretty close to a Wildcard team, which is why I've decided against it – for now.
Gameweek 5 Wildcard Draft