Following the pre-match press conferences and the international break carnage, The Watchlist has been updated for Gameweek 5 and beyond.
In this article series, we take a look at the stand-out Fantasy Premier League (FPL) players over the medium term.
This is in contrast to the Scout Picks, which deals only in the upcoming Gameweek.
MORE ABOUT THE WATCHLIST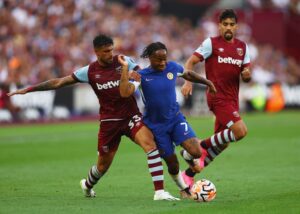 We rank players according to factors such as club injuries, form, underlying numbers, forthcoming fixtures, Rate My Team's points projections and whether or not the player in question is likely to be a bargain in FPL.
Arrows before the name indicate whether a player has increased in appeal or fallen in our reckoning since the previous Gameweek or if they are a new entry into the tables.
The key for the factors you'll see in the below tables is as follows: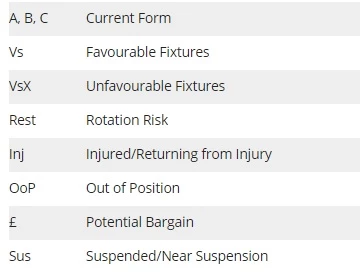 THE WATCHLIST: GOALKEEPERS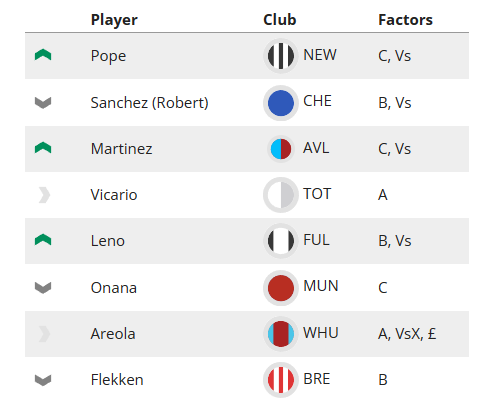 The lack of a real standout goalkeeper at the moment is evidenced by nine shot-stoppers having an FPL ownership in excess of 10%. Lots of candidates, no real consensus.
The Watchlist ordering will undoubtedly have its detractors, then.
In truth, we've partly leaned on Rate My Team (RMT) for this: Nick Pope (£5.5m) is the highest projected points scorer over the next 4-6 weeks, while Robert Sanchez (£4.5m) is top for projected points per million (aka value).
Both Chelsea and Newcastle United ride high on our Season Ticker for favourable medium-term fixtures, while the two teams – who have come in for their fair share of stick in recent weeks – rank well for expected goals conceded (xGC).
The hope with Pope is that the Magpies are slightly less watertight than they were last season so as to allow Pope to pick up save points (and there's evidence of that), while still being stingy enough to collect those all-important clean sheets. Something akin to Alisson (£5.5m), who will no doubt be riding high on our Watchlist come Gameweek 9.
Emiliano Martinez (£4.9m), now (just) below the psychological turn-off that is the £5.0m price point, will face only one of the teams that finished above Villa last season in Gameweeks 5-14.
Bernd Leno (£4.6m) is the stand-out candidate in the next four Gameweeks, with genuine clean-sheet opportunities to go with his customary save points. Just don't look at the ticker beyond Gameweek 8…
THE WATCHLIST: DEFENDERS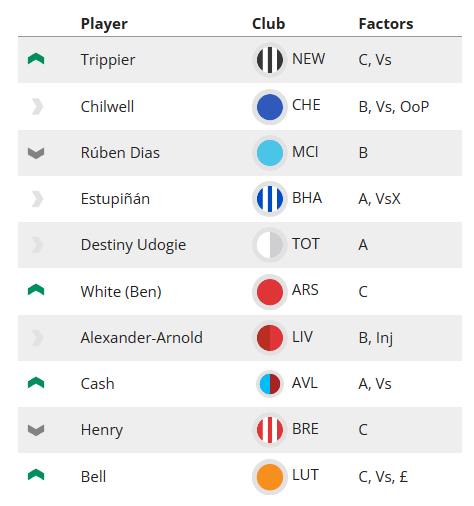 Kieran Trippier (£6.5m) follows Pope in rising to the top of his positional Watchlist; there's plenty more on him and other Newcastle assets in our in-depth article on the Magpies.
We've also written extensively about attack-minded defenders over the international break, and you could argue eight of the top nine above – Ruben Dias (£5.5m) being the exception – carry some form of offensive threat.
Dias will continue to slide, too, with Manchester City's favourable next three matches giving way to some off-putting fixtures from Gameweek 8 onwards.
Destiny Udogie (£4.7m) and Pervis Estupinan (£5.3m) have a mixed bag of short-term matches before they rise up the pecking order from Gameweeks 8 and 10 respectively, while the currently injured Trent Alexander-Arnold (£7.9m) will do likewise after the October international break. It's almost as if FPL defenders are in a holding pattern at present.
Speaking of which, Matty Cash (£4.7m) remains relatively low down while we figure out just what Unai Emery is going to do with his defence now that the attack-minded Alex Moreno (£5.0m) is fit. Cash will be at right-back this weekend due to injuries elsewhere; hopefully by Gameweek 8, when Aston Villa's fixtures get really good, we'll get a clearer picture of whether he's a) likely to string together more stat-inflating starts as a right-winger, b) set to have his attacking freedom blunted or c) become a rotation risk as Emery reprises his pre-season habit of playing centre-halves at full-back.
Ben White's (£5.5m) move to right-back has seen him get back to chance creating, while Arsenal have three good shut-out shots in the next six Gameweeks in the form of Everton, Bournemouth and Sheffield United. Make that four, if you take a dim view of Chelsea's profligate attack.
With Issa Kabore (£4.0m) now clearly a rotation risk, we've replaced the wing-back with the identically priced Amari'i Bell (£4.0m) ahead of Luton's favourable run and Double Gameweek 7.
THE WATCHLIST: MIDFIELDERS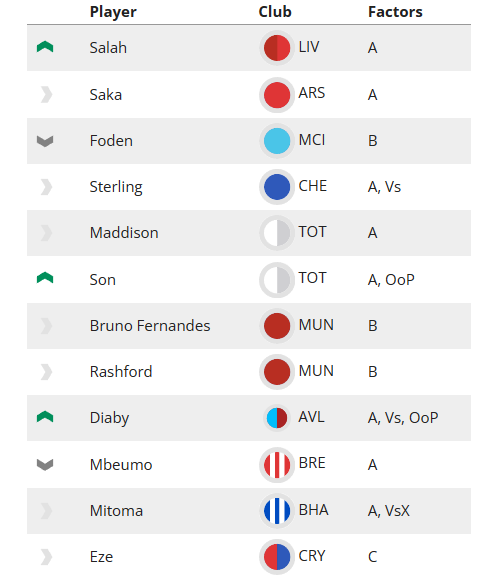 Mohamed Salah (£12.5m) takes back top spot now that Liverpool's supposedly problematic fixtures against Chelsea, Newcastle United and Aston Villa are out of the way; he ended up delivering attacking returns against them all.
The frightening thing is that his underlying numbers aren't all that good by his stratospheric standards, sitting as he does joint-sixth among midfielders for non-penalty xG. But Liverpool being down to 10 men in two matches partly explains that, with normal service resumed against Aston Villa (four shots, 11 penalty box touches, two big chances created) in Gameweek 4.
We're not getting too carried away by Son Heung-min (£9.1m) just yet, having witnessed the Raheem Sterling (£7.2m) hysteria placed into context when Chelsea came up against someone who wasn't a newly promoted whipping boy. Son and Tottenham Hotspur have another one of those this weekend in the shape of Sheffield United, hence the Scout Picks nomination, but tougher tests await in the following two Gameweeks. Should Son still be leading the line and doing his best Harry Kane impression come Gameweek 8, then the rise will be unstoppable.
Aston Villa's fixture run might get off to a flyer earlier than expected in Gameweek 5, as a stubborn Crystal Palace side have been dealt the double blow of losing Messrs Lerma and Guehi to injury. This pair have played a big part in the Eagles' early-season success, so Moussa Diaby (£6.6m) – Rate My Team's top-value midfield pick over the next six Gameweeks – may get more joy than first anticipated.
Brentford rank bottom of our Season Ticker for attack in the next nine Gameweeks, with their next six away fixtures (Newcastle, Forest, Man Utd, Chelsea, Liverpool + Brighton) not screaming hauls. Bryan Mbeumo (£6.8m) is too good to lose completely from the Watchlist, sitting ahead of every Premier League player for xGI, but there has to be an acknowledgment that stiffer tests await.
THE WATCHLIST: FORWARDS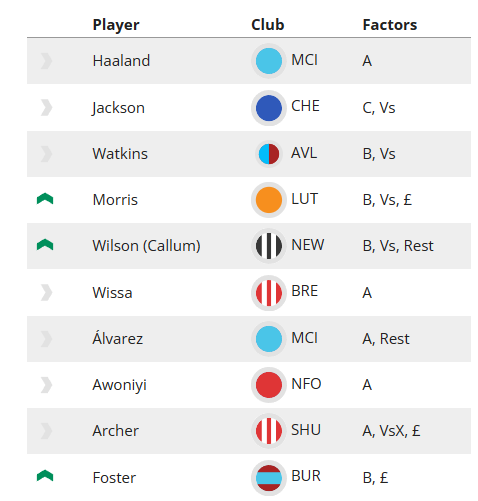 Two budget forwards with a Double Gameweek 7 climb in the pecking order, both of them well priced for anyone after a dirt-cheap FPL forward playable in that upcoming double but benched around it. Callum Morris (£5.5m) even has some decent fixtures before it, starting with the division's leakiest defence when it comes to expected goals conceded (xGC).
Callum Wilson (£7.8m) is in perilous punt territory, given his more expensive price tag and rotation risk status. But as discussed in the dedicated Newcastle article earlier this week, Wilson's underlying numbers have been peerless outside of Erling Haaland (£14.1m) for some time now. He'll almost certainly begin to get some league starts now that the UEFA Champions League is here, while the defences of Sheffield United, Burnley and Wolves will be there for the taking even if he is introduced later in the match. The Coventrian David Fairclough is capable of doing as much damage in a cameo as many others can manage in 90 minutes, so a mid-table Watchlist ranking seems like a fair trade-off of the pros and cons of Newcastle's number nine.