In the latest article from our team of Hall of Famers and guest contributors, FPL General explains why he's again resisting the urge to Wildcard ahead of Gameweek 6.
Our writers will be providing regular articles and team reveals throughout the new season, with only Premium Members able to access every single one.
You can sign up here for the new campaign – once you're aboard, you've locked in the price of your Premium Membership for good, so long as you don't cancel!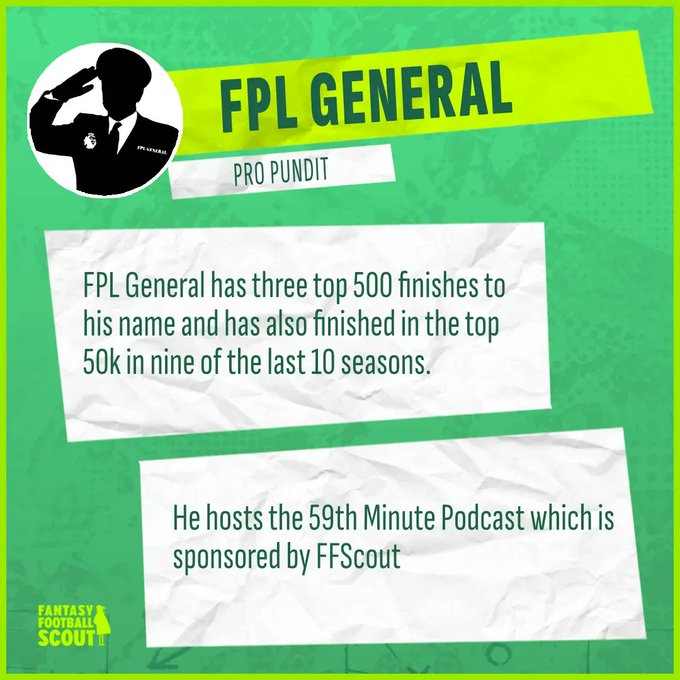 ---
GAMEWEEK 5 REVIEW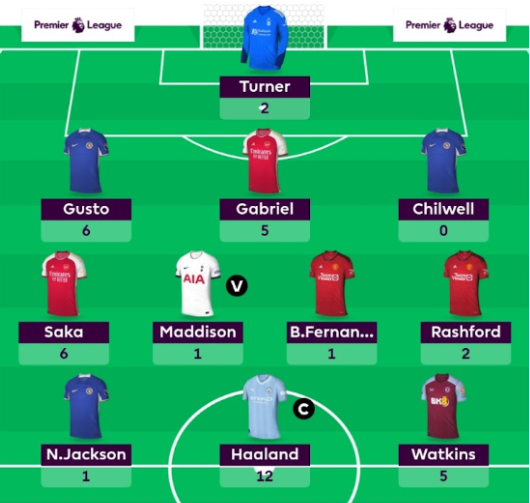 Fixtures that follow an international break are very often odd ones that frustrate us. We can safely add Gameweek 5 to that collection. However, the damage wasn't too bad for me, with 41 points resulting in a 300k red arrow. Going into Gameweek 6, I'm sitting at a 1.5 million overall rank. Clean sheets from Malo Gusto (£4.2m) and Gabriel Magalhaes (£4.8m), plus assists from Bukayo Saka (£8.7m) and Ollie Watkins (£7.9m) ensured it wasn't a disaster.
Resisting the 'fear of missing out' (FOMO) is going to be a common theme this season. I've managed to dodge two bullets recently in Raheem Sterling (£7.2m) and Son Heung-min (£9.1m). Off the back of respective 19- and 20-pointers, it took a lot of willpower not to bring them in. Friday's have now become an exercise in managing FOMO.
Referring to my list of golden rules and overall strategy – which I put together before the campaign started – helps me stay strong and resist temptation as the deadline approaches.
That list includes the following advice: bank a transfer as often as possible, don't let fear rule decisions and trust the troops – we can't own every good pick. To buy Son last week would've meant losing Saka or Marcus Rashford (£8.9m) which I wasn't prepared to do. So I rolled the transfer instead.
The fact that I already owned James Maddison (£7.9m) played a part in the decision-making process too. I want to avoid a Tottenham midfield double-up for their Arsenal and Liverpool fixtures.
Another bullet point from my list of rules is to auto-captain Erling Haaland (£14.1m) until there's a good reason not to. As well as Son transfer FOMO last week, there was also captaincy FOMO. I stuck to the plan and it paid off.
WILDCARD THOUGHTS
When you don't have a great start, there's some Wildcard temptation every week. All of a sudden, there'd be a lot of picks that we'd happily sell and a lot of managers are hovering over their button this week if they haven't already activated it.
Bruno Fernandes (£8.4m) and Nicolas Jackson (£7.0m) have blanked in four of their five appearances and have somehow accumulated seven yellow cards between them. One more for Jackson and he'll have a suspension. Watkins has forgotten how to score, Ben Chilwell (£5.8m) has become a rotation risk, whilst the Sam Johnstone (£4.5m) and Matt Turner (£4.0m) combination could be on borrowed time. Meanwhile, Gabriel rocks up with a Gameweek 5 clean sheet when he should've been sold long ago!
I was close to pulling the Wildcard trigger on Sunday night. As I do every week, I built a quick draft to see how it looked. A lot of changes would be made but I still feel this season is yet to settle down and I'm not confident about picking a whole new squad that needs to be durable for the long term. Having two free transfers to use also made it easier to resist.
One of the big Wildcard attractions is to bring in the consistent Mohamed Salah (£12.5m). He has returned in every game so far but puts a huge strain on the budget. The squad I put together didn't include Kieran Trippier (£6.5m) because it had Saka and Rashford – two players I'd find very hard to let go. Owning Salah requires sacrifices elsewhere.
I went into this season feeling comfortable about not having the Liverpool star and my thoughts haven't changed too much. I'm content to wait until Gameweek 9 for him, once fixtures improve significantly. Until then, it's West Ham United (h), Tottenham Hotspur (a) and Brighton and Hove Albion (a).

There's a good chance I'll Wildcard around Gameweek 9 anyway, which is why I'm not going to start putting cash aside for a Salah transfer.
Another must-have for Wildcarders is Brentford's Bryan Mbeumo (£6.9m). Not owning Salah doesn't bother me but I feel very uncomfortable about not owning Mbeumo for Everton (h) and Nottingham Forest (a).
I've even considered a four-point hit to sell Fernandes for him. That's another FOMO battle for me to fight. But I won't be selling Bruno for a hit when it's Burnley (a) for Manchester United. Don't hurt me too much please Bryan, there are enough scars already!
GAMEWEEK 6 TEAM
Best of luck for this weekend, everyone. Make sure you check out The 59th Minute FPL Podcast on Friday and my weekly 'General's Orders' video below.