Our team of Hall of Famers and guest writers are writing about all things Fantasy Premier League (FPL) in 2023/24. Next up, seven-time top 10k finisher Zophar takes his usual weekly Q&A and reveals his Gameweek 6 Wildcard team.
Our writers will be providing regular articles throughout the new season, with only Premium Members able to access every single one.
You can sign up here for the new campaign – once you're aboard, you've locked in the price of your Premium Membership for good, so long as you don't cancel!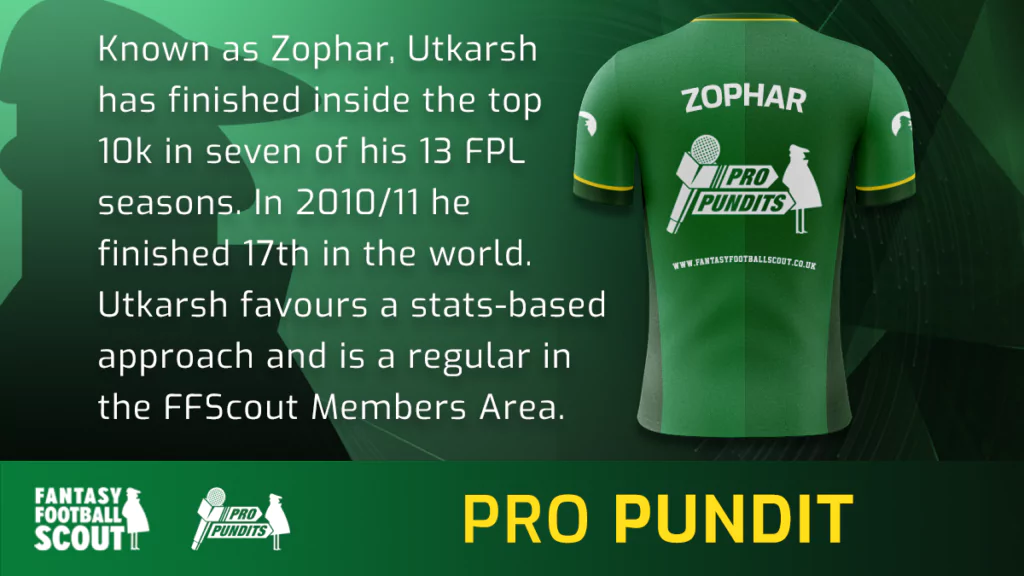 ---
Q: Do you think that David Raya has secured the goalkeeper spot in the Premier League for Arsenal now?
(via AC/DC AFC)
A: I personally thought when Arsenal signed David Raya that he would eventually take the number one shirt. I think he's a much better goalkeeper, one of the best shot-stoppers in the league and his distribution are superior to Aaron Ramsdale. He has been excellent the last two games with his distribution and I don't see Ramsdale getting back anytime soon, at least in the Premier League. Arteta might still give him a game or two in the Champions League just to keep things ticking along but I do think it is Raya's shirt now, long term. That being said, I don't know if I would bring him in on a Wildcard right now: four of the next six fixtures for Arsenal are against Tottenham Hotspur, Manchester City, Chelsea and Newcastle United, so we have a while to observe this before jumping on later.
---
Q: What's been your main FPL takeaway from the Champions League performances by the English sides?
(via HAIRY POTTER)
A: Let's start this with Manchester United, who actually looked decent in the first 20 minutes of the game until Andre Onana had his howler. Heads dropped after and defensively they looked very open but, going forward they still did pose a threat. What this tells me is that they will continue to keep leaking goals, so they will have to attack more in games in order to compensate for this. So, I think that attackers are an easy hold with the upcoming fixtures but I wouldn't go anywhere near the defence.
With Manchester City, it was the Julian Alvarez show. He had eight shots and seven chances created, which is up there with the Champions League all-stars like Kaka and Ronaldo of old as per @OptaAnalyst. He has become a huge cog in the Man City team in Kevin De Bruyne's absence and really looks a good buy long term.
Arsenal looked great against PSV. Gabriel Jesus makes both Bukayo Saka and Leandro Trossard better assets and the Belgian in particular caught my eye. I think his spot is safe at least until the international break, as there is no need to rush Gabriel Martinelli back from his injury.
Newcastle United found it tough at the San Siro, especially in the first half when Milan registered seven shots on target. It was better in the second half but Nick Pope was largely responsible for them keeping a clean sheet. I think the result in general would have helped settle their nerves for the games that are up ahead. The players did look knackered by the end and you can see that this European journey is going to take a toll on the players. We should be wary of rotation right after Champions League games for the Magpies.
Let's talk about the Europa League, as well. Liverpool breezed through their game with a lot of rotation and all indications are the big guns will not see any action on Thursday nights. It's similar for West Ham United.
On the other hand, Aston Villa and Brighton and Hove Albion both lost their opening games and will be looking to go strong in the remaining fixtures – especially Brighton, whose group is much tougher with games against Ajax and Marseille to come. Rotation is likely at the Seagulls, in my opinion.
---
Q: What are your thoughts on Manchester United going into this good fixture run? Lots of us have Bruno Fernandes/Marcus Rashford – are they a hold or a sell? One or both? Is Reguilon a potential cheap defensive gem? (Scout user: Camzy)
A: As mentioned above, I wouldn't go near any of their defenders until they find some stability at the back. Sergio Reguilon did show some attacking threat and his price of £4.4m means he's probably the only one to consider but I still wouldn't go there. I think Bruno Fernandes and Marcus Rashford are both decent holds, as the game against Burnley could be an open one because the Clarets will fancy the chances against Manchester United's leaky defence. In Gameweek 7, Palace might still be missing Jefferson Lerma when they visit Old Trafford. With the Red Devils being so leaky at the back, the team will need to score goals and everything seems to be going through Rashford and Bruno.
---
Q: If you're on a Wildcard, who are the top two midfielder picks below £7.0m? Mbeumo, Eze, Diaby, Mitoma or Ward-Prowse?
(via WINSTON)
A: Of the players you mentioned, I think Bryan Mbeumo would be right at the top with fixtures against Everton, Forest, a leaky Manchester United and Burnley in the next four. With him already being a popular pick, there might be a temptation to go against him, especially if you are on a Wildcard, but I think that is differentiating just for the sake of being different. This is something I would consider later on in the season but just because he is highly owned, it shouldn't be a reason for us to disregard him.
Eberechi Eze has been posting incredible numbers but overall Palace's xG is still unimpressive. While he should tick along, I'm not sure of explosive returns – wven though the numbers indicate that there is one coming. The fixtures are also mixed: the home games are good against Forest and Fulham but the away games against Manchester United and Newcastle United are more difficult on paper and then they host Tottenham Hotspur.
Moussa Diaby has slotted in effortlessly for Villa. The next two fixtures are not ideal with Chelsea and Brighton but after that, the Midlands side have an amazing run from Gameweek 8 onwards. I wouldn't necessarily be buying him this week on a free transfer as you could probably look elsewhere for immediate gratification, but I like him as a set-and-forget Wildcard pick for the long run. He could also deliver against the next two opponents, who are likely to leave a lot of space in behind for him to attack.
Kaoru Mitoma's run is a little bit difficult after Bournemouth: Brighton play Aston Villa, Liverpool and Manchester City, a tough block of fixtures. A loss in the Europa League to Athens means that Roberto De Zerbi cannot really afford to rotate in the next few Europa League games. You have to think the Japanese international will be starting those which might put his regular league starts in jeopardy.
James Ward-Prowse v Jarrod Bowen is debatable. I don't know enough about that yet but again, the short-term fixtures for the Hammers aren't great. It's a much better schedule from Gameweek 10 on and that's when I would consider bringing either of these two in. So, if you want to ask me to rank them today as longer-term holds it would be: Mbeumo, Diaby, Mitoma and Ward-Prowse in that order.
---
Q: I have three Manchetser City players so can't get to Julian Alvarez, so what to do with Watkins?
Q. If you're already tripled up on Manchester City with Phil Foden, Ruben Dias and Erling Haaland, is Julian Alvarez a priority transfer for Nicolas Jackson owners?
(via @MagpiePaul37 and @FPLAubergine)
A: This is probably the most difficult question to answer this week. The Manchester City defender you own has a good chance of a clean sheet against Nottingham Forest at home, while Phil Foden's starting spot is also very secure now with Bernardo Silva's injury. If you have two free transfers, I would still be tempted to juggle it around as they are excellent alternatives to Foden in midfield who can deliver over the next few. Julian Alvarez meanwhile looks like a gift, somebody we would want in our teams in the long term at least until Kevin De Bruyne returns from injury.
If you have just one free transfer and have somebody like Ollie Watkins, I would just stick with the Aston Villa man as Chelsea's confidence is fragile right now and Villa's numbers at home are excellent. I think they will score at least two against Brighton and though he has not found the back of the net yet, Watkins' underlying numbers have been promising. Similarly, I would probably hold on to Nicolas Jackson this week if you can't get to Alvarez and probably move him on, if he's still poor, for Carlton Morris the week after, for an entry into the Luton Town double.
---
Q: Which one to drop for Newcastle defender? Ben Chilwell or Gabriel Magalhaes?
Q. Would you play your Luton Town defensive asset at home to Wolverhampton Wanderers over Ben Chilwell in Gameweek 6?
(via @FplGoonie and FOO FIGHTER)
A: The Ben Chilwell situation is a tricky one. From Mauricio Pochettino's latest comments it seems that he views the England international as more of a left-winger/left-midfielder now rather than a left-back. Given Chelsea's attacking woes in the final third, we might see Raheem Sterling move to the left with Cole Palmer introduced on the right. He is the stand-in captain in Reece James' absence, though, and it wouldn't be a massive surprise to see him restored to the starting line-up. That being said, I don't think the next three are great for clean sheets compared to the three games they have just played, so, it's really the attacking upside you would be sacrificing if you get rid of Chilwell. Arsenal do have difficult fixtures on paper but at least now Gabriel looks to be a mainstay in the team and they are a much more functional side than Chelsea right now. So if it was me, I'd be dropping Chilwell purely due to the uncertainty.
It's different when you compare him to a Luton asset, though. I still don't see the Hatters keeping a clean sheet at home to Wolves. The Midlands side have been much better in attack the season and I fancy them to score against Rob Edwards' troops, who will also likely try to commit men forward on their own patch. I'd play Chilwell and hope for the best in that case.
---
Q: Is Son Heung-min to Marcus Rashford a good move given the fixtures?
(via BUCK THE TRENT)
A: I think the next two fixtures are better for Son Heung-min then they are for James Maddison, even if the South Korean moves back to his left-wing role. Both these opponents are likely to attack Tottenham Hotspu and will leave plenty of space on the counter. Spurs look like a much more functional team than Manchester United right now and I think these sorts of fixtures suit Son. I would stick.
---
Q: Would you hold or sell Sterling? If so, who to?
(via AC/DC AFC)
A: Of the three popular Chelsea assets, Ben Chilwell, Raheem Sterling and Nicolas Jackson, the midfielder is probably the easiest to hold and has been Chelsea's stand-out player in attack this season. I think he might play on the left wing this time with Cole Palmer on the right, where he can cut in and shoot with his stronger foot – which might make him a better FPL option. We also know that Villa like to play a high line, which might leave plenty of space for Sterling to get in behind.
---
Q: How do you see Arteta using Gabriel Jesus/Eddie Nketiah over the next few weeks? Is Jesus back to being the regular first choice now or will Nketiah still get plenty of league starts during Gameweeks with Champions League fixtures?
(via THE MENTACULUS)
I think Gabriel Jesus will start most, if not all, league/Champions League games for Arsenal going forward now that he is fit. He just makes everyone around him so much better.
---
Q: I am on a Wildcard so is it worth getting in the Luton goalkeeper Thomas Kaminski for the Gameweek 6 home game against Wolves and the Double Gameweek 7 fixtures? Or should I bring in Mark Flekken for the long term?
Q. The Luton Town or Burnley goalkeeper for a Gameweek 7 Bench Boost?
(via WAYNE50 and GREEN JUMPERS)
A: I'm also on a Wildcard this week and the 'keeper spot is one I'm debating. I'm currently on Mark Flekken and Alphonse Areola, who have a great rotation, but I can't help but feel that the £0.5m I will save by downgrading Flekken into Matt Turner could be useful later on when I might want to squeeze Trent Alexander-Arnold into my team. I will most likely go with an Areola permaplay, I think he's a great 'keeper and firmly the first choice now for the Hammers. They have an immense fixture run from Gameweek 10 onwards, where I really wouldn't use Flekken much after.
I wouldn't bother with a Luton or Burnley keeper for Gameweek 7, this is again £0.5m you're going to be committing in the long run. You will likely need Mohamed Salah at some point and that £0.5m could go a long way.
---
Q: On Wildcard, would you go for Eberechi Eze or Jeremy Doku for a two-week punt only, before switching to Moussa Diaby in Gameweek 8?
(via DABBER7)
A: As leaky as Manchester United have been, I still wouldn't have high hopes for Eberechi Eze at Old Trafford next week. So of the two you mentioned, I would probably punt on Jeremy Doku. That being said, I like Leandro Trossard more than either of these two: he looked electric midweek and I think he can go big against both Tottenham Hotspur and Bournemouth. This would obviously depend on what Mikel Arteta shares on the length of Gabriel Martinelli's injury.
---
Q: You're activating your Wildcard now, Zophar, and you're obviously making it as "template" as possible and picking the players that everyone else is. Is that your tactic, to go with the herd at this stage of the season?
(via HAKUNA 10 MATATA)
A: My strategy for this Wildcard is simply to pick players who I think will get the most points over the next six Gameweeks, while retaining maximum flexibility for the uncertainties that are to come with Spurs midfielders etc. A good example of this is Bryan Mbeumo: most people already own him and could instead go for somebody like Eberechi Eze to go against him but if I think Mbeumo will get the most points over the next four games, I'm simply going to pick him irrespective of how highly he is owned. I think the time for looking for differentials is more for a second Wildcard, rather than this.
---
My Gameweek 6 Wildcard Draft
Hope you enjoyed reading this longer-than-usual piece! We discussed all Wildcard picks in each position in depth on this week's episode of the FPL Wire. You can check it out here.