Our team of Hall of Famers and guest writers will be providing Fantasy Premier League (FPL) tips and advice throughout 2023/24. Here, two-time Indian FPL champion Lateriser debates whether or not to Wildcard this week.
Our writers will be providing regular articles and team reveals throughout the new season, with only Premium Members able to access every single one.
You can sign up here for the new campaign – once you're aboard, you've locked in the price of your Premium Membership for good, so long as you don't cancel!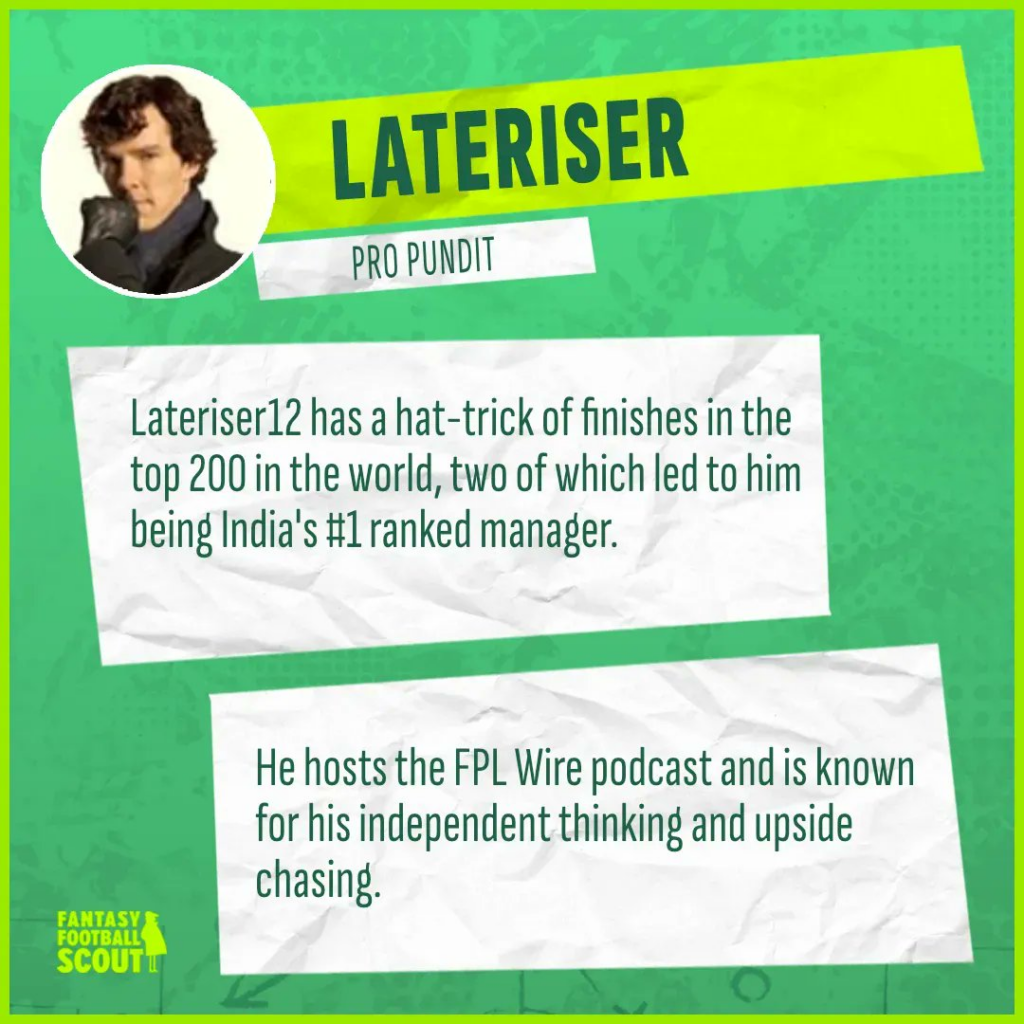 ---
Gameweek 5 was quite something, wasn't it?
The first weekend after the international break is always a slightly odd one and so far I've been patiently watching, not reacting to any bit of news.
It is odd sitting tight while my pod partner Zophar has activated his Wildcard. Both of us had very
similar teams.
I fully understand his reason to Wildcard and felt a bit of FOMO on Friday morning, thinking how nice it would be to own Mohamed Salah (£12.5m), double Newcastle United defence and Julian Alvarez (£6.9m) without much trouble. For those that have pulled the trigger, I don't think it's unreasonable at all because these players, in addition to Erling Haaland (£14.1m), Bukayo Saka (£8.7m) and Alphonse Areola (£4.1m), is a very solid base.
KEEPING FAITH
The reason I didn't hit the Wildcard button, despite being slightly tempted, is twofold.
Firstly, I don't hate my current FPL team. My midfield of Saka, Marcus Rashford (£8.9m), James Maddison (£7.9m), Son Heung-min (£9.1m) and Raheem Sterling (£7.2m) is decent and I can't yet differentiate which midfielders are the really good ones and which ones aren't.
I also haven't given up on Chelsea and feel that both Sterling and Nicolas Jackson (£7.0m) were very close to returns in their last two games. We all know about that big miss from Jackson, which Sterling laid on the platter against Nottingham Forest. Plus, both of them hit the woodwork against Bournemouth.
It's all a small margin. If these go in, our perception might be different. Of course, they could still be poor picks but as things stand, I'm willing to give them a chance against an Aston Villa team that has looked excellent in attack but also fairly poor in defence.
In their two games on the road against good teams, they conceded 3.44 expected goals (xG) to Newcastle and 2.47 to Liverpool. So it isn't silly to expect Chelsea to create some chances here, whilst it's followed by a match at Fulham – the side that's allowed the highest expected goals conceded (xGC).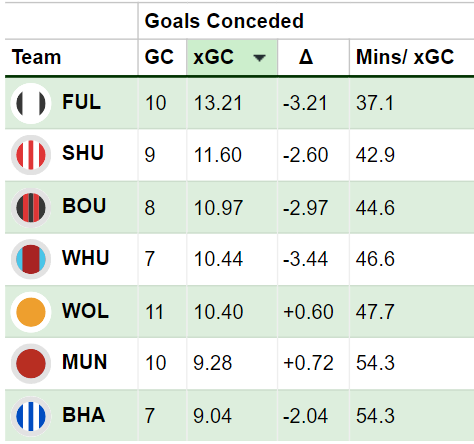 However, I'm slightly worried about my defence, with there being question marks over Ben Chilwell (£5.7m) and Pervis Estupinan (£5.3m). The former lost his spot last weekend and there was no update on the situation from Mauricio Pochettino's press conference. I was hoping we would hear something in the embargoed section but there has been nothing forthcoming.
Estupinan also played the full 90 minutes of Europa League action (which was actually over 100) and Roberto De Zerbi said he will make changes. So that concerns me. I'm likely buying Sven Botman (£4.6m) for one of these, or maybe William Saliba (£5.2m). That'll be based on near-deadline feelings and if any news emerges. If the news becomes too bad, I am even open to a hit or last-minute Wildcard.
STILL SOME UNCERTAINTIES
The second reason for not activating is that I'm just not confident in what I do and don't know about the season so far. I want to find out a few things before pulling the Wildcard trigger.
Is David Raya (£4.8m) going to be the first-choice Arsenal goalkeeper? If so, it makes him a very strong consideration. Who will be the best midfielder to own at Spurs? Could there be a non-Salah Liverpool attacker (hi, Darwin) to emerge?
I am not even confident about who the best FPL midfielders to own are, given there are only eight points separating Bryan Mbeumo (£6.9m), Salah, Jarrod Bowen (£7.1m), Saka, Maddison, Son, Moussa Diaby (£6.6m), James Ward-Prowse (£6.2m) and Sterling.
What is going to happen to Matty Cash (£4.7m) and his positioning once Alex Moreno (£5.0m) starts? How will teams adapt and react to European action – especially Newcastle United, Brighton and Hove Albion and Aston Villa?
Are Manchester United going to sort themselves out? With the exception of rivals Manchester City, a lot of clubs haven't settled and are still figuring things out. So, if I can, I want to wait for a week or three.
I am still open to it because, even without all the answers I'd like, there is a solid and safe Wildcard draft out there which has the players I mentioned earlier. The rest can be figured out along the way.
MY PLAN
There is a worry about not owning Alvarez, though. He looks like an FPL gift right now. While people point out that his underlying stats haven't looked very encouraging, his understanding with his team-mates like Haaland is very positive.
The dilemma for me is that I need to bring some stability into the defence before moving for him. Or I'd have to take a hit to sell Jackson, who I haven't lost faith in. Maybe FOMO becomes too strong by the deadline and I bite the bullet. But, at the time of writing, I am not inclined to do so.
That is all from me this week. Here's to clearer answers and Chelsea reverting slightly to the mean. Five goals from 10+ xG so far is very painful. I hope you are listening, FPL gods!
If you want to hear more, we discussed Zophar's Wildcard as well as Chelsea, Man Utd and
Newcastle in depth on this week's episode of The FPL Wire, which you can view below.