Fantasy Football Scout community writer Greyhead returns for the 2023/24 season with his series of Great and the Good articles, analysing the transfers and strategies of some well-known Fantasy Premier League (FPL) managers.
This season's names are the BlackBox pair of Mark Sutherns and Az, Scouts Joe Lepper and Tom Freeman, Scoutcasters Seb Wassell and Andy North, Pro Pundits FPL General, Pras, Zophar and FPL Harry, FPL 'celebrities' LTFPL Andy and Ben Crellin, FPL champion FPL Gunz, Hall of Famers Fabio Borges, Finn Sollie, Jan Kepski and Jon Ballantyne, and last year's mini-league winner Marko Miseric.
---
"Let's get ready to rumble. Get ready, get steady and rumble."
Those cheeky chaps from the North East, no not Ant and Dec, but Kieran Trippier (£6.6m) and Sven Botman (£4.7m) were ready to rumble this week, as the Geordie boys caused chaos. Not only them but Dan Burn (£4.5m) too. A manager's green or red arrow was likely determined by how much Toon Army was in the squad.
The Gameweek 6 build-up had been around the "undroppable" Julian Alvarez (£7.0m) but he was the latest player to experience the cycle of being bought en masse before a blank.
In other news, the fear of rabid rotation was a real one with Roberto De Zerbi and Mauricio Pochettino trying to rival Pep Guardiola in their weekly game of quick change. Kaoru Mitoma (£6.6m) was the one benched by the Brighton boss, although he came on and hauled to delight owners. At Chelsea, Ben Chilwell (£5.6m) has created a new way of torturing his owners with his yellow card cameos.
Amongst all this, Wildcards were played by the likes of our very own Zophar. Pedro Neto (£5.6m) scored in his continued efforts to get our attention and the Luton pair of Carlton Morris (£5.5m) and Issa Kabore (£4.0m) contributed points a week too early for those looking to buy ahead of Double Gameweek 7.
OVERALL PERFORMANCE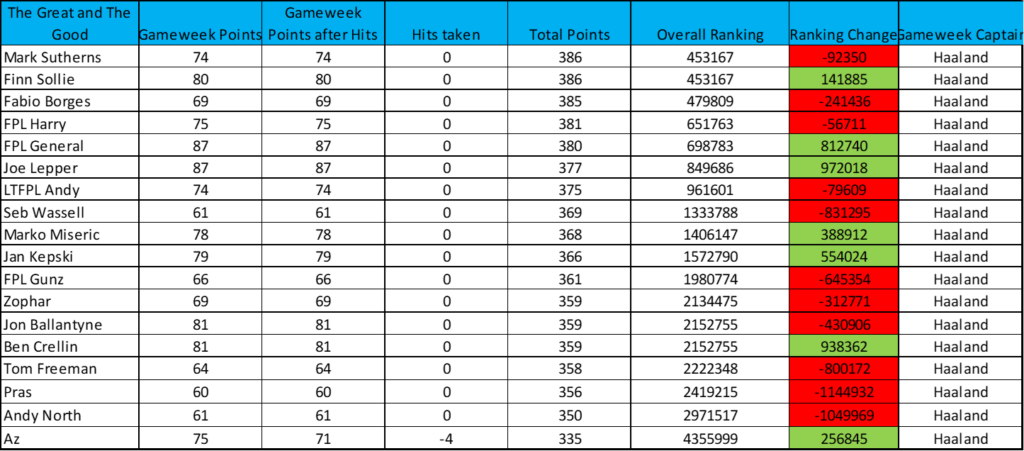 We have joint leaders in The Great and The Good, as Mark Sutherns – despite a red arrow – rises to the top beside Finn Sollie. This must be the stuff of nightmares for his Blackbox sparring partner Az, who currently holds the wooden spoon position, although Andy North is trying his best to wrestle it off him.
The top scorers for the week were FPL General and Joe Lepper with 87 points apiece. Trippier, Bruno Fernandes (£8.4m) and Bukayo Saka (£8.7m) were their main contributors. They even had that rare thing of goalkeeper returns, thanks to Sam Johnstone (£4.5m) and the much-mocked Andre Onana (£4.9m).
Ben Crellin had the biggest green, moving over 900,000 places due to investment in his beloved Newcastle United defence. Caped crusaders Botman and Trippier gained him 30 points with this week's transfers.
Meanwhile, let's feel a little sorry for Seb Wassell. He raised a few eyebrows with his decision to bench Saka and must have been watching the North London Derby between his fingers as the Arsenal man delivered again.
ZOPHAR'S WILDCARD
As mentioned, Zophar played his Wildcard this week and binned his Chelsea triple-up of Chilwell, Raheem Sterling (£7.2m) and underperforming Nicolas Jackson (£7.0m). When Zophar loses faith in the Blues, you know it's a sign that their time is up.
They were three of only eight changes, as this was about light housekeeping to accompany a solid core. He has switched to the two heavy hitters, with Mohamed Salah (£12.5m) joining you know who. Newcastle defenders were brought in, alongside a couple of Villans as well as those essentials Alverez and Bryan Mbeumo (£6.9m) – although the latter two both disappointed this weekend.
IN: Salah, Alvarez, Mbeumo, Diaby, Cash, Botman, Schar, Areola
OUT: Son, Sterling, Maddison, Chilwell, Jackson, Saliba, Pickford, Baldock
He looks to now be ahead of those who intend to Wildcard between Gameweeks 8 and 10, although he only gained six points this time as he had to suffer the Spurs sting of Son Heung-min (£9.2m) and James Maddison (£7.9m). Both returned after being sold.
TRANSFERS
Big news! We saw our first hit of 2023/24, with Az taking The Great and The Good's premier minus four to bring in Botman and Alvarez. In fact, these two were the week's most popular acquisitions, with Chilwell and Jackson cut loose from the majority.
The transfer king was Ben Crellin who had double-digit returns from his lovely pair of Newcastle defenders and credit should also be given to Jan Kepski. He ignored the FPL community noise and bought Kyle Walker's (£5.3m) 11 points, whilst FPL Gunz deserved better for his Eberechi Eze (£6.3m) move. But that haul is coming, mark my words!
The full list of transfers is below:
Andy LTFPL – Botman, Alvarez (Saliba, Jackson)
Andy North – Alvarez (Jackson)
Az – Botman, Alvarez (James, Jackson)
Ben Crellin – Trippier, Botman (Shaw, Chilwell)
Finn Sollie – Botman, Alvarez (Chilwell, Jackson)
Fabio Borges – Botman (Chilwell)
FPL General – Trippier, Alvarez (Chilwell, Jackson)
FPL Gunz – Wilson, Eze (Jackson, Martinelli)
FPL Harry – Botman, Alvarez (Chilwell, Jackson)
Jan Kepski – Walker (Chilwell)
Joe Lepper – Trippier (Chilwell)
Jon Ballantyne – none
Marko Miseric – Wilson (Joao Pedro)
Mark Sutherns – Trippier (Chilwell)
Pras – Alvarez (Jackson)
Seb Wassell – Botman (Gabriel)
Tom Freeman – Alvarez (Jackson)
Zophar – WILDCARD
THE GREAT AND THE GOOD TEMPLATE
Subsequently, the slow template evolution continues. Alvarez and Botman come in for Jackson and George Baldock (£3.9m), who'll be pleased not to have faced the Newcastle attack.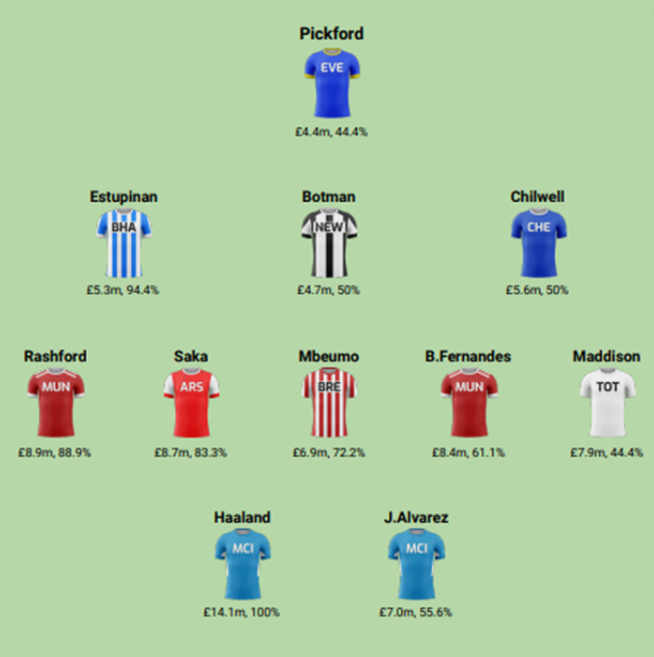 CAPTAIN CALLS
Next up is a swift look at what has become a very dull season for captaincy decisions. The table below shows that Erling Haaland (£14.1m) has had the armband for 91.7% of the time amongst this group. It's hard to argue with, as he averages 18 points when picked.
However, those who have strayed off the well-trodden Norwegian path have been able to gain a small advantage, with FPL Gunz the top scorer for captaincy points with a Saka selection proving decisive.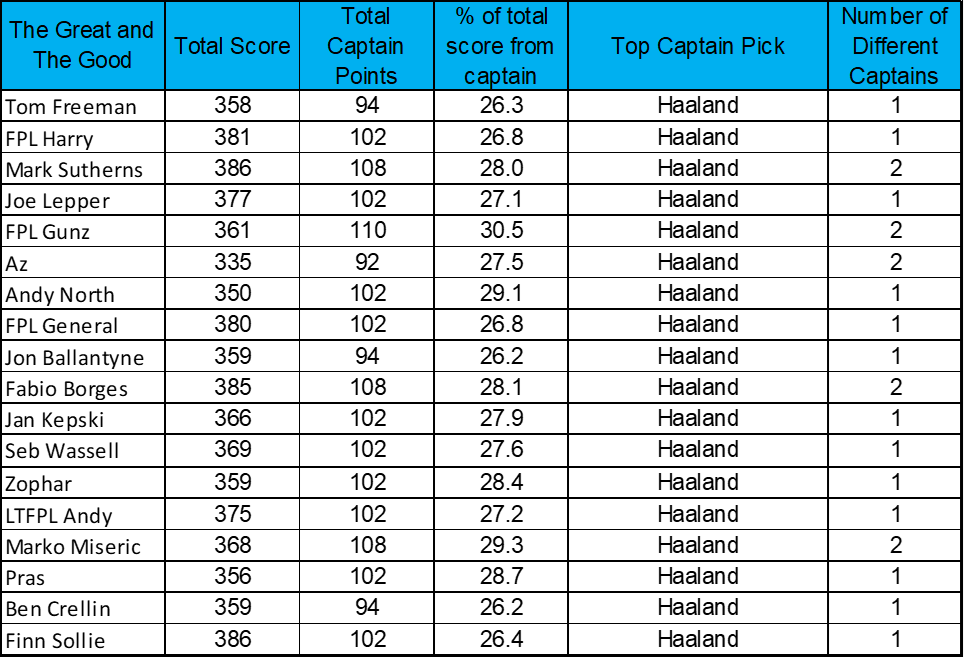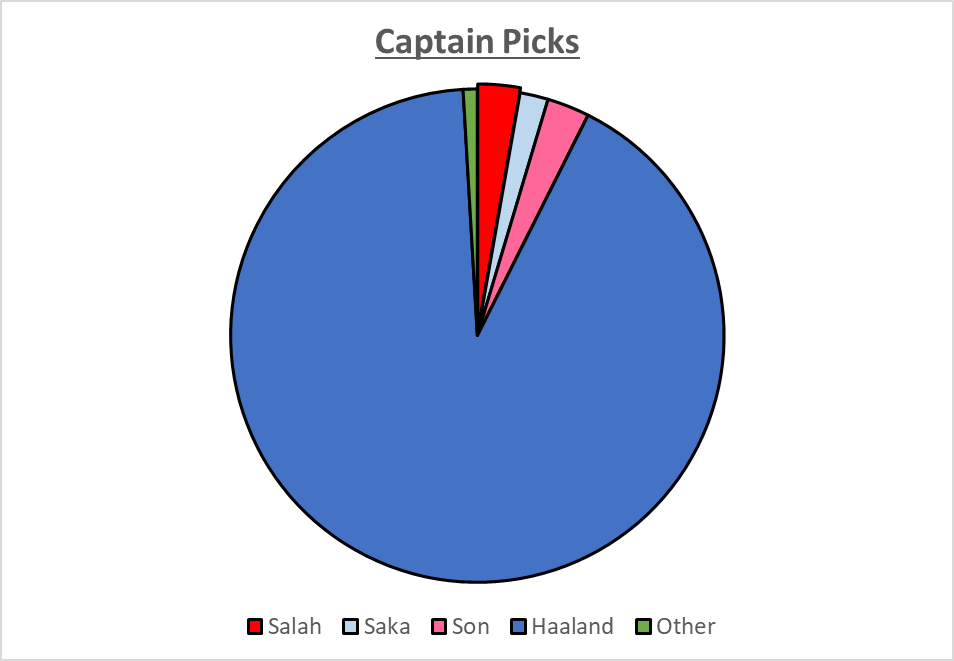 CONCLUSION
It was a funny old week, with some massive scores across the community. I should also mention Gianni Buttice and his whopping 112 points, leading to a gain of over two million places this Gameweek. Yet there were painful reds too, particularly for those who Wildcarded.
The lesson learned is to just take the highs and lows in your stride without getting too carried away with community noise. As for captaincy, just stick it on the Norwegian meat shield unless you feel daring. For example, this week's temptation will be Carlton Morris (£5.5m). Let's just hope those gamblers have him as the light at the end of the tunnel rather than an oncoming red arrow locomotive.
As always, if you want to dig further into the data, have a read of the Mini-League Mate dossier. Under 'Join an existing league', just enter your name and email address alongside the league code MLM0001. It's all free!
Anyway, that's all from me for now, but remember – don't have FPL nightmares.
For those affected by any of the topics raised above, you can find me here on Twitter.