Just when you thought it was safe to go back into the FPL waters another week of Jaw-some SKLW action comes to end, if you backed the Newcastle defence you are probably still singing Fog on the Tyne, owning Heung-Min would've brought you Son-shine and if you were unlucky enough to have Chelsea players then you definitely felt the blues.
I'm back this week to give you a run down on all the latest SKLW Community Tournament results, so get yourself a cuppa and read on, just in case you get a mention..
Premier League

This is where the hoity toity lot hang out with their VIP accesses, luxury yachts and limo riding ways all present and correct, at least team Oppenhamster are still around to bring the tone down a bit.
When they could take time away from their Gin and Tonics at poolside there were some cracking matches.
Sheikh, Blatter and Raul kept up their 100% record making it three wins out of three with a comfortable win over Gerd Muller a Pint – the FPL Review army marches on!
Hot on their heels are the tantalising Spearsmint Dino, their strict no touch policy is clearly working as they had the highest squad score in the Premier division with 863 points, Sepp Blattered a major contributor with his century. Although, they should probably sack their keep Darth Kridd who conceded three goals including a double from Cafu Good Men's _PerfectPete.
The shock result was last year's triple champions Banyana Bafana losing 4-1 to Wan Flew over the Nkunku's Nest, FPL Chandler and Understanding F8 both netting to put them in the chasing pack at this early stage.
Should also mention the grudge match between Son of Gun and Oppenhamster with two goals from one of the leading strikers in SKLW, Pep_Talk (honestly, that is not a clerical error) the difference between these two teams.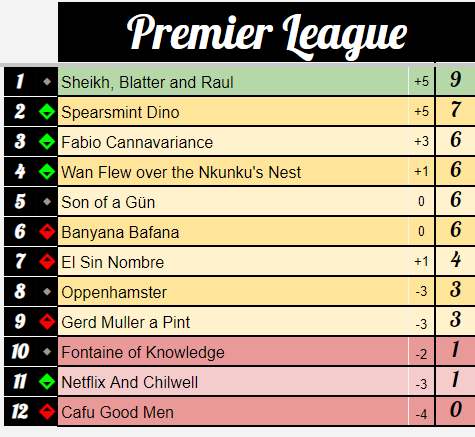 The Championship

Cameroon Diaz is the smokin' hot team in this division, they top the table and won 6-0 over the Panda Express CDF which appears to be in need of extra bamboo, as tomba91 and Waj2510 scored one a piece and a fine goal keeping performance from scribe supreme Lord kept it clean.
Murder on Zidane's Floor had a strong squad performance (919) which was enough to send to Onanas in Pyjamas to bed early, coming out 3-2 winners.
Meanwhile, It was a thrilling 3-3 draw between FC Ha La Land and Hand of Zoff with team captain FPL TT scoring a double to take him joint top of the goal scoring charts.
The former Champions, the Flowers failed to bloom with their goalie Steve72Saunders being pruned by One Tchouameni's strike force of ahsannoushad and trisrobinson. Cash Bandicoot spun into second place with a win over No Fuchs Given, who look like they couldn't care less this season.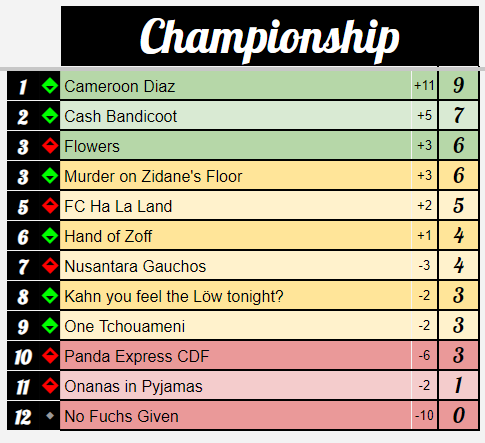 League 1

This looks to be the most competitive division with only two points separating the top six, Sweet 2FA are just edging the no.1 spot and they won 6-1 won this week, FPL_PointBreak at the double here.
The Heroes continued to overcome their disadvantage of having FPL Mode as their MVP with a fine 5-1 win, the presence of Phil Foden in so many of their teams a key factor here – I do hope they didn't join him in their celebrations at any of his more salacious hang outs.
Meanwhile, the Maradona Kebabs edged a close match over Keane 16 with a 1-0 despite benching Maxiarsenal's score of 74, that's the third time he's been on the pine this campaign, maybe he asked the gaffer for too much chilli sauce in pre-season.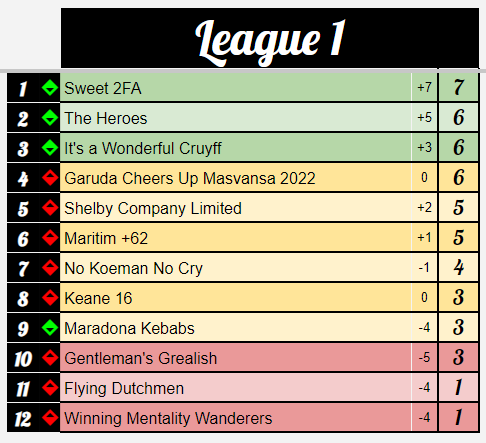 League 2

In the league, some are saying is the only one that matters, and when I say some I mean me, as this where my Galacticos dwell, the early shots have been fired by Ruud Bullet.
They won 6-1 this week and could even afford to bench scores of 91 and 80 from chiplesschaps and Sachin Gulati against The Generalists, who have FPL General in their ranks – he needs to have a word with his commanding officer WGTA_FPL if they are start winning in this war.
Integrity is Mbeumo look to have strong moral fibre winning 4-2, JosFpl scoring a century, contenders The Deadly Deadliners and The Nonchalant Twenty2 had a competitive 2-2 draw and the Nation of Domination lived up to their name winning 2-0, strong performance here from ajcairns on 105.
However, the game of the weekend was between The Galacticos and Let's Get Ready to Crumble, it looked to be all over at half time with FPL Yip hitting a fine opening goal, but our opponents didn't, well, crumble, as they battled back to equalise thanks to TinpotFPL on triple digits. In fact, had it not been for the heroics of some old bloke in goal and the bonus points from Trippier we may have even, pause for dramatic effect, lost.
As it stands, we are still unbeaten or winless depending on your perspective, with three consecutive draws, however we will soon be climbing that table especially if the rumours are true that I am subjecting the team to Ted Lasso style pep talks until they win. Speaking of which, I've never been embarrassed about having streaks in my draws. You know, it's all part of growing up.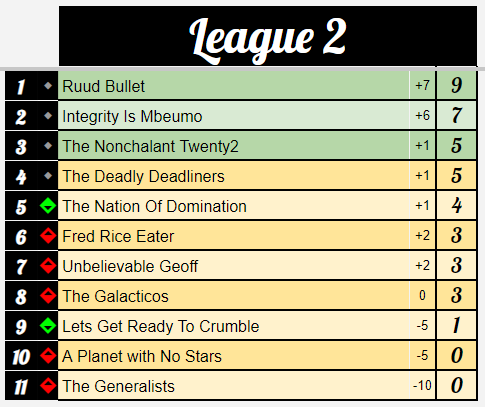 Hall of Fame and Shame
For those looking for individual glory, those technical boffins at SKLW HQ have put together the following tables to show who are the stars of the show so far:-


Pep_Talk and FPL_TT are the hottest of hotshots, Urparallelworld of Nusantara Gauchos is the top keeper on points scored and Burhan Samann is the ultimate team player, worrying to see Boris Bodega doing well in that table.
As for the Hall of Shame, some surprising names in these lists, FPL Corf, Pras and FPL Harry all individuals you wouldn't expect to see here – still I am not one to mock.

Final Thoughts
Right, did you finish your tea? Did you get mention? Was the game review of The Galacticos too long? I suspect the answer will be affirmative for at least one of these, if two or more then well done.
Thanks again to the organisers and remember if you've not enjoyed this article then be a Goldfish.
Until next time, may your arrows be green but not as green as mine.
---
Information on results, league tables, fixtures, individual player details; and the Hall of Fame/Hall of Shame statistics are all accessible here: SKLW Main Sheet
SKLW Managers can also track the progress of their team in real time by accessing Live Scores by TopMarx.