In the second part of our Frisking the Fixtures series, we take a look at the teams and players with the most difficult runs of matches over the medium term.
Our colour-coded Season Ticker is the primary source for this article.
Using this tool as a Premium Member, you can sort by difficulty, rank by attacking and defensive potential or find budget rotation pairings. You can even set your own difficulty ratings, should you disagree with our own.
You can see a tutorial on the Season Ticker here.
SEASON TICKER OVERVIEW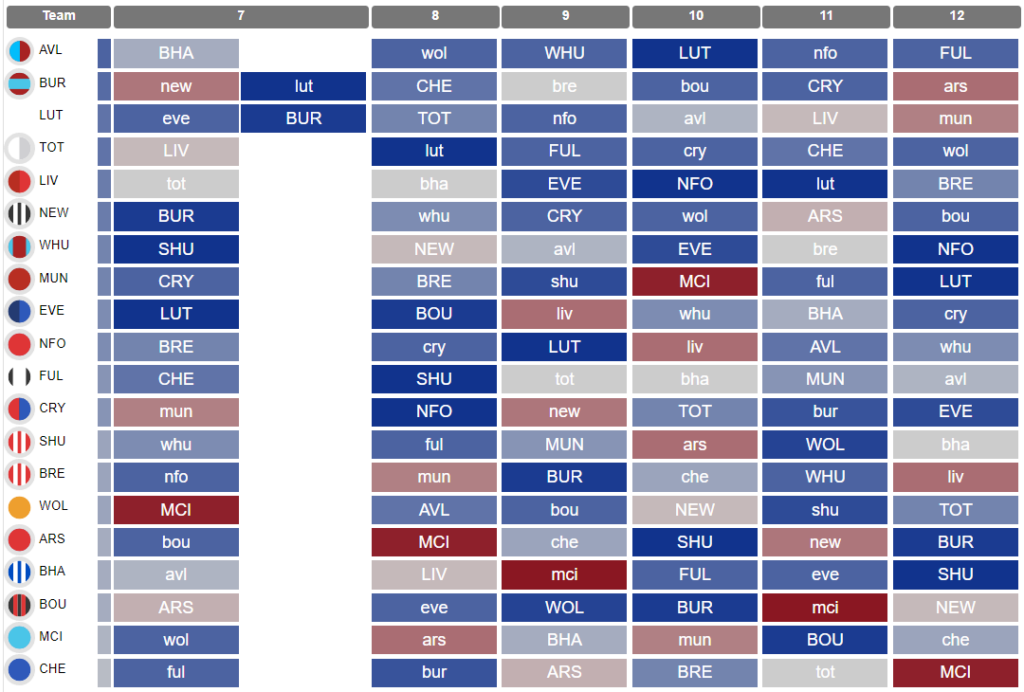 CHELSEA

You could view Chelsea's fixtures one of two ways, that their next four really aren't that bad aside from the visit of Arsenal or that their next nine matches are the worst in the division.
Fulham and Burnley, who Mauricio Pochettino's side encounter next, should (with a heavy emphasis on should) be beatable, while Brentford have won only one of their opening six fixtures despite having a mostly favourable run of games.
But all of the Blues' opponents from Gameweeks 9-15 are against teams that finished in the top nine last season.
Whether you're glass half-full or half-empty, Ben Chilwell (£5.6m), Malo Gusto (£4.3m) and Nicolas Jackson (£6.9m) – formerly the three most popular picks from Pochettino's squad – are making their owners' minds up for them.
Gusto and Jackson are suspended until Gameweeks 9 and 8 respectively, while Chilwell has been benched for the last two league games. It was speculated that Gusto's ban may allow Chilwell a route back into the side, with Alex Disasi (£5.1m) and Levi Colwill (£4.5m) shuffling over to right-back and centre-half, but their manager's midweek comments cast doubt on that:
"I am so happy with Levi [Colwill] and the way he is playing [at left-back]. He is providing the team with a very good balance. Chilly [Chilwell] has the possibility to play tomorrow. We were using him maybe not in his best position because he was a winger, that is why when we start to play with Mischa [Mudryk], our thought was to keep Levi in the position." – Mauricio Pochettino, speaking ahead of Wednesday's EFL Cup tie with Brighton
Chelsea sit third for fewest expected goals conceded (xGC) and sixth for most expected goals (xG) in 2023/24 so far, but patience is wearing thin with their profligacy in particular. Given that the next opposing goalkeeper is the xG-defying Bernd Leno (£4.6m), the goal count may not be improving significantly in Gameweek 7.
MANCHESTER CITY
Manchester City haven't encountered a 'big six' club so far this season but that is about to change.
City face the other five of these teams between Gameweeks 8-15, although we really should stop grouping Chelsea in with the rest of these sides.
With Liverpool, Tottenham Hotspur and Aston Villa all waiting beyond the six-match lookahead we've shown above, City's schedule is about to get much tougher.
But how much difference does a tricky-on-paper run of games really make to the imperious reigning champions?
We'll delve into the numbers in greater detail next week but in the meantime, a cursory look at the FPL returns from last season offers plenty of hope:
Above: How Man City players fared against their upcoming Gameweek 8-15 opponents last season
Erling Haaland's (£14.1m) average of 7.4 points per start against these clubs was not far off his overall season mean of 8.1.
There was plenty of joy for Kevin De Bruyne (£10.2m), too, which will be of huge encouragement to Julian Alvarez (£7.0m) owners given that the Argentine has assumed his injured team-mate's number 8/10 role this season.
Only three clean sheets were kept in these 16 matches (two against Chelsea, one against Bournemouth), however.
WOLVERHAMPTON WANDERERS

Home form is key for most struggling teams but that was doubly so for Wolves last season, given how pitful they were on their travels.
Wanderers tasted victory in only two of their 19 away league games in 2022/23, while they've won only one of their four matches on the road this time around. They were even lucky to do that, having performed a smash-and-grab over Everton in Gameweek 3.
The problem is that, having already faced Brighton and Liverpool at Molineux, their next four home matches are against Man City, Aston Villa, Newcastle United and Tottenham Hotspur.
You could point to the fact that they've actually been better against the so-called bigger clubs this season, having outplayed Manchester United in Gameweek 1 and then performed well in the first halves of their two home defeats.
Pedro Neto (£5.6m) is certainly doing his bit to catch our attention, sitting joint-eighth among midfielders for FPL points. He's also joint-second among all Fantasy assets for chances created in 2023/24.
But with stingy defences in Man City and Newcastle to come over the next four Gameweeks, even Neto is surely low down many FPL managers' shopping lists beyond those chasing last week's points.
FULHAM
Whether you view Chelsea at home as a favourable fixture or otherwise (perhaps less so now that Jackson is out…), the fact is that Fulham don't have to wait much longer before the matches get tougher.
Tricky away trips to Spurs, Brighton and Aston Villa surround the visit of Manchester United, while free-scoring Liverpool await in Gameweek 14.
As pointed out in our Scout Notes, Leno did average 4.3 points per match against his Gameweek 9-14 opponents last season. Even when clean sheet opportunities are scarce, the save machine can compensate elsewhere.
ALSO CONSIDER

Beyond the four teams we've already discussed, there are a handful of other clubs that you could say have a mixed bag of a schedule.
Brighton and Hove Albion, for example, face the free-scoring might of Aston Villa, Liverpool and Man City in the next three Gameweeks before things markedly improve from Gameweek 10. Their next three opponents are all in the top four for xG this season, while Albion are yet to keep a clean sheet.
But on the flip side, the Seagulls have already put six goals past the Uniteds of Newcastle and Manchester and lead the division for goals scored.
M23 'rivals' Crystal Palace have a similarly horrible short-match burst, from Gameweeks 7-10 in their case, before the likes of Marc Guehi (£4.5m) re-emerge onto the FPL radar for a very favourable run.
Arsenal maybe don't even warrant a mention: they've admittedly got two iffy fixtures in Gameweeks 8 and 11 but either side of that there isn't much to fret about, with all three newly promoted clubs, Bournemouth, Wolves and an unremarkable Chelsea side to come by Gameweek 15.
Bournemouth themselves have three very appealing games bookended by clashes with three of last season's top four, while Cameron Archer (£4.6m) looks set to warm the benches of his owners for most of Sheffield United's upcoming run. He is potentially playable against Fulham in Gameweek 8, however, with Brighton v Liverpool and Arsenal v Man City also on the calendar that week.
Finally, Brentford's run looks worse if you extend it to include meetings with Arsenal and Brighton in Gameweeks 13 and 15. Before that, though, there is plenty of mediocrity – including sub-par Man Utd and Chelsea sides – to come.