In the latest article from our team of Hall of Famers and guest contributors, FPL General assesses his Fantasy Premier League (FPL) transfers from the opening month and reveals his Gameweek 7 plans.
Our writers will be providing regular articles and team reveals throughout the new season, with only Premium Members able to access every single one.
You can sign up here for the new campaign – once you're aboard, you've locked in the price of your Premium Membership for good, so long as you don't cancel!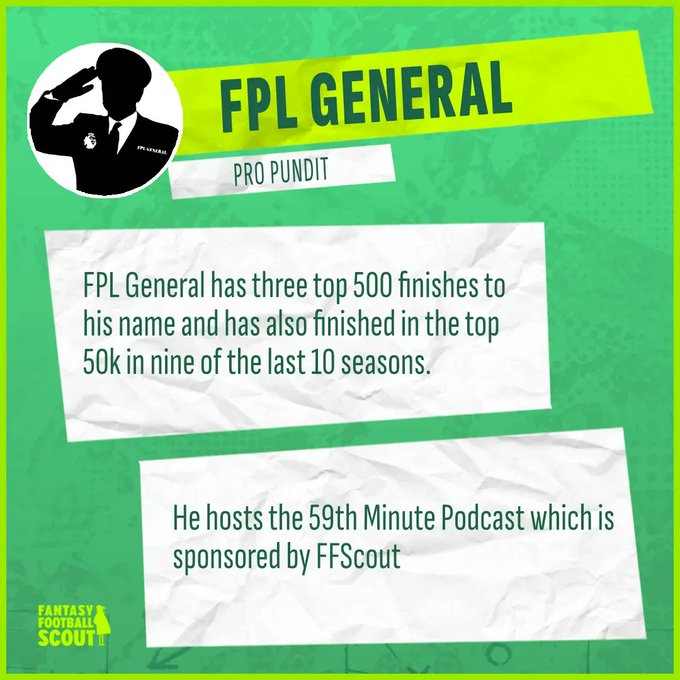 ---
GAMEWEEK 6 REVIEW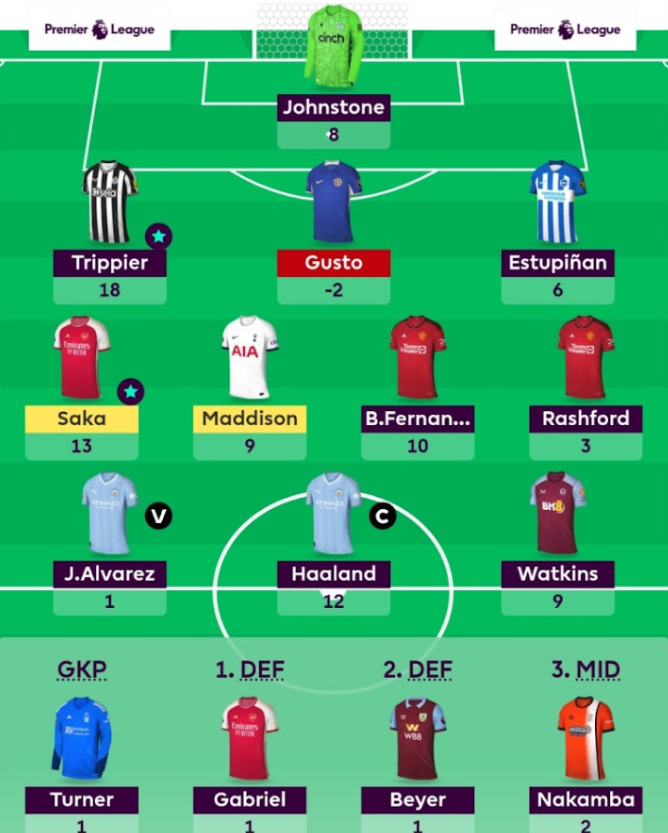 87 points.
After back-to-back red arrows, it was nice to get a big green one in Gameweek 6. Selling rotation risk Ben Chilwell (£5.6m) for Kieran Trippier (£6.6m) couldn't have gone any better, with a very welcome 18-point gain.
The second free transfer was used to ship out the misfiring Nicolas Jackson (£6.9m) for Julian Alvarez (£7.0m). That one didn't work out but I'm happy to have another slice of Manchester City's attack for a bit longer. As a non-owner, it was very satisfying to see Jackson pick up his fifth yellow card, although I'm sure I'll end up back there at some point later in the season if Chelsea improve.
I contemplated a third transfer, where my first four-point hit of the season would've brought Sven Botman (£4.7m) in for Gabriel Magalhaes (£4.7m) and move Malo Gusto (£4.3m) to the bench. If only I could go back in time! The green arrow moves me from 1.5 million to 698k.
Meanwhile, keeping the faith (due to other fires) with Bruno Fernandes (£8.4m) and Ollie Watkins (£7.9m) paid off nicely. I went more nuts when Watkins scored than I did when Ole Gunnar Solskjaer scored the 1999 Champions League final winner! My wife shouted down from upstairs to check if I was alright.
The Crystal Palace clean sheet made it two from the opening six weeks for my Sam Johnstone (£4.5m) and Matt Turner (£4.0m) pairing. It's not fantastic but I could've opted for Jordan Pickford (£4.4m), therefore I'm very grateful for the two shut-outs. Dean Henderson's (£4.5m) injury in the midweek cup game will hopefully result in no goalkeeper transfers until the wildcard.
TRANSFER ANALYSIS
Something I do from time to time is check back on my transfer activity to see if it was successful. Over the years, one of my strengths as an FPL manager has been nailing transfers. Yet it's much harder this year because we're often selling good assets for other good ones.
However, I'm happy with the transfers so far.
All five players that have been sold were justified. Luke Shaw (£5.3m) was injured, Joao Pedro (£5.4m) has started just two of Brighton and Hove Albion's six league games and Gabriel Martinelli (£7.8m) made way for James Maddison (£7.9m), where the latter has since outscored him by 11 points. Moving Chilwell to Trippier was great and I'm confident that Alvarez will outperform Jackson over the coming weeks.
Chelsea's Gusto was a great enabler in Gameweek 3, which opened the door for a Jackson purchase ahead of fixtures against Luton Town (h), Nottingham Forest (h) and Bournemouth (a). A logical decision but one which ended with a disappointing one goal in those three games. If I was back in Gameweek 3 again, I'd do the same thing.
My Gusto experience was good until last weekend's red card. I lucked into his 14-pointer coming in off the bench thanks to Mikel Arteta not subbing Gabriel on in Gameweek 3, also getting six points for the Gameweek 5 clean sheet against Bournemouth.
With Maddison, I'm hoping and praying that his knee issue isn't a serious one and that he's back for the weekend because he could be a season-keeper. Additionally, maybe Trippier can now kick on and deliver more attacking returns. Accompanying him with a second Newcastle United defender is certainly a possibility.
I'll revisit this during the November international break to see how the next batch of transfers have gone!
GAMEWEEK 7 BUS TEAM
Best of luck for this weekend, everyone. Make sure you check out The 59th Minute FPL Podcast, whilst my weekly 'General's Orders' video is below.