The 2023/24 UEFA Champions League (UCL) group stage continues on Tuesday and there'll be plenty of chips being deployed in the competition's official Fantasy game.
Matchday 2 is historically a popular time to play a chip in UCL Fantasy.
There are two options open to Fantasy managers: the Limitless and the Wildcard.
The Wildcard is the same as its namesake in FPL, while Limitless is like a Free Hit chip but with no budget restrictions.
In this article, our resident European football expert, Louis (aka FPLReactions), puts together a squad for each chip.
These team selections were originally featured on our sister site, Fantasy Football Community, where there is a raft of other UCL Fantasy content every Matchday, from budget picks to differentials.
Make sure to check out our fixture ticker put together by Louis – and don't forget to sign up to our mini-league to win prizes!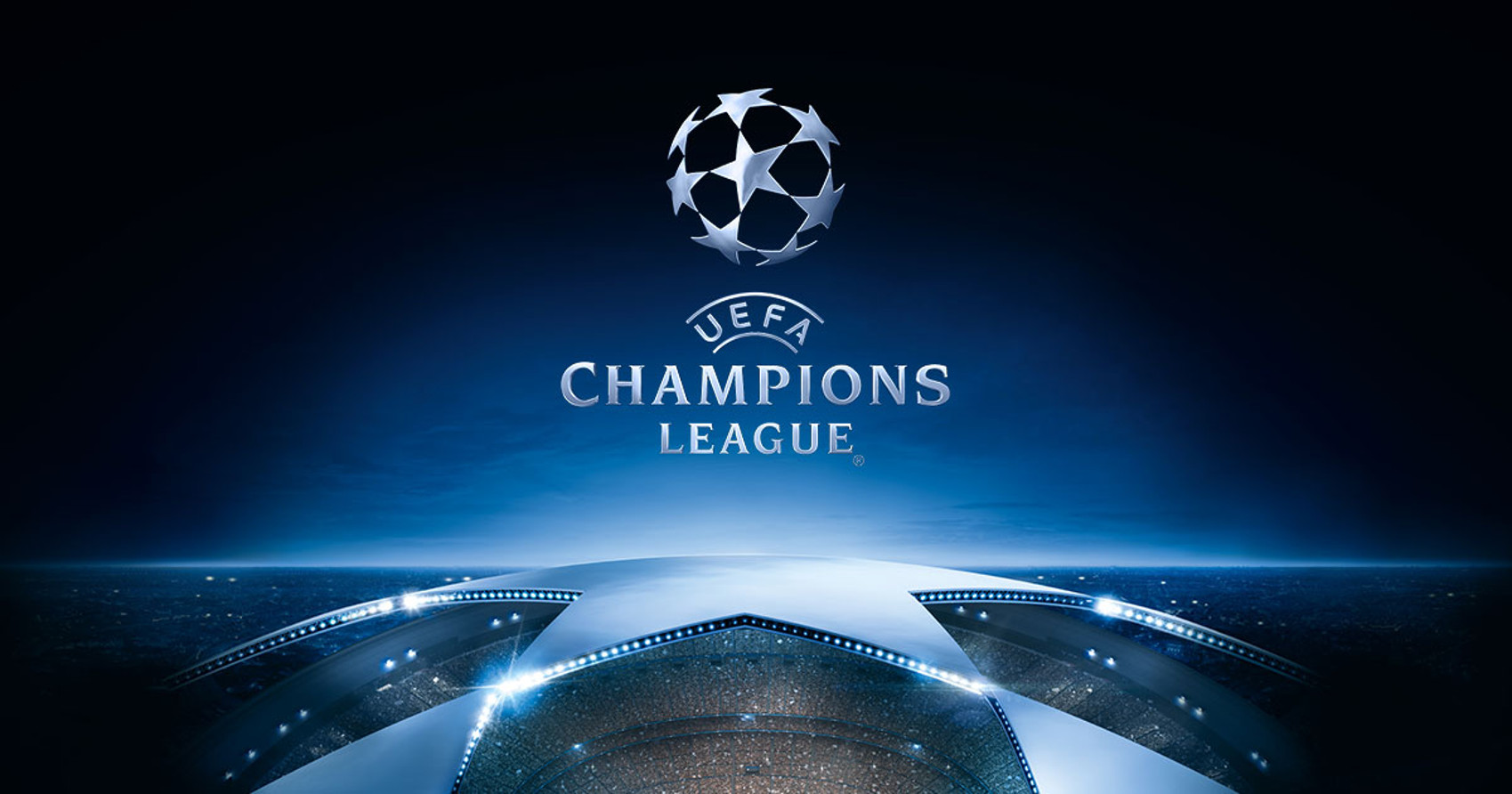 ---
UCL FANTASY: BEST WILDCARD TEAM FOR MATCHDAY 2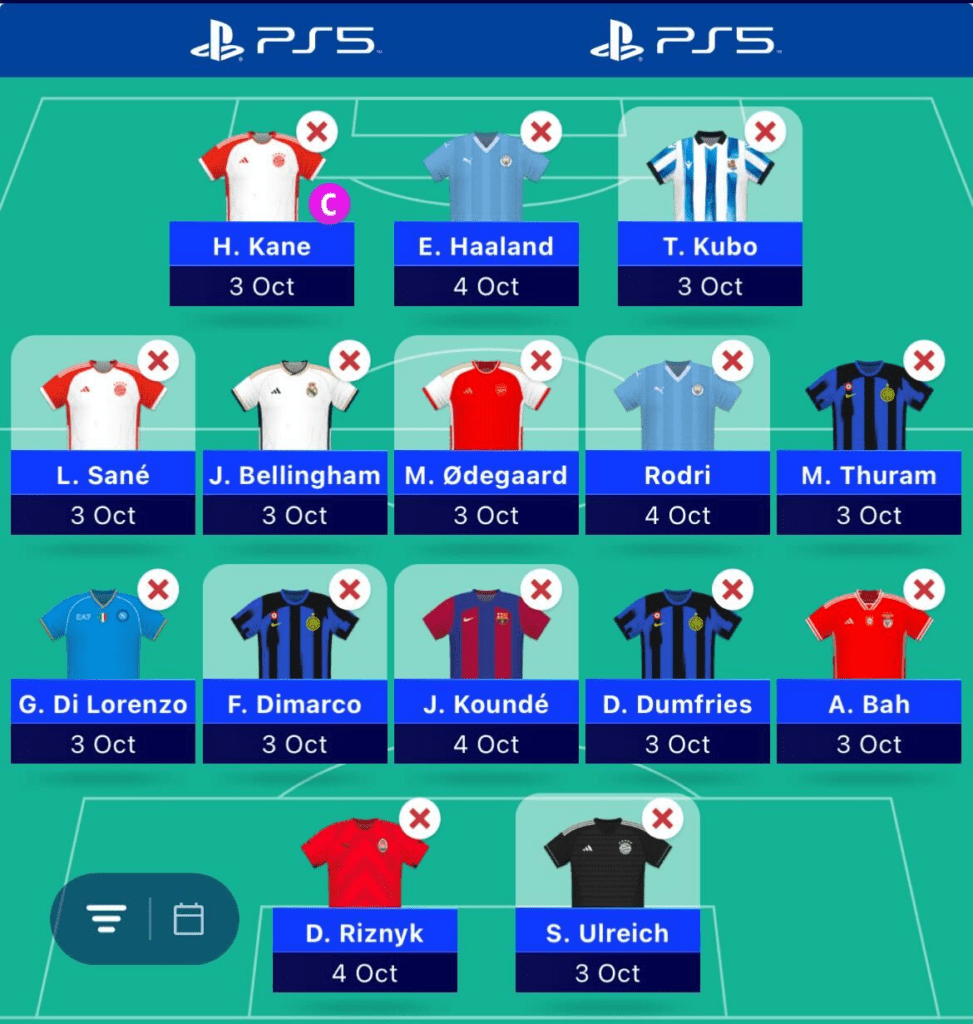 Goalkeepers
Sven Ulreich (€4.5m) – Bayern have a fantastic run of fixtures ahead so investing in their defensive assets could be extremely rewarding. The cheapest way into the backline is Sven Ulreich, who has been filling in for Manuel Neuer during his long-term injury.
Dmytro Riznyk (€4m) – Although his schedule may look tough, he helps to enable the rest of the squad with his price tag. He also covers the days that Ulreich does not play.
Defenders
Giovanni Di Lorenzo (€5.5m) – The Italian full-back could be considered one of the best defensive assets in the game this season at his price. He has also managed four goal contributions in all competitions for Napoli so far this season.
Federico Dimarco (€5.5m) – Inter have a great group overall and also bagged eight clean sheets in their brilliant 2022/23 campaign. They play with a wing-back system, which allows Dimarco into dangerous areas of the pitch.
Denzel Dumfries (€5.5m) – Inter's wing-back system is too good to ignore and Dumfries has been offensively excellent so far this season. The Dutchman has already banked three goals and four assists for the Italian side this campaign.
Jules Kounde (€5m) – Barcelona maintained one of the best defensive records in Europe last season so investing in their backline could be a great move. The cheapest way in is via centra-back Kounde, who could be excellent value for money.
Alexander Bah (€5m) – Things may have started sour for Benfica but there is little doubt that they will improve. They have a great group and Bah is one of their most attacking defensive assets from full-back.
Midfielders
Jude Bellingham (€7.5m) – Real Madrid also have a good group, so it is wise to stick with at least one of their attackers. The most reliable offensive asset is Jude Bellingham, who has managed a huge eight goals and three assists in all competitions this season.
Leroy Sane (€9m) – Investing in one of the most efficient attacks in the competition is absolutely essential moving forward. Not only has Sane picked up the Player of the Month award for his club but he has also racked up five goals in six Bundesliga matches so far.
Martin Odegaard (€9m) – Arsenal are free-scoring at the moment, both domestically and in Europe. After their dominating 4-0 win against PSV in Matchday 1, their assets should be considered anew. One of the safest ways in in terms of minutes is the Norwegian, who has collected four goals and one assist in all competitions.
Rodri (€6.5m) – Finding another safe route into the current holders' attack is trickier but Rodri is the most promising. Not only does he provide ball recoveries and Player of the Match awards but he has already managed three goals and an assist this campaign.
Marcus Thuram (€6.5m) – One of the cheapest ways into the Inter attack is with Thuram. He effectively plays in a forward role so is 'out of position'. Thuram has banked two goals and four assists already this season.
Forwards
Erling Haaland (€11.5m) – Manchester City regularly sustain some of the best attacking numbers in Europe every season so investing in their main man and penalty-taker will be absolutely essential moving forward.
Harry Kane (€10m) – Bayern have the fixtures to bag plenty of goals, so there is every reason to go for their attacking focal point. Not only does Kane take his side's penalties but he has netted eight goals and registered three assists in his last six Bundesliga matches.
Takefusa Kubo (€5m) – Real Sociedad are in great scoring form and proved they can match the strongest team in their group, Inter, in Matchday 1. One of the cheapest playing forwards in the game is Kubo, who has scored in each of his last two matches.
BEST LIMITLESS TEAM FOR MATCHDAY 2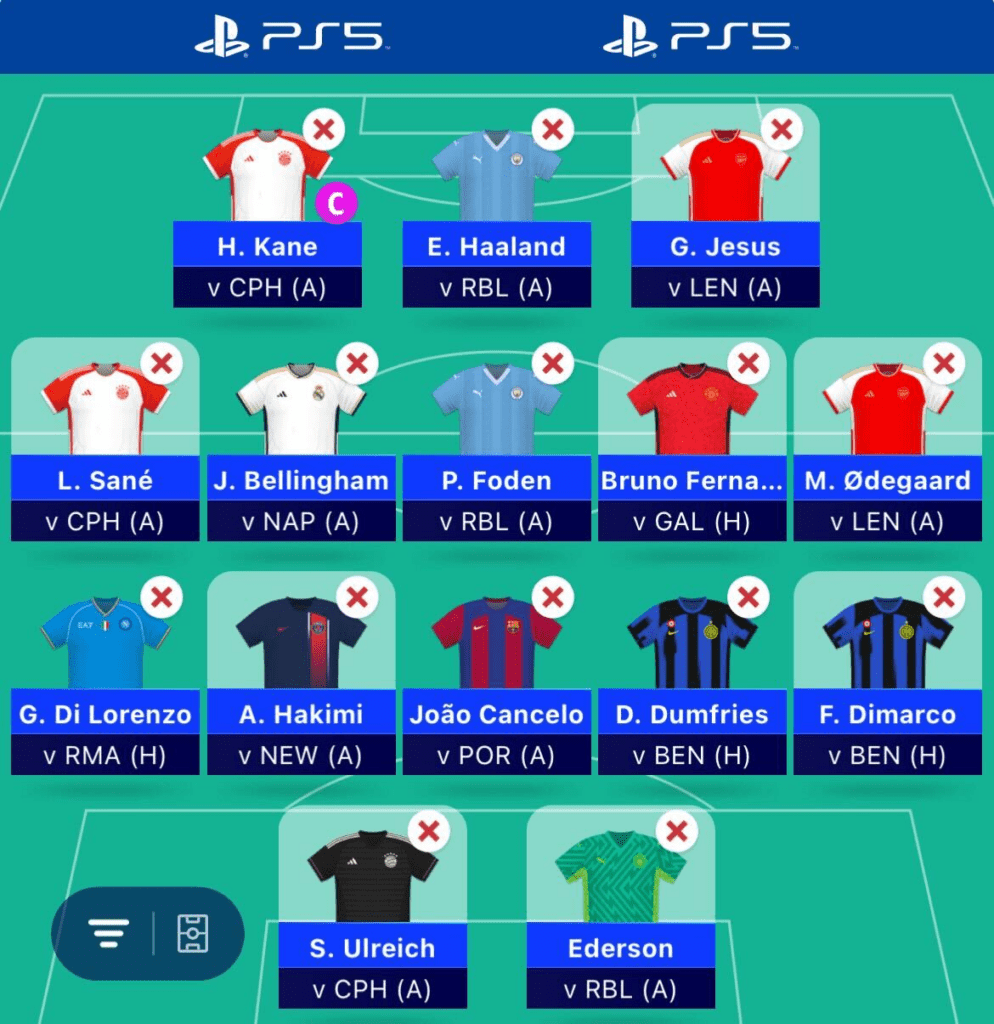 Goalkeepers
Sven Ulreich ($4.5m) – Bayern come up against a Copenhagen side who scored just once in the entire 2022/23 campaign. The German side also proved their defensive stability last season, banking five clean sheets in six group stage matches despite coming up against Inter and Barcelona.
Ederson ($6m) – Manchester City are maintaining some of the best defensive data in the Premier League this season. They may come up against a strong Leipzig next but the current holders have the potential strength to keep a clean sheet against any team in world football on their day.
Defenders
Giovanni Di Lorenzo ($5.5m) – Matchday 2 could be a week lacking in clean sheets. Because of this, and the fact that he has bagged four attacking returns already this season, Di Lorenzo still has a reasonable chance of points even against Real Madrid, who are very dependent on Jude Bellingham for goals.
Achraf Hakimi ($6m) – PSG got their 2023/24 UCL campaign off to a strong start with a 2-0 win over Dortmund. Amongst the success stories was wing-back Hakimi. The Moroccan gets into some of the most dangerous positions on the pitch and has already scored three goals this season.
Joao Cancelo ($6m) – The Portuguese hugely impressed during his time at champions Manchester City and he has transferred his strong attacking output into a free-scoring Barcelona side, scoring two goals and creating one assist already.
Federico Dimarco ($5.5m) and Denzel Dumfries ($5.5m) – Two of the world's most dangerous wing-backs play for the same club, Inter. The Italian side are very reliant on their wing-backs offensively. That can be reinforced by the fact that they have accumulated 11 attacking returns between them this season for club and country.
Midfielders
Jude Bellingham ($7.5m) – Real Madrid will always be a team to fear due to the knack they have for reaching the competition's latter stages. The Spanish side have been looking to Bellingham for the bulk of their goals this season. The English international has racked up eight goals and two assists since joining.
Leroy Sane ($9m) – Bayern often boast one of the highest scoring averages in Europe. Because of this and the fact they face Copenhagen this week, heavy investment is key. Their player of the month is Sane, who has netted seven times for club and country this season.
Phil Foden ($8m) – Similar to Bayern, Manchester City also sustain one of the highest scoring averages in Europe. They next face Leipzig, who looked defensively ropey in Matchday 1. Their standout midfielder option is Foden, who has collected five returns in his matches already and looks like a mainstay in the holders' starting XI.
Bruno Fernandes ($9.5m) – It could be a great week to invest in a Manchester United asset. The Reds play at home against a Galatasaray side who conceded two goals to Copenhagen in Matchday 1. Bruno Fernandes maintains some fantastic distribution stats and takes his side's penalties.
Martin Odegaard ($9m) – Arsenal face Lens this week, and the French side have started their new campaign torridly. The English side, by contrast, seem to be firing on all cylinders. The Norwegian is instrumental for Arsenal and also banked 15 points in the first round for his goal, assist and Player of the Match award.
Forwards
Erling Haaland ($11.5m) – The Norwegian has been one of the most relentless strikers in world football for some time. In fact, in the 11 matches he has played so far, he has scored eight goals and created two assists. He is also a very strong captaincy option for Matchday 2.
Harry Kane ($10m) – Investing into the focal point and penalty taker of the Bayern attack is essential this week. Since joining the German side, Kane has racked up eight goals and four assists, highlighting himself as one of the most in-form attackers in Europe.
Gabriel Jesus ($8.5m) – Finding another route into the in-form Arsenal attack could be a wise move. Gabriel Jesus leads his offensive line after returning from injury and even scored in Matchday 1 against PSV. He could have huge differential potential this week.