It's been a rollercoaster few Gameweeks in Fantasy Premier League (FPL).
For some managers, a cruel series of injuries, red cards, own goals and surprise rotations have devastated them into an earlier Wildcard activation of Gameweek 8, rather than after the October international break.
Our on-site poll reveals that around 67% of you will have used it by Saturday's Gameweek 8 deadline.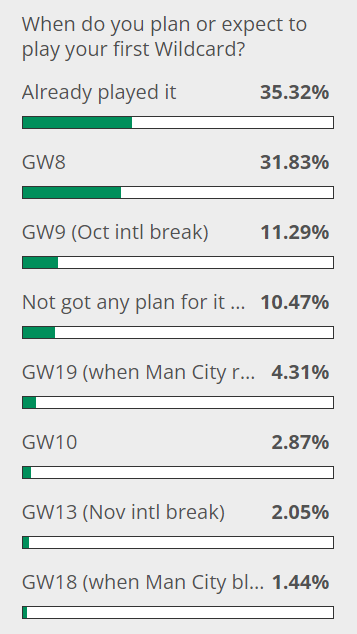 A decent number are the opposite, intending to last much longer without resorting to a Wildcard.
However, this article will compare the pros and cons of using the chip either right now or holding on until Gameweeks 9 or 10.
GAMEWEEK 8 WILDCARD
| PROS | CONS |
| --- | --- |
| Allows injured and out-of-form players to be sold | Is it a rash, impulsive reaction? |
| Helps team value | Some 'flops' have a good GW8 fixture |
| Spurs and Aston Villa's positive fixture swings | Volatile FPL means 'must-have' quickly changes |
Numerous notable FPL experts have already decided to be proactive and do it this week. The likes of FPL Harry, Sam from FPL Family, Joe and Scoutcast pair Andy and Seb.
Firstly, it provides immediate relief for those with some combination of injured players – Sven Botman (£4.7m), Ben Chilwell (£5.5m) etc. – and repeatedly disappointing assets like Marcus Rashford (£8.8m), Raheem Sterling (£7.1m), Jordan Pickford (£4.4m) and Bruno Fernandes (£8.4m). Both Manchester sides keep conceding, whilst Bryan Mbeumo (£6.8m) has one goal and two shots on target from his last five outings.
Secondly, it quells the loss in team value. Highly-selected Gameweek 1 names like Gabriel Magalhaes (£4.7m), Joao Pedro (£5.3m) and Eberechi Eze (£6.2m) have already dropped several times. Expect Fernandes and Andre Onana (£4.9m) to soon join team-mate Rashford with this.
Combine this with the speed at which the most-wanted are rising and there could be a huge budgetary difference between Wildcarding now and in Gameweek 10. For example, Julian Alvarez (£7.0m) has risen five times this season, Matty Cash (£4.9m) has experienced four, with Kieran Trippier (£6.8m) and Son Heung-min (£9.3m) on three. Goalkeeper Alphonse Areola (£4.2m) is likely about to do the same.

Looking at our Season Ticker, the chance to jump onto Aston Villa and Tottenham Hotspur's fixture swings is hard to resist. Alternatively, a few 'flops' like Pickford and the Manchester United lot have good-looking Gameweek 8 fixtures. Is that a reason to delay the Wildcard by at least one more week?
Likewise, loyal managers may feel it's too early to ditch Mbeumo or Alvarez – especially when the Argentinian has done nothing wrong. Activating a Gameweek 8 Wildcard means there'll probably be a large gap between this and the second, late-season one.
GAMEWEEK 9 WILDCARD
| PROS | CONS |
| --- | --- |
| React to international break injuries | The price changes before GW8 deadline |
| Two weeks to think about it | |
By waiting a bit longer, you have the two-week international break to come up with drafts and ideas. More importantly, it allows instant responses to any injuries or late returnees. Pervis Estupinan (£5.3m) was rested in Gameweek 5 for the latter, meaning fellow South Americans like Alvarez or Liverpool pair Darwin Nunez (£7.4m) and Luis Diaz (£7.5m) could be the next victims.
Gameweek 9 is also a smooth time to move off Pickford, Bernd Leno (£4.7m) and Chelsea assets.
On the other hand, the price changes between now and Saturday's Gameweek 8 deadline could block certain ideas. And those hoping this week's free transfer can be used as a survival technique might not be able to simultaneously remove a problem whilst also increasing Spurs or Aston Villa coverage.
GAMEWEEK 10 WILDCARD
| PROS | CONS |
| --- | --- |
| Gives more time for answers | Another 2+ weeks of price changes |
| Arsenal, West Ham and Brighton's positive fixture swings | Punished for loyalty? |
Resisting a Wildcard until Gameweek 10 means waiting until Saturday 21 October to activate. For managers who have successfully avoided these aforementioned fires, their reward is being able to show patience with this chip.

Upcoming transfers can go on short-term punts, before using a Wildcard to take advantage of Arsenal, West Ham United and Brighton and Hove Albion's good fixture swings. An extra benefit is you'll have a longer period to get answers on issues like Matt Turner's (£4.0m) game time, European rotation and which is the preferred Man United midfielder.
But the price change situation will be even worse by then. It's likely that the players you want will have already risen one, two or three times.
CONCLUSION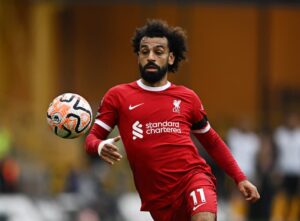 The safe answer is that it truly depends on each individual FPL squad. If you've successfully avoided the fires of owning Botman, Chilwell and a double Man United midfield whilst already boasting several of Son, Watkins, Cash and Mohamed Salah (£12.6m), there's less of an urgency to Wildcard.
It hinges on how many premium players are desired. If you want Salah and possibly Son or Trippier alongside Haaland, every £0.1m counts and waiting weeks longer could jeopardise plans.
And it's possible for a Gameweek 8 Wildcard to have the Gameweek 10 fixture swings in mind. Then again, in FPL, so much can change in a short time period. We're seeing must-have players quickly get discarded, with the most-bought ones heading into Gameweeks 2, 3, 4, 5 and 6 all immediately blanking.
This week's popular names could soon become problematic, leaving behind those managers who rushed into a Wildcard.