Fantasy Football Scout community writer Greyhead returns for the 2023/24 season with his series of Great and the Good articles, analysing the transfers and strategies of some well-known Fantasy Premier League (FPL) managers.
This season's names are the BlackBox pair of Mark Sutherns and Az, Scouts Joe Lepper and Tom Freeman, Scoutcasters Seb Wassell and Andy North, Pro Pundits FPL General, Pras, Zophar and FPL Harry, FPL 'celebrities' LTFPL Andy and Ben Crellin, FPL champion FPL Gunz, Hall of Famers Fabio Borges, Finn Sollie, Jan Kepski and Jon Ballantyne, and last year's mini-league winner Marko Miseric.
---
"Significant human error"
VAR! VAR! VAR! A cacophony of noise this week around the three-letter acronym that stirs up more fury than a Sven Botman (£4.7m) ITK fitness claim.
Yes, there's plenty of passion around, with flags being waved around like a European Ryder Cup golf celebration. However, a tip of the cap is due to the physios who made sure Bukayo Saka (£8.6m) and James Maddison (£7.9m) were fit for Gameweek 7. Although Mikel Arteta now appears to have pushed his luck with that magic sponge.
All this was enough to prompt Az into pressing the Wildcard button. It's worth watching back the appraisal given by Mark Sutherns and Andy North on Friday night's Blackbox, as his decision did not tickle their pickle.
In the midst of all this, there was even a rare captaincy debate to be had. Although most bottled the decision – looking at you here, Seb Wassell – fortune did indeed favour the brave Carlton Morris (£5.6m) armband army.
OVERALL PERFORMANCE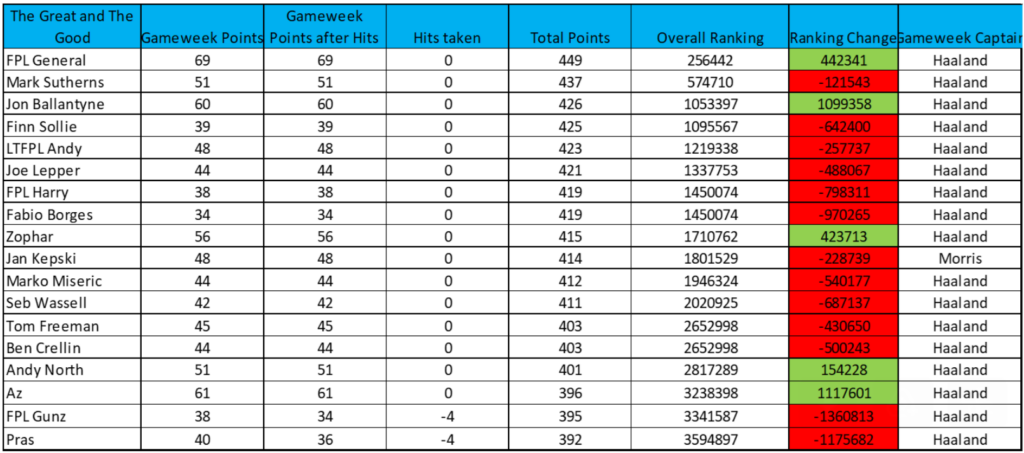 Where's Ollie? This was the cry when trying to ascertain who was going to have a great or good Gameweek, as Ollie Watkins' (£8.0m) 23 points pretty much guaranteed his owners a green arrow. The answer amongst this bunch was FPL General.
His faith in Watkins finally paid off, plus his canny move to bring in Kieran Trippier (£6.8m) is also paying dividends. That's now 30 points in two weeks for the Newcastle full-back, yet some people are still not including him in Wildcards!
We needed a hero to make the captaincy element of these updates interesting and Jan Kepski delivered by going it alone with Morris. It paid off with a double-digit return compared to a blank from that Norwegian guy.
Meanwhile, there was some benching pain for those who believed the unofficial Botman injury update and ended up with Pervis Estupinan's (£5.3m) minus two points autosubbing into their line-ups. FPL Harry, Ben Crellin, LTFPL Andy and Jon Ballantyne all suffered this fate.
However, there was good news for the latter, whose green arrow of over one million was a reward for keeping faith in Martin Odegaard (£8.5m). He was second only to a Wildcarding Az for the size of his arrow. Speaking of which…
WILDCARD
After enduring a grilling from Mark and Andy, it's only fair that we celebrate Az's successful chip activation. A rise of 1.1 million places is nothing to be sniffed at in the current climate.
Ten changes were made to his squad, with the fear of flags sending him over the Wildcard edge. Injury speculation surrounded a number of his players but there's a degree of irony that, for a man so worried about flags, he kept the one player where such concern was justified (Botman).
He has kept it simple by going with the Mohamed Salah (£12.6m), Son Heung-min (£9.3m) and Erling Haaland (£14.1m) triple threat, as well as buying into the Aston Villa resurgence with Matty Cash (£4.9m) and Moussa Diaby (£6.7m). Despite this, Az's best purchase – for this week at least – was Levi Colwill (£4.5m) and his 12-point haul.
It's a good start for a 'Bargain Bucket Wildcard' using limited funds. There's only £99.7m to play with but value doesn't matter, right?
The full ins and outs of Az's Wildcard are below:
IN: Areola, Colwill, Cash, Kabore, Udogie, Salah, Son, Diaby, Ward-Prowse, Archer
OUT: Onana, Chilwell, Baldock, Saliba, Estupinan, Saka, Rashford, Foden, Mbeumo, Mubama
TRANSFERS
Choo choo, all aboard the Morris train, as the Luton Town forward picked up a head of steam when a third of The Great and The Good brought him.
Trippier was the other popular purchase, although he now makes the Wildcard assembly slightly harder to put together as affording him, Salah, Son and Haaland does require a few sacrifices.
Jon Ballantyne was the wheeler-dealer of the week as he picked up both of the above and gained 22 points. Also a quick word to FPL Gunz, who continued to rally against the crown by bringing in Dominic Calvert-Lewin (£5.8m).
The full list of transfers is below:
Andy LTFPL – Trippier (Chilwell)
Andy North – Kabore (Chilwell)
Az – Wildcard
Ben Crellin – Morris (Jackson)
Mark Sutherns – Botman (Estupinan)
Finn Sollie – none
Fábio Borges – Morris (Jackson)
FPL Gunz – Schar, Calvert-Lewin (Chilwell, Mubama)
FPL General – none
FPL Harry – none
Jan Kępski – Morris (Jackson)
Joe Lepper- Morris (Ferguson)
Jon Ballantyne – Trippier, Morris (Chilwell, Jackson)
Seb Wassell – Trippier, Morris (Chilwell, Jackson)
Marko Miseric – Trippier, Cash (Chilwell, Gusto)
Pras – Trippier, Maddison (Chilwell, Saka)
Tom Freeman – Schar, Tarkowski (Chilwell, Estupinan)
Zophar – none
THE GREAT AND THE GOOD TEMPLATE
The full template is below, now in a pretty graphic: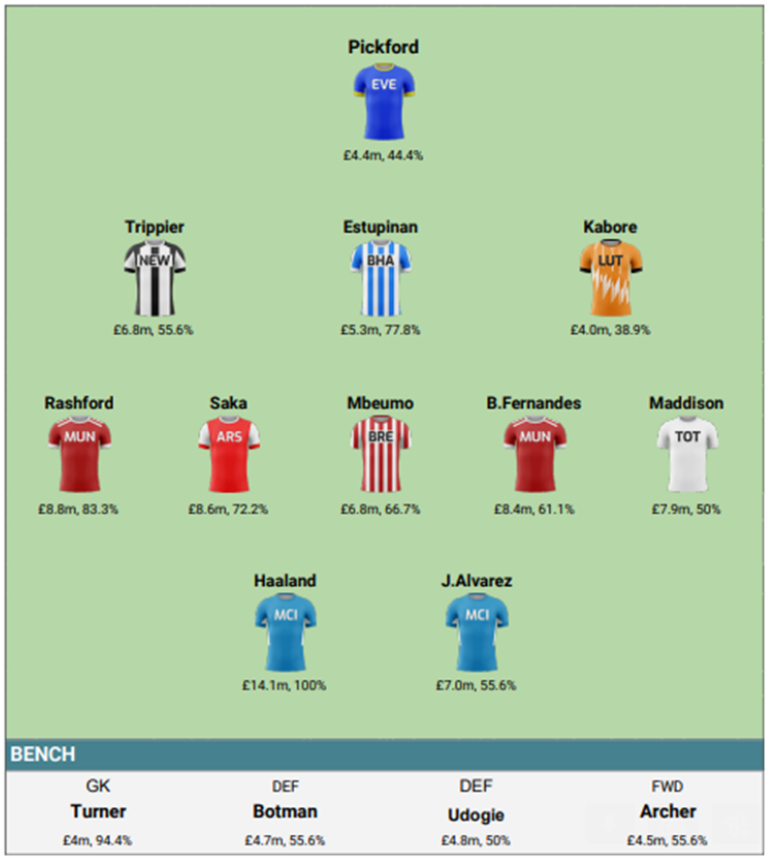 Perhaps the most shocking thing about the template is that it contains those dastardly Manchester United midfielders, who continue to underperform.
The changes this week came in defence. Trippier replaces Chilwell and Issa Kabore (£4.0m) makes his debut appearance, thanks to Double Gameweek 7.
VALUE VICTORY
Value doesn't matter, the prices make it easy to afford the team you want. These were shouts from earlier in the season.
But I am now detecting a bit more concern about team value, with many using it as a reason to Wildcard early. Therefore let's have a look at who the richest are amongst The Great and The Good.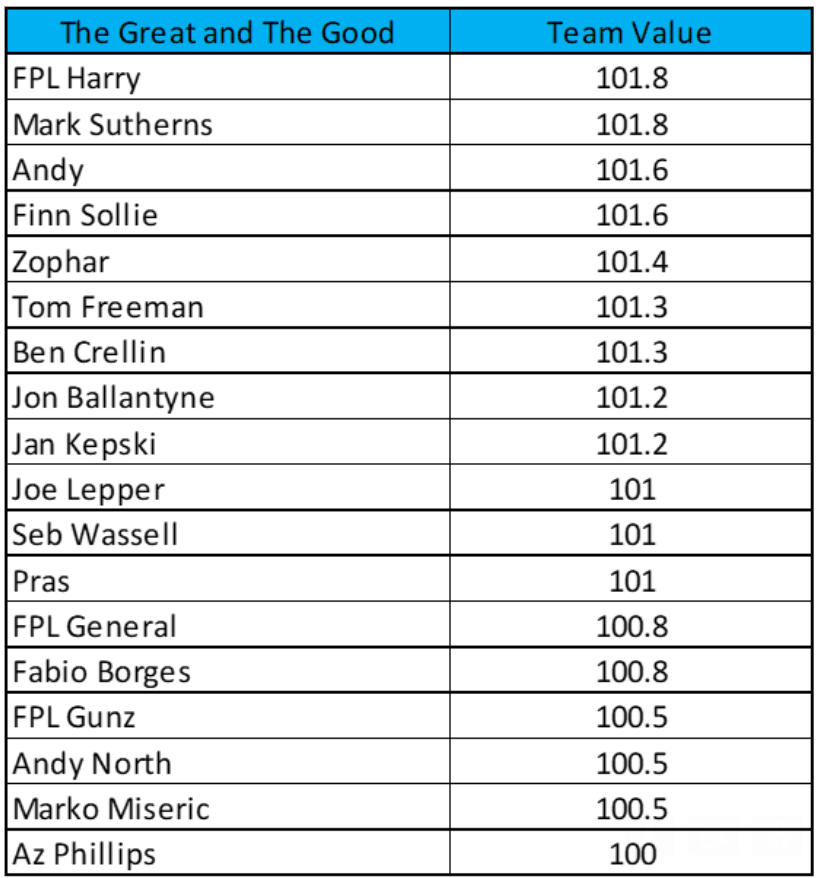 Mark is up there alongside FPL Harry on £101.8m, who has a good track record of saving his pennies. Poor old Az is only on £100.0m so do spare him some loose change if you see him busking near your corner shop.
CONCLUSION
Wildcards are flying around, with even wilder claims about going Salah- or Haaland-less. Spoiler alert: in 99% of cases, this won't happen.
For those of you still holding firm, I am going to use the p-word – patience. FPL is a fast-changing world, so even hanging on for a couple of weeks will give you access to more information. Just remember, a couple of weeks ago people thought that Raheem Sterling (£7.1m) was essential.
As always, if you want to dig further into the data, have a read of the Mini-League Mate dossier. Under 'Join an existing league', just enter your name and email address alongside the league code MLM0001. It's all free!
Anyway, that's all from me for now, but remember – don't have FPL nightmares.
For those affected by any of the topics raised above, you can find me here on Twitter.