Our team of Hall of Famers and guest writers will be providing Fantasy Premier League (FPL) tips and advice throughout 2023/24. Here, two-time Indian FPL champion Lateriser talks Spurs defenders, budget buys, the captaincy outlook and why he's holding the Wildcard.
Our writers will be providing regular articles and team reveals throughout the new season, with only Premium Members able to access every single one.
You can sign up here for the new campaign – once you're aboard, you've locked in the price of your Premium Membership for good, so long as you don't cancel!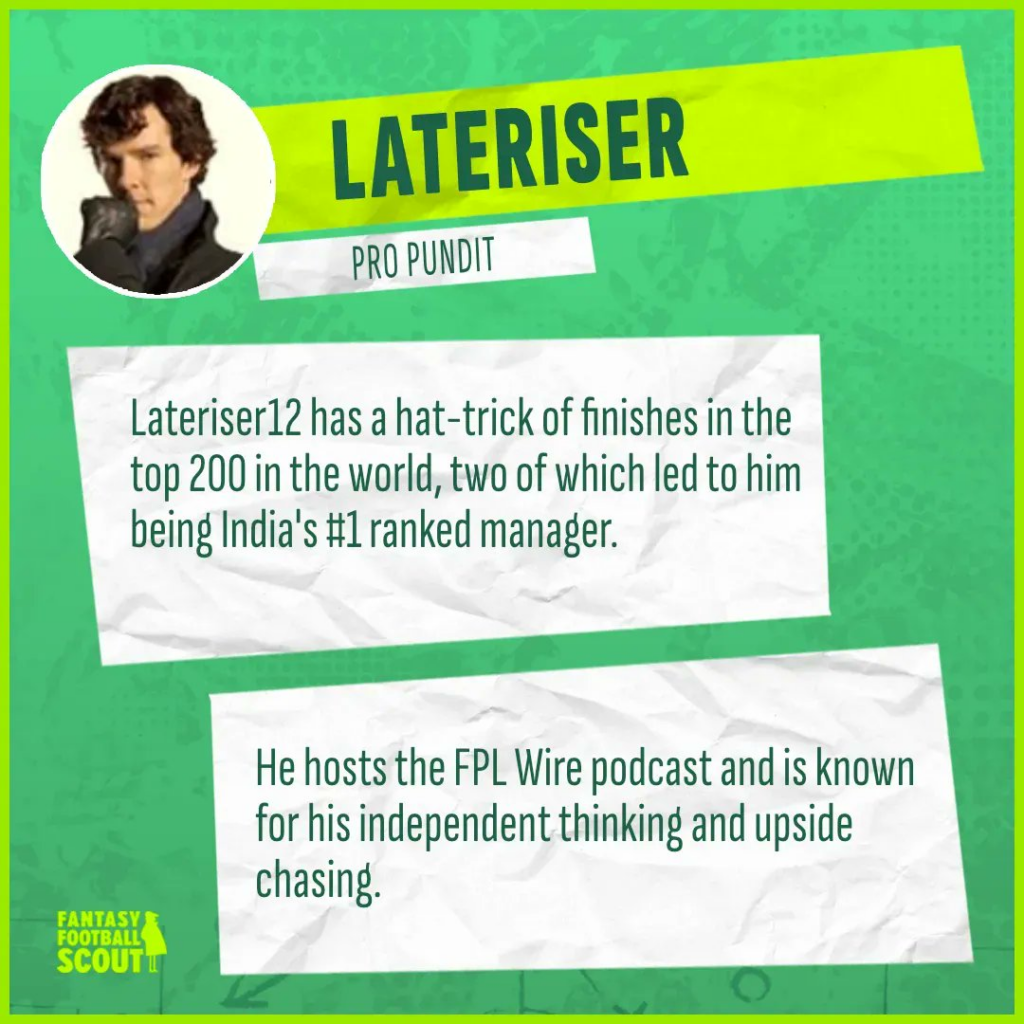 ---
It was quite a week for me. For someone who scored 34 points, fell from 560k to 1.6 million in rank, supports Manchester United, and has only two fit defenders in Issa Kabore (£4.0m) and Jordan Beyer (£4.0m), I am surprisingly calm and have not pulled the Wildcard button just yet.
I promised myself that I would listen to my gut in 2023/24 and it is probably the reason for my calmness as I just want to play this season on my own terms. I just feel like the avenues and options in Gameweek 10 are enough for me to take maybe a points hit to field a team this week and potentially next week.
REASONS FOR HOLDING THE WILDCARD
There are a few reasons why I'm holding onto my Wildcard (as of now). Firstly, I already own Son Heung-Min (£9.4m) and James Maddison (£8.0m), who are the primary targets of the Wildcarders. Yes, my other picks look very dodgy in Marcus Rashford (£8.8m) and Raheem Sterling (£7.0m) but if they start, I am hoping the 'fixture' does the trick.
I also do feel that for the teams in form that Wildcarders are bringing in, namely West Ham United and Aston Villa, their fixtures for the next two weeks are middling and not 'great'. I just don't feel ready to make big calls in terms of whether I am willing to get creative losing one of the three top premium players in the game on a Wildcard and I just want to wait and watch and absorb more information. I feel like the shift in fixtures for Arsenal and Brighton and Hove Albion and the run of great fixtures at that point for Aston Villa and West Ham is just a prominent swing where I want to attempt picking a slightly longer-term team. I plan on selling Ben Chillwell (£5.5m) and Pervis Estupinan (£5.2m) this week for Pedro Porro (£5.1m) and any defender up to £5.9m of my choice (for a hit) and I am hoping that should be enough for me to limp over the line.
Anyway, I did attempt to build a Wildcard draft with my fellow Pro Pundit Zophar, which has me ready with back-up ideas in case I need to pull an emergency Wildcard based on injury news that emerges.
PORRO V UDOGIE
Earlier I mentioned that I am going for Pedro Porro instead of Destiny Udogie (£4.8m). This was not the case until I saw the Spurs game last Saturday because I was shocked by the kind of positions he was taking up; he was in and around the centre of the box so often.
I had a conversation with my trusted Spurs friend Baker and he told me that the pick to go for is Porro. The comparison he used was that Porro is more Trent Alexander-Arnold (£7.9m) and Udogie is more Andrew Robertson (£6.6m). Porro is just the more complete, rounded player and if you think of some of the opposition that Spurs will play (Luton, Fulham, Crystal Palace and Wolves), you'd expect them to be games where the Lilywites have a lot of possession – and that means Porro being very advanced and having multiple chances to put good balls into the box.
Porro has better underlying numbers since he and Udogie have started together, as well, with Porro clocking nine shots and 10 chances created versus one shot and six chances created from Udogie in the last six Gameweeks.
BARGAIN-BIN BUYS
There are a lot of Wildcards flying around at the moment and I just want to throw in a couple of thoughts that I had that weren't very common.
Firstly I would go for a nailed Burnley defender like Jordan Beyer (£4.0m) or a relatively less nailed option like Charlie Taylor (£3.9m) as my enabler on the Wildcard instead of the currently popular Tariq Lamptey (£4.0m). Burnley have a great run of fixtures and with so many premiums to accommodate, your squad strength might run thin. It is important to have a reliable playing asset as your fourth or fifth defender, especially with so many injuries in the league at the moment.
An improving Burnley have a good run of fixtures after Gameweek 10 and Beyer/Taylor could just be useful as a back-up sub. Lamptey's minutes could be very questionable by the time Brighton's good fixtures show up as Pervis Estupinan is currently estimated to be out for around a month, which means he should be back around Gameweek 11 or 12.
Secondly, because you'll need so much money for expensive defenders or attackers, I think it is a good idea to not rotate goalkeepers and instead go cheap with Alphonse Areola (£4.2m) and a £3.9m option/Matt Turner (£4.0m) if you still fancy him.
CAPTAINCY LOOKAHEAD
Which premiums to go for is a tough decision and it has been covered a lot already on our podcast but I am going to place this excellent captaincy matrix that my fellow Pro Pundit Pras made here for your reference, which is just food for thought:
You add Aston Villa, Brighton and West Ham to this mix and there are just so many good fixtures for good teams and you're always going to lose out on multiple assets that have the potential to hurt you. I personally think that while this might make FPL slightly more painful, it also makes it a lot of fun.
I am going to end this piece by linking two excellent articles that my colleagues have penned. Firstly, you don't have to worry about the huge rank swings too much. Reading this article from Simon March has certainly calmed my nerves in terms of rank swings; give it a shot, it might do the same for you.
Speaking of nerves, if you're considering growing a pair and a half and going with Erling Haaland (£14.1m), this excellent article from Neale regarding Manchester City's performance in tough fixtures is definitely something you need to clock.
I'll leave you with that for this week. Until next time!