The two remaining Gameweek 8 matches from Sunday are the focus of our latest Scout Notes piece.
Arsenal v Manchester City and West Ham United v Newcastle United are the fixtures in question.
Any graphics and stats you see in this piece are taken from our Premium Members Area, where you can find data on each and every Premier League match.
SAKA + SALIBA INJURY LATEST
Bukayo Saka's (£8.6m) record-breaking run of 87 consecutive Premier League appearances came to an end on Sunday, as he missed Arsenal's 1-0 win over Manchester City.
The 22-year-old had picked up a slight hamstring injury during last week's UEFA Champions League defeat against RC Lens, leaving him unable to train.
Asked afterwards if Saka would join up with the England squad during the international break, Mikel Arteta said:
"No, he couldn't make it. He hasn't had a single training session, so he will be out. He's not available to play football at the moment." – Mikel Arteta on Bukayo Saka
However, as of Monday morning, reports suggest the FA was still expecting Saka to join up with the squad at St George's Park, where he will be assessed by England medical staff.
Gareth Southgate's side host Australia in a friendly on Friday before next Tuesday's European Championship qualifier against Italy, also at Wembley.
William Saliba (£5.2m), meanwhile, was one of Arsenal's best performers against Man City, playing the full 90 minutes, but has since pulled out of the France squad due to a toe injury.
In a statement, the French Football Federation said:
"William Saliba is not able to participate in the gathering of the French team. The Arsenal defender suffers from pain in his right big toe. He will remain available to his club to treat this chronic injury." – The French Football Federation on William Saliba
TROSSARD'S INJURY/MARTINELLI RETURNS
As for Leandro Trossard (£6.6m), he suffered a hamstring problem on Sunday and was replaced by Gabriel Martinelli (£7.7m) at half-time.
The Brazilian marked his return to action with the deflected winner, his first goal of the season, and added real energy to the Gunners' attack after coming on.
Fortunately, he's been left out of the Brazil squad, meaning he can now spend further time in London completing his full recovery.
"He's been saying for a few weeks that I was going to be there for City. Obviously, we were saying that Gabi it would be too early for you, and yesterday he said, "boss I told you, I'm going to be ready for this." And it happened after 30 minutes Leo [Trossard] felt something in his hamstring. So, when I turned around, he was already ready, to go with his kit, and saying "boss, I'm ready to go". He's just got the joy of a kid, his mentality is incredible at his age, and it's just a joy to have him because today he could change the game and he was really helpful for us to win." – Mikel Arteta on Gabriel Martinelli
Elsewhere, David Raya (£4.8m) made a nervy start, with some poor distribution, but did improve after the break and was later backed by his manager.
"It's my fault, all my fault. They can pull me up on it because I asked him to do that, especially against this team, you just have to do other things and you'll get in big trouble. I think he was excellent, the way he dominated his box, the way he came out for crosses and set-pieces, the height that he played at. He's got big ones, because the crowd go like this with the players. I've seen it, the players start to kick balls everywhere and I said to him, "you don't do that, make sure you don't do it, and he didn't do it." At the end, he got rewarded because the team started the game that we wanted to play much better, so a big compliment to him." – Mikel Arteta on David Raya
CITY ATTACK STRUGGLES
Man City went close twice early on through Josko Gvardiol (£5.0m) and Nathan Ake (£5.1m) but failed to score for the first time this season and lacked any fluency or imagination in attack.
The misfiring champions had just four shots overall, the fewest number they have managed in a Premier League match under Pep Guardiola.
Notably, five teams have outscored City in the Premier League this season and they now face a tough run of fixtures after the international break (see below).
Is Erling Haaland (£14.1m), who failed to register a single shot on Sunday, disposable, then? That's something we'll look into in a standalone members piece later this week.

On a positive note, key players are at least coming back.
Rodri (£5.6m) will return in Gameweek 9 after serving the third and final match of his suspension, while John Stones (£5.3m) made his comeback from injury at the Emirates, lining up in central midfield.
It'll be a huge boost, too, given that Bernardo Silva (£6.3m) had to play as a defensive midfielder in and out of possession on Sunday,
Elsewhere, Julian Alvarez (£7.0m) was deployed on the right, where he was asked to drift infield when Kyle Walker (£5.3m) pushed up. However, he struggled to have as much influence from a wider position and was eventually replaced by Jeremy Doku (£6.5m) on 67 minutes.
"I was in number six, the manager asked me to do it. It's not my natural position but I was comfortable. I was trying to be between the centre backs, I'm used to it. It was not a big thing. Last season I was a bit more uncomfortable at left back. It is what it is. Tough game for us especially because of the outcome, because I believe we didn't play that bad. Some of these results we were not expecting and we didn't want them to happen. Last season we won the treble but there was a point that nothing was going our way. How you overcome these moments is what defines the team and we will keep fighting for all the games. We're going for it again." – Bernardo Silva
TRIPPIER'S ASSISTS/ISAK INJURY UPDATE
Newcastle conceded their first league goals since Gameweek 4 at the London Stadium, but that didn't stop Kieran Trippier (£6.8m) from delivering his customary bonus points.
He assisted Alexander Isak's (£7.5m) second goal with a wonderful volleyed cross, one of five chances he created in Gameweek 8, and is now averaging 11 points per match over the last four.
You suspect West Ham's defenders breathed a sigh of relief when Callum Wilson (£7.8m) was only named on the bench, given his past record against them, but instead, it was Isak who stepped up, netting his fifth and sixth goals of the campaign.
The forward was replaced in the final few minutes by Wilson, after signalling to the bench that he needed to come off. He has, however, at least departed for international duty with Sweden.
"Alex [Isak] signalled to come off. Callum Wilson couldn't have started the game and he probably couldn't have played longer than he did in the end. I really only wanted to use him in an emergency but Alex signalled that he had to come off so it was a natural replacement." – Eddie Howe on Alexander Isak
COUFAL'S THREAT/SOUCEK'S ADVANCED ROLE
Vladimir Coufal (£4.5m) has now supplied assists in each of his last four appearances, averaging over six points per match during that run.
In that time, only four defenders – Alfie Doughty (£4.4m), Trippier, Andrew Robertson (£6.6m) and Diogo Dalot (£4.9m) – have created more chances than his eight, although he didn't look completely comfortable up against Isak on Sunday.
However, easier fixtures are on the horizon, with West Ham top of the ticker from Gameweeks 9-17.
Elsewhere, Tomas Soucek (£4.9m) netted the opener and has now scored in each of his last two matches, which has coincided with him playing a more advanced role.
Mohammed Kudus (£6.5m) notched his first Premier League goal, too, drilling his left foot effort past Nick Pope (£5.5m), who was at fault for the Hammers opener.
"We hadn't really had much of the ball leading up to the point of our first goal, but Emerson made a good run and went around the goalkeeper, so it was another great assist from him and Tomas [Soucek] got into the box, which we wanted. I'm pleased for Tomas as he is making a good contribution with his goals, as did Mo [Kudus] today who got his first one for us, which was great.

We have played Tomas a bit higher in the last couple of games to try and get him near the box. Today was tough because we couldn't get enough crosses or balls near the edge of their box, but he made it and he got the goal." – David Moyes on Tomas Soucek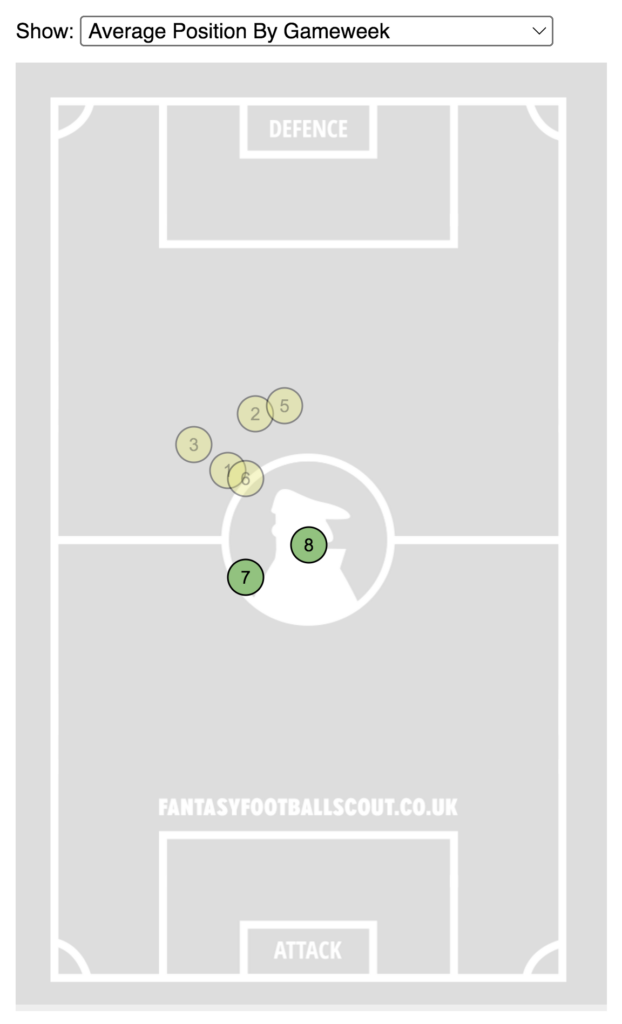 Above: Tomas Soucek's average position by Gameweek 2023/24