Fantasy Football Scout community writer Greyhead returns for the 2023/24 season with his series of Great and The Good articles, analysing the transfers and strategies of some well-known Fantasy Premier League (FPL) managers.
This season's names are the BlackBox pair of Mark Sutherns and Az, Scouts Joe Lepper and Tom Freeman, Scoutcasters Seb Wassell and Andy North, Pro Pundits FPL General, Pras, Zophar and FPL Harry, FPL 'celebrities' LTFPL Andy and Ben Crellin, FPL champion FPL Gunz, Hall of Famers Fabio Borges, Finn Sollie, Jan Kepski and Jon Ballantyne, and last year's mini-league winner Marko Miseric.
---
"Wild boys"
'Don't panic, just Wildcard' was the rule of the day, as half of The Great and The Good pressed the reset button on their team but only one contained Tyrick Mitchell (£4.5m).
With so many squad overhauls, there was much talk of whether we dare go without Erling Haaland (£14.1m). Pause for audible gasps. However, only a brave few actually went through with the plan.
Meanwhile, Mikel Arteta finally achieved his goal of running poor old Bukayo Saka (£8.6m) into the ground. Arsenal's medical team finally ran out of miracles as he was ruled out of the clash with Manchester City.
And talking of miracles, Jordan Pickford (£4.4m) finally kept a clean sheet – unfortunately, most had just transferred him out on their Wildcards.
OVERALL PERFORMANCE
The big decision of whether you captained Son Heung-min (£9.4m) or Mohamed Salah (£12.6m) dictated the colour of your arrow, with the curse of the most-bought striking again as the Spurs lad failed to score. This left the 'Go Mo' crowd celebrating more than the 'No Mo' contingent.
It was a weekend for the veterans – can I still say that? Members with a certain vintage were top dogs, as Joe Lepper scored a whopping 73 points to move into second place. His Wildcard led to a 1,020,525 green arrow.
Mark Sutherns goes back to the mini-league summit. In what is proving to be a topsy-turvy season, there have been five different leaders over the opening eight Gameweeks.
In fact, all of the Wildcarders gained ground, mainly as most of them brought in a certain Egyptian. Seb Wassell and Jan Kepski were the ones to make the most progress, jumping over a million places.
As for captaincy, well, it's fairly obvious who won the day but it's worth giving credit to FPL Gunz who keeps on searching for the differential boost as he plumped for Darwin Nunez (£7.4m). Additionally, FPL General appears to have decided on the Haaland default option.
WILDCARDS
Now strap yourself in as we jump into not one, not two but nine Wildcards. I will do them in order of points gain and pick out some of the highlights.
Seb Wassell
Star pupil of the 'Wild boys' was Seb, who showed plenty of bottle as he kicked Haaland out. He gained 46 points as a result and went completely without City, so Sunday's big result probably left him in dreamland.
Without the Norwegian, Seb's squad has strength all over the park and his bench is one that most FPL managers would start. Matty Cash (£5.0m) and David Raya (£4.8m) were left on the pine this time.
The other surprise is that he still has Bruno Fernandes (£8.4m) and Bryan Mbeumo (£6.8m).
IN: Johnstone, Raya, Dalot, Porro, Burn, Cash, Son, Maddison, Salah, Darwin, Watkins, Archer
OUT: Ederson, Turner, Gusto, Baldock, Estupinan, Baldock, Rashford, Saka, Foden, Haaland, Morris, Pedro
Finn Sollie
Next up is the Hall of Fame number one, who quietly racks up top ranks each season and gained 25 points from his chip in its initial showing. The headline from this one is his move to 3-4-3 which a couple of other Hall of Fame types have plumped for – I see you Matt Corbidge and Adnan Harjrulahovic.
For Finn, this means he has the strong strike force of Julian Alvarez (£7.0m), Ollie Watkins (£8.1m) and that Erling bloke. Plus, he can afford Son and Salah.
IN: Areola, Cash, Taylor, Udogie, Burn, Guehi, Salah, Son, Bowen, Chukwuemeka, Watkins
OUT: Onana, Dias, Kabore, Saliba, Botman, Estupinan, Rashford, Fernandes, Saka, Mbeumo, Archer
FPL Harry
Next up is Harry Daniels, who had plenty of money to play around with and whose Wildcard is probably the most template. Perhaps that's because everyone tried to copy his moves!
He will be glued to the TV set for Spurs and Villa results, as he has tripled up on both teams, also going for Jarrod Bowen (£7.3m).
IN: Areola, Burn, Cash, Gabriel, Taylor, Son, Bowen, Diaby, Salah, Watkins
OUT: Pickford, Schar, Estupinan, Botman, Kabore, Rashford, Fernandes, Saka, Mbeumo, Alvarez
Andy North
Next up is Andy, who went through the FPL Blackbox grilling and survived. He was not quite as cash-rich as FPL Harry so had to make a few sacrifices to accommodate the Salah-Son-Haaland template trinity. So Anthony Gordon (£5.6m) is his magic bean.
Still, it's a good-looking team which netted him 15 points extra points this weekend. He does own Tyrick Mitchell but maybe should have gone for Marc Guehi (£4.5m) instead.
IN: Areola, Cash, Porro, Mitchell, Burn, Taylor, Salah, Gordon, Son, Maddison, Bowen, Watkins, Archer
OUT: Pickford, Colwill, Kabore, Udogie, Estupinan, Saliba, Foden, Saka, Mbeumo, Fernandes, Rashford, Osula, Alvarez
Jon Ballantyne
We move on to another non-Erling Wildcarder, as going without the Norwegian allowed Jon the ability to keep Kieran Trippier (£6.8m) as well as a Mo and a Spurs triple-up.
The most unusual part is his purchase of Marcus Rashford (£8.8m). What does he see that the rest of us don't?
IN: Areola, Burn, Robertson, Udogie, Cash, Rashford, Salah, Maddison, Watkins, Alvarez
OUT: Onana, Estupinan, Botman, Dias, Konsa, Saka, Odegaard, Sterling, Haaland, Morris
Marko Miseric
Last year's winner of the feeder league comes under our scrutiny now. Another shift of formation to 3-4-3, he's also sans Salah in the hope that Darwin Nunez (£7.4m) can fill that void. Despite what you might expect, he still scored 12 more points than his pre-Wildcard team.
IN: Raya, Areola, Porro, Lamptey, Coufal, Elanga, Son, Gordon, Fernandes, Darwin, Watkins
OUT: Johnstone, Turner, Gvardiol, Baldock, Estupinan, Saka, Eze, Foden, Rashford, Wilson, Osula
Joe Lepper
Joe had the highest score this week so his Wildcard must be deemed a success. Moves of note include the in-form Pedro Neto (£5.7m) and the top-scoring FPL defender Joachim Andersen (£4.8m).
IN: Areola, Cash, Porro, Andersen, Burn, Lamptey, Son, Neto, Salah, Bowen, Watkins
OUT: Onana, Dias, Beyer, Trippier, Udogie, Estupinan, Saka, Sterling, Fernandes, Rashford, Morris
Jan Kepski
That analytics ace solved his Wildcard dilemmas by bringing in Morgan Gibbs-White (£5.8m) – that caught your attention, didn't it? He also made us pause for thought by scooping up Diogo Dalot (£4.9m) and keeping Mbeumo.
IN: Areola, Taylor, Burn, Dalot, Cash, Maddison, Son, Salah, Gibbs-White, Watkins, Archer
OUT: Pickford, Trippier, Henry, Walker, Estupinan, Fernandes, Rashford, Saka, Sterling, Morris, Plange
Ben Crellin
The only manager to lose points on his previous team was 'The Spreadsheet Svengali' Ben Crellin. He also went for Gibbs-White and Dalot – did he and Jan compare notes?
IN: Areola, Porro, Dalot, Cash, Burn, Taylor, Maddison, Salah, Gibbs-White, Watkins
OUT: Pickford, Botman, Estupinan, Udogie, Saliba, Trippier, Sterling, Rashford, Fernandes, Morris
TRANSFERS
Outside of the Wildcard mania, there were also a few more hits taken by those looking to keep up with the overhaulers and it was a scramble for Spurs players.
Unfortunately, the moves did not really pay off with Zophar gaining the most for his triple transfer of Son, Pedro Porro (£5.1m) and James Maddison (£8.0m).
Andy LTFPL – Maddison, Cash (Saka, Estupinan)
Az – none
Fabio Borges – Cash, Porro (Gusto, Botman)
FPL General – Son, Bowen, Cash (Rashford, Saka, Estupinan)
FPL Gunz – Richarlison, Darwin (Eze, Wilson)
Mark Sutherns – Son, Burn (Saka, Botman)
Pras – Pedro Porro (Estupinan)
Tom Freeman – Richarlison (Sterling)
Zophar – Son, Maddison, Porro (Saka, Rashford, Estupinan)
THE GREAT AND THE GOOD TEMPLATE
The full template is below, now in a pretty graphic: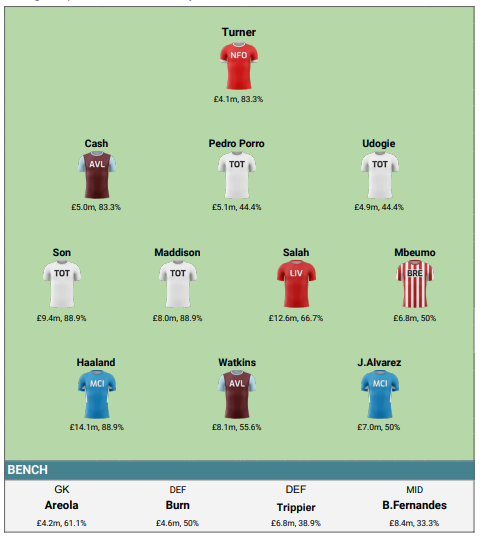 There have been wholesale changes to the template, as you may expect. Alphonse Areola (£4.2m), Porro, Cash, Dan Burn (£4.5m), Son, Salah and Watkins all join the squad.
MACHINE LEARNING
With so much talk of algorithms this season, I thought it'd be interesting to compare the scores of The Great and The Good against that of the mighty RMT point predictor to show who would've been top if luck, human nature and VAR decisions had not interfered in the FPL Matrix.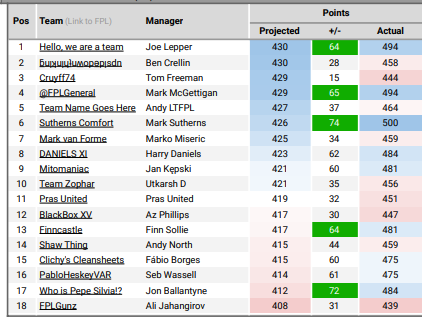 Joe and Ben would've been joint-top based on the RMT simulation, although Mr Lepper has in fact outscored the predicted points by a large margin, as has Mark.
Does this make them lucky? That is something you can debate over the international break.
CONCLUSION
There are now two weeks off to either bask in the glow of your green or fume in the fire of your red.
For those licking their wounds, it's worth remembering that this has been a season of extremes so far, with a rollercoaster of ranks rises and falls so you are probably due. Keep the faith.
As always, if you want to dig further into the data, have a read of the Mini-League Mate dossier. Under 'Join an existing league', just enter your name and email address alongside the league code MLM0001. It's all free!
Anyway, that's all from me for now, but remember – don't have FPL nightmares.
For those affected by any of the topics raised above, you can find me here on Twitter.