Nothing says 'international break content' like a dive into the Bonus Points System (BPS) of Fantasy Premier League (FPL).
Here, we take a position-by-position look at the FPL players who are not just picking up bonus points already but also those who have the potential to start doing so.
If you're after even more reading on all things BPS, let us point you in the direction of TopMarx's excellent 2021 three-part epic.
HOW DOES THE BONUS POINTS SYSTEM WORK IN FPL?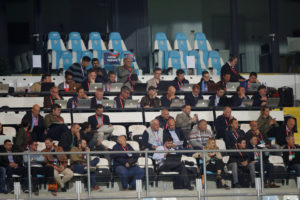 Long gone are the days of the 'man in the stand', where an independent match assessor from the Press Association would distribute bonus points based on a subjective evaluation of each game.
Now the Bonus Points System (BPS) harnesses a range of Opta statistics to create a performance score for every player involved.
The players with the three highest BPS scores in a match subsequently receive bonus points, although ties can mean that additional players also gain them.
All players, no matter what the position, will be affected by the performance indicators below, unless specified (e.g. goalkeepers and defenders keeping a clean sheet):
GAME-TIME AND ATTACKING RETURNS
| | |
| --- | --- |
| Playing 1 to 59 minutes | 3 |
| Playing 60+ minutes | 6 |
| Goalkeepers and defenders scoring a goal | 12 |
| Midfielders scoring a goal | 18 |
| Forwards scoring a goal | 24 |
| Assists | 9 |
DEFENSIVE CONTRIBUTIONS
| | |
| --- | --- |
| Goalkeepers and defenders keeping a clean sheet | 12 |
| Saving a penalty | 15 |
| Save | 2 |
| For every two clearances, blocks and interceptions combined (CBIs) | 1 |
| For every three recoveries | 1 |
| Net successful tackles | 2 |
ATTACKING CONTRIBUTIONS
| | |
| --- | --- |
| Successful open play cross | 1 |
| Creating a big chance (a chance where the receiving player should score) | 3 |
| Key pass | 1 |
| Successful dribble | 1 |
| Scoring the goal that wins a match | 3 |
PASS COMPLETION
| | |
| --- | --- |
| 70 to 79% pass completion (at least 30 passes attempted) | 2 |
| 80 to 89% pass completion (at least 30 passes attempted) | 4 |
| 90%+ pass completion (at least 30 passes attempted) | 6 |
DEFENSIVE DEDUCTIONS
| | |
| --- | --- |
| Conceding a penalty | -3 |
| Yellow card | -3 |
| Red card | -9 |
| Own goal | -6 |
| Making an error which leads to a goal | -3 |
| Making an error which leads to an attempt at goal | -1 |
| Conceding a foul | -1 |
ATTACKING DEDUCTIONS
| | |
| --- | --- |
| Missing a penalty | -6 |
| Missing a big chance | -3 |
| Being tackled | -1 |
| Being caught offside | -1 |
| Shot off target | -1 |
---
To give an example, Mohamed Salah (£12.6m) was awarded maximum bonus points in Liverpool's two-all draw with Brighton and Hove Albion in Gameweek 8.
His BPS score of 43 was made up of:
Playing 60+ minutes: 6
Scoring two goals: 36
Recoveries: 1
Tackles: 2
Pass completion: 2
Key passes: 2
Successful dribbles: 1
Tackled: -5
Shots off target: -1
Fouls conceded: -1
You can see the full breakdown in the BPS Plus and BPS Minus tabs in the Player Stats section of each match in our Premium Members Area (Brighton v Liverpool can be viewed here).
WHAT ARE BASELINE BONUS POINTS (BBPS)?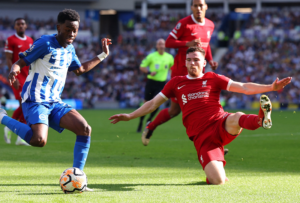 When we talk of Baseline Bonus Points (BBPS), we mean everything that contributes to a player's Bonus Points System (BPS) total that isn't one of the following:
A goal
An assist
A clean sheet
A winning goal
An own-goal
A penalty miss
A penalty save
A red card
So things like recoveries, clearances, blocks and interceptions (CBIs), tackles, dribbles, pass completion and key passes all contribute to a BBPS score.
GOALKEEPERS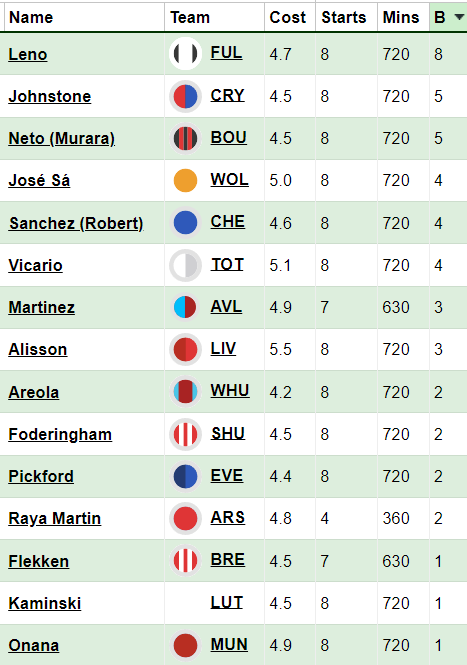 Above: FPL goalkeepers sorted by bonus points (B) awarded in 2023/24
Bernd Leno (£4.7m) racked up 17 bonus points in a defensively dismal Fulham side last season and he's well on his way to topping that figure this year.
Just under 40% of his total FPL points in 2023/24 are made up of saves and bonus.
The two things are linked, of course. Each save is worth two baseline bonus points (BBPS), so every stop not only takes you closer to a save point but also elevates your chances of getting in the bonus points mix.
Pass completion and recoveries (things like crosses claimed and dives onto a loose ball) are also key to goalkeepers. Leno is in the top five for each.
So it's not just a 'keeper who is busy with their hands that is desirable but also one who plays in a side keen on playing the ball out from the back. Those simple square or short balls all help with BPS.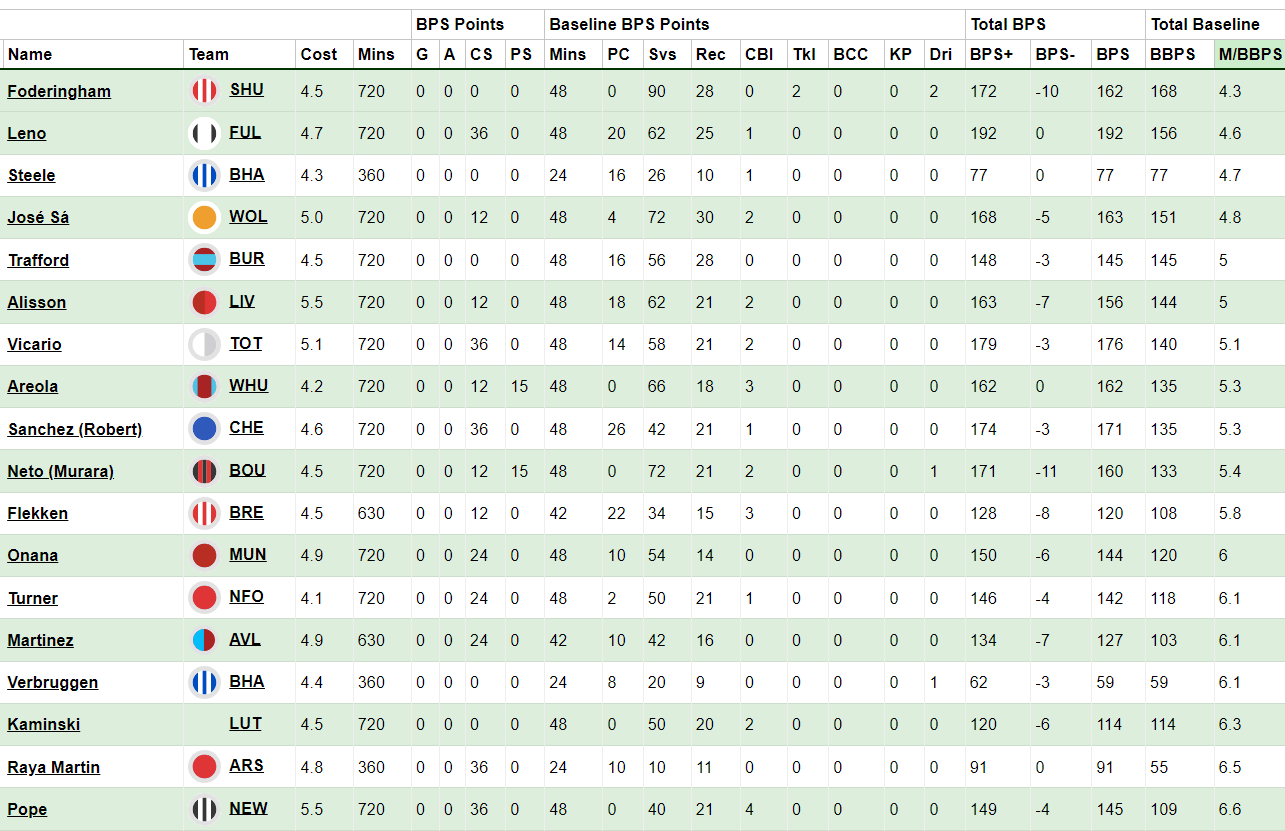 Above: FPL goalkeepers sorted by minutes per baseline bonus points (BBPS)
Min. 270 minutes played
Click to expand graphic into a new window
Ultimately, clean sheets have a huge say.
Wes Foderingham (£4.5m), for instance, is the top goalkeeper in the above image for BBPS – but Sheffield United haven't kept a single shut-out this season, so he's sitting on just two bonus points.
Sam Johnstone (£4.5m), by contrast, is way down the list for BBPS (he doesn't even appear in the image above) but he and Palace have banked four clean sheets. Johnstone consequently has five bonus points to his name.
All of those bonus points for Johnstone have arrived in the last three Gameweeks, when he admittedly has been busier. He's made 13 saves in Gameweeks 6-8, a total that only Foderingham can better.
Ederson (£5.6m), you won't be surprised to hear, fares the worst out of all the current number ones.
A shortage of saves and recoveries means that he has yet to register a single bonus point this season, despite overseeing three clean sheets.
DEFENDERS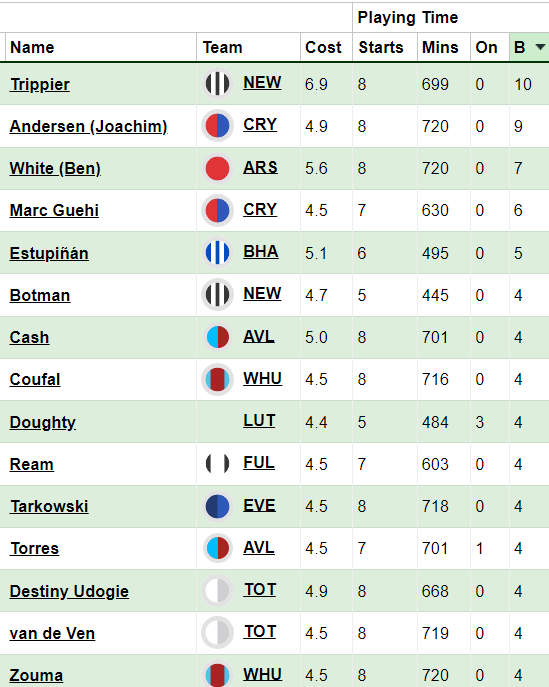 Above: FPL defenders sorted by bonus points (B) awarded in 2023/24
Attacking returns and clean sheets have the most impact if you're a defender. Combine both in the same match and there's a very strong chance that you're heading for at least one bonus point.
But different types of defender can prosper on the Bonus Points System: the all-action creative full-back or the immovable centre-half can both thrive in their own way.
Kieran Trippier (£6.9m) is the former. He was a bonus points machine in 2022/23 and he's at it again in this campaign, delivering 10 of them just in the last four Gameweeks.
No FPL asset in any position has more.
He has the best rate of BBPS (one every 4.3 minutes) of any defender in 2023/24, helped massively by his assists and chance creation. No Premier League player has supplied more opportunities for his team-mates than Trippier (27) this season.
Palace's two centre-halves are also worth looking at in closer detail.
Joachim Andersen (£4.9m) and Marc Guehi (£4.5m) sit second and fourth among Fantasy defenders for bonus points this season.
Granted, six of Andersen's nine bonus points arrived in matches in which he's scored.
But Guehi has managed to accrue half a dozen bonus points without a single attacking return.
What hugely benefits the two Palace stoppers, and indeed Johnstone, is that they represent a team that isn't free-scoring at the other end of the pitch. This means that they have fewer competitors when the bonus points are dished out at full-time: the three matches in which Guehi and Johnstone have gained bonus points ended 0-0, 1-0 and 0-0.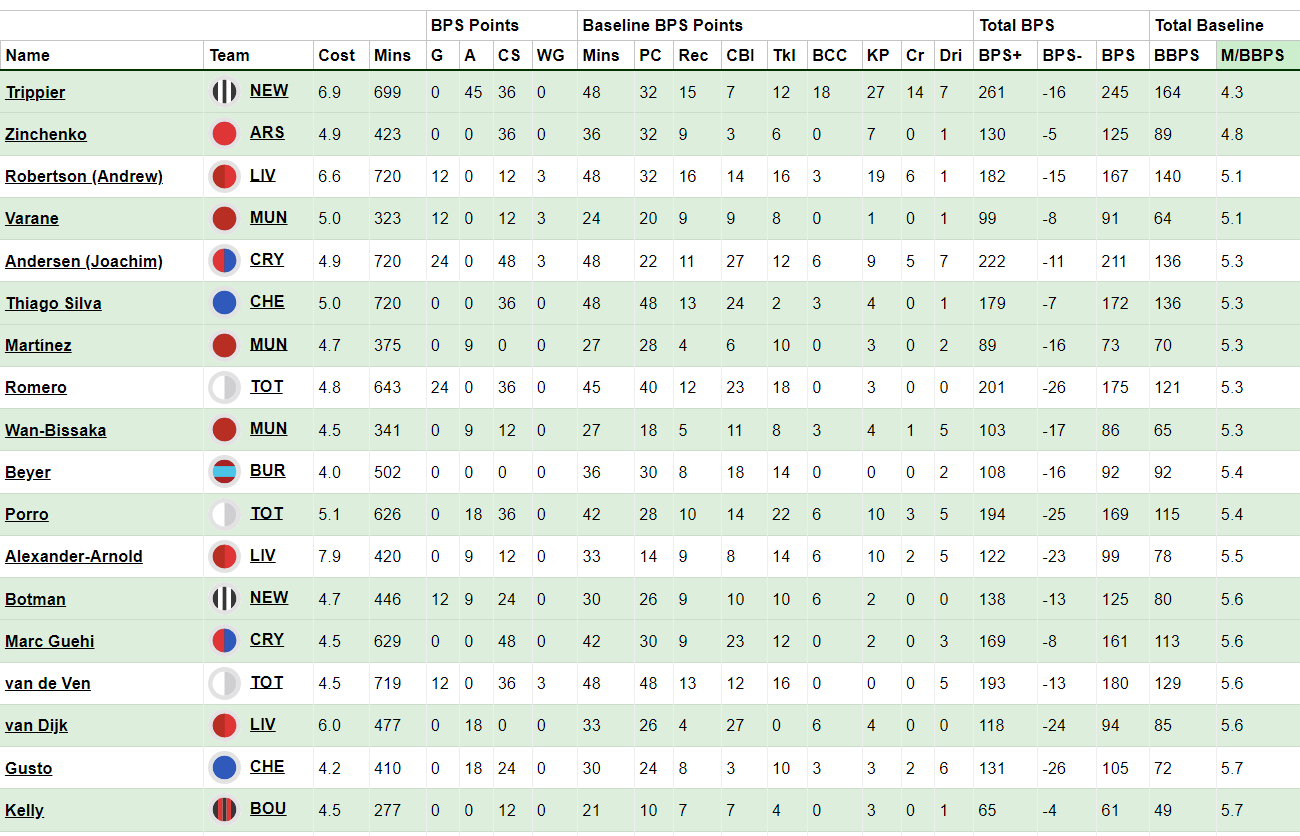 Above: FPL defenders sorted by minutes per baseline bonus points (BBPS)
Min. 270 minutes played
Click to expand graphic into a new window
Oleksandr Zinchenko (£4.9m) fares well in the above table, a mix of passing, chance creation and off-the-ball work boosting his BBPS score.
Ben White (£5.6m), third among defenders for actual bonus points, also warrants a mention. Since his move to right-back in Gameweek 4, his rate of BBPS has improved from one every 7.1 minutes to one every 5.4.
He's seeing more of the ball and of opponents as a result, meaning more key passes, crosses, dribbles and tackles.
Andrew Robertson (£6.6m), by contrast, is perhaps in a slightly false position in the table as he took on more of a creative role during Trent Alexander-Arnold's (£7.9m) recent absence. With the right-back in the side and 'inverting' into midfield, Robertson tends to stay back a bit more and carve out fewer opportunities.
The Scot could be set for a spell out anyway, having injured his shoulder while playing for Scotland on Thursday night.
Elsewhere, defenders from possession-heavy sides like Chelsea, Tottenham Hotspur and Manchester United are well represented. Pass completion is a big reason why Thiago Silva (£5.0m) features so high up in the BBPS table above.
Pedro Porro (£5.1m) is bettering Destiny Udogie (£4.9m) by some distance in the BBPS stakes, thanks to the latter's tendency to get tackled and give fouls away.
MIDFIELDERS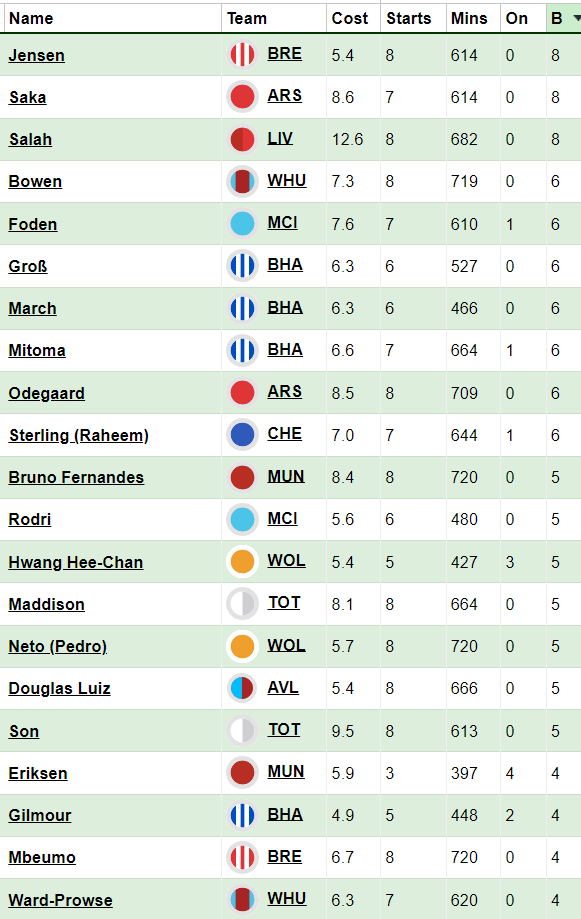 Above: FPL midfielders sorted by bonus points (B) awarded in 2023/24
While CBIs, recoveries and tackles are all contributing factors to a BPS score, very few midfielders who top the table for these metrics are actually in the bonus points mix unless they score or assist.
For example, Marvelous Nakamba (£4.4m) ranks very highly for both recoveries and tackles but having failed to find the back of the net or assist a Luton Town goal, doesn't have any bonus points to show for it.
While goalkeepers and defenders at least get 12 BPS for a clean sheet, defensive midfielders get absolutely nothing – and so are thus often unrewarded in FPL for their off-the-ball work, even when opponents fail to score.
So naturally, the surest route to maximum bonus points is to first deliver attacking returns.
Raheem Sterling (£7.0m), who has the worst minutes-per-BBPS average of any midfield regular this season, made a mockery of the system by collecting maximum bonus in Gameweeks 3 and 8. If you're delivering three attacking returns in a single game, who cares if you're not chipping in with the odd tackle or block?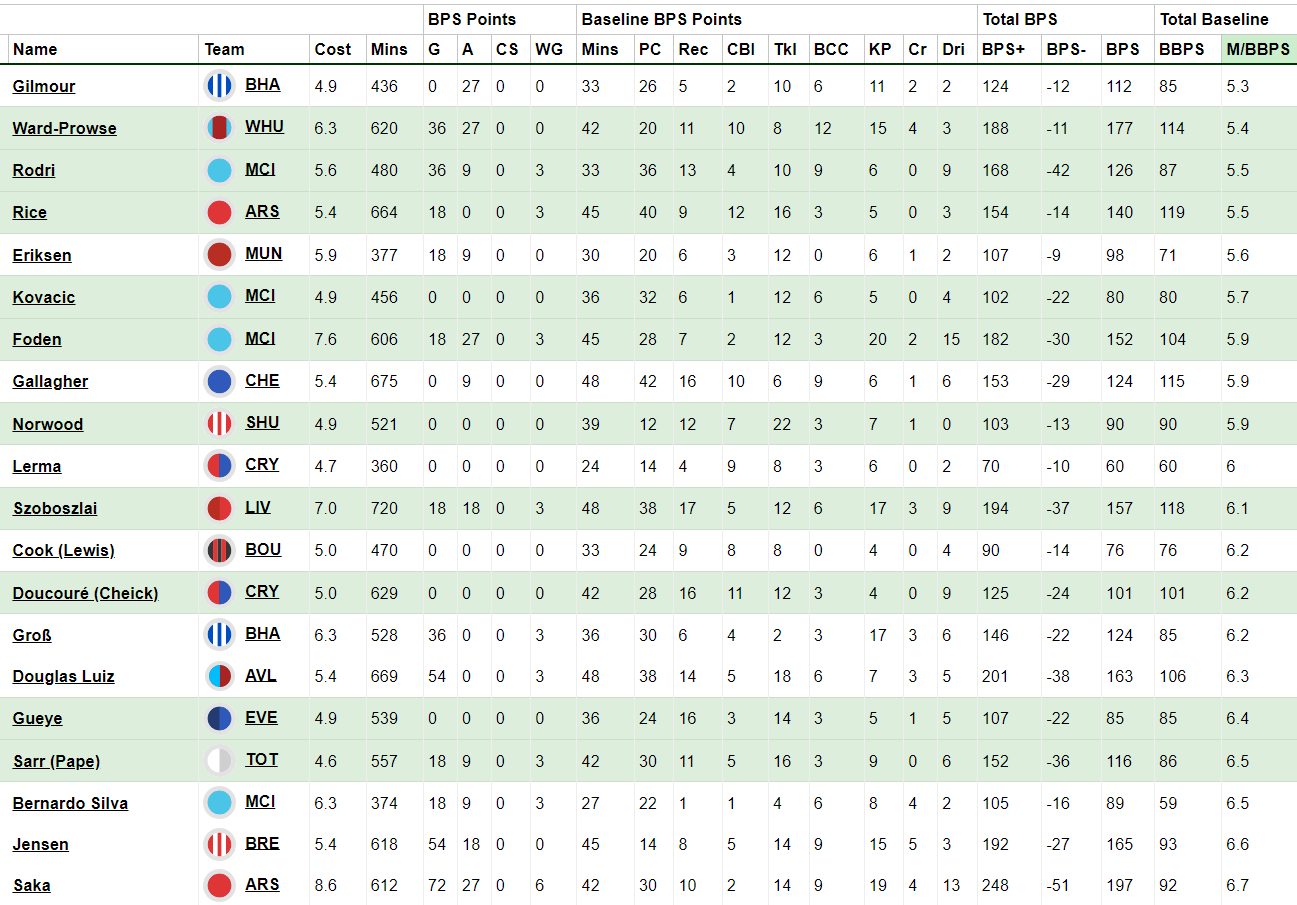 Above: FPL midfielders sorted by minutes per baseline bonus points (BBPS)
Min. 270 minutes played
Click to expand graphic into a new window
But with Fantasy midfielders awarded only 18 BPS for a single goal (forwards get 24), baseline BPS can be occasionally helpful.
Baseline bonus was almost made for James Ward-Prowse (£6.3m). From CBIs and tackles to minutes played and key passes, there's not an area in which he fails to shine. The former Southampton man even picked up a bonus point in Gameweek 7 despite failing to deliver an attacking return against Sheffield United.
If only there was a bit more open-play goal threat (four shots in the box in seven starts isn't good), we'd have a hell of an asset on our hands.
Inevitably, many of the names in the above image are of little interest to FPL managers.
Bukayo Saka (£8.6m) is a welcome sight, though, with his creativity and dribbling coupled with a surprisingly high number of tackles. A steady rate of BBPS means that he's collected bonus points in four of his seven appearances this season. In only one of those games did he deliver more than one attacking return, so his baseline score has been crucial.
FORWARDS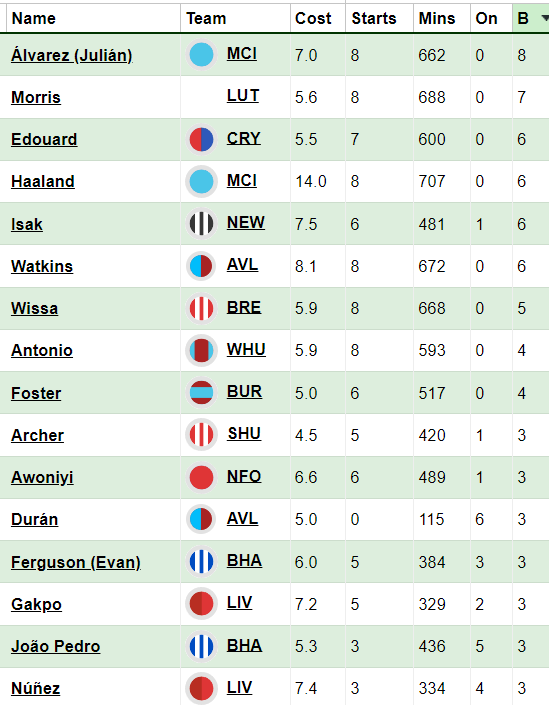 Above: FPL forwards sorted by bonus points (B) awarded in 2023/24
Whereas goalkeepers and defenders often need to perform well on an underlying stats front in order to supplement their clean sheets, goals and assists with bonus points, forwards can be completely anonymous, score once, and walk away with a nine-point haul.
As we've mentioned above, forwards are awarded 24 BPS for a goal. Add that to their six BPS for lasting more than 60 minutes and they are, more often than not, in the bonus points mix without doing anything else.
While other attacking contributions such as key passes and dribbles can help boost our forwards' BPS score, it's arguably a boon if they remain peripheral and clinical given that deductions will be processed for big chances missed, losses of possession and shots off target.
Carlton Morris (£5.6m) is a good example, having scored once on three occasions this season and having delivered at least two bonus points each time. He also has the 'advantage' of playing for a team that can't keep a clean sheet for toffee – so there are no Luton goalkeepers or defenders muscling in on the action!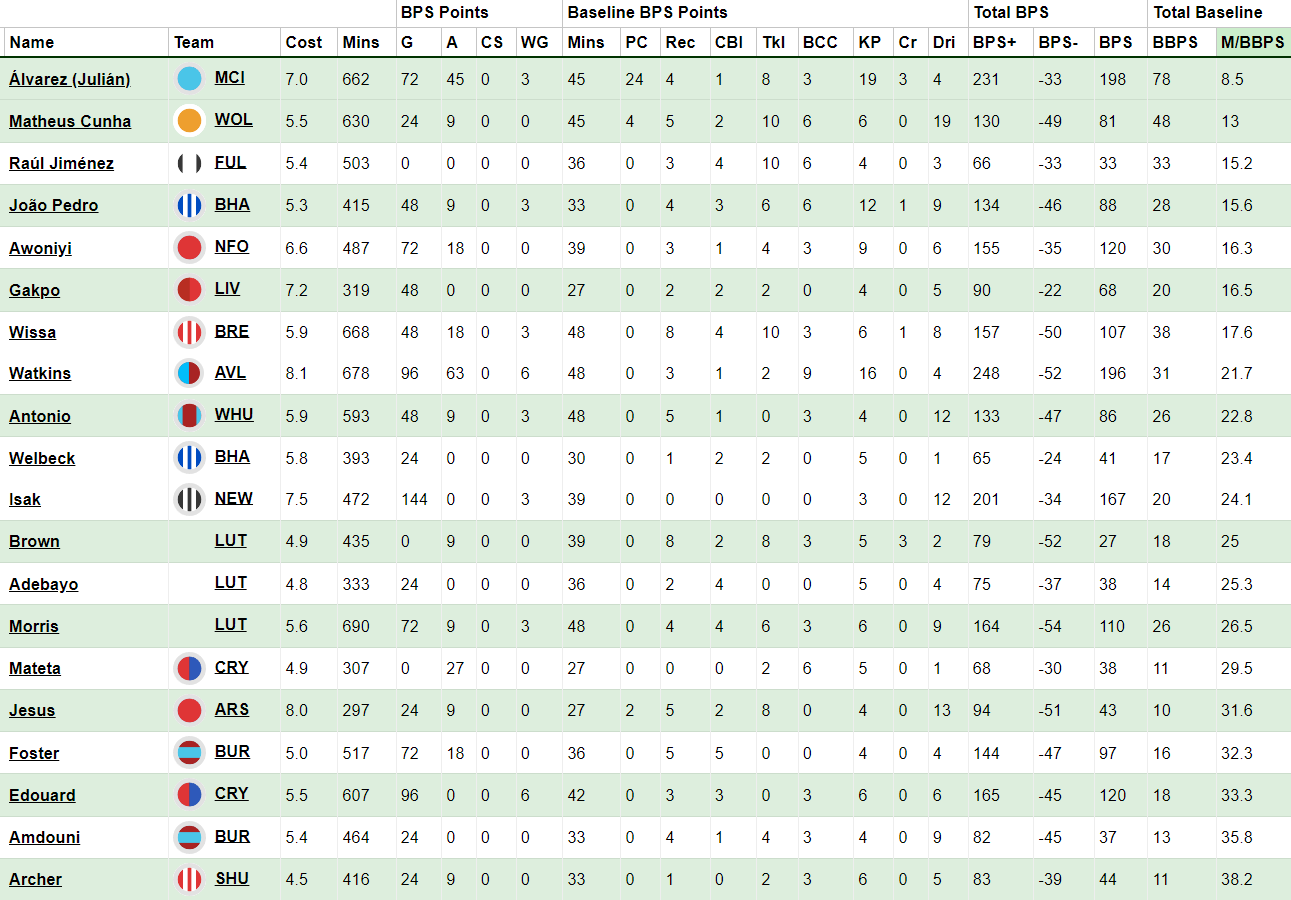 Above: FPL forwards sorted by minutes per baseline bonus points (BBPS)
Min. 270 minutes played
Click to expand graphic into a new window
Julian Alvarez (£7.0m) is a different beast, however.
Thanks to his role as the Kevin De Bruyne (£10.2m) deputy at Manchester City and his share of set plays, he's putting up the sort of chance creation and pass completion numbers that we normally associate with midfielders.
He's even chipping in with tackles.
The BPS success and creativity are helping to offset his unremarkable shooting stats from the deeper role: even Oli McBurnie (£5.4m) and Beto (£6.0m) have had more 'big chances' than the Argentina international this season.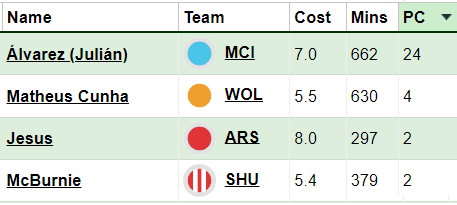 Above: Julian Alvarez, who is also first among forwards for chances created, destroys his competition for BPS pass completion
---
THE FINAL WORD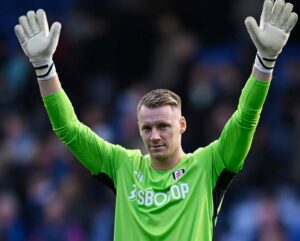 Baseline bonus points arguably diminish in importance the higher up the field you get.
For forwards and midfielders, bonus points potential is often an afterthought and perhaps only considered when weighing up two potential targets side by side. Even then, it's 99% about the attacking returns – and the bonus points tend to follow the goals anyway.
There are more reasons for bonus points analysis at the back, especially in goal.
Goalkeepers playing for mid-table outfits or strugglers can often outscore the men between the posts for the top clubs, thanks to a combination of save and bonus points.
Leno and Ederson are great examples: the former has eight bonus points, the latter none – essentially, that's the equivalent of two extra clean sheets for the Fulham man.
With actual shut-outs harder to come by this season, goalkeepers and defenders offering alternative routes to points are more prized than ever.