Late returns from international duty will be of concern to some Fantasy Premier League (FPL) managers ahead of Gameweek 9.
It's the players involved in international matches in the Americas, where there are World Cup qualifiers and friendlies taking place in the early hours of Wednesday, who are the main worries.
In this article, we take a look back at what happened and what was said after the September international break.
MANCHESTER CITY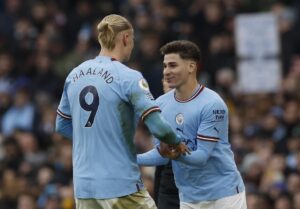 Gameweek 5 fixture: v West Ham (a), Sat 3pm
Julian Alvarez: Started, played 90 minutes
Julian Alvarez (£7.0m) made light of his midweek globe-trotting to not only start Manchester City's Gameweek 5 fixture against West Ham United but see out the whole game.
The Argentinean forward claimed two assists in a 3-1 win over the Hammers, continuing his rich vein of form in 2023/24.
He had been in international action on the Tuesday night before Gameweek 5, the match against Bolivia kicking off at 9pm BST. The forward racked up 85 minutes of game-time in that World Cup qualifier before setting off again for Manchester.
Alvarez lasting 90 minutes against West Ham suggests fatigue wasn't much of a consideration for Pep Guardiola ahead of kick-off – not so, according to the Man City boss.
"We had doubts because he came from Bolivia [from international duty] with the jet lag, he was so tired the day before yesterday. He felt better and we spoke with him last night and he said he felt good." – Pep Guardiola on Julian Alvarez's involvement in Gameweek 5
Guardiola called him "almost undroppable" in the same post-match interview but weeks later went on to admit that "there will be games he will not play". A benching has yet to materialise in the Premier League but he was among the substitutes in the recent UEFA Champions League win over RB Leipzig.
The concern for Gameweek 9 is that Argentina's final match of the international break is even later this time, kicking off at 3am on Wednesday morning.
City also have more options at their disposal for the visit of Brighton than they did for the trip to West Ham. Back then, the injury-hit reigning champions had few alternatives on the bench (Matheus Nunes (£5.0m) had only just signed and was yet to make his debut):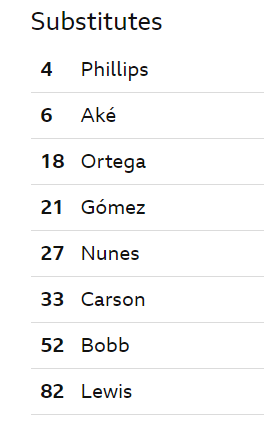 This time, Guardiola has Jack Grealish (£7.3m) and Mateo Kovacic (£4.9m) available – both of whom were absent in Gameweek 5. Rodri (£5.6m) is back from suspension in Gameweek 9, too, while Rico Lewis (£4.3m) and Phil Foden (£7.6m) were used as 8s/10s shortly before the international break.
There are more Alvarez alternatives for Guardiola against the Seagulls, then, but one beacon of hope to cling onto is that none of them carry the same goal threat as the World Cup winner from the Kevin De Bruyne (£10.2m) position.
LIVERPOOL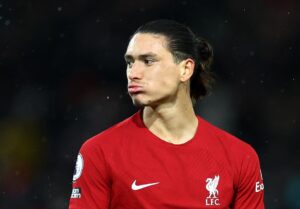 Gameweek 5 fixture: v Wolves (a), Sat 12.30pm
Alexis Mac Allister: Started, subbed off after 45 minutes
Luis Diaz: Benched, subbed on after 45 minutes
Darwin Nunez: Benched, subbed on after 55 minutes
Death, taxes… and Jurgen Klopp being asked about early kick-offs in his Gameweek 9 press conference.
The Reds drew the short straw after the September international break, having to travel to Molineux for Gameweek 5's Saturday lunchtime match.
Almost inevitably, they'll also be contesting the early kick-offs in both Gameweeks 9 and 13, which follow on from the October and November international fortnights.
The impact on Klopp's team selection against Wolves was clear.
Darwin Nunez (£7.4m) and Luiz Diaz (£7.5m), both of whom impressed in a Gameweek 4 win over Aston Villa, dropped to the bench and only emerged after half-time, while Alexis Mac Allister (£5.9m) lasted just 45 minutes before being hooked at the break.
All three players had been in South America barely three days earlier, with Darwin's Uruguay kicking off at 11pm on Tuesday night and Diaz's Colombia in action some two-and-a-half-hours later.
"If I say a word about it, the whole world goes again: 'He's moaning again'. This is a joke. We have players in South America I didn't see them yet, in 24 hours we play [Wolves]." – Jurgen Klopp speaking in the pre-match press conference before facing Wolves in Gameweek 5
"You saw it with Macca, saw it with other players, they didn't have the legs today." – Jurgen Klopp, speaking after the win over Wolves
Darwin and Diaz were similarly non-starters after the two international fortnights in 2022/23, although the latter was injured for one of them.
While injuries and minutes played on Wednesday morning could change things, the early betting money would be on Diogo Jota (£7.7m) and Mohamed Salah (£12.6m) starting against Everton. Word is awaited on how far along Cody Gakpo (£7.2m) is in his recovery or whether Diaz or Darwin will be needed from kick-off.
Klopp also now has more alternatives to Mac Allister in central midfield in the shape of Wataru Endo (£5.5m) and a fully rested Ryan Gravenberch (£5.0m), should he need them.
BRIGHTON AND HOVE ALBION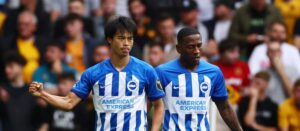 Gameweek 5 fixture: v Man Utd (a), Sat 3pm
Pervis Estupinan: Didn't play
Pervis Estupinan (£5.1m) is out of both Ecuador's October double-header and Brighton's Gameweek 9 fixture through injury, so he's not a relevant concern for FPL managers this week.
The attack-minded defender could be back in Gameweek 10 or 11, based on Roberto De Zerbi's estimated timeline or recovery ("a month or so").
But for those Fantasy bosses looking ahead to Gameweek 13, it's worth bearing in mind De Zerbi's treatment of the left-back after the September international break.
Estupinan played 180 minutes for Ecuador back then and the Brighton head coach had hinted that he was contemplating a Gameweek 5 rest for FPL's then-most-owned defender.
Estupinan didn't feature at all in the 3-1 win over Manchester United, not even making it onto the bench.
"We have substitutions. We have [James] Milner, Tariq Lamptey, Pascal Gross, Igor [Julio]. Okay, Igor is a centre-back but he has played in the past [at left-back]. Maybe a different way, in a different style, but he can if we need him play in that position.

"I don't remember how many games until Liverpool [the last game before the next international break] but we have to keep our eye first on the Manchester United game – but we also have to think of other games.

"First of all, we can't lose any player and we have to manage in the best way. If Pervis travelled 12 hours and he played 180 minutes in the last week, we have to consider it." – Roberto De Zerbi, speaking ahead of Gameweek 5
This was the first time De Zerbi had benched Estupinan after an international break; previously, he had only taken him off early in the first Premier League game back to spare his legs.
This season, of course, Albion players are accumulating more minutes thanks to UEFA Europa League involvement, so the Brighton boss may have more of a watchful eye on what game-time his internationals are getting around the world.
It's something to bear in mind come Gameweek 13, then, for the trip to Nottingham Forest.
OTHERS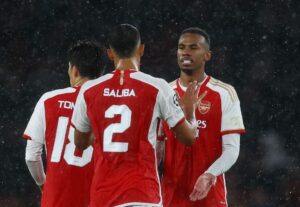 Gabriel Magalhaes (£4.7m), who is away with Brazil right now, has yet to be benched after an international break by Mikel Arteta, although his international career is very much in its infancy. This is the fourth time he has been away with his country but his debut didn't arrive until September.
Arsenal also had the advantage of playing on Sunday in Gameweek 5, allowing for an extra day of rest for Gabriel and co.
Gabriel Jesus (£8.0m) was named among the substitutes for that Gameweek 5 win over Everton, having also been away with Brazil, but had been steadily building up his game-time in the league anyway after recovering from an early-season injury.
Elsewhere in the Premier League, there weren't too many shock Gameweek 5 benchings off the back of late returns or midweek involvement.
Miguel Almiron (£6.4m) was benched for the first time in 2023/24 that weekend but may have lost his place anyway, as Newcastle went into the September international break off the back of a chastening 3-1 defeat to Brighton.
Like Arsenal, Newcastle have the UEFA Champions League as an added distraction this year. Whereas last season Arteta was happy resting the big guns in the Europa League and Howe had no European involvement at all, both managers might be tracking their internationals' minutes more keenly. The two sides face Sevilla and Borussia Dortmund respectively in the midweek after Gameweek 9.
THE GAMEWEEK 5 LATE RETURNEES: MINUTES PLAYED IN THE SUBSEQUENT PREMIER LEAGUE MATCH
| | | | |
| --- | --- | --- | --- |
| Country | Final international match played in… (date/kick-off time in BST) | Players (mins in final international match) | Players (mins in GW5, start in bold) |
| Argentina | Bolivia (Sep 12, 9pm) | E. Martinez (90), Romero (90), Enzo (87), J Alvarez (85), Mac Allister (85), Garnacho (5), Senesi, Buonanotte, Li. Martinez, Montiel (all 0) | E. Martinez (90), Romero (90), Enzo (80), J Alvarez (90), Mac Allister (45), Garnacho (5), Senesi (16), Buonanotte (0), Li. Martinez (84), Montiel (52) |
| Brazil | Peru (Sep 13, 3am) | Gabriel (90), Ederson (90), Casemiro (90), Guimaraes (85), Richarlison (64), Jesus (26), Martinelli (5), Joelinton (5), Alisson (0), Cunha (0) | Gabriel (90), Ederson (90), Casemiro (63), Guimaraes (90), Richarlison (10), Jesus (24), Martinelli (23), Joelinton (0/inj), Alisson (90), Cunha (60) |
| Colombia | Chile (Sep 13, 1.30am) | Lerma (90), Diaz (71), Duran (32), Sinisterra (19) | Lerma (0/inj), Diaz (45), Duran (19), Sinisterra (17) |
| Ecuador | Ecuador (Sep 12, 10pm) | Estupinan (90), Caicedo (90) | Estupinan (0), Caicedo (0/inj) |
| Jamaica | Jamaica (Sep 13, 1am) | Bailey, Pinnock, DeCordova-Reid, Bell (all 90) | Bailey (33), Pinnock (90), DeCordova-Reid (9), Bell (90) |
| Mexico | USA (Sep 13, 1am) | Jimenez (90), E. Alvarez (59) | Jimenez (61), E. Alvarez (67) |
| Paraguay | Venezuela (Sep 12, 11pm) | Almiron (85) | Almiron (7) |
| Uruguay | Ecuador (Sep 12, 10pm) | Darwin (45), Pellistri (20), S. Bueno (0) | Darwin (34), Pellistri (5), S. Bueno (0) |
| USA | USA (Sep 13, 1.30am) | Horvath (90), Richards (71), Ream, Robinson, Turner (all 0) | Horvath (0), Richards (90), Ream (90), Robinson (0/inj), Turner (90) |
---