After a disappointing four-year stint at Real Madrid, Fantasy Premier League (FPL) legend Eden Hazard recently announced his retirement from professional football at the age of just 32.
The attacking midfielder was a delightful player to watch and one of the world's very best when at his peak. With 126 international caps for Belgium, it's the seven Chelsea seasons that will define this playmaker and keep him warm on reflective nights.
Here's a season-by-season breakdown of his FPL story. Some Hazard perception, if you'd prefer.
THE NUMBERS
| | | FPL PTS | STARTS (SUB) | GOALS | ASSISTS | BONUSES |
| --- | --- | --- | --- | --- | --- | --- |
| 2018/19 | Chelsea | 238 | 32 (5) | 16 | 15 | 35 |
| 2017/18 | Chelsea | 173 | 28 (6) | 12 | 6 | 24 |
| 2016/17 | Chelsea | 224 | 36 (0) | 16 | 9 | 33 |
| 2015/16 | Chelsea | 104 | 25 (6) | 5 | 4 | 11 |
| 2014/15 | Chelsea | 233 | 38 (0) | 14 | 10 | 42 |
| 2013/14 | Chelsea | 202 | 32 (3) | 14 | 10 | 23 |
| 2012/13 | Chelsea | 190 | 31 (3) | 9 | 16 | 22 |
EDEN HAZARD IN FPL: SEASON-BY-SEASON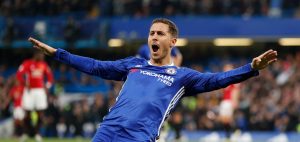 2012/13 – 190 points
It didn't take long for Hazard to showcase his talents once he joined from Lille in a £32m move. He grabbed two FPL assists during the opening day trip to Wigan Athletic, producing seven attacking returns by the end of Gameweek 3.
The reigning Champions League holders soon parted ways with manager Roberto Di Matteo, replacing him with interim boss Rafa Benitez in a season that ended with a different continental trophy – the Europa League.
Unfortunately, Hazard was injured for that final but finished seventh overall in FPL with 190 points. An outstanding long-range strike at Stoke City was probably the high point, although kicking out at a Swansea City ball boy saw him sent off in the EFL Cup.
2013/14 – 202 points
Season two was even better for Hazard, ranking fourth overall and being named PFA Young Player of the Year. Only the phenomenal Luis Suarez denied him from being the Players' Player of the Year, with a returning Jose Mourinho taking Hazard up to another level.
Hauls arrived at home to Cardiff City and West Bromwich Albion, before a stunning individual performance at Sunderland in December ended with two goals and an assist. Two months later, fellow North East side Newcastle United were victims of Hazard's first Premier League hat-trick.
2014/15 – 233 points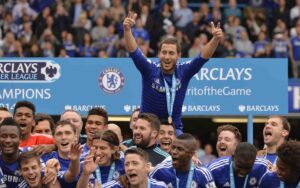 Mourinho's second campaign was Chelsea's first without Frank Lampard, so it was Hazard's turn to step up even further. And boy did he.
The same 24 returns of 2013/14 now brought far more bonus points, finishing as FPL's number one asset. Not just that, the ever-present Hazard was named FWA Footballer of the Year and PFA Players' Player of the Year as Chelsea won both the Premier League and EFL Cup.
He scored in five successive autumn home games, bagged 14 points versus Hull City in Gameweek 16 and finished with nine double-digit hauls.
So it was fitting that his winner against Crystal Palace clinched the title, heading home the rebound after missing his first domestic penalty on the 12th attempt. Only one more of Hazard's 19 Premier League spot-kicks was later missed – he scored that rebound too!
2015/16 – 104 points
However, Hazard personified Chelsea's miserable title defense. It was his worst FPL season by far, at one point going 25 games without a goal in all competitions.
No top-flight goals arrived between Gameweeks 6 and 35, eventually ending the drought with two at Bournemouth. But the next appearance brought one of his most memorable Chelsea moments, coming on as a substitute to dramatically equalise against Spurs and confirm Leicester City as miraculous champions. For two successive seasons, a Hazard goal settled the trophy's destination.
2016/17 – 224 points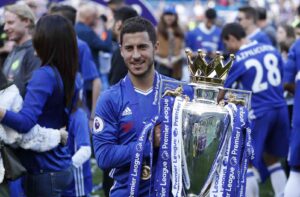 Proving that the previous year was just a blip, Hazard's 224 points ended in joint-third place as Chelsea won the league under new boss Antonio Conte.
An early three-game winless period inspired Conte to switch formation and, without European football as a distraction, this 3-4-3 stunningly won the next 13 Premier League matches with 10 clean sheets.
As for Hazard, he scored in four consecutive outings between Gameweeks 8 and 11, culminating with a brace that helped him reach 19 points versus Everton (h). Nine double-digit tallies occurred, including his two goals past Manchester City and a magical solo strike at home to Arsenal.
Another talismanic season for the mesmerising Belgian.
2017/18 – 173 points
Although there was a slight drop in the following year. He missed the start with a fractured ankle and didn't net until late October but that day brought the first of three double-digit scores within six games.
By this point, Hazard had developed an FPL reputation as a streaky player who would often troll his owners. Similarly to current Chelsea player Raheem Sterling (£7.0m) in Gameweek 8, he'd lose ownership and then haul to offer immediate punishment.
Braces arrived against Newcastle (h) and Brighton and Hove Albion (a), with four goals, an assist and 34 points from both meetings with West Brom.
After ending in 13th place of all FPL players, Hazard scored the FA Cup Final winner.
2018/19 – 238 points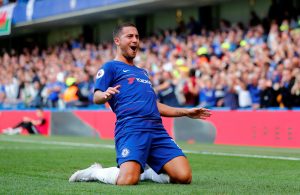 Yet he saved his best until last. Seven goals, three assists and 74 points from his initial eight games – including a 20-point hat-trick that pleased an FPL General who usually experienced plenty of Hazard frustrations.
Furthermore, the first two matches of these eight were from the bench, having arrived late from World Cup exertions.
Hazard's 238 points bettered the year where he finished top, although Mohamed Salah (£12.6m) defeated him this time. But it was a very streaky layout, being goalless between those initial eight and Gameweek 17. He went a while without scoring at home, whilst also ending on 11 double-digit tallies thanks to braces against Watford (a), Huddersfield Town (h) and West Ham United (h).
The latter brought a lovely solo goal, adding to a ludicrous one at Liverpool. Being sometimes used as a false-nine didn't exactly boost his credentials but, in the end, he made history by being one of only four players to reach 15 in one season for both goals and assists.
In his final ever Chelsea match, Hazard netted twice in a victorious Europa League final over Arsenal.
THE COMMUNITY'S MEMORIES
Meanwhile, we placed a Hot Topic asking the FPL community for their best and worst memories of the Belgian.
"His performance against Everton in the 5-0 win in 2016/17 is one that always comes to mind when I think of him. Not his best-ever performance for Chelsea but he absolutely tore through them, his second goal in particular was superb where his movement left three defenders for dead and his finish was so quick that Stekelenburg didn't even move." – NATE(U)DOG(IE)
"Worst has to be kicking the ballboy and getting sent off." – DERBZ87
"One of my FPL guilty pleasures, always did well when I had him. Had him and Fabregas in a Chelsea double-up one year and it was wonderful." – FATHERLESS SON
"Captaining him when he scored that unreal brace against West Ham was great. Think he was a differential that week. So many big hauls through the years. He was often a great captain pick as he was a flat track bully." – TOBLERONE52
"Flat track bully – always captained against weak opposition. Never seemed to do it in the big games though. That's my overriding memory of Hazard." – ACCOUNTING ON CHRIS
"The most overrated PL player of all time." – MANIC M
"Tried to cover him by having Pedro, later switched to Eden & captained him vs Southampton (a), Watford (a), West Ham (h). He hauled in all and scored a worldie against the Hammers. 100% captaincy haul record. Happy Retirement, sweet Hazard." – WALTER WHITE (WW)
CONCLUSION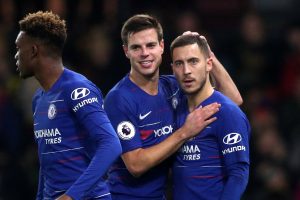 So he leaves FPL managers with mixed memories. For some, he's a man of double-digit scores, wondergoals, delightful dribbling and an average of 195 points per season. For others, he was a streaky player who was prone to occasional benchings and had a knack for winding up those with and without him.
Either way, 86 goals and 70 assists came during 245 Premier League appearances – an impressive rate. His time in West London was packed with individual awards and team honours, with a terrible 2015/16 surrounded by two brilliant title-winning campaigns.
He never missed more than four league games in a row for the Blues but things started to go wrong as soon as he departed. Hazard's time at Real Madrid was a mix of poor fitness, the exposure of a low work rate, the emergence of Vinicius Junior and a recurring ankle injury. Just 76 appearances arrived in four years.
Still, Eden Hazard retires as an FPL legend. Thank you.