Fantasy Football Scout community writer Greyhead returns for the 2023/24 season with his series of Great and The Good articles, analysing the transfers and strategies of some well-known Fantasy Premier League (FPL) managers.
This season's names are the BlackBox pair of Mark Sutherns and Az, Scouts Joe Lepper and Tom Freeman, Scoutcasters Seb Wassell and Andy North, Pro Pundits FPL General, Pras, Zophar and FPL Harry, FPL 'celebrities' LTFPL Andy and Ben Crellin, FPL champion FPL Gunz, Hall of Famers Fabio Borges, Finn Sollie, Jan Kepski and Jon Ballantyne, and last year's mini-league winner Marko Miseric.
---
"It's raining points! Hallelujah! It's raining points! Every specimen!
Finally, a downpour of points as stormy weather swept over FPL land after the usual international break shenanigans. Points rained down on the majority, particularly those who put the armband on a certain Egyptian typhoon that is blowing away the Erling Haaland (£14.0m) hurricane in terms of points.
The build-up had seen us get very excited about a £4.5m defender in Konstantinos Tsimikas, seen as the perfect cut-price addition after Andrew Robertson's (£6.5m) unfortunate injury. And for those looking into one-week punts, Morgan Gibbs-White's (£5.8m) name was bandied around until fears grew that Nottingham would follow the same fate as Atlantis.
In the end, points were shared around, making things difficult for those about to play their Wildcard in Gameweek 10. It's not easy knowing who to pick, with the only certainty being that they needed the budget of those smug managers who played the chip back in Gameweek 8.
OVERALL PERFORMANCE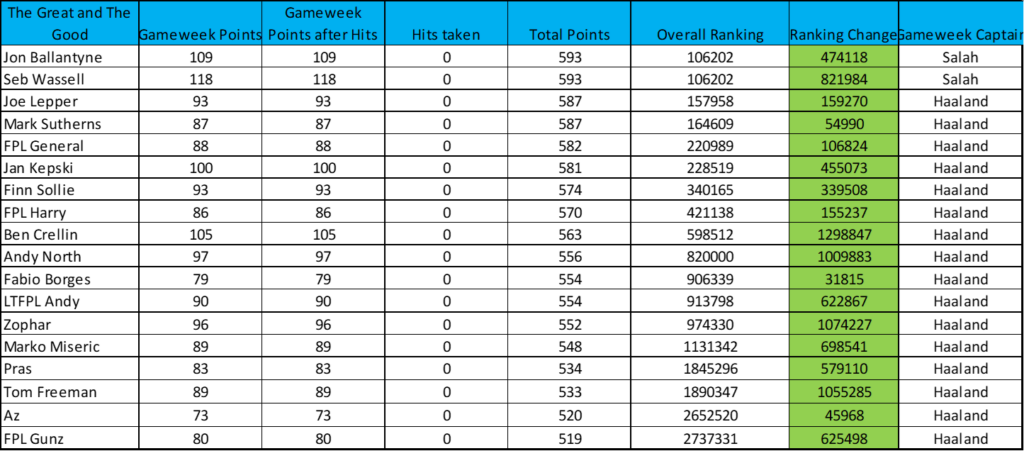 For the first time this season, each of The Great and The Good had green arrows. Some were larger than others, particularly those who put the armband on Mohamed Salah (£12.8m) such as Jon Ballantyne and Seb Wassell. They've soared up to first and second place after their non-Haaland Wildcards of Gameweek 8.
I do hope Mr Wassell has his gloating pants on during the next Scoutcast, as he has moved from outside of the top two million to almost 100k in the space of two Gameweeks. And they mocked his Diogo Dalot (£4.9m) purchase!
The key similarities between the top two is that they both went without Haaland, allowing them to have Kieran Trippier (£6.9m), the prolific Ollie Watkins (£8.3m) and a Spurs triple-up. Crucially, they also kept faith in Bryan Mbeumo (£6.7m), whom others had discarded.
They were not alone in having great and good weeks because Jan Kepski and Ben Crellin both scored over 100. In fact, the average rank rise was over 530,000, with an average of 92 points exceeding the overall score by 25.
WILDCARD – FPL GUNZ
Last year's global champion overhauled his squad in Gameweek 9 by making 12 changes to his team. Although Salah and Watkins were obvious moves, his pick of Miguel Almiron (£6.4m) was slightly more risqué.
The full ins and outs are below:-
IN: Areola, Tsimikas, Cash, Gabriel, Taylor, Almiron, Neto, Salah, Son, Martinelli, Watkins, Archer
OUT: Pickford, Baldock, Estupinan, Saliba, Udogie, Saka, Richarlison, Maddison, Rashford, Foden, Calvert-Lewin, Darwin
TRANSFERS
It was an in-betweener of a week when it came to transfers. Recent Wildcarders tended to roll and those about to activate decided on some one-week punts. For those planning to overhaul later, they were making moves to simply keep up.
The highlight of the trades was definitely Tom Freeman's casual upgrade from Marc Guehi (£4.5m) to Trippier. Another double-digit haul means it's three in four weeks for the Magpies' right-back.
The PrasMaster tasked Gibbs-White with a one-week haul but the Tricky Tree failed to deliver, whilst Fabio Borges and Mark Sutherns' moves gave the air of men who were in no rush to pull the trigger as they brought in Tsimikas and Alphonse Areola (£4.2m) respectively.
Andy LTFPL – Schar (Botman)
Andy North – none
Az – Gabriel (Colwill)
Ben Crellin – none
Fábio Borges – Tsimikas (Bell)
Finn Sollie – none
FPL General – none
FPL Harry – none
Jan Kępski – none
Jon Ballantyne – none
Joe Lepper – none
Marko Miseric – none
Mark Sutherns – Areola (Pickford)
Pras – Gibbs-White (Sterling)
Seb Wassell – none
Tom Freeman – Trippier (Guehi)
Zophar – none
THE GREAT AND THE GOOD TEMPLATE
Below is the full template, with the number in brackets reflecting their ownership amongst the 18 managers:
Turner (15), Areola (11)
Cash (15), Burn (9), Trippier (8), Porro (8), Udogie (7)
Son (17), Maddison (15), Salah (13), Mbeumo (9), Bruno Fernandes (6)
Haaland (16), Watkins (11), Archer (11)
Only a small change this week, as Cameron Archer (£4.5m) joins as a makeweight to support that overinflated midfield. The squad also contains four Spurs players – I wonder if that will continue, considering the need to bring in Arsenal players for their fixture turn.
SEASON STATS
A quick look through the season stats shows us that Jan Kepski is now King of the Captains. He cannily backed Carlton Morris (£5.6m) in Gameweek 7, before Salah in Gameweek 8. His lead would be even greater had he made the same decision at the weekend. Maybe he feared the supposed early kick-off curse?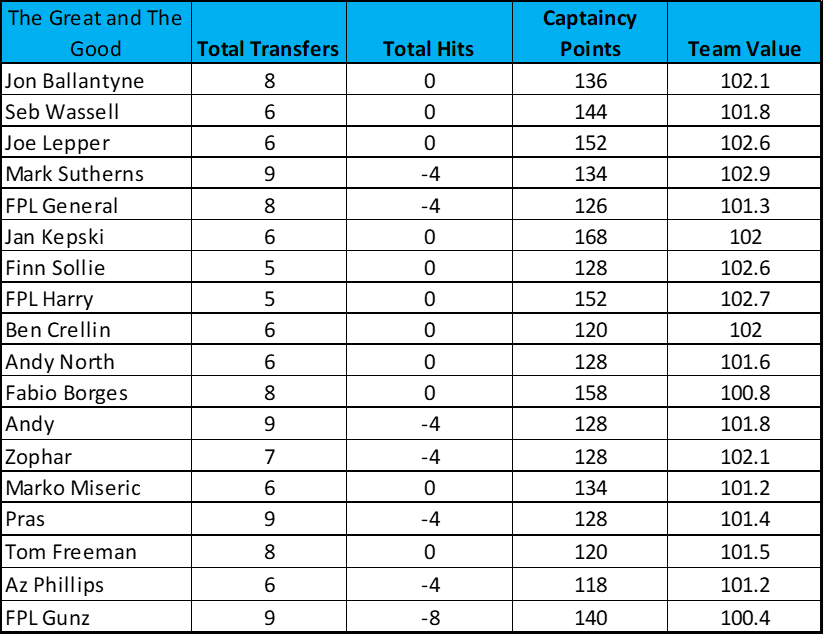 As for transfers, FPL Gunz has been the most aggressive with nine transfers and two hits, suggesting that you have to be willing to take risks to win this game. Mark Sutherns is just counting his pennies with a team value of £102.9m and he'll probably need all of that when it's his turn to Wildcard.
CONCLUSION
Back on Friday with Gameweek 10, with barely enough time for many to bask in the glory of a good score, I suspect the 'no Erling' debate will continue – particularly when it comes to captaincy. But one thing for certain is that I can't wait to get rid of those Manchester United midfielders!
As always, if you want to dig further into the data, have a read of the Mini-League Mate dossier. Under 'Join an existing league', just enter your name and email address alongside the league code MLM0001. It's all free!
Anyway, that's all from me for now, but remember – don't have FPL nightmares.
For those affected by any of the topics raised above, you can find me here on Twitter.